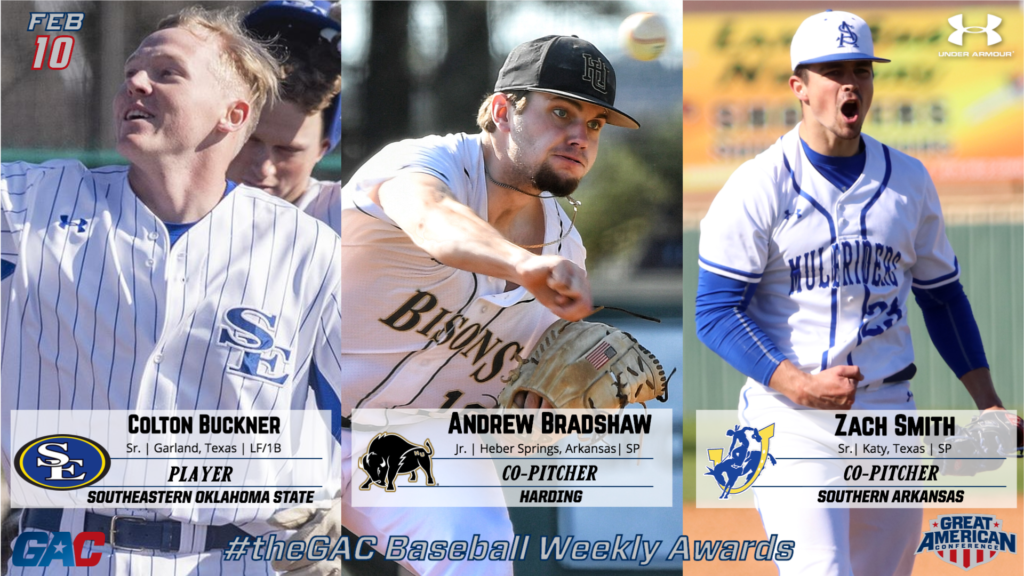 February 10, 2020
By GAC SPORTS INFORMATION
RUSSELLVILLE – The Great American Conference announced the league's Baseball honors for the second week of the 2020 season. Southeastern Oklahoma State's Colton Buckner earned the Player award while Harding's Andrew Bradshaw and Southern Arkansas' Zach Smith shared the Pitching accolade.
GAC BASEBALL PLAYER OF THE WEEK – Colton Buckner, Southeastern Oklahoma State, LF/1B, Sr., Garland, Texas
Buckner reached base 15 times in his 16 trips to the plate the Savage Storm's four-game series with Northeastern State. He registered three multi-hit games against the RiverHawks and walked eight times. He hit a home run in the opener and doubled in his only official at bat in game three. He scored three runs and drove in three.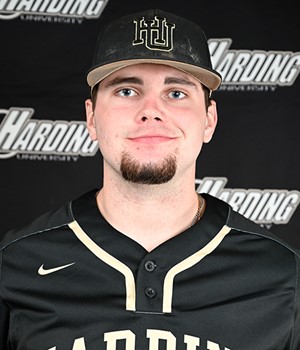 GAC BASEBALL CO-PITCHER OF THE WEEK – Andrew Bradshaw, Harding, SP, Jr., Heber Springs
Bradshaw picked up his first win with the Bisons after he recorded a three-hit shutout against Southwest Baptist on Saturday. He struck out four and walked just one. He required only 98 pitches in the 4-0 victory and allowed only one Bearcat to advance into scoring position.
GAC BASEBALL CO-PITCHER OF THE WEEK – Zach Smith, Southern Arkansas, SP, Sr., Katy, Texas
Smith worked 8.0 scoreless innings against Missouri Western to capture his second win in as many starts. He held the Griffons the four hits, three singles. He stuck out seven against three walks. In two starts, spanning 15.0 innings, he has registered 17 strikeouts and surrendered only six hits. The Muleriders have started 8-0 for the first time since 1986.
OTHERS NOMINATED
Kaimana Bartolome, INF (Oklahoma Baptist), David Butterfield, 3B (Harding), Audy Clary, INF (Arkansas-Monticello), Bryce Donovan, C (Northwestern Oklahoma State), Clay Lockett, INF (Southern Nazarene), Brett McGee, C (Southern Arkansas), Stormy Taylor, OF (Arkansas Tech)
Colby Carlson, SP (Northwestern Oklahoma State), Ryan Collins, SP (East Central), Livan Cordova, SP (Arkansas-Monticello), Jake Lipetzky, SP (Oklahoma Baptist), Jacob Potter, SP (Southeastern Oklahoma State)