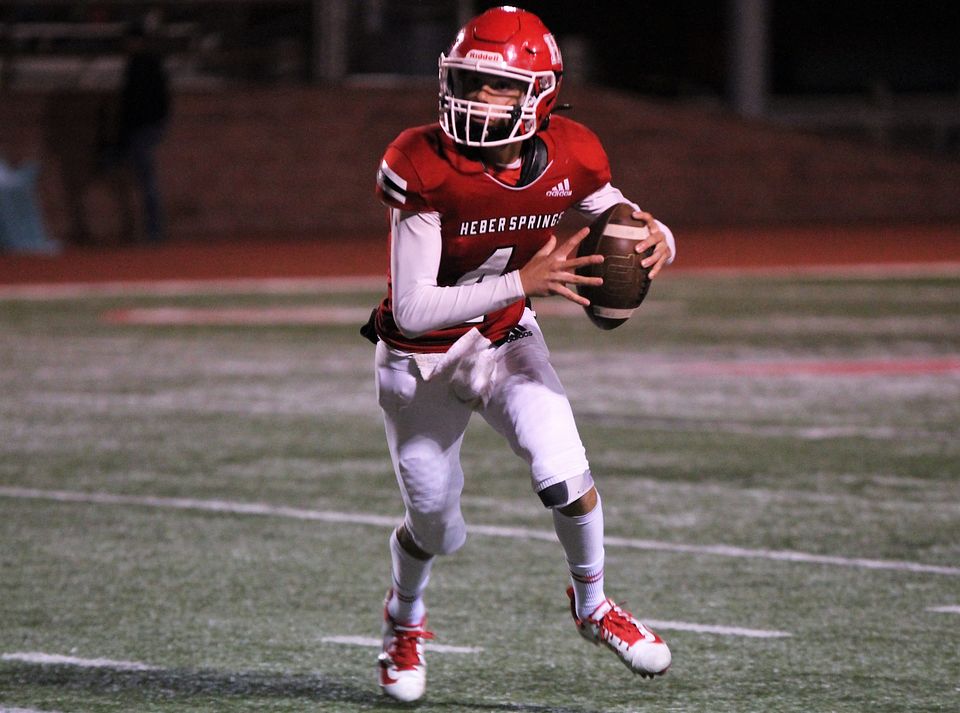 By LARRY "SCOOP" McCARTY
Clinton's domination of the clock with the running game and forcing four turnovers proved too much for the Heber Springs Panthers to overcome.
The Yellowjackets (4-2 in 2-4A Conference, 5-4 overall) maintained possession for 32 minutes and broke the game open by converting a fumble recovery into a touchdown early during the third quarter and defeated the Panthers (2-4 in 2-4A Conference and 3-5 overall) 34-7 in a 2-4A Conference football game at Panther Stadium Friday.
Clinton won "The Battle of the Little Red" for the sixth consecutive season. The Yellowjackets also won by their largest margin against Heber Springs since the 2005 season (33-6).
Clinton has won six straight games for the third time in the series. Heber Springs' longest win streak has been seven in a row, which came from 1978 to 1984. The Panthers' last win in the series, which started in 1939, came in 2015 (35-20).
The Yellowjackets, who clinched a playoff berth and face Lonoke in week 10 for the No. 3 seed, held a 314-207 yards advantage in offense, including 273 yards rushing. Zane Widener led the way with 12 carries for 119 yards and one touchdown.
Parker Brown rushed for 69 yards on six carries to lead the Panthers. Brown caught seven passes for 36 yards. Easton Cusick completed 16-of-33 passes for 99 yards with three interceptions. Brown gained 134 all-purpose yards, while Jackson West had 94 yards.
The turning point occurred early during the third quarter. A missed connection on the handoff resulted into a fumble, which was recovered by Clinton's Ashton Hoyle at the Panther 27-yard line.
The Yellowjackets scored four plays later and executed a 2-point conversion for a 26-7 lead. Brody Emberton's interception of a Cusick pass set up another touchdown late in the third quarter.
"The turning point was at the beginning of the second half," Heber Springs coach Todd Wood said. "We mishandled a handoff, giving a short field for Clinton to score. It forced us to stepped up the pace and try and score as fast as we could. Then, we had two more turnovers (interceptions). You can't do that against a good football team like Clinton and win."
Cody Davis and Nick Epley played big roles for Clinton's run-dominated offense. Davis ran 15 times for 77 yards and one touchdown, while Epley rushed for 55 yards on 10 carries and one touchdown. Harley Tobin completed 7-of-11 passes for 38 yards, including a touchdown to Emberton.
"Clinton is the kind of an offense that will run the ball and keep the clock running," Wood said. "When they have that kind of a lead, a team must find ways to get three-and-outs, so you can get your offense back on the field and score points. They deserve credit for keeping the ball under control and moving down the field."
The Yellowjackets received the opening kickoff and drove 53 yards on six plays for the early lead. Widener's 23-yard run put the Yellowjackets in scoring position. Tobin capped the drive by scoring from the 1 with 10:02 left in the first quarter. The try for a 2-point conversion failed.
After holding the Panthers on downs at the Clinton 36, the Yellowjackets executed a 13-play drive for the second touchdown. Nine consecutive running plays led to a first-and-goal at the Heber Springs 7.
Four plays later, Tobin connected on a 7-yard touchdown pass to Emberton with 25 seconds remaining in the first half. The 2-point  conversion attempt failed as the Yellowjackets led 12-0 going into the second quarter.
Heber Springs marched 76 yards on eight plays to reduce Clinton's lead. Cusick handed the ball to Brown, who raced 36 yards for a touchdown with 5:01 to go in the first half. Gideon Tate kicked the extra point and pulled the Panthers within 12-7.
The Yellowjackets responded with an 8-play, 64-yard drive to increase their lead. Epley finished it with a 21-yard scoring run for an 18-7 lead with 1:59 left in the first half. Clinton failed on a try for the 2-point conversion.
After the early second-half turnover, Widener had an 8-yard touchdown run at the end of the 4-play, 27-yard possession. Tobin passed to Epley for the 2-point conversion, increasing the lead to 26-7.
The Yellowjackets reached the end zone again before the end of the third quarter. Davis finished an 10-play, 51-yard drive with a 3-yard touchdown run. Epley ran for the 2-point conversion.
The Panthers, who are tied for fifth place with Little Rock Mills in the conference standings, will play at Mills on Friday with the winner becoming the conference's final playoff representative.
"It's a do or die situation," Wood said. "But we are looking forward to the game."
CLINTON AT HEBER SPRINGS
October 29, 2021 
Clinton (5-4, 4-2)        12   6   16   0 - 34
Heber Springs (3-5, 2-4)   0   7    0   0 -  7
FIRST QUARTER 
C - Harley Tobin 1-yard run (run failed), 10:02
C - Tobin to Brody Emberton 7-yard pass (run failed), :25.6
SECOND QUARTER
HS - Parker Brown 36-yard run (Gideon Tate kick), 5:01
C - Nick Epley 21-yard run (run failed), 1:59
THIRD QUARTER
C - Zane Widener 8-yard run (Tobin to Epley pass), 10:10
C - Cody Davis 3-yard run (Davis run), :44.2
TEAM STATISTICS 
FIRST DOWNS: HS 12, C 16
RUSHES-YARDS: HS 22/108, C 54-276
PASSING YARDS: HS 99, C 38
COMP-ATT-INT: HS 16-33-3, C 7-12-1
TOTAL OFFENSE: HS 207, C 314
FUMBLES: HS 1, C 0
PENALITIES-YARDS: HS 6/35, C 5/36
PUNTS-AVERAGE: HS 0, C 2/35
INDIVIDUAL STATISTICS 
RUSHING: HS, Parker Brown 6/69, Jackson West 5/28, Gus Hannah 1/7, Easton Cusick 10/(-6). C, Zane Widener 12/119, Cody Davis 15/77, Nick Epley 10/55, Billy Standlee 2/15, Jacob Hutto 4/12, Harley Tobin 5/7, Spencer Bannister 1/5, Jobe Chalk 1/(-3), Team 3/(-6).
PASSING: HS, Cusick 16/33-99-0/3. C, Tobin 7/11-38-1/1, Epley 0/1-0-0/0
RECEVING: HS, Brown 7/36, Austin Winchester 2/23, Dalton Yancey 2/18, West 2/12, Hannah 2/3, Chris Edwards 1/7. C, Brody Emberton 2/13, Widener 2/5, Davis 2/5, Dawson Burgess 1/15.
KICKOFF RETURNS: HS, West 3/44, Hannah 1/9.
PUNT RETURNS: HS, Brown 2/29
INTERCEPTION RETURNS: HS, Zane Lozeau 1/21. C, Emberton 1/17, Davis 1/8, Bannister 1/5.
FUMBLE RETURNS: None
PUNTS: C, Widener 2/70
Help support local and independent journalism by donating today.