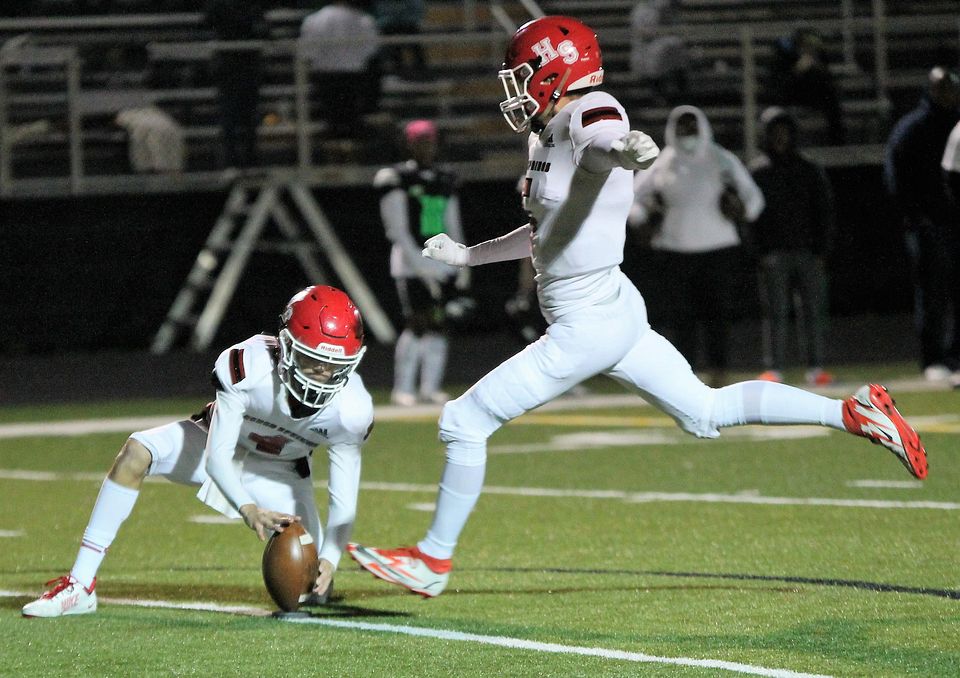 By LARRY "SCOOP McCARTY
The 2022 football schedule consists of familiar teams for the Heber Springs Panthers and again will be a nine-game regular season.
Heber Springs will open the nonconference season at Clinton on Sept. 2, followed by former conference foe Southside Batesville, who moved to Class 5A, and a first-ever meeting with Jonesboro Westside.
Reclassification kept Heber Springs in the 2-4A Conference with Lonoke, Stuttgart and Bald Knob, plus previous league foes Riverview and Cave City.
Harding Academy, a longtime nonconference opponent, moved up from Class 3A. Mountain View was assigned to the conference, but later school officials decided to play 8-man football.
"We still have Stuttgart, Lonoke and Bald Knob in the conference, with new teams like Harding Academy, Cave City and Riverview," Heber Springs coach Todd Wood said. "It's a good conference and if we can put all the pieces together, we will be competitive with all of them. I'm excited about the new conference."
Wood said the nonconference schedule came together quickly.
"We went with Clinton for the first game because of the rivalry," he said. "Clinton always is a big game and a good way to start the year. Southside is another rivalry and in the area. Then, we looked and schedule a game against Westside. There are three good opponents."
Wood debated about scheduling a 10th game against a nonconference opponent after Mountain View opted out of the conference before staying with nine games. The Panthers will begin conference play by hosting Cave City on Sept. 23 for homecoming before playing the following week at Bald Knob.
The open date will come before a three-game stretch against the projected conference contenders — at Lonoke (Oct. 14), Stuttgart (Oct. 21) and at Harding Academy (Oct. 28).
"We decided not to fill the Mountain View date," Wood said. "It will give us an open date before playing Lonoke, Stuttgart and Harding."
A busy summer awaits the players, who will participate in three 7-on-7 events, plus three team camps.
The Panthers played at the Greenbrier 7-on-7 Tournament in early June and hosted Melbourne in 7-on-7 on June 13 and will again on July 18. Heber Springs will participate in team camps at Central Arkansas Christian on Tuesday and July 13 and at Mayflower on July 19.
Fall practice will start on Aug. 1, with the benefit game scheduled at Beebe on Aug. 16.
"This is my third year and everything is in place for an opportunity at success," Wood said. "A talented group of last year's junior high school players will be joining our returning players."
Wood said one of the keys to the season is the development of the offensive and defensive lines.
"We will go as far as our linemen take us," he said. "We don't have a lot of them, but we have young guys who are learning. We have talented skilled players, but we need to develop a good line on both sides of the ball."
HIGH SCHOOL
Aug. 16 x-Beebe 6 p.m. Away
Sept. 2 Clinton 7 p.m. Away
Sept. 9 Southside Batesville 7 p.m. Home
Sept. 16 Jonesboro Westside 7 p.m. Home
Sept. 23 y-Cave City 7 p.m. Home
Sept. 30 Bald Knob 7 p.m. Away
Oct. 14 Lonoke 7 p.m. Away
Oct. 21 Stuttgart 7 p.m. Home
Oct. 28 Harding Academy 7 p.m. Away
Nov. 4 Riverview 7 p.m. Home
x-Benefit game
y-Homecoming game
JUNIOR HIGH
Aug. 16 x-Beebe 5 p.m. Away
Aug. 25 Southside Batesville 7 p.m. Away
Sept. 1 Clinton 7 p.m. Home
Sept. 8 Jonesboro Westside 7 p.m. Away
Sept. 22 Cave City 7 p.m. Home
Sept. 29 Bald Knob 7 p.m. Home
Oct. 13 Lonoke 7 p.m. Home
Oct. 20 Stuttgart 7 p.m. Away
Oct. 27 Harding Academy 7 p.m. Home
Nov. 3 Riverview 7 p.m. Away
x-Benefit game
SEVENTH GRADE
Aug. 25 Southside Batesville 5:30 p.m. Away
Sept. 1 Clinton 5:30 p.m. Home
Sept. 8 Jonesboro Westside 5:30 p.m. Away
Sept. 22 Cave City 5:30 p.m. Away
Sept. 29 Bald Knob 5:30 p.m. Away
Oct. 13 Lonoke 5:30 p.m. Home
Oct. 20 Stuttgart 5:30 p.m. Away
Oct. 27 Harding Academy 5:30 p.m. Home
Nov. 3 Riverview 5:30 p.m. Away