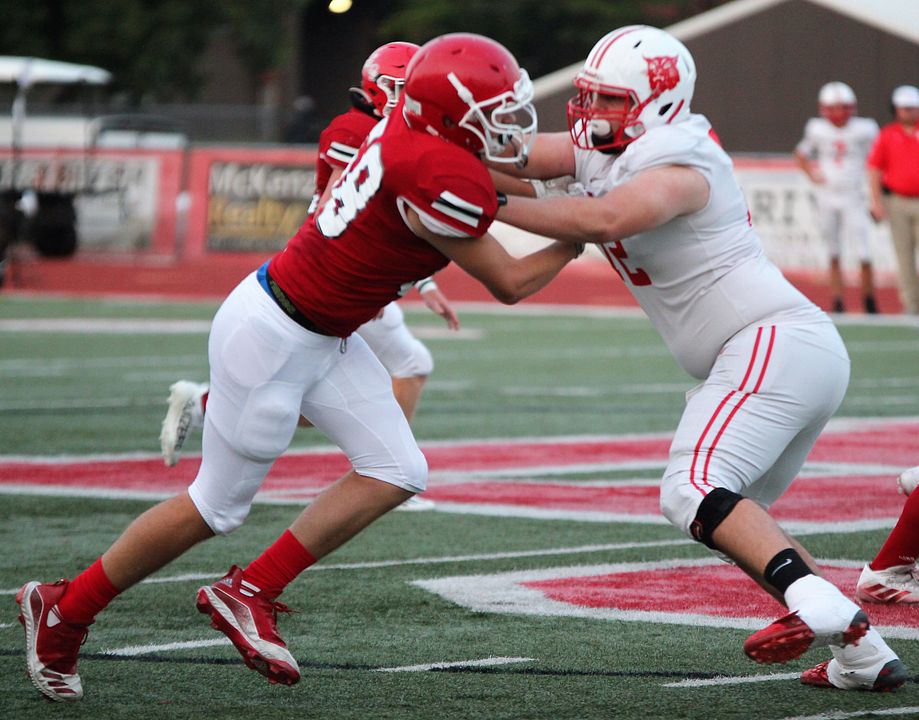 By LARRY "SCOOP" McCARTY
An injury will force reshuffling of the backfield for the Heber Springs Panthers football team.
Sophomore Liam Buffalo, who was projected to become the starting quarterback at the conclusion of spring practice, recently suffered a knee injury while playing baseball and underwent surgery Friday. Buffalo, who participated for the junior high school football, basketball and track and field, plus he was a starter on the high school baseball team last year. is expected to miss the 2022 football season.
Buffalo led the Panther Cubs to a 13-5 record during the past two football seasons. He completed 82-of147 passes for 1,160 yards and 15 touchdowns with only one interception last season. He rushed 101 times for 931 yards and scored 15 touchdowns.
"We are disappointed in losing Liam," Heber Springs coach Todd Wood said when asked about the team's reaction. "Liam was looking forward to moving up to high school. He has a bright a future ahead and good things are coming."
Junior Xander Lindley, last year's starter before breaking his collarbone against Bald Knob, will assume the quarterback duties fulltime. Lindley had moved to wide receiver during spring practice.
Senior Easton Cusick, a two-year starter at receiver, will be Lindley's backup. Cusick replaced Lindley when he was injured during the second series of the Bald Knob game.
In 2021, Lindley completed 35-of-62 passes for 515 yards and five touchdowns. He also rushed 58 times for 180 yards and scored two touchdowns. Cusick connected on 51-of-104 passes for 389 yards and two touchdowns.
"If there is a good part to this, we still have two guys coming back with experience," Wood said. "I talked with Xander and told him that it was going back on his shoulders again."
Lindley had his best game of last season against Central Arkansas Christian when he completed 11-of-13 passes for 113 yards and ran for 134 yards and two touchdowns.
"Xander was getting to his peak before the injury," Wood said. "He had a great game against CAC. He and Parker Brown were becoming a dual threat in the backfield. This situation is an opportunity for Xander to rise up and do well."
Wood said Lindley may play occasionally at receiver and in the defensive secondary.
Meanwhile, building an efficient offensive and defensive lines also will be focal points going into the new season. The Panthers return one experienced offensive lineman (Corbin Jones), but Wood liked the progress going into summer workouts.
"Corbin started last year as a sophomore and will be our left tackle," Wood said. We have two players who were on last year's junior high school team — Axley Davis (6-2, 270 pounds) and Gauge Owens (5-9, 200 pounds), who are battling for starting roles."
Tripp Young (6-1, 260 pounds), who will be a senior, was on the team last year, and Wood expects Young to make an impact on the offensive and defensive lines.
"The coaching staff is excited about him (Young) coming back," Wood said. "We expect good things from him as one of our guards. He also will be a strong player on the defensive line. We don't have much depth on the offensive and defensive lines. Our main focus during the spring was getting the offensive and defensive lines ready."
On a brighter side, most of last year's skilled position players return.
"I've been pleased with the performance of the returning players," Wood said. "They jumped right in there because they already knew what to do. We are ahead of last year on both sides of the ball. The returning players have positive attitudes and provided leadership, both from seniors and some of our younger players."
Brown led the Panthers in rushing (113-834 yards, 11 touchdowns) and receiving (17-314 yards, five TDs). He also became the first player in school history with a 200-yard rushing and receiving games during the same season. Brown also rushed for 100 yards or more in four games. Brown excelled in the return game by returning 10 kickoffs for 195 yards and four punts for 65 yards.
Junior Dalton Yancey emerged as one of the team's primary targets during the second half of last season by catching 15 passes for 122 yards.
"We have players with experience at receiver," Wood said.
Warden rushed 48 times for 247 yards and scored two touchdowns for the junior high team last season. He caught 30 passes for 655 yards and seven touchdowns.
"Weston played running back for the junior high team last season, but he has worked at receiver," Wood said. "Weston has speed and good hands."
Gideon Tate, who made 17-of-18 points after touchdowns last season, returns at placekicker and ranks among the best in the state.
"I like the onside kickoff, but challenged Tate if he can kick it into the end zone consistently, we will do that more," Wood said. "He is a good kicker."
Linebacker Kenan Sneed will lead the defensive charge for the third straight season. Sneed led the Panthers with 115 tackles, including 17 for losses last season — it was the second straight season for Sneed to record more than 100 tackles. He had two quarterback sacks. Sneed also turned in one of the top plays of the season, a 48-yard interception return for a touchdown to switch the momentum in the win at Bald Knob.
Chris Edwards will move from cornerback to outside linebacker. Edwards ranked second among tacklers with a total of 66 stops, including seven for losses. He also had a 71-yard interception return for a touchdown against Dover.
"It's good to have your leading tackler back coming back," Wood said. "We will try and put guys around him, like Jacob McMullin, to build a stronger defense. Jacob is coming up from the junior high team and will be a solid inside linebacker. He will be in a good situation playing next to Kenan."
Edwards and Zack Parker are the projected starters at outside linebackers. Parker started at safety for most of last season.
"Chris Roberts played safety and outside linebacker last year," Wood said. "(Sophomore) Kaden Terrell has speed and plays aggressively. Warden played at cornerback in junior high. We are trying to put the right pieces in the right places."
Wood said candidates are available to step in and play at safety.
"Colton Turley didn't play last year, but he came back and can become a solid safety," Wood said. "We have a lot of guys to look at."