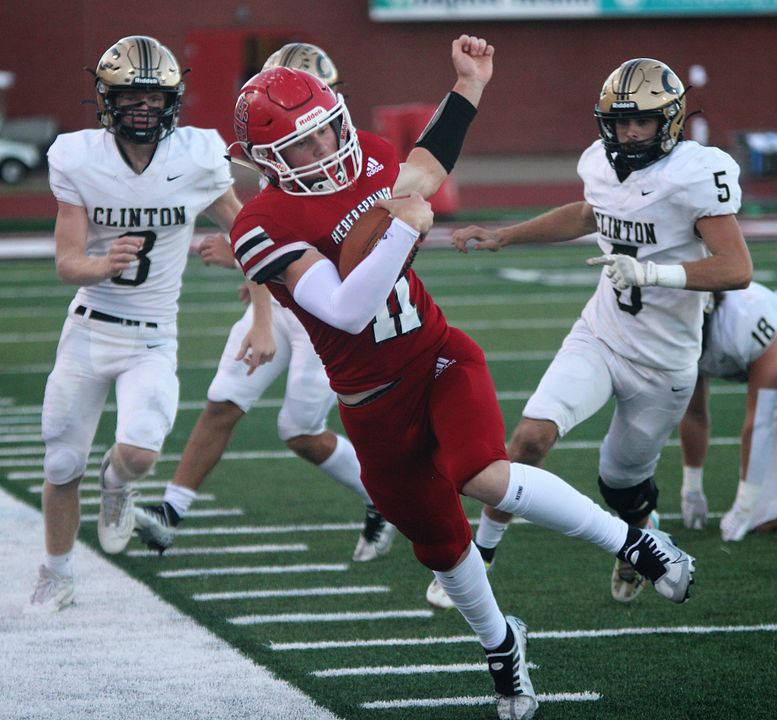 By PHILIP SEATON
MarkedTime.com Publisher
Senior Parker Brown scored four touchdowns and finished with 318 all-purpose yards, but it was not enough as Clinton downed Heber Springs, 42-29, in the season-opener for the Panthers at Panther Stadium.
Heber Springs (0-1) was done in by four fumbles on offense and three touchdowns by Yellowjacket senior Zane Widener.
"We did a lot of great things tonight but four fumbles, you are not going to win many games, you are not going to beat a good football team," Heber Springs coach Van Paschal said.
Paschal, the winningest active coach in the state, was hired in late May and spent the summer rebuilding the roster all the while installing a new offensive and defensive scheme.
In a scrimmage at Beebe on August 15th, fumbles also plagued the Panthers in that game.
"Our guys were resilient and fought hard," Paschal said. "We have stuff to fix. Offensively we have to fix fumbles with the quarterback-fullback exchange, we have to be able to pick up some blitzes, we didn't do that late, but I have to look at film for that stuff."
Clinton (2-0) had opened the season in week zero 49-7 win over Cave City while the Panthers were idle.
That game experience showed early as the Yellowjackets raced out to a 14-0 advantage with only 5:20 played in the first quarter.
Clinton scored on its first possession driving 71 yards on nine plays as Widener scored on a 38-yard run with 8:29 left in the first quarter. The Clinton senior then added to the 2-point conversion to make it 8-0.
The Panther defense appeared to hold Clinton twice on the drive, but on a third-and-10 from the Clinton 29, Brodie Dufrene connected to Dawson Burgess for a 17-yard pass for a first down. On a fourth-and-1 from the Panther 46, Dufrene was able to push for the first down on a quarterback sneak.
After a three-and-out on Heber Springs' first offensive series, Clinton struck quickly with a 46-yard touchdown pass from Dufrene to Widener to make it 14-0 after the 2-point conversion failed at the 6:40 mark of the first.
Asked if not playing a week zero game hurt his team, Paschal said that it didn't.
"We needed time," he said. "We are still putting in the offense. We are still putting in the defense."
The offense showed what is capable of on the Panthers next possession.
After a pair of short runs, Brown took the ball from his slotback position receive some key blocks on the edge by Weston Warden and Seth Dudeck and raced 58 yards to put the Panthers on the board. Gideon Tate's PAT kick made it 14-7 with 5:28 left in the opening quarter.
Jacob McMullin threw Clinton's Brayson Littell for a three-yard loss on third down forcing a Yellowjacket punt on their next possession. Widener boomed a 46-yarder pinning the Panthers at their own 11.
A pair of runs by fullback Brodie Basford, including a 17-yarder, gave Heber Springs a first-and-10 at the Panther 34. The drive appeared to stall but on third-and-11, Buffalo connected with Brown in stride for a 67-yard touchdown pass. Tate's kick made it 14-all with 48.1 seconds left in the first quarter.
"That's what makes this offense so deadly is when you can throw it like he (Buffalo) can," Paschal said.
The momentum had completely switched to the Heber Springs sideline as the first-year Panther defensive coordinator's Kevin Youngblood's defense held again as McMullin sacked Dufrene for an 11-yard loss on a fourth-and-2 from the Panther 42 with 11:01 left in the half.
But that momentum swing was short-lived as Heber Springs fumble on its first play giving the ball back to Clinton. Three-and-half minutes later Dufrene would score on a quarterback sneak to make it 22-14 at the successful 2-point conversion by Byston Venable.
Another fumble by the Panthers at the 4:41 mark of the second quarter gave the Yellowjackets the ball at the Clinton 40. With 23 seconds left in the half, Dufrene connected with Burgess for a 19-yard scoring strike. Widener added the 2-point conversion to make it 30-14 at the half.
"I really didn't know what to expect," Paschal said. "I had people ask me, 'What do you think?', and I'll be honest with you, I won't know until we play. We had a little blip over at Beebe, but it wasn't enough of a game, game to figure it out.
"I know we have heart. I know we have a chance, and they are pretty good football team. They do what they do well. They are well-coached, and I knew that when I saw them play Cave City and they hit your right in the mouth and did they ever do it. We never quit, and I have to hang my hat on that. Felt like we played hard."
They showed some of that "heart" quickly in the second half. Heber Springs took the second-half kick-off and on the second play from scrimmage, Brown took the ball and raced 70-yards for a score 58 seconds into the second half. Tate's kick cut the deficit to 30-21.
The score would remain that way until late in the third quarter when Widener would score on a 6-yard run. The 2-point conversion failed making it 36-21 Clinton with 34.1 seconds left in the stanza.
However, the Panthers would not wait to respond. On third-and-19 from the Heber Springs 25, Buffalo would keep for 22 yards and a first down and then connect with Brown again, this time for a 53-yard touchdown. Basford scored the 2-point conversion, and the Panthers were within a score at 36-29 with 10:48 left.
Clinton would then chew off almost five minutes driving deep into Panther territory before McMullin would force the football from the hands from Venable, then recover it at the Heber Springs 5 with 5:30 to play.
Runs by Basford and Brown for 14 and 8 yards moved the ball to the 27, but a fumble cost the Panthers again as Widener scooped up the ball and ran 13 yards to the Panther 17. Five plays later Zack Hunt-Gonzalez would seal the win for Clinton with a three-yard plunge to make it 42-29.
The Panthers moved the ball to the Clinton 34 as time expired.
The win by Clinton extended its streak to eight games in the series, it's longest win streak in the rivalry game dating back to 1939.
"As a coach, you put the blinders on you," Paschal said of dropping a contest to a big rival. "You study film. You just work. You will probably have to move some guys around. It sometimes takes three weeks, maybe four to get it where you want, but we have to look at personnel and look see how we played. Then we have to coach them up and do a better job of that."
The overflow crowd was the largest since the opener against Clinton in 2019.
"Great crowd, great atmosphere," Paschal said. "They were rowdy. Hope that they keep coming and following this football team and supporting these kids. They are great kids, they really are."
Brown's career-high 318 all-purpose yards are the seventh-most by a Panther in recorded school history. Jacob Bremmon's 421 yards at Gravette in 2017 are the most followed by Chandler Marquardt's 410 at Pottsville in 2013.
With Brown recording 100-plus yards rushing and 100-plus yards receiving in the same game, it marks only the sixth time that has happened in school history. Justin Davidson was the first to do it at Ozark in 1997. Clint Ligon did at Pea Ridge in 2012, Chandler Marquardt did it twice in 2013 (at Pottsville and at Stuttgart) while Julio Rubio was the last to accomplish the feat against Harding Academy in 2019.
Heber Springs (0-1) will travel to Southside Batesville on Friday for a nonconference contest.
"The road doesn't get easier," Paschal said. "We've got Southside. They do the same stuff (as Clinton), and they do it probably better. We have to re-group and get better."
CLINTON AT HEBER SPRINGS
SENIOR HIGH
September 1, 2023
TEAM STATS
TIME OF POSSESSION: Heber Springs 17:25, Clinton 30:35
TOTAL FIRST DOWNS: Heber Springs 10, Clinton 19
BY RUSH: Heber Springs 8, Clinton 3
BY PASS: Heber Springs 2, Clinton 3
BY PENALTY: Heber Springs 0, Clinton 0
TEAM RUSHING: Heber Springs 35/254/7.3, Clinton 61/243/4.0
TEAM PASSING: Heber Springs 3/4-127-2/0, Clinton 7/8-127-2/0
TOTAL OFFENSE: Heber Springs 39/381/9.8, Clinton 69/370/5.4
3RD CONVERSION: Heber Springs 5/8, Clinton 6/13
4TH CONVERSION: Heber Springs 0/0, Clinton 4/5
TURNOVERS: Heber Springs 4, Clinton 1
POINTS OFF TURNOVERS: Heber Springs 0, Clinton 22
FUMBLES/LOST: Heber Springs 4/4, Clinton 4/1
PENALTIES: Heber Springs 8/60, Clinton 5/50
KICKOFF RETURNS: Heber Springs 5/37/7.4, Clinton 1/0
PUNT RETURNS: Heber Springs 1/10, Clinton 1/4
FUMBLE RETURNS: Heber Springs 0, Clinton 1/13
PUNTS: Heber Springs 2/59, Clinton 2/80
PUNTS INSIDE 20: Heber Springs 0, Clinton 1
SACKS: Heber Springs 3/28, Clinton 1/7
TACKLES FOR LOSS: Heber Springs 8/38, Clinton 7/21
INDIVIDUAL STATS
RUSHING: Heber Springs, Brodie Basford 12/57/4.8, Liam Buffalo 10/24, Parker Brown 8/148/18.5/2, Weston Warden 5/25. Clinton, Zane Widener 19/129/6.8/2, Zack Hunt-Gonzalez 16/75/4.7/1, Bryston Venable 11/55/5, Brodie Dufrene 10/(-30)/1, Brayson Littell 5/14. 
PASSING: Heber Springs, Liam Buffalo 3/4-127-2/0. Clinton, Brodie Dufrene 7/8-127-2/0.
TOTAL OFFENSE: Parker Brown 8/148, Liam Buffalo 14/152, Brodie Brasford 12/57, Weston Warden Warden 5/25.
RECEIVING: Heber Springs, Parker Brown 2/120/2, Seth Dudeck 1/7. Clinton, Dawson Burgess 4/38/1, Zane Widener 1/46/1, Brayson Littell 1/37, Eli Henson 1/6.
KICKOFF RETURNS: Heber Springs, Parker Brown 3/40/13.3, Xander Lindley 1/0, Logan Rutledge 1/(-3). Clinton, Zack Hunt-Gonzalez 1/0.
PUNT RETURNS: Heber Springs, Parker Brown 1/10. Clinton, Colton Warren 1/4.
FUMBLE RETURNS: Clinton, Zane Widener 1/13
ALL-PURPOSE YARDS: Heber Springs, Parker Brown 318. Clinton, Zane Widener 188.
PUNTING: Heber Springs, Gideon Tate 2/59, Zane Widener 2/70
SCORING
PAT KICKS: Gideon Tate 3/3
2-POINT CONVERSION: Heber Springs 1/1, Clinton 3/6
POINTS: Parker Brown 24, Gideon Tate 3, Brodie Basford 2
DEFENSIVE STATS
SACKS: Xander Lindley 1, Jacob McMullin 1, Corbin Jones 1
FUMBLE RECOVERIES: Jacob McMullin 1
FORCED FUMBLES: Jacob McMullin 1
TACKLES (U/A/TFL - TOTAL)
Bryce Siegrist 3 0 0 3
Parker Brown   4 1 0 5
Joenah Cordell 2 3 0 5
Eli Buffalo    4 1 0 5
Luke Elliott   4 8 1 12
Jacob McMullin 7 4 2 11
Xander Lindley 8 2 2 10
Carter Julian  4 4 0 8
Corbin Jones   7 2 3 9
Weston Warden  4 2 1 6
Jordan Tidwell 0 4 1 4
Logan Lozeau   1 1 0 2
Liam Buffalo   0 1 0 1
Zachary Parker 2 0 0 2