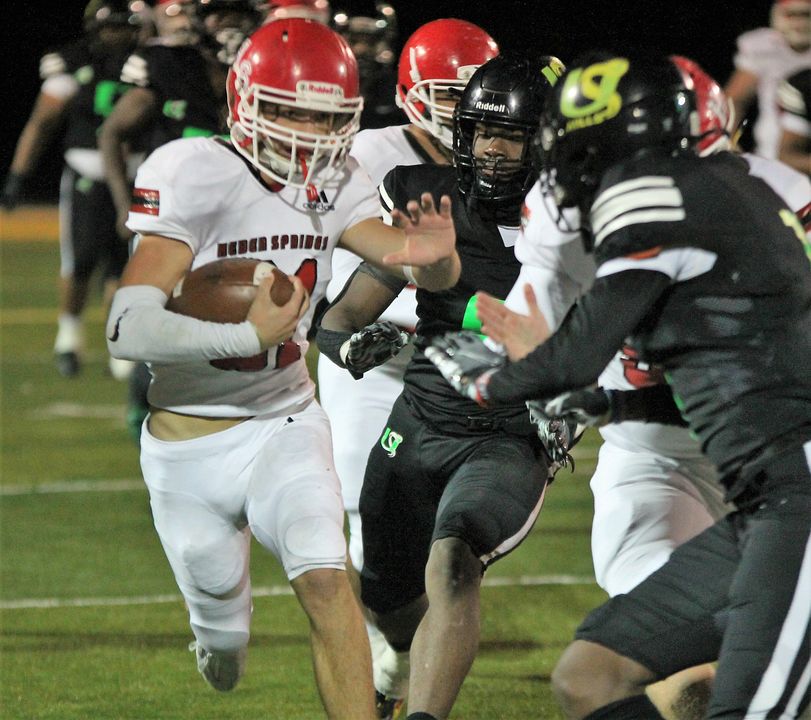 By LARRY "SCOOP" McCARTY
LITTLE ROCK — A quick start turned sour for the Heber Springs Panthers in Friday's season finale at Comet Stadium.
After the Panthers took a 7-0 lead, the Comets scored 32 unanswered points and coasted to a 48-20 win in a 2-4A Conference football game.
Mills (3-4 in 2-4A Conference, 6-4 overall) broke a four-game losing streak and earned the conference's final playoff berth. The Comets, who will be a No. 5 seed, will play at Joe T. Robinson (9-1 overall) in the Class 4A first round on Friday.
Heber Springs (2-5 in 2-4A Conference, 3-6 overall) finished the season in sixth place and missed the playoffs for the first time since 2013. The Panthers, who also were sixth in 2020, kept its playoff streak alive last year when it received an invitation to the postseason because of Covid-19.
"We started the game well, and that was what we wanted to do," Heber Springs coach Todd Wood said. "We had two other good first half drives, but two plays went against us. We didn't finish the season the way we wanted."
Sophomore Parker Brown, who had 283 all-purpose yards, rushed for a season high 162 yards on 21 carries and scored three touchdowns. Quarterback Easton Cusick completed 7-of-14 passes for 70 yards. Chris Edwards led the receivers by catching three passes for 54 yards.
"We changed to our wildcat package and can do several things with it," Wood said. "Mills didn't respond well until putting more players near the line of scrimmage. That says a lot about Parker when the players on the other team tried to stop him and had a hard time doing it. It was one of those nights."
Mills fullback Boyce Mitchell proved too much for the Panther defense. Mitchell rushed 12 times for 191 yards and scored two touchdowns, averaging 15.9 yards per attempt. Quarterback Achilles Ringo completed 9-of-22 passes for 122 yards, and he ran for one touchdown. Jabrae Shaw had 14 carries for 88 yards and scored one touchdown. Shaw caught three passes for 49 yards.
The Comets, who converted 6-of-6 2-point conversions, outgained Heber Springs, 496-238 yards.
"Mills had size, speed and was physical," Wood said. "We knew No. 34 (Mitchell) would be a load to tackle. We tried to tackle him too high, instead of tackling him at his shoelaces. We didn't bring him down very well."
Heber Springs received the opening kickoff and drove 43 yards on six plays to take a 7-0 lead. Brown finished the drive by scoring on a 20-yard run with 9:18 left in the first quarter. Gideon Tate kicked the extra point.
Mills responded with touchdowns on its two first-quarter possessions.
The Comets claimed the lead on an eight-play, 55-yard drive. Daniel Brown Jr. finished with a 13-yard touchdown run with 7:24 to go in the first quarter. Anton Pierce caught a pass from Ringo for the 2-point conversion, giving Mills an 8-7 lead.
After getting a three-and-out, Mills increased its lead on a 10-play, 63-yard drive. Shaw scored on a 4-yard run with 2:01 remaining. Ringo again hooked up with Pierce on a 2-point conversion for a 16-7 lead going into the second quarter.
Mills scored two more touchdowns before halftime. The Comets held the Panthers on downs at the Heber Springs 34. Caleb Sain had a 3-yard scoring run with 10:57, followed by Mitchell's run for a 2-point conversion. Later, Mitchell rushed seven yards for a touchdown and a 2-point conversion with 1:43 left in the first half.
The Panthers trailed 32-7 at halftime.
"We were in position to put the ball in the end zone two more times during the first half, but didn't do it," Wood said. "We scored twice and got back in the game during the second half. That was another sign we never quit or give up."
Heber Springs forced a punt as Brown's 27-yard return put them in scoring position at the Mills 26. Brown broke away on the next play and scored with 10:11 left in the third quarter. A high snap led to a missed kick for the extra point.
The Panthers threatened to score again, but the Comets held on downs at the Comet 9 late in the third quarter. Mills drove 91 yards on 14 plays with Ringo scoring on a 2-yard keeper with 9:31 left in the game. Ringo passed to Shaw for a 2-point conversion and increased Mills' lead to 40-13.
But the Panthers didn't give up and reached the end zone on their next possession. Brown finished the 5-play, 49-yard drive by scoring on a 3-yard run with 6:53 left. Tate kicked the conversion, reducing the Comets' lead to 40-20.
Mitchell ran 59 yards for the final touchdown with 5:08 left in the game, plus a successful 2-point conversion.
Wood said contributions from the seniors should not be overlooked, despite the season record.
"We had an outstanding group of seniors," he said. "They have a lot of character and provided great leadership. I couldn't ask any more from them."
HEBER SPRINGS AT LITTLE ROCK MILLS
November 5, 2021
Heber Springs (3-6, 2-5)       7   0    6   7 - 20
Little Rock Mills (6-4, 3-4)  16  16    0  16 - 48
FIRST QUARTER 
HS - Parker Brown 20-yard run (Gideon Tate kick), 9:18
M - Daniel Brown 14-yard run (Achilles Ringo to Anton Pierce pass), 7:24
M - Jabrae Shaw 4-yard run (Ringo to Pierce pass), 2:07
SECOND QUARTER
M - Caleb Sain 3-yard run (Boyce Mitchell run), 10:57
M - Mitchell 7-yard run (Mitchell run), 1:43
THIRD QUARTER
HS - Brown 26-yard run (kick failed), 10:11
FOURTH QUARTER
M - Ringo 2-yard run (Ringo to Shaw pass), 9:35
HS - Brown 3-yard run (Tate kick), 6:53
M - Mitchell 59-yard run (Tyler Sanders run), 5:08
TEAM STATISTICS 
FIRST DOWNS: HS 12, M 23
RUSHES-YARDS: HS 35-168, M 44-374
PASSING YARDS: HS 70, M 122
COMP-ATT-INT: HS 7-15-0, M 9-22-0
TOTAL OFFENSE: HS 238, M 496
FUMBLES: HS 1, M 0
PENALITIES-YARDS: HS 7/56, M 13/100
PUNTS-AVERAGE: HS 1/22, M 1/29
INDIVIDUAL STATISTICS 
RUSHING: HS, Parker Brown 21/162, Jackson West 1/9, Gideon Tate 2/2, Easton Cusick 11/(-5). M, Boyce Mitchell 12/191, Jabrae Shaw 14/88, Daniel Brown Jr. 5/43, Caleb Sain 4/22, Carlos Deadmon 1/11, Achilles Ringo 7/11, Anton Pierce 1/8.
PASSING: HS, Cusick 7/14-70-0/0, Brown 0/1-0-0/0. M, Ringo 9/22-122-0/0.
RECEVING: HS, Chris Edwards 3/54, Austin Winchester 1/9, Gus Hannah 1/4, Dalton Yancey 1/4, Brown 1/(-1). M, Pierce 3/67, Shaw 3/49, Deadmon 2/3, Colby Williams 1/3.
KICKOFF RETURNS: HS, Brown 4/95, Hannah 1/20. M, Brown Jr. 2/20.
PUNT RETURNS: HS, Brown 1/27
INTERCEPTION RETURNS: None
FUMBLE RETURNS: None
PUNTS: HS, Brown 1/22. M, Christopher Guevara 1/29
Help support local and independent journalism by donating today.