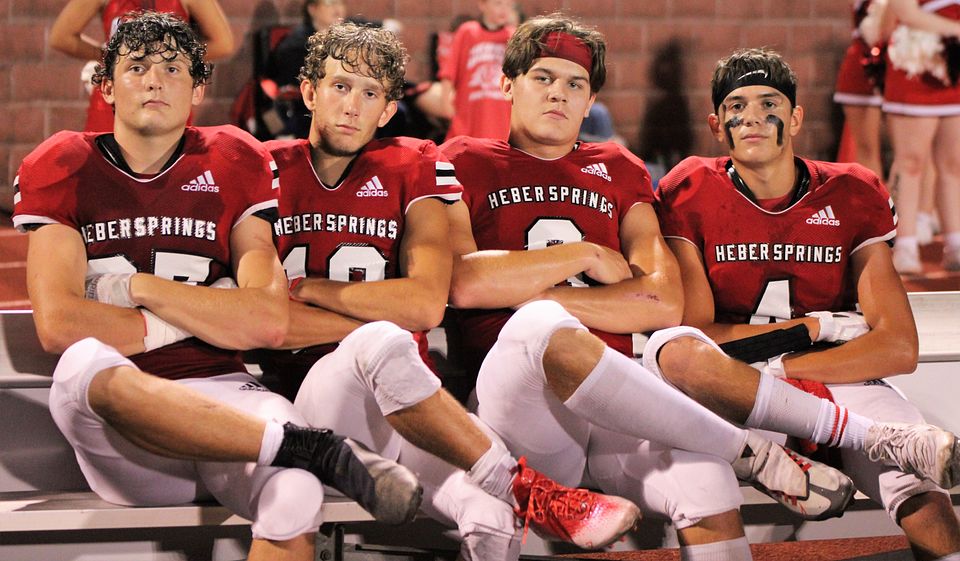 By LARRY "SCOOP" McCARTY
The Heber Springs Panthers started the 2-4A Conference schedule on a positive foot last Friday and defeated Cave City at Panther Stadium.
Heber Springs (1-0 in 2-4A Conference, 2-2 overall) hope for another fast start beginning at 7 p.m. Friday when the Panthers will meet the Bald Knob Bulldogs (1-3 overall) at Bulldog Stadium in Bald Knob.
Friday's game will be the conference opener for the Bulldogs, who are coming off an 8-3 win at Magnet Cove, coached by former Panther Caleb Carmichael.
"It's always good to get the first conference win," Heber Springs coach Todd Wood said. "We now can focus on the things that matter the most, win the second conference game. We took our first step toward the playoffs, which is one of our season goals. We celebrated until Monday before starting preparation for the next game. We don't want to take a step backwards, but a step forward."
After playing run-dominated offenses for four weeks, Heber Springs switched gears in preparing to defend the spread. The Bulldogs, who converted 4-of-9 third-down plays into first downs, rushed for 162 yards and passed for 62 yards against Magnet Cove.
"The defense understands Bald Knob plays a different style of offense from what we saw in the first four games," Wood said. "Bald Knob will run more than the typical spread team. We need to play aggressive on defense, stop the run and force them to pass. It's going to be a new challenge for the defense."
Bald Knob's losses came to Southside Batesville (28-0), Melbourne (34-14) and Barton (32-24). Wood expects a competitive game, similar to last year's 14-7 win by the Panthers.
"Bald Knob has a big offensive line that can push a defense," Wood said. "The quarterback (Reece Moody) is a good runner and passer with size. We must key and keep him contained. They will try and get the run game going and then focus on the pass."
Heber Springs quarterback Xander Lindley continues his week-to-week improvement. Lindley completed 13-of-15 passes for 179 yards and six touchdowns against Cave City. He had 58 yards rushing on seven attempts. Lindley is the first Panther to pass for six touchdowns in a single game since Brandon Loethen against Arkansas Baptist Prep in 2016.
Easton Cusick emerged as the team's leading receiver by catching four passes for 76 yards, three for touchdowns. Dalton Yancey also had four catches for 34 yards and one touchdown.
Chris Edwards snagged three passes for 39 yards and one touchdown. Logan Rutledge caught a 20-yard touchdown pass and Parker Brown had one catch for 20 yards.
Wood said, like most games, the battle on the line will decide the outcome.
"Bald Knob's defensive line will be a challenge for our offensive line," he said. "We need to move them off the line of scrimmage. The outside linebackers play aggressively, but the focus will be on the guys up front."
Wood said he liked his offense's performance last week and looks for more improvement against the Bulldogs on Friday.
"We did a better job of maintaining drives against Cave City, except for the fumble at the 2-yard line before the end of the first half," Wood said. "I liked our execution, and we did a good job of protecting Xander. Our line is improving every game."
Another major improvement is the versality of the offense from last year. Brown remains important, but Wood said the development of other players is leading to more production.
Brown surpassed his season rushing total (37-179) from the first three games. He rushed 14 times for 191 yards and scored one touchdown.
"We were one dimensional with Parker last year," Wood said. "We have guys, like Cusick, Yancey, Rutledge and Edwards, with a lot of catches and yards after the catch. The defense can't just focus on stopping one player."
Kenan Sneed and Edwards led the charge for the defense with 22 and 18 tackles, respectively, against Cave City. Edwards was credited with two tackles for a loss. But Wood said other players contributed.
"The only disappointment on defense was letting Cave City complete those passes (7-of-12 for 130 yards)," Wood said. "We were in position to make the play, but didn't finish the job. We tightened up the defense and played well during the second half. I'm thrilled how Corbin Jones played (offensive and defensive lines). Parker came in when (linebacker Weston) Warden was injured and helped at linebacker."
Weston's injury will sideline him for the remainder of the season.
Heber Springs played three consecutive games at home, winning back-to-back games. The Panthers now look for success on the road.
"It's time to go back on the road and show what we can do," Wood said. "Our goal is the playoffs. We can't look ahead, but only to the next game. We hope to be 2-0 in conference going into the bye week."
Brought to you by Business Booster Ellen Hobgood Gallery