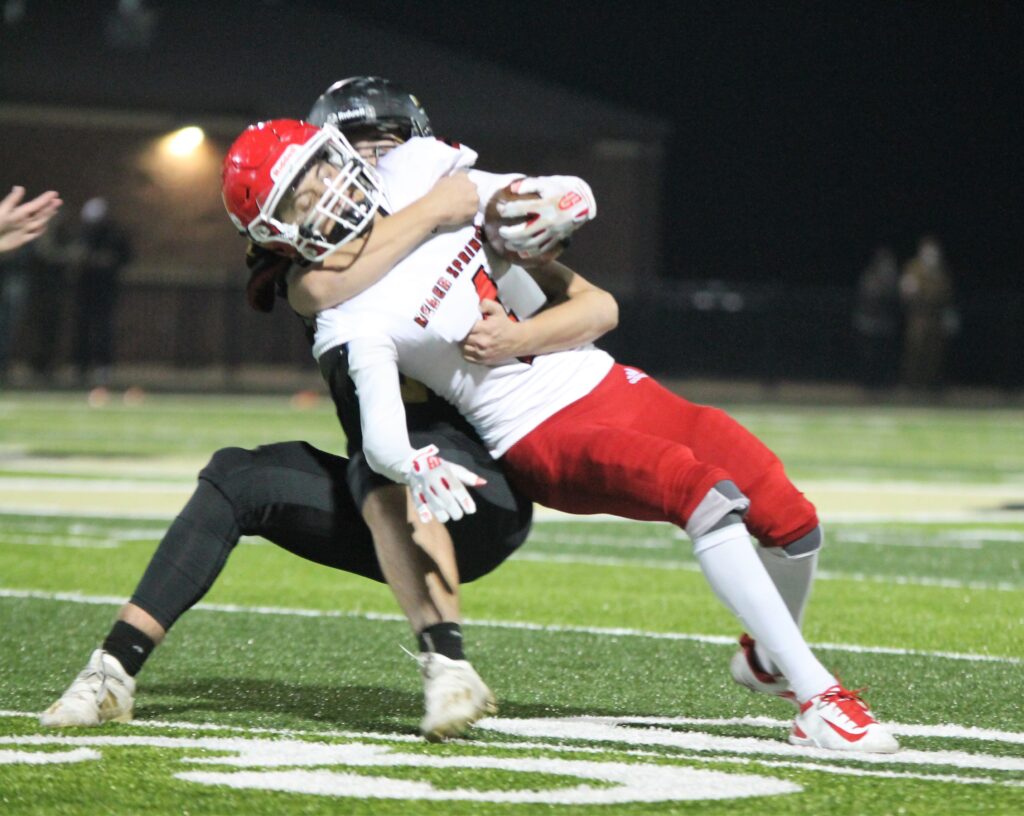 By LARRY "SCOOP" McCARTY
TRUMANN – Heber Springs beat the threat of COVID-19 and completed the 2020 football season, but the conclusion didn't go as planned.
Heber Springs (2-9) finished the year with a 43-14 loss to Trumann at RMC Stadium in the opening round of the Class 4A football playoffs Friday.
"If you had told me nine weeks ago we would play 11 games, I would have said you were crazy," Heber Springs coach Todd Wood said. "We were blessed to play 11 games. A lot of players who were inexperienced before the start of the season gained experience, and they will be coming back next year. I'm proud of the players for never giving up at any time during the season."
Trumann followed a similar script of previous Heber Springs' opponents by converting turnovers into touchdowns. The Wildcats scored two of their three first-half touchdowns following an interception and a fumble recovery.
The Panthers held a 7-6 advantage in first downs during the first half. But Trumann had 154 yards of offense, 127 coming on the ground, to 89 for Heber Springs. The Wildcats had three quarterback sacks for a minus 18 yards.
Trumann scored touchdowns on its first two possession of the second half.
Overall, Trumann outgained Heber Springs 348-198. The Wildcats compiled 305 of their 348 yards on the ground, but only held the ball five more minutes than the Panthers (26:43-21:17). Trumann finished by sacking HSHS quarterbacks seven times for a minus 45 yards.
"It was the same story from most of the season, when we hang onto the ball, we did well," Wood said. "When we didn't, teams took advantage and put us in a hole. That happened again. You can't do that against a playoff team."
Senior quarterback Matthew Cook led the Panthers by completing 14-of-24 passes for 105 yards and two touchdowns. Cook rushed nine times for a minus 6 yards, including sacks.
Senior running back Diego Rubio rushed for 65 yards on seven carries. Junior Jackson West ran for 50 yards on five attempts. Senior Nathan McKee caught seven passes for 63 yards and one touchdown. Freshman Parker Brown had 57 all-purpose yards and caught his first high school touchdown pass.
Rian King led Trumann with 109 yards rushing and scored three touchdowns. Milton Lewis ran for 78 yards and two touchdowns. Gavin Morgan also had 78 yards and scored one touchdown.
King's interception put Trumann in position for the game's first touchdown. The Wildcats drove 53 yards on six plays with King scoring on a 2-yard carry with 5:13 left in the first quarter. Efrain Garcia kicked the extra point for the 7-0 lead.
Trumann recovered a fumble at the Heber Springs 13 to set up its second touchdown. Two plays later, Lewis ran six yards for a touchdown with 11:56 left in the first half. Garcia kicked the extra point for the 14-0 lead.
Heber Springs answered with an 8-play, 54-yard drive following the kickoff. Cook passed 10 yards to McKee and Rubio broke loose on a 16-yard run to get the drive moving. Later, Rubio's 11-yard run gave the Panthers a first-and-goal at the Trumann 1.
Two plays later, Cook rolled out and flipped a 3-yard touchdown pass to Brown with 8:31 remaining in the first half. A 2-point conversion attempt was unsuccessful as Heber Springs trailed, 14-6.
"We felt good after getting it to 14-6," Wood said. "We had a good offensive drive and gained some momentum. I thought we could piece things together, get a defensive stop and get the ball back. Credit Trumann for coming out and doing some things different than we saw on film."
Trumann regained a two-score lead before halftime by driving 54 yards on 12 plays. King scored on a 14-yard run with 1:56 to go for a 20-6 lead.
"I challenged the players at halftime to get a defensive start at the beginning of the third quarter," Wood said. "We needed a defensive stop. Unfortunately, we were not healthy and had other players unable to play. We were just outmatched."
Trumann began the third quarter on a 5-play, 58-yard drive. King broke free and ran 46 yards for the touchdown with 9:45 left. McClain ran for a 2-point conversion and increased the lead to 28-6.
The Wildcats held on downs and drove 59 yards on 11 plays. King capped the drive by scoring on a 9-yard run with 10:49 left in the game. Garcia kicked the extra point for the 35-6 lead.
Heber Springs' second touchdown came on a 5-play, 61-yard drive. Cook connected on a 31-yard scoring pass to McKee with 8:44 left. Cook ran for the 2-point conversion as the Panthers trailed, 35-14.
Trumann recovered the attempted onside kickoff and scored two plays later. Morgan had a 46-yard touchdown run with 8:26 remaining. Lewis ran for the 2-point conversion.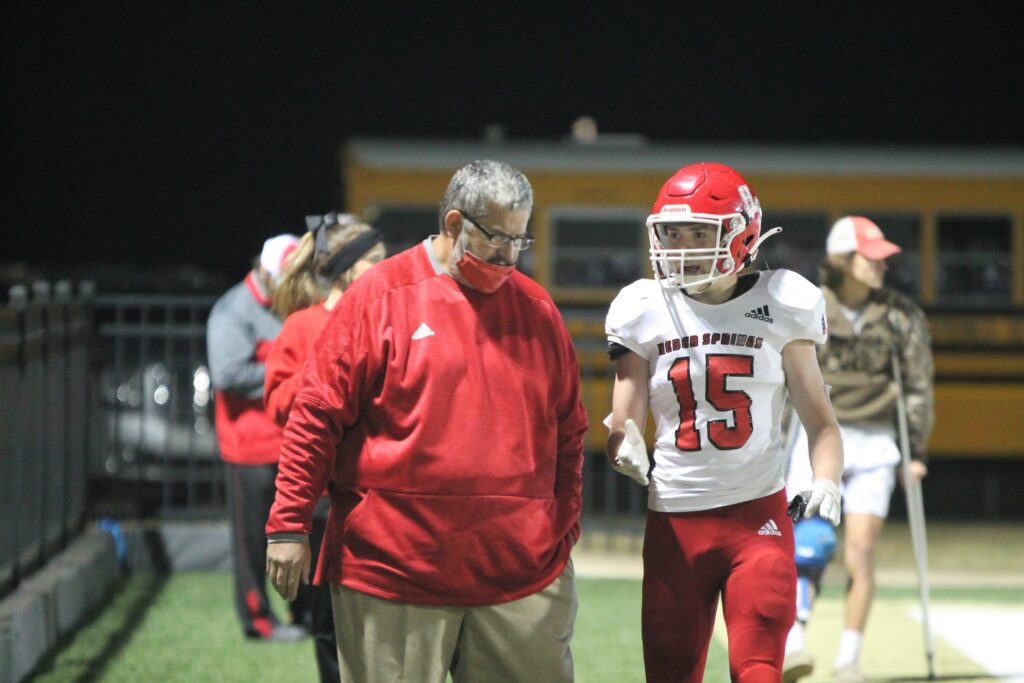 Heber Springs (2-9)   0  6  0  8 - 14 
Trumann (6-5)         7 13  8 15 - 43  
FIRST QUARTER    
Trumann, Rian King 2-yard run (Efrain Garcia kick), 5:13 
SECOND QUARTER 
Trumann, Milton Lewis 7-yard run (Garcia kick), 11:56 
Heber Springs, Matthew Cook to Parker Brown 3-yard pass (pass failed), 8:31 
Trumann, Lewis 14-yard run (kick failed), 1:50 
THIRD QUARTER    
Trumann, King 46-yard run (Connor McClain run), 9:43 
FOURTH QUARTER  
Trumann, King 9-yard run (Garcia kick), 10:49 
Heber Springs, Cook to Nathan McKee 2-yard pass (Cook run), 8:44 Trumann, Gavin Morgan 46-yard run (Lewis run), 8:26 
TEAM STATS    
First Downs by Rush: Heber Springs 6, Trumann 13 
First Downs by Pass: Heber Springs 5, Trumann 1 
First Downs by Penalty: Heber Springs 1, Trumann 0 
Total First Downs: Heber Springs 12, Trumann 14 
Third-Down Conversions: Heber Springs 5/10, Trumann 3/7 
Fourth-Down Conversions: Heber Springs 1/3, Trumann 3/3 
Red-Zone Conversions: Heber Springs 2/1, Trumann 4/4 
Time of Possession: Heber Springs 21:17, Trumann 26:43 
Fumbles/Lost: Heber Springs 2/1, Trumann 1/1 
Turnovers: Heber Springs 2, Trumann 1      
Points Off Turnovers: Heber Springs 0, Trumann 14 
Penalties: Heber Springs 6/30, Trumann 6/52 
Rushing: Heber Springs 26/83/3.2, Trumann 44/305/6.9 
Passing: Heber Springs 16/27-115-2/1, Trumann 6/7-43-0/0 
Plays/Total Offense/YPP: Heber Springs 53/198/3.7, Trumann 51/348/6.8
Sacks/Yards Lost: Heber Springs 0/0, Mills 7/45 
Punts: Heber Springs 0, Trumann 1/41 
Inside 20: Trumann 1 
INDIVIDUAL STATS    
OFFENSE      
RUSHING: Heber Springs, Diego Rubio 7/65, Jackson West 5/50, Nathan McKee 2/(-3), Matthew Cook 9/(-6), John McBroome 3/(-23). Trumann, Rian King 14/109/3, Milton Lewis 13/78/2, Gavin Morgan 7/78/1, Murphy Williams 3/33, Parks McNair 1/13, Connor McClain 1/4, Team 1/(-4), Garner Henderson 1/(-6). 
PASSING: Heber Springs, Matthew Cook 14/24-105-2/1, John McBroome 2/3-10-0/0. Trumann, Connor McClain 6/7-43-0/0. 
RECEIVING: Heber Springs, Nathan McKee 7/63/1, Diego Rubio 2/8, Gus Hannah 1/25, Jackson West 1/5, Isaac King 1/8, Austin Winchester 1/8, Parker Brown 1/3/1, Chris Roberts 1/2, Easton Cusick 1/(-1). Trumann, Parks McNair 4/22, Gavin Morgan 1/11, Rian King 1/1. 
TOTAL OFFENSE: Heber Springs, Matthew Cook 99, Diego Rubio 65, Jackson West 50, Nathan McKee (-3), John McBroome (-13). Trumann, Rian King 109, Milton Lewis 78, Gavin Morgan 78, Connor McClain 47, Murphy Williams 33, Parks McNair 13, Garner Henderson (-6). 
PUNT RETURNS: None 
KICK RETURNS: Heber Springs, Parker Brown 3/54, Kenan Sneed 1/0, Austin Winchester 1/0. Trumann, Murphy Williams 1/0. 
FUMBLE RETURNS: None 
INTERCEPTION RETURNS: Trumann, Rian King 1/22 
ALL-PURPOSE YARDS: Heber Springs, Diego Rubio 73, Nathan McKee 60, Parker Brown 57, Jackson West 55, Gus Hannah 25, Isaac King 8, Austin Winchester 8, Chris Roberts 2, Easton Cusick (-1), Matthew Cook (-6), John McBroome (-23). Trumann, Rian King 132, Gavin Morgan 89, Milton Lewis 78, Parks McNair 35, Murphy Williams 33, Connor McClain 4, Garner Henderson (-6). 
SCORING: Heber Springs, Parker Brown 6, Nathan McKee 6, Matthew Cook 2. Trumann, Rian King 18, Milton Lewis 14, Gavin Morgan 6, Efrain Garcia 3 (3/4 XPA), Connor McClain 2. 
DEFENSE     
PUNTS/YARDS/AVERAGE/INSIDE THE 20/BLOCKED: Trumann, Connor McClain 1/41/1 
SACKS/YARDS LOST: Trumann, Garen Smithson 2/9, Garner Henderson 2/15, Eli Evett 1/10, Connor McClain 1/5, Desmond Langston 1/7