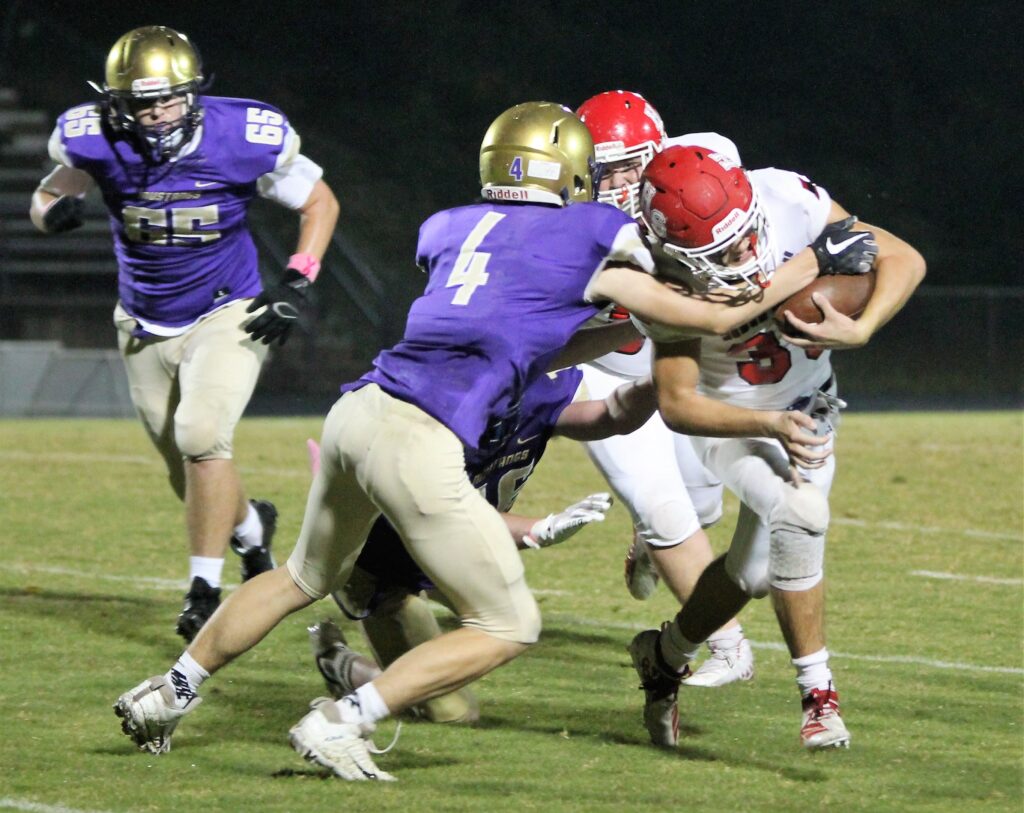 By LARRY "SCOOP" McCARTY
Heber Springs will look to put all of the pieces together for an entire game as the Panthers will host Bald Knob for homecoming in a 2-4A Conference football game at 7 p.m. Friday.
Homecoming festivities are scheduled to start at 6:30 p.m., with the crowning of queen Hope Evans.
After losses to the three teams tied for the conference lead, Heber Springs (0-3 conference, 1-5 overall) will meet Bald Knob (1-2 conference, 4-3 overall), which will try and bounce back from last week's 45-8 loss at Stuttgart.
The Panthers trailed fourth place Southside Batesville, Little Rock Mills and the Bulldogs by one game in the conference standings.
"The players were disappointed with the loss to Central Arkansas Christian (35-14)," Heber Springs coach Todd Wood said. "We trailed by seven points with eight minutes left in the game. After the game, I challenged the players to play at a higher level against Bald Knob."
Wood said the players had three of their best practices all season during the week and believes it will carry over to Friday's game.
"We had a better attitude and showed more spirit during practices," he said. "I was pleased with the effort. I hope that effort will continue."
Bald Knob features a run-oriented attack. Wood said one of the keys to success for the Heber Springs defense is to win the battle at the line of scrimmage.
"Bald Knob is a spread team that likes to run the ball," Wood said. "We must make sure we have enough guys in the area to contain the run and force them to pass. The quarterback makes good decisions, and the running back is talented. The offensive line is big and strong."
The Bulldogs play a 3-4 scheme on defense with the team's strength at linebacker.
"Bald Knob's defense is versatile," Wood said. "The two outside linebackers will put pressure on the quarterback. They also react well in stopping the run. The defensive line is big and plays physical."
Diego Rubio became the first Panther to rush for 100 yards in a game this season against CAC. Rubio had 143 yards on 10 carries, including a 58-yard touchdown run in the fourth quarter.
The passing game was effective as quarterback Matthew Cook completed 19-of-29 passes for 149 yards. Nathan McKee led the receivers with eight catches for 65 yards.
"We keep building every week," Wood said. "We are adding new plays and building on having more success. Cook stepped in and played well at quarterback and took charge of the offense. Diego is a hard runner and was able to get loose a few times last week."
Wood said the defense also keeps improving, and he expects a good performance against Bald Knob.
"We know our roles better," he said when asked about the defense's improvement. "The key against Bald Knob, like last week, is winning the line of scrimmage."
Wood said Preston Roberson and Thad Bray have played well on the defensive line, and a new player emerged against CAC.
"Roberson has played steady at end," Wood said. "Bray plays aggressive and gets into the backfield. Jayden Bremmon had one of his best game against CAC. Bremmon showed the ability to move well and uses his hands to gain leverage."
Wood also likes the play of the linebackers.
"(Kenan) Sneed has the ability to get to the ball. Jackson West has played well, along with Diego at the inside linebackers. Our secondary is improving."
Wood hopes homecoming will give the team an emotional boost.
"Homecoming always is a double-edge," Wood said. "I expect them to come out and play with a full effort."
2-4A CONFERENCE STANDINGS
                            W L CP  W L PS  PA 
Stuttgart                   3 0 39  5 0 207  26 
Lonoke                      3 0 33  5 1 233 132
Central Arkansas Christian  3 0 31  6 0 202 111
Southside Batesville        1 2 13  2 4 120 198   
Bald Knob                   1 2  6  3 3 144 136  
Little Rock Mills           1 2 11  2 4 146 174  
Heber Springs               0 3  0  1 5 113 220
Clinton                     0 3  0  0 6 137 285 
 
Friday, October 9
Central Arkansas Christian 35, Heber Springs 14
Little Rock Mills 46, Clinton 35
Lonoke 52, Southside Batesville 21
Stuttgart 45, Bald Knob 8

Friday, October 16
Bald Knob at Heber Springs
Central Arkansas Christian at Southside Batesville
Little Rock Mills at Lonoke
Stuttgart at Clinton
NOTES
Kickoff: 7 p.m. Panther Stadium
Admission: $5
Radio/Streaming: Billy Morgan with handle the play-by-play with Lance Hamilton providing color on KSUG 101.9 The Lake. Panther Pregame begins at 6:30 p.m. followed by the game. 
THE SERIES: Bald Knob leads 37-23-2
SERIES HISTORY: This will be the 63rd time these two schools have meet on the football field. Heber Springs and Bald Knob first played during the 1929 season, a 26-2, Panther victory. It would be 11 more seasons before the two teams played again, a 1940 12-0 victory by Heber Springs. Heber Springs would win the first three games in the series before Bald Knob would win 18 out of 20 games played (a 1950 34-13 win by the Panthers broke a five-game losing streak in the series while a 1964 12-7 win broke a 10-game losing streak). The series would be fairly even before Heber Springs won eight straight from 1976 through 1983 before the Bulldogs closed out the 1980s winning six-in-a-row. In the 1990s, the teams would meet seven times with the Panthers getting wins during the 1990 and 1999 seasons. Since the 2005 season, Heber Springs and Bald Knob have played nine times with the Panthers winning seven of those contests, including 34-7 last season.