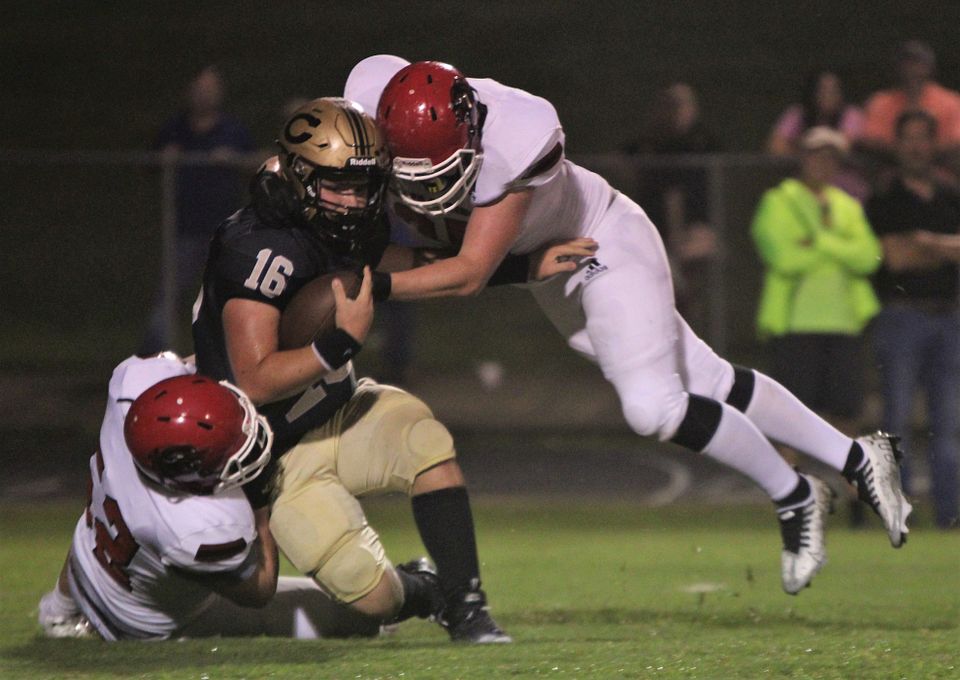 By LARRY "SCOOP" McCARTY
CLINTON – Missed opportunities forced the Heber Springs Panthers to play catch-up from the start of Friday's football season opener against longtime rival Clinton at Jim Tumlinson Field.
The Yellowjackets built a 16-0 with 4:08 left in the first half before pulling away during the second half and won their seventh consecutive The Battle of the Little Red Trophy, 30-14.
Heber Springs reduced Clinton's lead in half on Zach Parker's fumble recovery at the Yellowjacket 19 late in the second quarter. The Panthers scored four plays later and with a successful 2-point conversion, trailed 16-8 at halftime.
Clinton scored twice during the third quarter, both after Heber Springs' turnovers. The Panthers' final touchdown came early during the fourth quarter.
"The first quarter was a battle between our defense and Clinton's offense," Heber Springs coach Todd Wood said. "It also was our inability of doing a better job of coaching, and that's on me. I take full responsibility of what happened on offense. We will take care of all of that."
Wood complemented the defense for hanging in there and keeping the team in the game. The Heber Springs defense, who spent 28 of 48 minutes on the field, gave up 241 yards rushing, but almost half of that came on two long Yellowjacket runs.
"I can't say enough good things about our defense," Wood said. "They did some great things on the field. We got the ball multiple stops on fourth down (2-of-5) and created a couple of turnovers. I can't ask anything more from them. They will continue to grow and get better."
Sophomore Jacob McMullin of the Panthers was credited with 1 1/2 quarterback sacks. Junior Joenah Cordell had a half sack.
Clinton's Landon Rose did most of the damage on the ground with 109 yards on six attempts and scored two touchdowns. Brody Emberton ran five times for 70 yards and scored one touchdown. Emberton also caught a 74-yard touchdown pass.
Yellowjacket quarterback Jobe Chalk completed 8-of-12 passes for 96 yards.
Heber Springs gained 225 yards of total offense (121 rushing yards, 104 passing yards).
Heber Springs quarterback Xander Lindley led the Panthers with 51 yards rushing, followed by Parker Brown, who had 44 yards on nine carries and scored one touchdown. Logan Rutledge caught four passes for 46 yards and one touchdown.
Heber Springs converted 4-of-16 third-down situations and no conversions on seven fourth-down plays.
"We need to support our defense and keep the ball longer," Wood said. "The defense spent too much time on the field. One of the issues of the offense was not maintaining possession in those situations."
The opening kickoff was delayed 45 minutes because of a lightning delay. Clinton received the kickoff and drove 45 yards to the Heber Springs 24. On fourth-and-2, the Panthers held when Kenan Sneed tackled Spencer Bannister for a 2-yard loss.
The Yellowjackets took the lead with 11:19 left in the first half on a fourth-down play. Out of the Wildcat formation, Brody Emberton ran 12 yards for the game's first score. Bryston Venable ran for the 2-point conversion and the 8-0 lead.
Clinton later regained possession on another fourth-down stop and began its next scoring drive at the Yellowjacket 25-yard line. Three plays later, Jobe Chalk passed to Emberton, who caught the ball near midfield and completed a 74-yard touchdown play with 4:08 remaining in the first half. Venable ran for a 2-point conversion.
Clinton had another fourth down stop at the Heber Springs 28. However, to plays later, the Panther defense forced Clinton's first turnover on the next play when Parker's fumble recovery at the 19 with 1:32 to go until halftime.
Lindley rushed for seven yards on first down and passed eight yards to Dalton Yancey two plays later for a first-and-goal at the 5-yard line. Logan Rutledge then snagged a touchdown pass from Lindley on the next play with 27 seconds left. Lindley passed to Yancey for the 2-point conversion as Heber Springs trailed 16-8 at halftime.
Momentum shifted back to Clinton on Dawson Maynard's interception of a Lindley pass at the Yellowjacket 38-yard line and returned it 18 yards. Rose's 34-yard touchdown run increased Clinton's advantage to 24-8 with 3:47 left in the third quarter. Rose also ran for the 2-point conversion.
"We had a big momentum drive for the touchdown after the touchdown," Wood said. "We needed to take the second-half kickoff, drive for a tying score and get back in the game. We didn't and turned the ball over."
Clinton put the game away late in the third quarter after a fourth-down stop. Rose broke loose on a 61-yard drive to finish a four-play, 80-yard drive with 19 seconds left in the third quarter. The try for a 2-point conversion was unsuccessful as the Yellowjackets led 30-8 going into the fourth quarter.
Chris Edwards returned a short kickoff 11 yards to give the Panthers good field position at the Clinton 47. Rutledge caught a 26-yard pass from Lindley to put the Panthers, and two plays later, Brown scored on an 18-yard run with 10:43 left in the game. The 2-point conversion attempt was unsuccessful.
Heber Springs will seek to bounce back against Southside Batesville at Panther Stadium on Friday.
"The loss to Clinton is a tough game to take," Wood said. "We must move forward and prepare for Southside."
Brought to you by Business Booster Tate Family Chiropractic