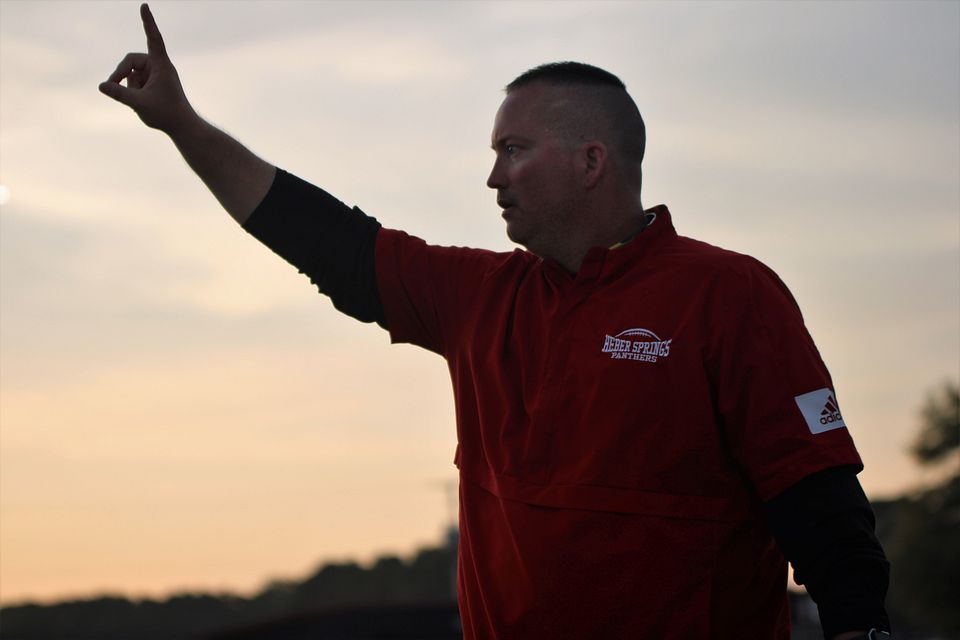 By LARRY "SCOOP" McCARTY
While most eyes may be on the top running back for each offense, the winner of the battle on the line of scrimmage may determine the winner of Friday's football game at Jim Tumlinson Field in Clinton.
Heber Springs will open its season against the Yellowjackets at 7 p.m. tonight.
"The players are at the point of being tired of hitting each other in practice and want to play a game," Panther coach Todd Wood said. "We had two weeks to prepare for Clinton, correct our mistakes from the Beebe scrimmage and put in new plays for this game. We feel comfortable going into the game.
Yellowjacket junior running back Zane Widner and his counterpart from Heber Springs, will receive plenty of attention. Widner highlighted Clinton's 35-20 win at Cave City last Friday by rushing for 168 yards and scored one touchdown. Widner also caught one pass for 22 yards.
Brown, who rushed for 834 yards and 11 touchdowns last season, will attract plenty of attention from the Clinton defense. Brown also caught 17 passes for 314 yards and five touchdowns.
But the battle on the line of scrimmage will influence the outcome more.
The Panthers have only one returning offensive starting lineman — junior Corbin Jones at left tackle. The other four starters will be limited or no high school game playing experience.
Junior Eli Presnull (5-11, 270), a transfer from Vilonia, will start at center. Sophomore Axley Davis (6-2, 270) and Junior Dustin Stone (6-0, 256) are the expected starters at right guard and right tackle, respectively. Freshman Cade James (6-0, 200) and sophomore Gauge Owens (5-9, 200) will split time at left guard.
"We made adjustments on the offensive line after the scrimmage at Beebe," Wood said. "We need the offensive line to play well, secure their lanes and have a tight circle around our quarterback. We got to get our running game going, along with the passing game."
The Yellowjackets scored five touchdowns on its seven possessions against Cave City. The Yellowjackets, who remain in the Wing-T, rushed for 334 yards and passed for 89 yards and one touchdown.
"Clinton is discipline at every position and knows how to play," Wood said. "I was impressed with their offense that took advantage of what Cave City gave them. Clinton moved the ball when it mattered. I thought they made great adjustments at halftime for the second half."
While Widner had the big stats, Wood said he was impressed with quarterback Jobe Chalk (4-of-6 passes for 89 yards and one touchdown), running back Spencer Bannister (7-46 rushing for one touchdown) and receiver Brody Emberton caught three passes for 67 yards and scored one touchdown.
"They are very good players," Wood said. "I was impressed with their quarterback. He has a good arm and plays behind a very good offensive line. No. 7 (Bannister) impressed me. He ran hard in the open field and has good speed."
Wood believes the Panthers can match Clinton's firepower. Junior Xander Lindley returns at quarterback with three-year starter Easton Cusick leading the receivers. Junior Dalton Yancey started last season. Sophomore Logan Rutledge, and seniors Chris Edwards, Bauer Pruitt and Chandler Webber will provide options.
"Easton knows the ins and outs at receiver," Wood said. "(Sophomore) Weston Warden will be a threat with (junior) Gideon Tate and (senior) Kenan Sneed."
Wood liked the play by his defense at the scrimmage and expects steady improvement during the season.
"We had a lot of players getting to the ball carrier against Beebe and had few missed assignments," he said. "Overall, we feel good about our starters and backups. We need to create turnovers, and the players went through drills during practices to do that better."
Special-team play also count affect the outcome.
"I feel good about our kicking game," Wood said. "Tate's leg is getting stronger. We need more consistency kicking off into the end zone. But Clinton also has a good kicker."
Finally, the Panthers have looked forward to this game since last year's loss to the Yellowjackets at Panther Stadium. Wood challenged his team to stop the streak in the battle for the Battle of the Little Red Trophy.
Heber Springs has a long rivalry against Clinton through the years. The Yellowjackets have won their first six games for the trophy, as the Panthers seek to end that streak.
"I stressed the importance of the game and stopping the streak following the scrimmage," he said. "We want to bring the trophy home. I know it has been in back of players' minds. We want to be the team that stops the streak."
Brought to you by Business Booster Tate Family Chiropractic