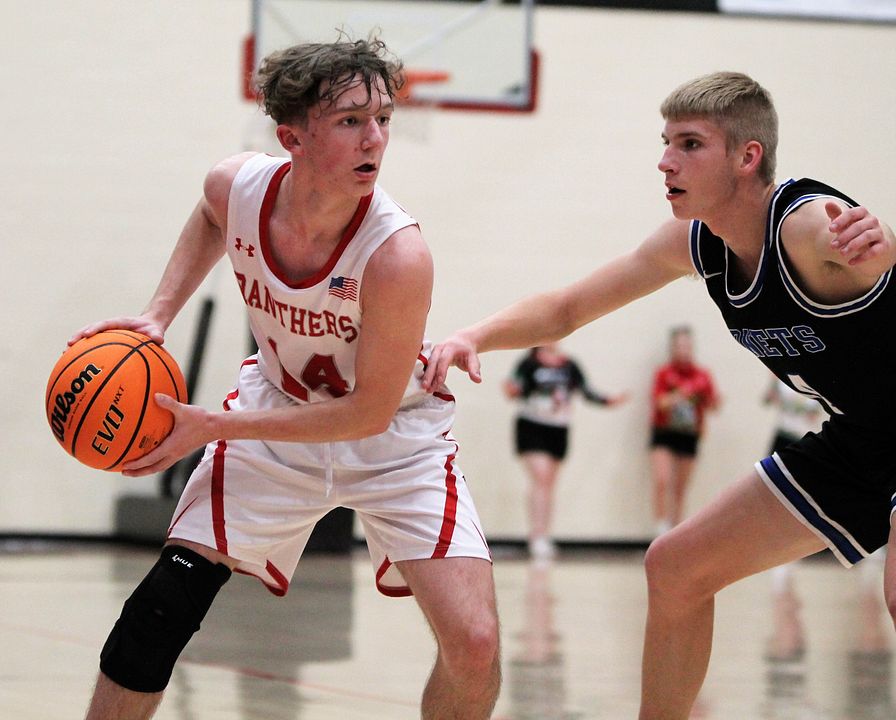 By LARRY "SCOOP" McCARTY
Senior Ryan Crocker and junior Gavin Vaughn led a 9-0 scoring run late in the fourth quarter as the Heber Springs Panthers stopped a two-game losing skid by rallying past South Side Bee Branch 41-38 in a nonconference basketball game at the Panther Den on Tuesday.
The Panthers (0-1 in 4-4A, 5-4 overall) returned above .500 on the season before Friday's 4-4A conference game at Ozark (4-6, 0-0 in the 4-4A).
Vaughn led the Panthers with 12 points, including two 3-pointers. Eli Riggs and J.T. Spears each made two 3-pointers. Crocker also had a 3-pointer.
Former Panther Conner Riddle was the leading scorer for Southside (10-11) with 15 points, including two 3-pointers.
"Ryan did a good job, especially on defense," Heber Springs coach Jordan Riley said. "He contested shots around the rim and rebounded well. Galvin has come a long way. He is beginning to figure things out, running the show and getting the ball to the right spots."
The Hornets claimed the lead on a 7-2 scoring run late in the fourth quarter. Riddle's 3-pointer increased the Hornets' lead to 35-30 with 3:42 left in the fourth quarter. Heber Springs started its final scoring surge after Crocker's block of Reese Beaudin's baseline jumper.
The defensive play resulted into a 3-pointer by Vaughn from the right wing with 3:22 left in the game. After a defensive stop, Crocker connected from behind the arc, giving the Panthers a 36-35 lead with 1:42 to go.
Vaughn converted two free throws and Brown added 1-of-2 for a 39-35 lead with 23 seconds remaining. The lead increased to six points after Riggs and Vaughn each sank 1-of-2 free throws.
South Side's Whitt Holland hit a 3-point shot at the buzzer.
"We had two close losses (Benton Harmony Grove and Subiaco Academy) and needed to win and did it," Riley said. "We came up with a turnover (Crocker's blocked shot) and made a three to take the lead. We held on for the remainder of the game."
Riggs, Spears and Brown each made field goals for a 6-0 Heber Springs lead early in the first quarter. Beaudin and Riddle each scored baskets, but the Panthers scored the next five points for an 11-4 lead going into the second quarter.
Riggs connected on a 3-point jumper for the largest lead of the game, 16-8. The Hornets finished with a 7-0 run, capped by Holland's 3-pointer as Heber Springs led 16-15 at halftime.
The lead changed four times during the third quarter. South Side led 24-20 before Brown led the Panther charge late in the quarter with two free throws, and Spears hit a 3-pointer for a 25-24 lead going into the fourth quarter.
"J.T. stepped up and made two big shots (3-pointers)," Riley said. "I'm proud of the way we adjusted during the second half. Offensively, we had too many turnovers during the first half that caused problems. We started to play the right way during the second half and got the job done."
Riley said the win will give his team confidence going into Friday's game at Ozark as well as the second half of the season.
"If we can reduce turnovers and make free throws better, we have a chance for a good season," he said. "We were two possessions away from being 7-2. I feel good where the team is right now. This win will give us confidence. I hope it also gets the players believing in themselves more. That will help put us on the right track."
Southside Bee Branch           4 11 9 14--38
Heber Springs                 11  5 9 16--41
SOUTH SIDE BEE BRANCH SCORING (38): Conner Riddle 15, Reese Beaudin 9, Whitt Holland 6, Nathan Emmart 6, Tyler Sullivan 2.
HEBER SPRINGS SCORING (41): Gavin Vaughn 12, Eli Riggs 9, J.T. Spears 8, Parker Brown 7, Ryan Crocker 5.
Help support local and independent journalism by donating today.
HEBER SPRINGS SENIOR BOYS
2021-2022
(Click on a game for previous details)
(Record: 5-4, 4-4A Conference: 0-1)
Nov. 18   Heber Springs 43, Bald Knob 37
Nov. 22   Guy-Perkins 54, Heber Springs 39
Nov. 23   Heber Springs 46, Shirley 34
Nov. 29   Conway St. Joseph 37, Heber Springs 30 +
Dec. 02   Heber Springs 43, Mayflower 41 +
Dec. 04   Heber Springs 36, South Side Bee Branch 25 +
Dec. 07   Benton Harmony Grove 31, Heber Springs 29
Dec. 10   Subiaco Academy 43, Heber Springs 40 *
Dec. 14   Heber Springs 41, South Side Bee Branch 38
Dec. 17   at Ozark (JG, JB, SG, SB), 4 p.m. *
Dec. 20   at Lonoke (JG, JB, SG, SB), 4 p.m. 
Dec. 21   at Des Arc (JG, JB, SG, SB), 4 p.m.
Dec. 28-30 at Mount Vernon-Enola Tournament (SG, SB)
Jan. 04   Morrilton (SGJV, SBJV, SG, SB), 6 p.m. *
Jan. 07   at Dardanelle (JG, JB. SG, SB), 4 p.m. *
Jan. 11   at Clarksville (SBJV, SG, SB), 5 p.m. *
Jan. 14   Pottsville (JG, JB, SG, SB), 4 p.m. *
Jan. 21   Ozark (JG, JB, SG, SB), 4 p.m. *
Jan. 25   at Morrilton (SGJB, SBJB, SG, SB), 6 p.m. *
Jan. 28   at Subiaco Academy (JB, SB), 5 p.m.
Feb. 01   Dardanelle (JG, JB, SG, SB), 4 p.m.
Feb. 03   Clarksville (SBJV, SG, SB), 5 p.m. *
Feb. 08   at Pottsville (SGJV, SG, SB), 6 p.m. *
Feb. 14   District Tournament at Subiaco Academy
( + - Denotes Conway St. Joseph Tournament)