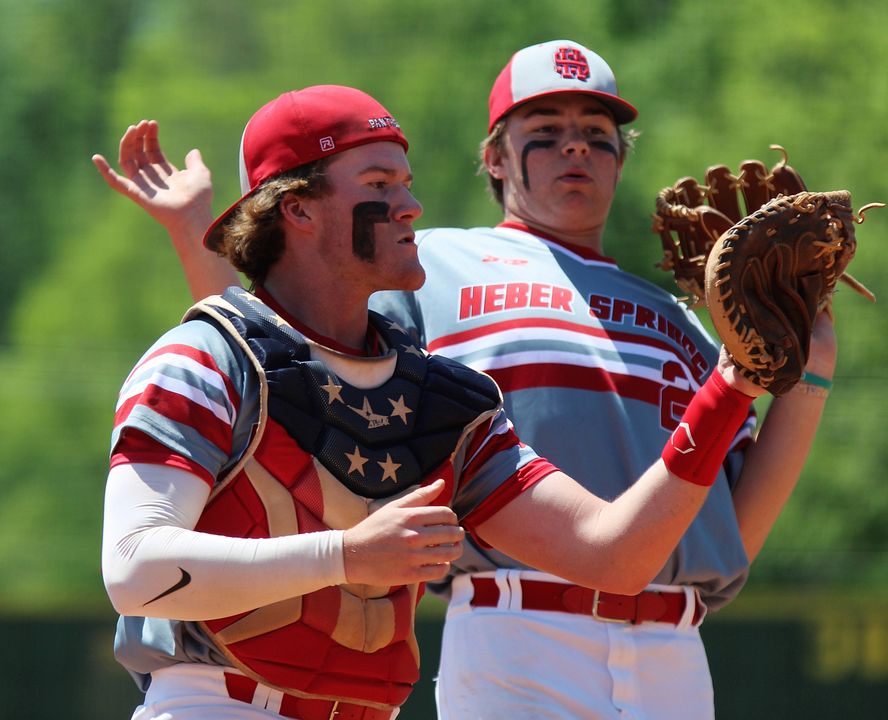 By LARRY "SCOOP" McCARTY
The Heber Springs Panther baseball team reached its first season goal with Saturday's 10-6 win against Subiaco Academy in the regular season finale at the Heber Springs Sports Complex.
The Panthers (11-11 overall, 3-3 in 4-4A) will begin play at the 4-4A Conference Tournament against Clarksville at 4 p.m. Tuesday in Pottsville. Tuesday's winner will qualify for the North Regional tournament in Morrilton.
Subiaco Academy (8-10 overall, 1-5 in 4-4A) is scheduled to play Pottsville in the play-in game, also on Tuesday.
"We set a goal of avoiding the play-in game and accomplished it," Heber Springs coach Ryan Bridges said. "It also will benefit our pitching staff. We need one win get to the regional tournament and that also was one of our goals. The players are excited about that."
The Panthers defeated Clarksville (9-7 overall, 2-4 in 4-4A) 3-2 earlier this season in Clarksville.
"It will be a tough game," Bridges said. "Clarksville has a big lefty, who is a very good pitcher. We have not faced him yet. We will be working on our hitting in practice and then see what happens on Tuesday."
Liam Buffalo led the Heber Springs' offense with three singles and an RBI, plus two stolen bases. Preston Fitzpatrick hit a single and a double for three RBIs. Ty West had two singles and a stolen base. John McBroome contributed two singles.
The Panthers broke the game open by scoring five runs during the second inning and pulled away to a 6-1 lead.
"The second inning helped to get us going," Bridges said. We put the ball in play It helped us to get more comfortable. The bunt hits and doing what we needed helped to win the game by putting more runs on the board."
But it was not just hitting. Bridges liked the performance of his pitching staff.
Corbin Jones, who was the starting and winning pitcher, allowed five hits and two earned runs with three strikeouts and a walk in four innings. Logan Lozeau pitched the fifth inning and gave up three hits and an earned run with one walk and a strikeout.
West relieved Lozeau in the sixth and allowed two hits and three runs, one run earned, with one walk. Buffalo pitched the seventh and permitted two hits and struck out two batters.
"We got good pitching," Bridges said. "Corbin pitched well for four innings. Logan and Ty helped out and Buffalo closed the game."
Subiaco Academy took a 1-0 lead in the top of the first inning. Wesley Schluterman reached base on a single and later scored on Drew Creek's infield out. The Panthers tied the game in the bottom of the inning. Zane Lozeau walked, advanced to second on an infield out and scored on Buffalo's two-out RBI single.
Heber Springs loaded the bases with no outs in the 5-run second inning. Preston Fitzpatrick hit a 2-run single to break the 1-1 tie. McBroome came home on Zane Lozeau's sac fly and Fitzpatrick scored after a wild pitch. Cole Payton walked and crossed the plate when Buffalo reached on an error.
The Trojans scored runs in the third and fifth innings.
In the bottom of the fifth, the Panthers increased their lead to 10-3. West hit 2-run single, J.T. Spears scored on an infield hit, and West crossed the plate when Sneed was hit by a pitch with the bases loaded.
Subiaco Academy scored its final three runs in the sixth inning.
"We tried to be more aggressive running the bases," Bridges said. "Getting clutch hits and the base running helped to put the game away (in the fifth)."
Bridges hasn't decided on a starting pitcher for Clarksville. Spears, who pitched a complete-game win in the teams' earlier game, is the likely starter.
"That game was scoreless until the sixth inning," Bridges said. "Not sure if J.T. might start or go with someone else since he pitched last time we played. We got the momentum with Saturday's win. I like our chances for Tuesday's games."
Subiaco Academy    100 113  0–6 12 2
Heber Springs           150 040 x–10 10 1
SUBIACO ACADEMY HITTERS: Wesley Schluterman single, double, 1 RBI; Ivan Martijin 2 singles, 1 stolen base; Brody Koch 2 singles, 1 stolen base; Luke Castro double, 1 stolen base; Jacob Grist double; Conner Haynes single, 1 RBI; Drew Creek single, 1 stolen base; Sebastian Kersh single.
HEBER SPRINGS HITTERS: Liam Buffalo 3 singles, 1 RBI, 2 stolen bases; Preston Fitzpatrick single, double, 3 RBIs; Ty West 2 singles, 1 stolen base; John McBroome 2 singles; J.T. Spears single; Cole Payton 1 RBI, 1 stolen base, Zane Lozeau 1 RBI; Kenan Sneed 1 RBI.
SUBIACO ACADEMY PITTERS: Conner Haynes 1 hit, 1 earned run, 1 strikeout in 1 inning; Wesley Schluterman (LP) 4 hits, 5 runs, 3 earned runs, 2 walks, 3 strikeouts in 2 innings; Logan Hess 5 hits, 4 earned runs in 3 innings.
HEBER SPRINGS PITCHERS: Corbin Jones (WP) 5 hits, 2 earned runs, 3 strikeouts, 1 walk in 4 innings; Logan Lozeau 3 hits, 1 earned run, 1 walk, 1 strikeout in 1 inning; Ty West 2 hits, 3 runs, 1 earned run, 1 walk in 1 inning; Liam Buffalo 2 hits, 0 runs, 2 strikeouts in 1 inning.