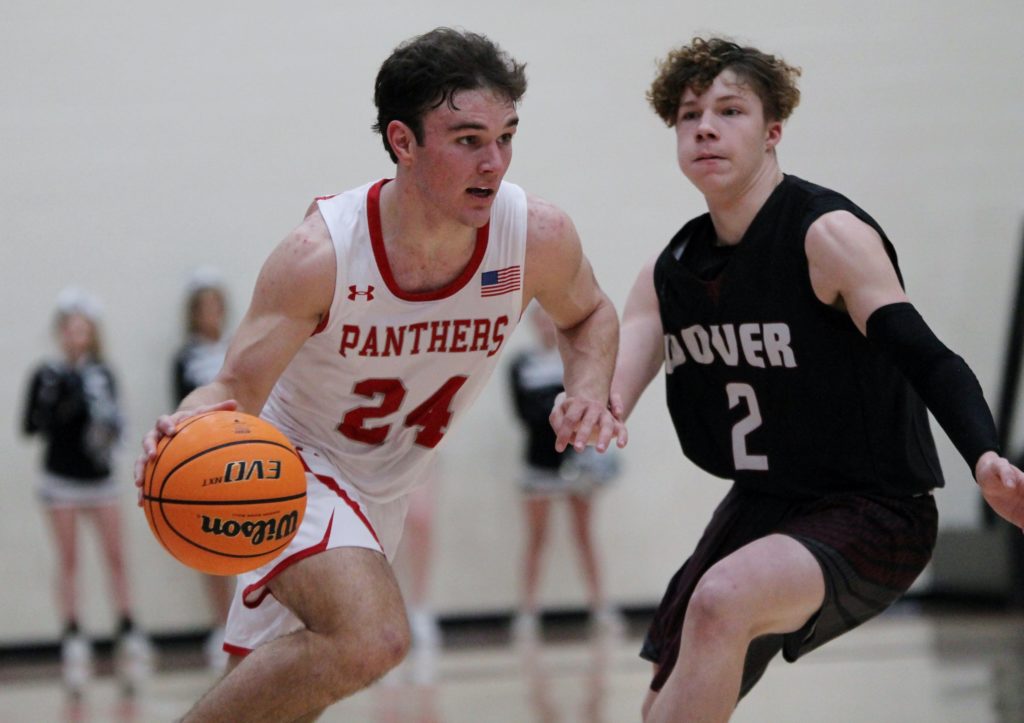 JANUARY 24, 2020
By LARRY "SCOOP" McCARTY
Dover's outside-inside combination of Josh Besterfeldt and Caden Frazier prevailed in the final minute against the Heber Springs Panthers at the Panther Den Friday.
Besterfeldt made a 3-pointer to give Dover a 51-49 lead with 49 seconds left in the game as the Pirates defeated Heber Springs 55-50 in a 4-4A Conference basketball game.
Frazier and Ross Laffoon led Dover with 15 points. Besterfeldt had 14 points. Dalton McCollum scored 22 points for the Panthers, followed by Adam Martin with 21 points.
"We did a good job of taking Besterfeldt out of the game until late," Heber Springs coach Chad Johnson said. "Dover adjusted and got the ball to Frazier on the onside and we don't have a players with height that could match up against him. We tried to double-team Frazier, but he would pass the ball back to Besterfeldt."
McCollum and Martin, who are the team's leading scorers on the season, each fouled out in the final two minutes.
"It hurt losing them late in the game," Johnson said. "They always give the team great leadership and they are good ballhandlers."
McCollum's field goal started a 12-4 scoring run midway through the first quarter. The Panthers led 18-11 going into the second quarter.
Heber Springs increased its lead to 27-17 late in the first half. Dover responded by scoring two field goals as the Panthers led 27-21 at halftime.
The third quarter remained close and Heber Springs emerged with a 39-33 lead going into the fourth quarter.
"We played with a lot of intensity throughout the game," Johnson said. "The players loved the big crowd and the loud student section. They were playing for the crowd, which inspired them. I'm proud of the way they played."
Heber Springs (1-7 in conference, 1-17 overall) face a two-game road trip. The Panthers will play at Pottsville Tuesday and then go to Ozark on Friday.
"We will be playing two good teams," Johnson said. "Both games will be tough matchups."
JANUARY 24, 2020 BOXSCORE
Dover at Heber Springs
Dover         11 10 12 22 - 55
Heber Springs 18  9 12 11 - 50
DOVER SCORING (55): Caden Frazier 15, Russ Laffoon 15, Josh Besterfeldt 14, Leighton Alexander 7, Robbie Flowers 3, Landen Parker 1
HEBER SPRINGS SCORING (50): Dalton McCollum 24, Adam Martin 21, Garrett Hudspeth 4, Zach Thomas 1

JANUARY 17, 2020 BOXSCORE
Heber Springs at Clarksville
Clarksville  11 9 17 1 - 38
Heber Springs 9 9 14 0 - 32
CLARKSVILLE SCORING (38): Braden Payne 10, Garrett Waddill 6, John Case 6, Owen Ashlock 6, Cameron Patterson 5, Miles Castleman 5
HEBER SPRINGS SCORING (32): Dalton McCollum 16, Garrett Hudspeth 8, Wyatt Sanders 3, Logan Monahan 3, Zach Thomas 2

JANUARY 10 BOXSCORE
Heber Springs at Subiaco Academy
Subiaco Academy 15 4 18 10 - 47
Heber Springs    4 7  2 15 - 28
SUBIACO ACADEMY SCORING (47): Johnathan Mercera 12, Jackson Frederick 11, Conner King 10, Ivan Martijn 8, Jude Percy-Allen 2, Jeadan Nieveld 2, Justin Luidens 2
HEBER SPRINGS SCORING (28): Dalton McCollum 14, Adam Martin 8, Wyatt Sanders 4, Garrett Hudspeth 2
4A-4 SENIOR BOYS STANDINGS
                 Conference Season
Morrilton            7-1     15-6
Ozark                6-2     13-7
Dardanelle           6-2     19-2 
Pottsville           4-4      6-10
Clarksville          4-4      8-12
Subiaco Academy      3-5      7-12
Heber Springs        1-7      1-17
Dover                1-7      5-16  
HEBER SPRINGS SENIOR BOYS BASKETBALL
2019-2020 SCHEDULE RESULTS
RECORD: 1-17
4A-4 RECORD: 1-7
November 21 - Riverview 68, Heber Springs 36
November 26 - Clinton 71, Heber Springs 35
December 3 - Conway St. Joseph 44, Heber Springs 21 #
December 5 - South Side Bee Branch 50, Heber Springs 49 #
December 10 - Heber Springs 37, Dover 32 ^
December 12 - South Side Bee Branch 64, Heber Springs 53
December 13 - Marshall 69, Heber Springs 43
December 16 - White County Central 65, Heber Springs 43
December 20 - Ozark 69, Heber Springs 34 ^
December 26 - Rose Bud 68, Heber Springs 65 (OT) *
December 27 - Batesville 72, Heber Springs 60 *
December 28 - Mayflower 66, Heber Springs 41 *
January 7 - Pottsville 59, Heber Springs 26 ^
January 10 - Subiaco Academy 47, Heber Springs 28 ^
January 14 - Dardanelle 70, Heber Springs 13 ^
January 17 - Clarksville 38, Heber Springs 32 ^
January 21 - Morrilton 58, Heber Springs 43 ^
January 24 - Dover 55, Heber Springs 50 ^
January 28 - at Pottsville ^
January 31 - at Ozark ^
February 4 - at Dardanelle ^
February 7 - Subiaco Academy ^
February 11 - at Morrilton ^
February 14 - Clarksville (Senior Night) ^
February 17 - 4A-4 District at Dardanelle

(# - Denotes Conway St. Joseph Tournament)
(^ - Denotes 4A-4 conference contest) 
(* - Steve Landers' Cowboy Chevrolet Holiday Classic at Heber Springs)