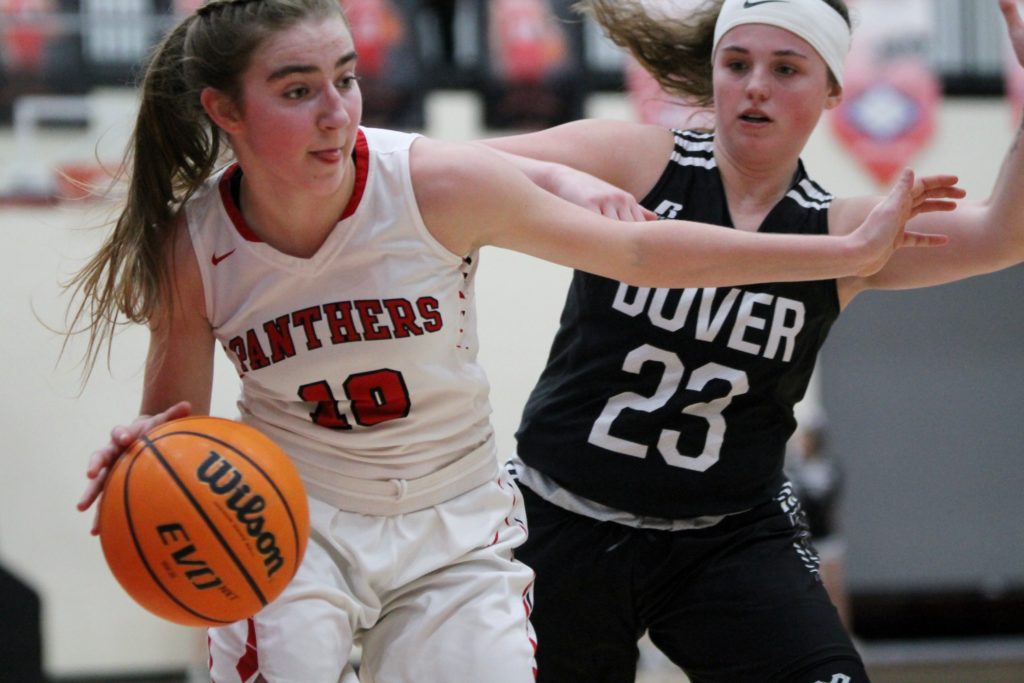 January 24, 2020
By LARRY "SCOOP" McCARTY
The Heber Springs Lady Panthers benefited from adjusting adjusted their perimeter defense against Dover at the Panther Den Friday.
The Lady Panthers (4-3 in 4-4A Conference, 13-7 overall) limited Dover to five 3-pointers and completed a season sweep with a 59-53 victory.
Dover (3-4 in conference, 12-8 overall) made 11 3-pointers earlier this season against Heber Springs.
The win kept the Lady Panthers in a third-place tie with Pottsville and moved one game ahead of Dover in the conference standings. In case a tiebreaker is necessary for seeding at the conference tournament, the Lady Panthers will hold the advantage over Dover.
"The threes kept them in the game at Dover," Heber Springs coach Jamey Riddle said. "We changed our defense by always having a player defending on the wing. We played mostly man-to-man in the second half to keep them from getting that big scoring run."
Riddle said the players executed the defensive plan.
"We got lost on some of the threes Dover made because of transition" he said. "Dover found the open gaps. We played well, made free throws down the stretch and got rebounds."
The Lady Panthers broke out of a recent offensive slump, led by Ellie Riddle, Libby Stutts and Jillian Herring, who scored 44 of the team's 59 points.
Riddle led the offense with 18 points. Stutts scored 15 points and Herring had 11 points.
Avery Reichert scored 11 points for Dover, while Audrey Reichert finished with 10 points.
"We had one period of the game when we had shots and they would not fall," Riddle said. "When Dover switched to a man defense, we took advantage of it with field goals in transition or by driving to the basket and drawing a foul."
Stutts made a 3-pointer midway through the first quarter to break a 6-6 tie. Heber Springs never trailed again. Dover stayed close and pulled within one point twice and led 14-13 going into the second quarter.
Heber Springs increased its lead to eight points, but it never reached double digits. The Lady Panthers withstood Dover's challenges and had a 34-25 halftime lead.
The Lady Panthers retained the momentum during the third quarter, but Dover didn't make it easy. The Lady Pirates reduced Heber Springs' lead to 44-39 going into the fourth quarter.
Dover trailed 46-44 early in the fourth quarter, but it never pulled closer.
"Ellie made shots in transition during the first half," coach Riddle said. "Jillian and Libby did good jobs driving against Dover for shots in the second half. You need that in close games."
Heber Springs hopes for a duplicate performance at Pottsville starting at 6 p.m. Tuesday.
"Every game will be big for the remainder of the season," Riddle said. "Our focus will be on Pottsville. We should have defeated them earlier at home. We need to play with the same mentality as we did against Dover. We need another win."
JANUARY 24 BOXSCORE
Dover at Heber Springs
Dover         13  12  14  14 - 53
Heber Springs 14  20  10  15 - 59
DOVER SCORING (53): Avery Reichert 11, Amelia Besterfeldt 10, Audrey Reichert 9, Kaylee Singleton 8, Faith Bowden 5, Gracie Bowden 5, Jacqueline Fields 3, Haley Villareal 2
HEBER SPRINGS SCORING (59): Ellie Riddle 18, Libby Stutts 15, Jillian Herring 11, Claudia Newberry 8, Mary Shearer 4, Ashley Spanel 3

JANUARY 17 BOXSCORE
Heber Springs at Clarksville
Clarksville    14 13  4 17 - 48
Heber Springs   5 11 10 15 - 41
CLARKSVILLE SCORING (48): Autumn Miller 13, Abby Domerese 11, Emmaline Rieder 10, Kenleigh Rieder 9, Myra Smith 5
HEBER SPRINGS SCORING (41): Jillian Herring 14, Libby Stutts 13, Claudia Newberry 12, Ashley Spanel 2
 4A-4 STANDINGS
                 Conference Season
Clarksville          6-1     10-10
Morrilton            6-1     13-5
Heber Springs        4-3     13-7
Pottsvile            4-3     10-7
Dover                3-4     12-8  
Ozark                1-6     13-7 
Dardanelle           0-6      2-18
HEBER SPRINGS SENIOR GIRLS 
2019-2020 SCHEDULE/RESULTS
RECORD: 13-7
4A-4 RECORD: 4-3
November 12 - Heber Springs 55, Nemo Vista 31
November 19 - Heber Springs 70, South Side Bee Branch 45
November 21 - Heber Springs 67, Riverview 27
November 26 - Heber Springs 56, Clinton 54 (OT)
December 3 - Conway St. Joseph 47, Heber Springs 44 #
December 5 - Heber Springs 53, South Side Bee Branch 34 #
December 7 - Heber Springs 44, Wonderview 43 #
December 10 - Heber Springs 59, Dover 56 ^
December 13 - Marshall 70, Heber Springs 52
December 16 - Heber Springs 51, White County Central 31
December 20 - Heber Springs 55, Ozark 42 ^
December 26 - Heber Springs 70, DeWitt 34 *
December 27 - Pea Ridge 49, Heber Springs 44 *
December 28 - Mayflower 58, Heber Springs 37 *
January 7 - Pottsville 49, Heber Springs 45 ^
January 9 - Heber Springs 70, Newport 51
January 14 - Heber Springs 47, Dardanelle 29 ^
January 17 - Clarksville 48, Heber Springs 41 ^
January 21 - Morrilton 52, Heber Springs 32 ^
January 24 - Heber Springs 59, Dover 53 ^
January 28 - at Pottsville ^
January 31 - at Ozark ^
February 4 - at Dardanelle ^
February 11 - at Morrilton ^
February 14 - Clarksville (Senior Night) ^
February 17 - 4A-4 District at Dardanelle

(# - Denotes Conway St. Joseph Tournament)
(^ - Denotes 4A-4 conference contest)
(* - Denotes Steve Landers' Cowboy Chevrolet Holiday Tournament at Heber Springs)