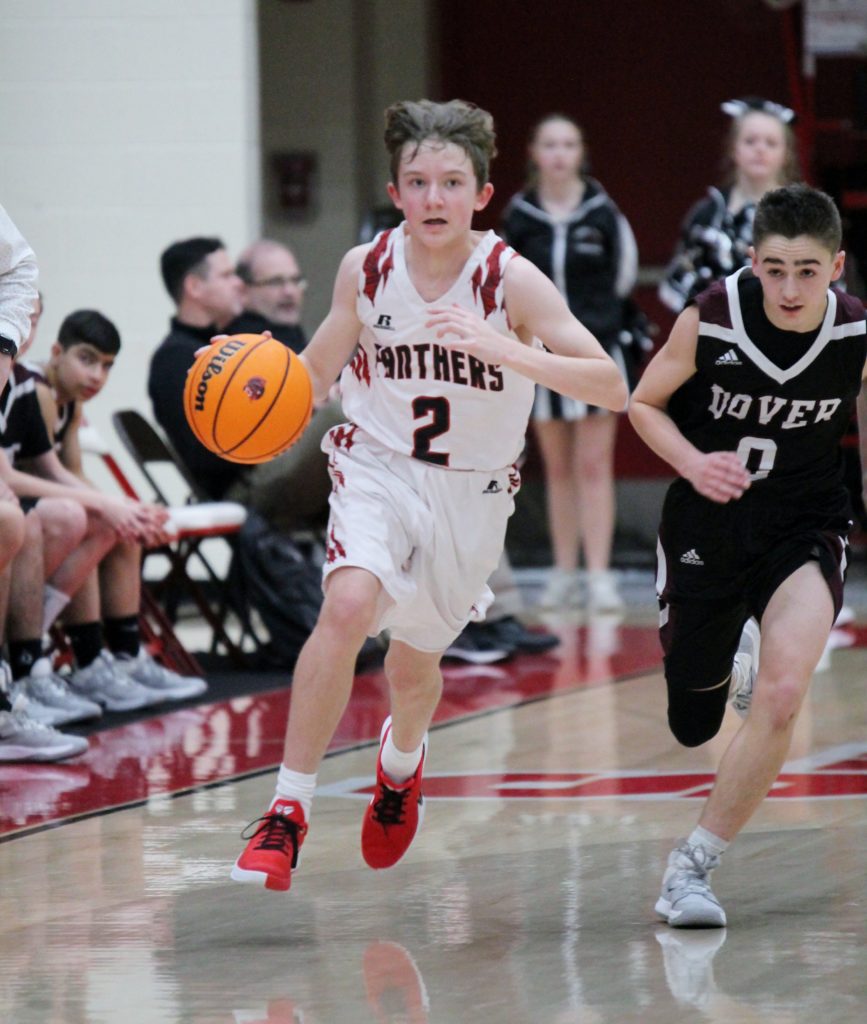 January 24, 2020
A rough second quarter cost the Panthers Friday night at the Panther Den as Dover claimed a 39-28 victory in junior boys action.
It was the second time this season Dover has beaten Heber Springs, the Panthers had won the conference opener at Dover on Dec. 10, but fell at the Marshall junior high tournament in November.
Conner Riddle finished with 13 points in a losing effort as the Panthers trailed 16-9 at the half and 27-20 at the end of three quarters of play.
DOVER AT HEBER SPRINGS BASKETBALL
Dover          12  4 11 12 - 39
Heber Springs   9  0 11  8 - 28
DOVER SCORING (39): Caleb Krentz 11, Brantley Craig 10, Lane Standridge 5, Wesley Dale 5, Landon Canfield 3, Cody Vickers 3, Joseph Mathews 2
HEBER SPRINGS SCORING (28): Conner Riddle 13, Eli Riggs 8, Luke Greenwald 5, Bauer Pruitt 2
HEBER SPRINGS JUNIOR BOYS BASKETBALL
2019-2020 SCHEDULE/RESULTS
COACH: Chad Johnson
OVERALL RECORD: 5-12
4A-4 RECORD: 2-3
November 9 - Greenbrier 37, Heber Springs 17 ^
November 12 - Nemo Vista 45, Heber Springs 37
November 13 - Heber Springs 54, Yellville-Summit 50 ^
November 14 - Dover 43, Heber Springs 36 ^
November 19 - Heber Springs 44, South Side Bee Branch 38
November 21 - Riverview 51, Heber Springs 21
November 23 - Cabot South 8th 37, Heber Springs 33 *
November 23 - Conway Blue 71, Heber Springs 39 *
November 26 - Clinton 44, Heber Springs 27
December 10 - Heber Springs 45, Dover 33 #
December 13 - Marshall 46, Heber Springs 38
December 16 - Heber Springs 36, White County Central 35
December 20 - Ozark 46, Heber Springs 28 #
January 7 - Pottsville 51, Heber Springs 35 #
January 10 - Heber Springs 33, Subiaco Academy 3 #
January 14 - Dardanelle 43, Heber Springs 17 #
January 16 - Mount Vernon-Enola 44, Heber Springs 41 (OT)
January 24 - Dover 39, Heber Springs 28 #
January 27 - at Mayflower
January 28 - at Pottsville #
January 31 - at Ozark #
February 3 - Quitman
February 4 - at Dardanelle #
Februaryr 7 - Subiaco Academy #
February 10 - District Tournament at Ozark

(^ - Denotes Marshall Tournament)
(* - Denotes Heber Springs Tournament)
(# - Denotes 4A-4 Conference Game)