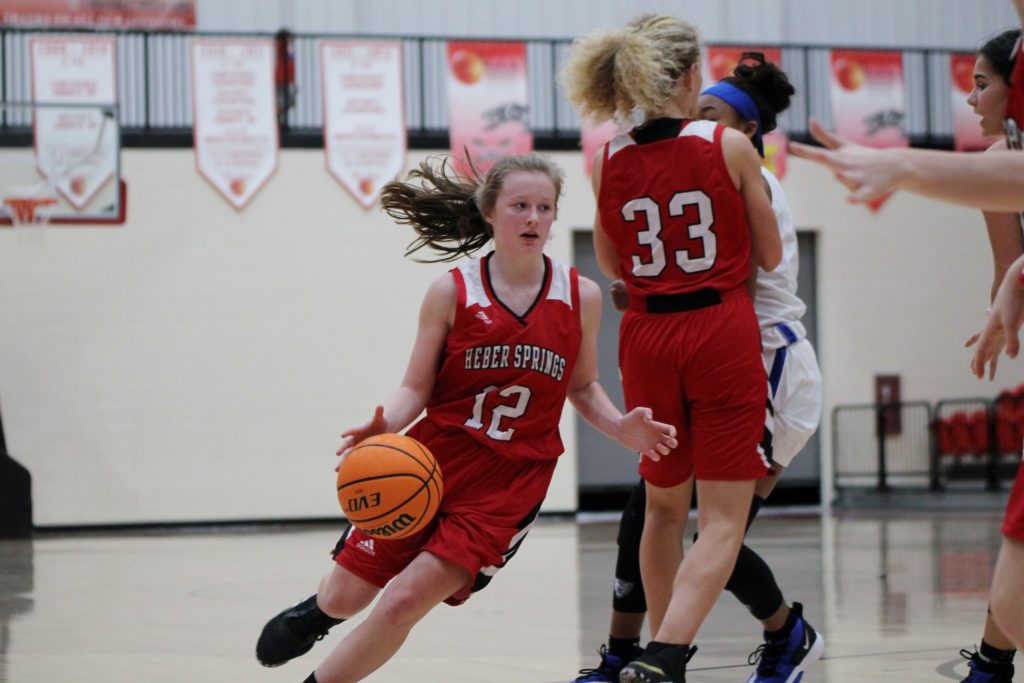 January 24, 2020
Sophia Stone scored a career-high 31 points as Heber Springs downed Dover, 55-52, in junior girls action Friday night at the Panther Den.
The win by Heber Springs was the first in three tries against Dover this season. Dover handed the Panthers their first setback of the season, 60-49, on Nov. 14 at the Marshall tournament and then downed Heber Springs, 43-33, in the conference opener for the Panthers on Dec. 10 at Dover.
But on Friday it was Heber Springs that would come out on top.
Dover jumped out to a 14-7 advantage at the end of the first quarter and also led 24-21 at the break, but the Panthers would come out of the half and take an eight-point advantage into the final stanza as Stone scored 11 points of the 15 Heber Springs points in the quarter.
In the fourth, the game got bogged down at the free-throw line as Dover hit 14 out of 18 from the charity stripe while Heber Springs was 5-of-9, but the Panthers were able to hold on as Stone was a perfect 4-of-4 in the quarter from the line. She finished the night by going 9-of-11 from the charity stripe.
Dover's Abree McCrotty, who had a combined 49 points in the previous two meetings with Heber Springs, finished the night with 29 points, going a perfect 9-of-9 from the line in the fourth quarter. She finished the night by going 13-of-19 from the stripe.
The two teams combined to shot 57 free throws on the night as Dover went 20-34 from the line while Heber Springs was 13-of-23.
Jaylea Hooten finished the night with 19 points, including eight in the final quarter.
The loss was only Dover's second of the season and their first in 4A-4 conference play as Heber Springs improved to 10-7 overall and 2-3 in the conference.
Heber Springs will travel to Mayflower on Monday for a nonconference contest. The Eagles handed Dover its first loss of the season. On Tuesday, the Panthers will travel to Pottsville for a 4A-4 contest. The Apaches downed Heber Springs earlier this year at the Panther Den, 34-31.
DOVER AT HEBER SPRINGS BOXSCORE
Dover        14 10  4 24 - 52
Heber Springs 7 14 15 19 - 55
DOVER SCORING (52): Abree McCrotty 29, A. Reams 17, S. McClendon 3, L. Young 3
HEBER SPRINGS SCORING (55): Sophia Stone 31, Jaylea Hooten 19, Riley Bailey 2, Addison Hudspeth 2, Hope Turney 1
HEBER SPRINGS JUNIOR GIRLS BASKETBALL
2019-2020 SCHEDULE/RESULTS
COACH: Jamey Riddle
OVERALL RECORD: 10-7
4A-4 RECORD: 2-3
November 9 - Heber Springs 27, Greenbrier 16 ^
November 12 - Heber Springs 33, Nemo Vista 27
November 14 - Dover 60, Heber Springs 49 ^
November 16 - Heber Springs 40, Marshall 25 ^
November 19 - Heber Springs 44, South Side Bee Branch 22
November 21 - Heber Springs 46, Riverview 13
November 23 - Heber Springs 62, Cabot South 8th 10 *
November 23 - Conway Blue 35, Heber Springs 29 *
November 26 - Clinton 48, Heber Springs 40
December 10 - Dover 43, Heber Springs 33 #
December 12 - Heber Springs 52, South Side Bee Branch 31
December 20 - Heber Springs 21, Ozark 7 #
January 7 - Pottsville 34, Heber Springs 31 #
January 9 - Heber Springs 40, Newport 21
January 14 - Dardanelle 32, Heber Springs 29 #
January 16 - Mount Vernon-Enola 38, Heber Springs 33
January 24 - Heber Springs 55, Dover 52 #
January 27 - at Mayflower
January 28 - at Pottsville #
January 31 - at Ozark #
February 3 - Quitman
February 4 - at Dardanelle #
February 10 - District Tournament at Ozark

(^ - Denotes Marshall Tournament)
(* - Denotes Heber Springs Tournament)
(# - Denotes 4A-4 Conference Game)