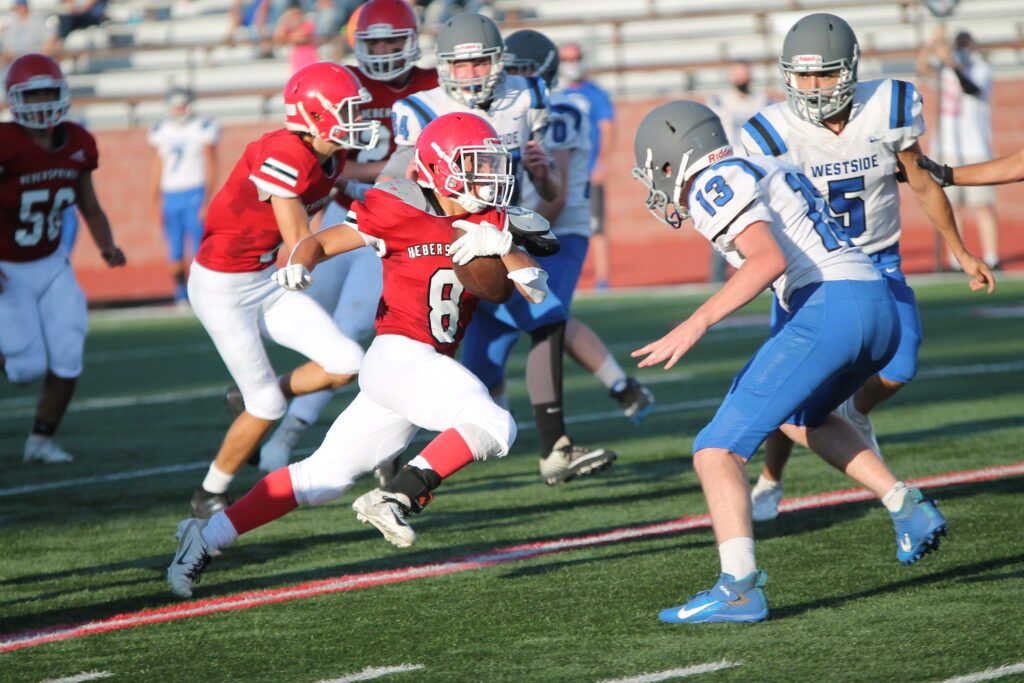 August 25, 2020
By PHILIP SEATON
Heber Springs took advantage of three Johnson County Westside turnovers and cruised to a 42-8 victory in an Arkansas Activities Association benefit game Tuesday night at Panther Stadium.
The game was the first for new Panther head coach Todd Wood after taking over the reigns of the program earlier this year.
"This is a big night for us," Wood said. "I've been waiting for this night since I got here on February 3. We didn't have spring ball, so we started June 1st so we had to implement all of those things we've been trying to put in both offense and defense."
Offensively, the Panthers gave the home faithful a taste of what to expect this season spreading the ball out with four-receiver sets.
Junior quarterback John McBroome, stepping in for graduated All-State quarterback Adam Martin, was 12 of 17 passing for 141 yards and three touchdowns against the class 2A Rebels.
"John McBroome is a quarterback in progress," Wood said. "He is learning every day, every week. He is better than he was months ago. He is still hesitant and we've got to work on that a little bit.
"He's extremely smart so a lot of times he has to be able to be free-following … be able to say, 'Okay there is the key, there is they read, there is the trigger, throw the ball'. He wants to process it a little bit longer than he should. If we can get him to a point where he can trust himself a little bit and be able to do the reads and throw immediately, he'll be a lot better. But I'm very proud of him, this offense we are putting in has a lot of pieces to it and you have to know every piece of it. He is the kinda kid that can do that and that's the kind of quarterback I want. I've been telling the team from the beginning, it's not how you start but how you finish and so the quarterback he is tonight will not be the same quarterback he'll be in about six to seven weeks."
The two teams played two 12-minute quarters and sophomore quarterback Wyatt Winchester got most of the snaps in the second stanza completing seven of nine passes for 49 yards, including a 15-yard scoring strike to sophomore Kenan Sneed with 6:30 left in the contest.
Heber Springs scored Hunter Kent raced 27 yards for a score to make it 6-0 with 7:25 to play in the first quarter.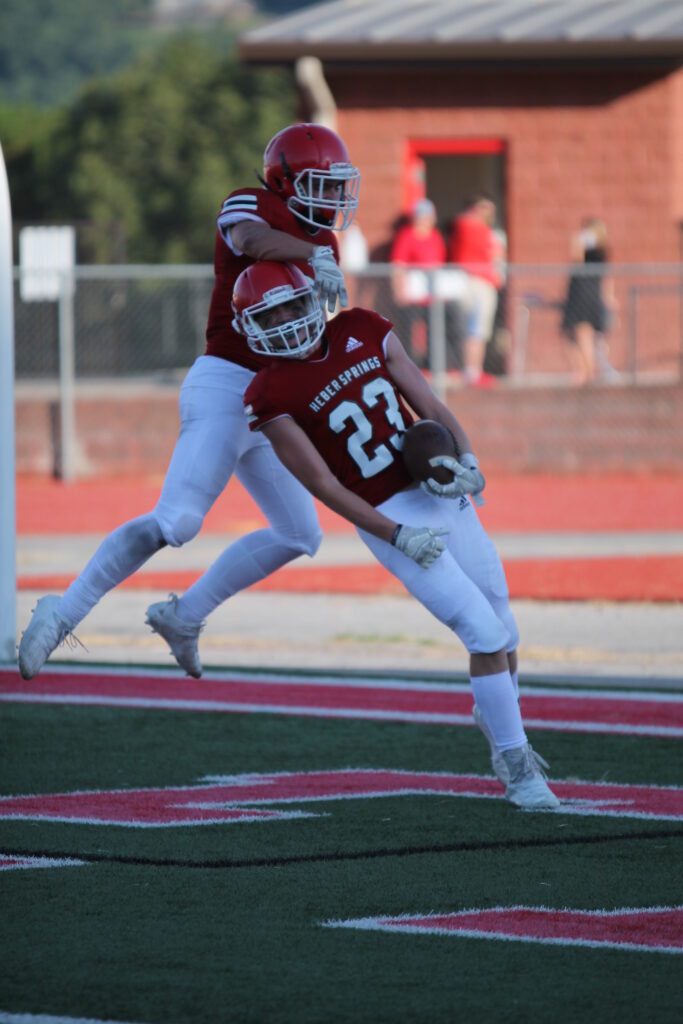 After a Johnson County Westside fumble on a high snap, McBroome connected with Kent for a 10-yard scoring strike. McBroome found sophomore Easton Cusick for the 2-point conversion to make it 14-0 with 6:44 left in the quarter.
Heber Springs struck less than a minute later when junior Jackson West picked another high snap and raced 21 yards to make it 22-0, after senior Diego Rubio ran in the 2-point conversion.
A pair of McBroome touchdown passes pushed the Panther lead to 36-0 at the 11:43 mark of the second quarter. The first, a 1-yard strike to Kent with 1:59 in the first quarter, and the second, a 13-yarder to Sneed in the second quarter.
Heber Springs finished with 12 first downs and 273 yards of offense while holding Johnson County Westside to a pair of first downs and 56 yards of offense, with 48 of those coming on a touchdown pass with 5:33 left in the contest.
"Overall, defensively, I thought we played well," Wood said. "It is a new defensive scheme. It's an aggressive scheme. There is a lot of moving parts to it. Overall pretty pleased with the first-team defense getting out there. They got a little help there early on. They (Rebels) had a couple of turnovers that helped us out a lot, but I was just happy to see them able to execute about 80 to 90 percent of what we wanted to do."
Despite the score, Wood saw some things that needed to be cleaned up, including six penalties for 45, but overall he was pleased with the effort.
"I've been telling people from the get go that we've got a bunch of guys that are hungry to learn and want to do better," he said. "So tonight was just a little glimpse, we didn't do everything we are capable of doing. We made mistakes and we are going to clean that up before we get to Newport.
"Overall, just thrilled to be playing a football game and stop hitting each other. Really, really happy."
Heber Springs will host Newport on September 4th in the opener for both schools.
Scoring
First Quarter
7:25 – Heber Springs, Hunter Kent 27-yard run (Pass failed)
6:44 – Heber Springs, John McBroome to Kent 10-yard pass (McBroome to Easton Cusick pass
5:55 – Heber Springs, Jackson West 20-yard fumble return (Diego Rubio run)
1:59 – Heber Springs, McBroome to Kent 1-yard pass (Gus Hannah kick)
Second Quarter
11:43 – Heber Springs, McBroome to Kenan Sneed 13-yard pass (Chandler Webber kick)
6:30 – Heber Springs, Wyatt Winchester to Sneed 15-yard pass (kick failed)
5:33 – Johnson County Westside, Peyton Chrisman to James Linton 48-yard touchdown pass (Chrisman to Dakota Beavers two-point pass)
Quick Stats
Team
First Downs: Heber Springs 12, Johnson County Westside 2
Turnovers: Heber Springs 0, Johnson County Westside 3
Penalties : Heber Springs 6/45, Johnson County Westside 4/25
Total Offense: Heber Springs 273, Johnson County Westside 56
Team Rushing: Heber Springs 15/83, Johnson County Westside 11/(-5)
Team Passing: Heber Springs 19/26-190-4/0, Johnson County Westside 2/7-61-1/0

Individual
Rushing: Heber Springs, Hunter Kent 2/37, Kenan Sneed 5/36, Diego Rubio 3/14, Matthew Cook 1/4 Wyatt Winchester 3/0, John McBroome 2/(-8). JC Westside, Peyton Chrisman 5/3, James Linton 3/11, Team 2/(-26), Dakota Beavers 1/2, Hunter Andrews 1/7.
Passing: Heber Springs, John McBroome 12/17-141-3/0, Wyatt Winchester 7/9-49-1/0. Johnson County Westside, Peyton Chrisman 2/7-61-1/0
Receiving: Easton Cusick 4/42, Kenan Sneed 4/39, Matthew Cook 3/47, Hunter Kent 3/20, Austin Winchester 3/14, Payton Talbert 1/18, Conner Riddle 1/9. Johnson County Westside, James Linton 1/33, Dakota Beavers 1/13.