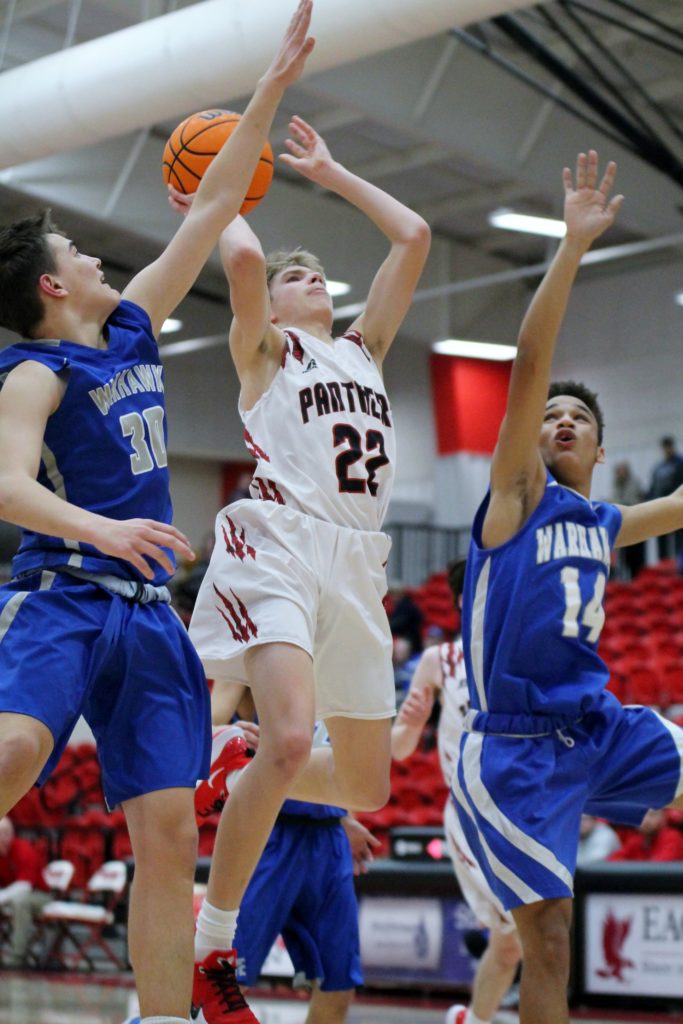 January 16, 2020
Despite a 28-point performance from Conner Riddle, Heber Springs dropped a 44-41 nonconference decision to Mount Vernon-Enola on Jan. 16 at the Panther Den.
Heber Springs trailed 16-4 at the end of the first quarter but bounced back to make it a 22-15 game at the half. The Panthers had a chance to close the gap further right before the half but missed a shot after holding the ball and the Warhawks were able to get another field goal to increase their advantage.
The Panthers cut the deficit to 28-27 at the end of the third quarter after closing the third on a 7-0 run on an Eli Riggs 3-pointer and a pair of baskets by Riddle.
The Warhawks led by five at 37-32 before a 3-pointer by Luke Greenwald and three-point play by Riddle gave the Panthers a 38-37 advantage with 38.1 seconds left in regulation.
The Warhawks were able to tie things up at 38-all after hitting one of two from the free-throw line with 24.6 to play. Heber Springs had a couple of chances to win the game in regulation but couldn't get a shot to fall.
Heber Springs led overtime 41-40 after Riddle hit 3-of-4 from the free-throw line, the last coming at the 1:28 mark. Mount Vernon-Enola closed the game by going 4-for-4 at the line.
Riddle finished the night by going 10-of-15 from the line.
The Panthers were coming off a 43-17 setback to Dardanelle on Jan. 14 as Heber Springs trailed 22-4 at the half.
On Jan. 10, Riddle had seven points in the first quarter and finished with 11, including a perfect 7-of-7 from the free-throw line as Heber Springs downed Subiaco Academy, 33-3.
Riddle scored 16, including hitting a perfect 8-of-8 from the free-throw line, on Jan. 7 in a 54-35 setback to Pottsville at the Panther Den.
Heber Springs led 14-12 at the end of the first quarter, but were outscored 37-10 in the second and third quarters as the Apaches pulled away for the 4A-4 victory.
JANUARY 16 BOXSCORE
Mount Vernon-Enola   16  6  6  10  6 - 44
Heber Springs         4 11 12  11  3 - 41
MOUNT VERNON-ENOLA SCORING (44): Chapman 21, Millsaps 7, Furiegh 6, Hoover 2, Emery 2, Walls 2, Rowe 2, Henery 2
HEBER SPRINGS SCORING (41): Conner Riddle 28, Eli Riggs 6, Luke Greenwald 3, Bent McClain 2, Maddox Reed 2

JANUARY 14 BOXSCORE
Dardanelle        5  17  19  2 - 43
Heber Springs     4   0   7  6 - 17
DARDANELLE SCORING (43): Robert Millard 16, Braden Tanner 16, Trenton Whitecotton 4, Drew Vega 4, Ethan Turnbow 2, Victor Padilla 1
HEBER SPRINGS SCORING (17): Xander Lindley 4, Luke Greenwald 3, Wyatt Winchester 3, Eli Riggs 2, Easton Cusick 2, Conner Riddle 2, Hud Haggard 1

JANUARY 10 BOXSCORE
Heber Springs     16  4  8  5 - 33
Subiaco Academy    0  0  1  2 -  3
SUBIACO ACADEMY SCORING (3): Logan Hess 2, Brady Koch 1
HEBER SPRINGS SCORING (33): Conner Riddle 11, Hud Haggard 9, Xander Lindley 6, Eli Riggs 5, Luke Greenwald 2

JANUARY 7 BOXSCORE
Pottsville      12  20  17  5 - 54
Heber Springs   14   8   2 11 - 35
POTTSVILLE SCORING (54): Stanley 18, Ybarra 14, Palmer 5, Furrh 4, Daily 4, Martin 4, Williams 2, Bradley 2, Snowden 1
HEBER SPRINGS SCORING (35): Conner Riddle 16, Bauer Pruitt 5, Eli Riggs 5, Ladd Choate 3, Luke Greenwald 2, Hud Haggard 2, Bent McClain 2
HEBER SPRINGS JUNIOR BOYS BASKETBALL
2019-2020 SCHEDULE/RESULTS
COACH: Chad Johnson
OVERALL RECORD: 5-12
4A-4 RECORD: 2-3
November 9 - Greenbrier 37, Heber Springs 17 ^
November 12 - Nemo Vista 45, Heber Springs 37
November 13 - Heber Springs 54, Yellville-Summit 50 ^
November 14 - Dover 43, Heber Springs 36 ^
November 19 - Heber Springs 44, South Side Bee Branch 38
November 21 - Riverview 51, Heber Springs 21
November 23 - Cabot South 8th 37, Heber Springs 33 *
November 23 - Conway Blue 71, Heber Springs 39 *
November 26 - Clinton 44, Heber Springs 27
December 10 - Heber Springs 45, Dover 33 #
December 13 - Marshall 46, Heber Springs 38
December 16 - Heber Springs 36, White County Central 35
December 20 - Ozark 46, Heber Springs 28 #
January 7 - Pottsville 51, Heber Springs 35 #
January 10 - Heber Springs 33, Subiaco Academy 3 #
January 14 - Dardanelle 43, Heber Springs 17 #
January 16 - Mount Vernon-Enola 44, Heber Springs 41 (OT)
January 23 - Marshall
January 24 - Dover #
January 27 - at Mayflower
January 28 - at Pottsville #
January 31 - at Ozark #
February 3 - Quitman
February 4 - at Dardanelle #
Februaryr 7 - Subiaco Academy #
February 10 - District Tournament at Ozark

(^ - Denotes Marshall Tournament)
(* - Denotes Heber Springs Tournament)
(# - Denotes 4A-4 Conference Game)