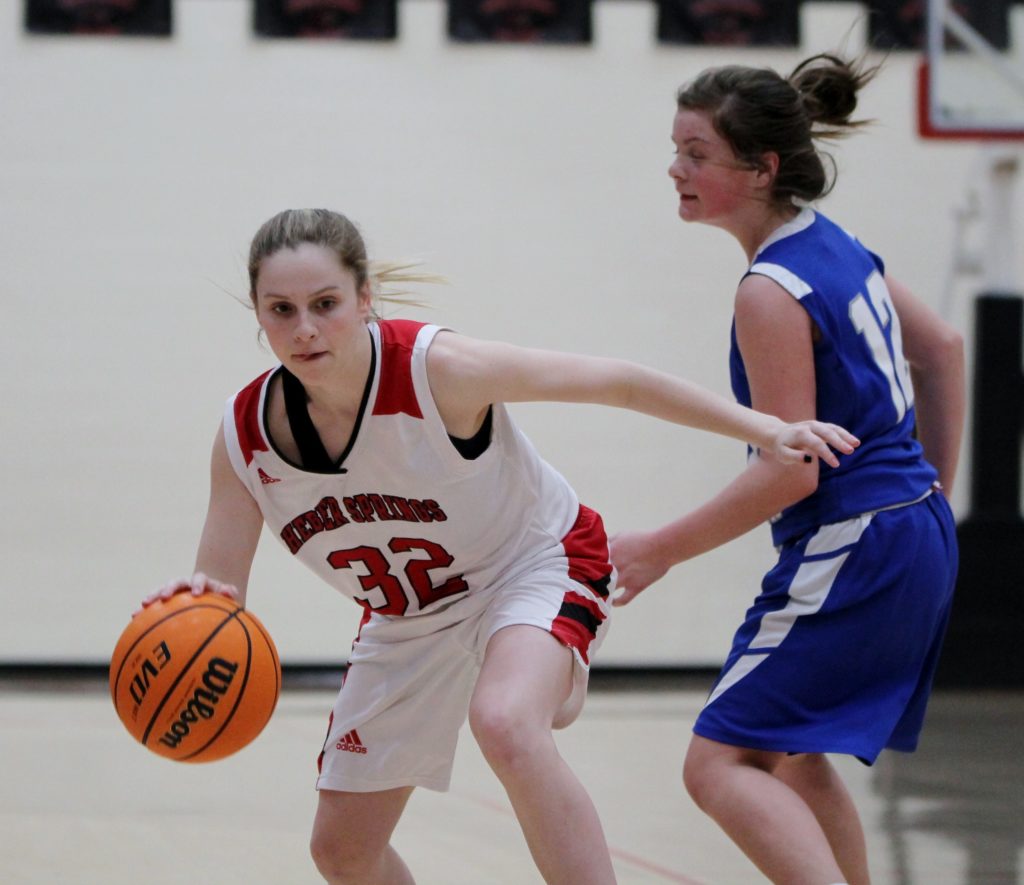 January 16, 2020
Sophia Stone finished with 15 points while Jaylea Hooten added 10 in a losing effort as Heber Springs fell to Mount Vernon-Enola, 38-33, in junior girls action at the Panther Den.
The two teams were tied at the half, 20-20, while the War Hawks led 29-26 at the end of the three quarters in the nonconference contest.
Heber Springs pulled to within one at 34-33 with 3:18 left after at Hooten basket but the Warhawks went 4-of-4 from the free-throw line down the stretch to seal the win.
The junior girls return to action on Thursday when they host Marshall.
The Panthers have dropped three out of four contests to start the new year.
On Jan. 14, Stone finished with 16 points as Heber Springs fell to Dardanelle, 32-29, in a 4A-4 contest at the Panther Den.
On Jan. 9 at Newport in nonconference play, it was Hooten who finished with 16 as the Panthers downed the Greyhounds, 40-21.
Stone (15) and Hooten (10) both finished in double figures in a 34-31 setback to Pottsville in the Panther Den on Jan. 7.
JANUARY 16 BOXSCORE
Mount Vernon-Enola  7  13  9  9 - 38
Heber Springs       6  14  6  6 - 33
MOUNT VERNON-ENOLA SCORING (38): Raby 14, A.J. Person 6, Wooley  6, Vaught 6, Kelley 3, Pruitt 2, Jobe 1
HEBER SPRINGS SCORING (33): Sophia Stone 15, Jaylea Hooten 10, Rylee Harrod 4, Hope Turney 2, Savannah Stout 2

JANUARY 14 BOXSCORE
Dardanelle        7  8  8  9 - 32
Heber Springs    12  4  4  9 - 29
DARDANELLE SCORING (32): Kaylee Meredith 14, Bethani Walter 8, Pfiefer Flemming 3, Karlie Barber-Cursh 3, Rylea Manning 2, Jayden Vasquez 2
HEBER SPRINGS SCORING (29): Sophia Stone 16, Madison Clemons 6, Jaylea Hooten 4, Riley Bailey 2, Hope Turney 1

JANUARY 9 BOXSCORE
Newport        4  5   4  8 - 21
Heber Springs  8  8  16  8 - 40 
HEBER SPRINGS SCORING (40): Jaylea Hooten 16, Sophia Stone 8, Addison Hudspeth 6, Madison Clemons 3, Hope Turney 2, Riley Bailey 2, Cristina Garcia 2, Mary Evans 1

JANUARY 7 BOXSCORE
Pottsville    9  7  8  10 - 34
Heber Springs 6 10  4  11 - 31
POTTSVILLE SCORING (34): Garner 8, Pennington 8, Sweeden 8, Cunningham 6, Greathouse 2, Francis 2
HEBER SPRINGS SCORING (31): Sophia Stone 15, Jaylea Hooten 10, Madison Clemons 4, Riley Bailey 2
HEBER SPRINGS JUNIOR GIRLS BASKETBALL
2019-2020 SCHEDULE/RESULTS
COACH: Jamey Riddle
OVERALL RECORD: 9-7
4A-4 RECORD: 1-3
November 9 - Heber Springs 27, Greenbrier 16 ^
November 12 - Heber Springs 33, Nemo Vista 27
November 14 - Dover 60, Heber Springs 49 ^
November 16 - Heber Springs 40, Marshall 25 ^
November 19 - Heber Springs 44, South Side Bee Branch 22
November 21 - Heber Springs 46, Riverview 13
November 23 - Heber Springs 62, Cabot South 8th 10 *
November 23 - Conway Blue 35, Heber Springs 29 *
November 26 - Clinton 48, Heber Springs 40
December 10 - Dover 43, Heber Springs 33 #
December 12 - Heber Springs 52, South Side Bee Branch 31
December 20 - Heber Springs 21, Ozark 7 #
January 7 - Pottsville 34, Heber Springs 31 #
January 9 - Heber Springs 40, Newport 21
January 14 - Dardanelle 32, Heber Springs 29 #
January 16 - Mount Vernon-Enola 38, Heber Springs 33
January 23 - Marshall
January 24 - Dover #
January 27 - at Mayflower
January 28 - at Pottsville #
January 31 - at Ozark #
February 3 - Quitman
February 4 - at Dardanelle #
February 10 - District Tournament at Ozark

(^ - Denotes Marshall Tournament)
(* - Denotes Heber Springs Tournament)
(# - Denotes 4A-4 Conference Game)