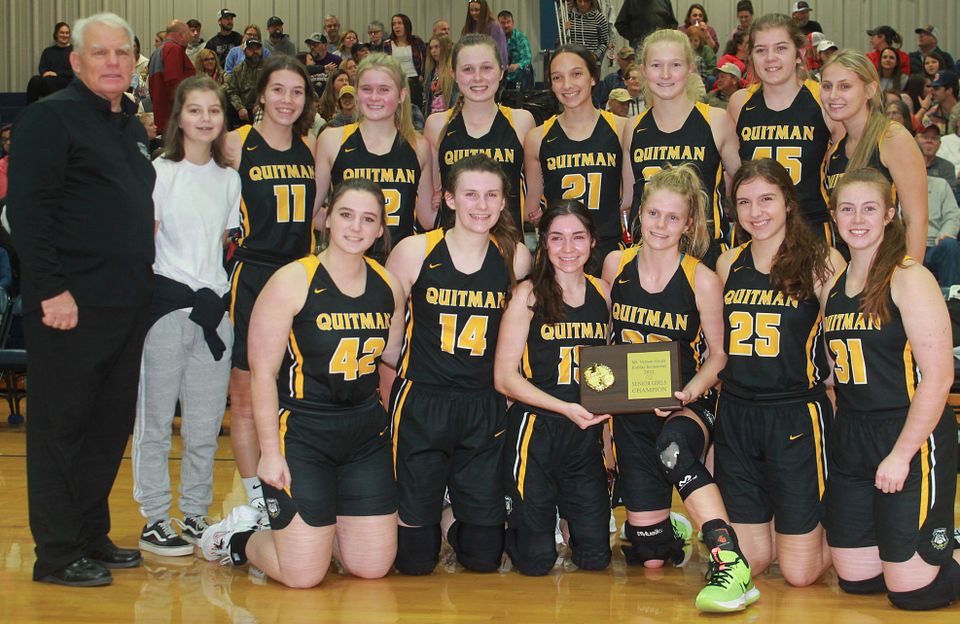 MOUNT VERNON – Three Lady Bulldogs finished in double figures as Quitman claimed the championship trophy of the Mount Vernon-Enola Holiday Tournament.
Senior Silver Mulliniks led the way with 22 points followed by Taylor Hooten with 16 and Katelyn Black with 10.
Quitman (13-1) trailed for less than 60 seconds on the night. After jumping out to a 5-0 advantage on a 3-pointer by Hooten and a pair of free throws by Mulliniks, Mount Vernon-Enola (19-2) would answer at the 4:39 mark of the first quarter. Baskets by Olivia McClelland, A.J. Person, Jaley Belote and Dessie McCarty would spark an 8-0 run and give the Lady Warhawks an 8-5 lead with 2:41 left in the first quarter.
Mulliniks and Hooten would close out the quarter with 3-pointers for Quitman as the Lady Bulldogs led 11-8.
Quitman would hit 10 3-pointers on the night and Black would drill one of those for the Lady Bulldogs to make it a 15-8 contest with 6:47 left before the half.
Mount Vernon-Enola would pull within one at 14-13 at the 2:30 point of the second quarter after a Ally Mendoza 3-pointer, but Hooten would answer on the other end with a 3-pointer of her own to push Quitman's advantage back to four points.
After leading 20-16 at the break, McCarty would pull the Lady Warhawks back to within two points at 20-18 with 7:14 to play in the third quarter, but Hooten would hit a 3-pointer, a pair of free throws and a field goal over the next 1:14 to push the Lady Bulldogs advantage to nine at 27-18.
Mount Vernon-Enola would make it a six-point game twice the rest of the way. The first time at 34-28 with 1:56 left in the third quarter after a McClelland basket and the last time with 7:06 left in the contest after a three-point play by McClelland made it 41-35.
Quitman would close the contest on a 12-4 run as Mulliniks had 8 during that stretch.
Hooten finished with four 3-points on the night and Mulliniks had three.
Quitman returns to conference action on Monday, Jan. 10, at Bigelow.
With only one senior and one junior on the roster, all of the scoring for Mount Vernon-Enola was handled by sophomores, led by McCarty's 14 points.
The Warhawks will face Wonderview in conference play on Friday (Jan. 7).
MOUNT VERNON-ENOLA SCORING (43): Marlee Raby 7, A.J. Person 4, Dessie McCarty 14, Jaley Belote 2, Olivia McClelland 8, Ally Mendoza 8
QUITMAN SCORING (58): Silver Mulliniks 22, Emi Kennedy 5, Jadie Langston 1, Katelyn Black 10, Taylor Hooten 16, Macy Broadway 2, Cailyn Sullivan 2