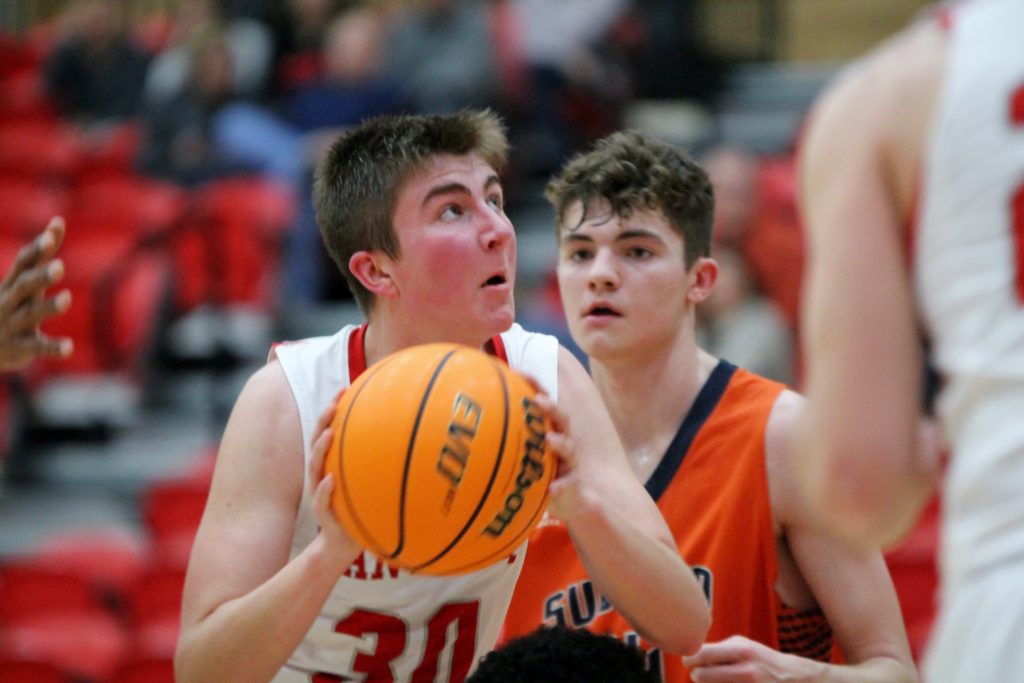 February 7, 2020
By LARRY "SCOOP" McCARTY
A second-quarter scoring blitz proved too much for the Heber Springs Panthers against Subiaco Academy at the Panther Den Friday.
After Dalton McCollum's field goal gave Heber Springs a 12-11 lead early in the second quarter, the Trojans seized control with a 17-4 scoring run and defeated the Panthers 54-23 in a 4-4A Conference basketball game.
Heber Springs was held to five points during the final two quarters.
The Panthers, who played with five players at Dardanelle in the previous games, dressed out seven players against Subiaco Academy. Gus Hannah remained sidelined because of the flu and Ryan Crocker was unable to play because of a wrist injury. Zach Thomas and Logan Monahan, who missed the Dardanelle game because of the flu, played for the first time in a week.
"We were running out of gas and juice by halftime," Heber Springs coach Chad Johnson said. "Garrett Hudsepth injured his knee early in the second half. If we had been a healthy team, it would have been more of a competitive game at the end."
Heber Springs led for the first time on Adam Martin's 3-pointer during the opening quarter, 5-4.
Hudspeth scored to increase it the Panther advantage before three consecutive lead changes.
Subiaco Academy led 11-10 going into the second quarter and increased it to 28-16 by halftime.
The Trojans pulled away after going on an 18-2 scoring run and took a 46-18 lead into the fourth quarter.
McCollum scored six points for Heber Springs. Conner King and Matthew Kremers each had 12 points for Subiaco Academy.
Johnson said his team continued the battle against fatigue and lack of depth. He liked how his team played at Dardanelle with only five healthy players.
"The players played with a lot of heart, dug deep and showed a lot of character," Johnson said. "Dardanelle parents told me how they were impressed how our players competed."
Heber Springs (1-11 in conference, 1-21 overall) will complete the regular season at Morrilton and host Clarksville on Friday. The conference tournament is scheduled at Dardanelle on Feb. 17-22.
"Both games will be very challenging," Johnson said. "We lost by five points at Clarksville."
February 7th
SUBIACO ACADEMY AT HEBER SPRINGS
Subiaco Academy 11 17 18 8 - 54
Heber Springs   10  6  2 5 - 23
SUBIACO ACADEMY SCORING (54): Conner King 12, Matthew Kremers 12, Ivan Martijn 9, Paul Niba 6, Johnathan Mercera 5, John Ho 4, Jude Percy-Allen 2, Justin Luidens 2, Nathan Nguyen 2.
HEBER SPRINGS SCORING (23): Dalton McCollum 6, Adam Martin 5, Wyatt Sanders 4, Austin Winchester 3, Garrett Hudspeth 2, Logan Monahan 2, Zach Thomas 1. 

February 4th
HEBER SPRINGS AT DARDANELLE
Heber Springs  9  12  13  13 - 47
Dardanelle    19  14  15  19 - 67
HEBER SPRINGS SCORING (47): Wyatt Sanders 18, Dalton McCollum 12, Adam Martin 10, Garrett Hudsepth 5, Austin Winchester 2
DARDANELLE SCORING (67): Blake Chambers 17, Tristan Broadway 12, Sam Williams 8, JT Meling 8, Marteez Jackson 6, Chris Martin 6, Clayton Potter 4, Jordan Metcalf 2, Titus Spencer 2, Nathaniel Griffiths 2

January 31
HEBER SPRINGS AT OZARK
Heber Springs  7  3  10  9 - 29
Ozark         17 17  14 12 - 60
HEBER SPRINGS SCORING (29): Dalton McCollum 13, Wyatt Sanders 6, Austin Winchester 5, Gus Hannah 3, Garrett Hudspeth 2
OZARK SCORING (60): Corbin Pelts 12, Jaxson Harris 11, Sebastian Ross 10, Ethan Dorrough 9, Keystan Durning 7, Wyatt Clauson 4,Tanner Bailie 3, Kayden McAnally 2, Kirkland Quinton 2

,              Conference Season
Morrilton          9-3     17-8
Ozark              9-3     16-8
Dardanelle         9-3     22-3
Pottsville         8-4     10-10
Clarksville        6-6     10-14
Subiaco Academy    5-7      9-14
Heber Springs      1-11     1-21
Dover              1-11     5-20  
HEBER SPRINGS SENIOR BOYS BASKETBALL
2019-2020 SCHEDULE RESULTS
RECORD: 1-21
4A-4 RECORD: 1-11
November 21 - Riverview 68, Heber Springs 36
November 26 - Clinton 71, Heber Springs 35
December 3 - Conway St. Joseph 44, Heber Springs 21 #
December 5 - South Side Bee Branch 50, Heber Springs 49 #
December 10 - Heber Springs 37, Dover 32 ^
December 12 - South Side Bee Branch 64, Heber Springs 53
December 13 - Marshall 69, Heber Springs 43
December 16 - White County Central 65, Heber Springs 43
December 20 - Ozark 69, Heber Springs 34 ^
December 26 - Rose Bud 68, Heber Springs 65 (OT) *
December 27 - Batesville 72, Heber Springs 60 *
December 28 - Mayflower 66, Heber Springs 41 *
January 7 - Pottsville 59, Heber Springs 26 ^
January 10 - Subiaco Academy 47, Heber Springs 28 ^
January 14 - Dardanelle 70, Heber Springs 13 ^
January 17 - Clarksville 38, Heber Springs 32 ^
January 21 - Morrilton 58, Heber Springs 43 ^
January 24 - Dover 55, Heber Springs 50 ^
January 28 - Pottsville 68, Heber Springs 49 ^
January 31 - Ozark 60, Heber Springs 29 ^
February 4 - Dardanelle 67, Heber Springs 47 ^
February 7 - Subiaco Academy 54, Heber Springs 23 ^
February 11 - at Morrilton ^
February 14 - Clarksville (Senior Night) ^
February 17 - 4A-4 District at Dardanelle

(# - Denotes Conway St. Joseph Tournament)
(^ - Denotes 4A-4 conference contest) 
(* - Steve Landers' Cowboy Chevrolet Holiday Classic at Heber Springs)