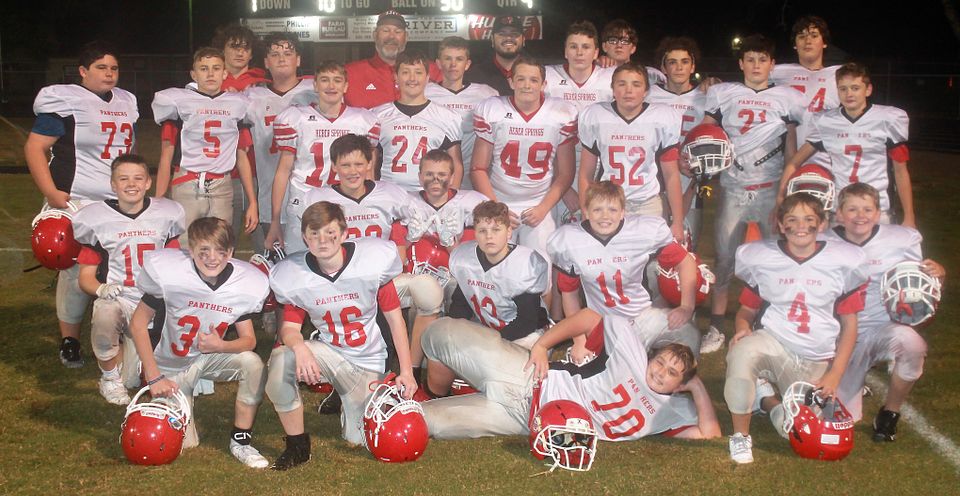 CLINTON – The Heber Springs seventh-grade Panthers ended their season on a high-note in one of the most improbable ways Thursday night in Clinton.
Trailing 6-0 late in the contest, Heber Springs failed to convert on a fourth-down play at the Clinton 15 with less than two minutes to play. With three timeouts left for the Panthers and less than 1:30 to play, Clinton was stopped on first down for no gain. A false-start penalty pushed the Stingers back five yards before good run left Clinton just a few yards short of a game-ending first down. On third down, and with the clock winding down, Heber Springs' Seth Smith took the ball away from a Clinton back and rumbled 29 yards to the end zone to tie the game up at 6-6 with 25 seconds left in front of the cheering junior high team that was waiting to warm-up before the start of it's game.
Lachlan Tubbs connected with Samuel Bush for the 2-point conversion and the Panther defense held on to claim the win.
Heber Springs finishes the season with a 3-5 record.
Harold McNabb scored Clinton's only points with a 4-yard touchdown run with 10:07 to play in the first half.
Help support local and independent journalism by donating today.
HEBER SPRINGS 7TH-GRADE SCHEDULE
(Final Record: 3-5)
Aug. 26 – Clinton 16, Heber Springs 14
Sep. 09 – at Harding Academy (Canceled)
Sep. 16 – Heber Springs 16, Dover 6
Sep. 23 – Lonoke 20, Heber Springs 6
Sep. 28 – Stuttgart 6, Heber Springs 0
Oct. 07 – Central Arkansas Christian 8, Heber Springs 0
Oct. 14 – Heber Springs 14, Bald Knob 0
Oct. 21 – Southside Batesville 8, Heber Springs 0
Oct. 28 – Heber Springs 8, Clinton 6