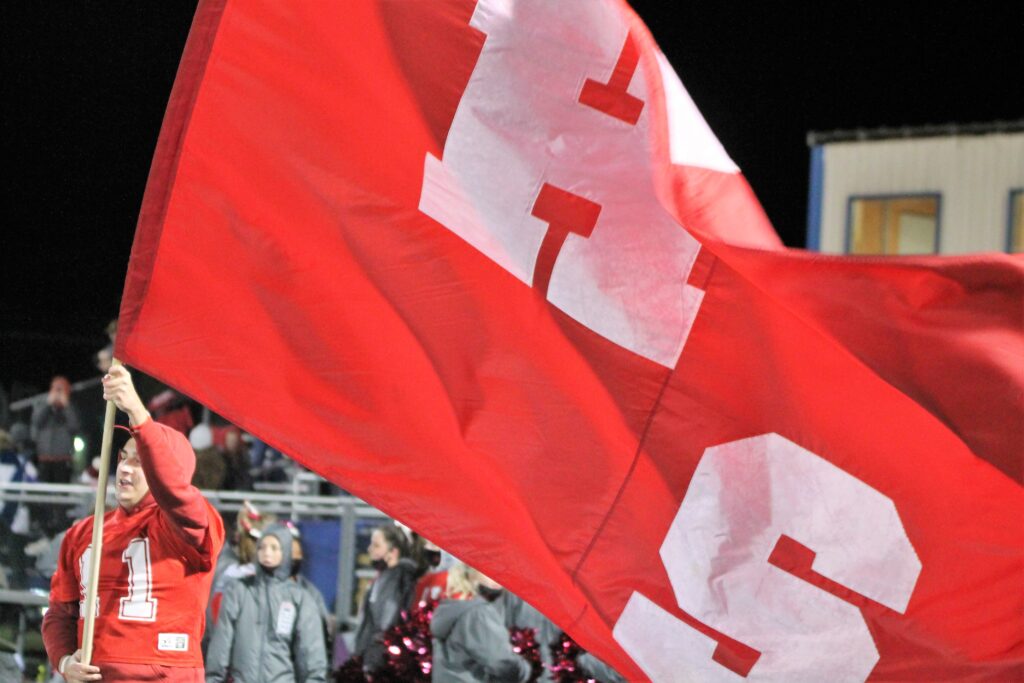 By LARRY "SCOOP" McCARTY
Heber Springs and Clinton will play for more than the Battle of the Little Red trophy at Jim Tumlison Field in Clinton on Friday night.
The winner will move up one notch on the Class 4A playoff seeding ladder and remain alive for the No. 4 seed and a bye from the first weekend of postseason play. Remaining teams will start the playoffs in play-in games on either Nov. 12 or Nov. 13.
Heber Springs seeks its first win in the fifth annual Battle of the Little Red. Kickoff is scheduled at 7 p.m.
The Panthers (1-4 2-4A Conference, 2-6 overall) are coming off a 22-17 win at Southside Batesville. Clinton (1-4 conference, 1-7 overall) defeated Bald Knob, also on the road, 21-15.
"The players are aware of the atmosphere surrounding the game," Heber Springs coach Todd Wood said. "They know what must be done and returned to practice this week with more energy after playing a complete game for the first time this season."
Wood said the Panthers learned from their second-half performance against Bald Knob two weeks ago and took a step forward.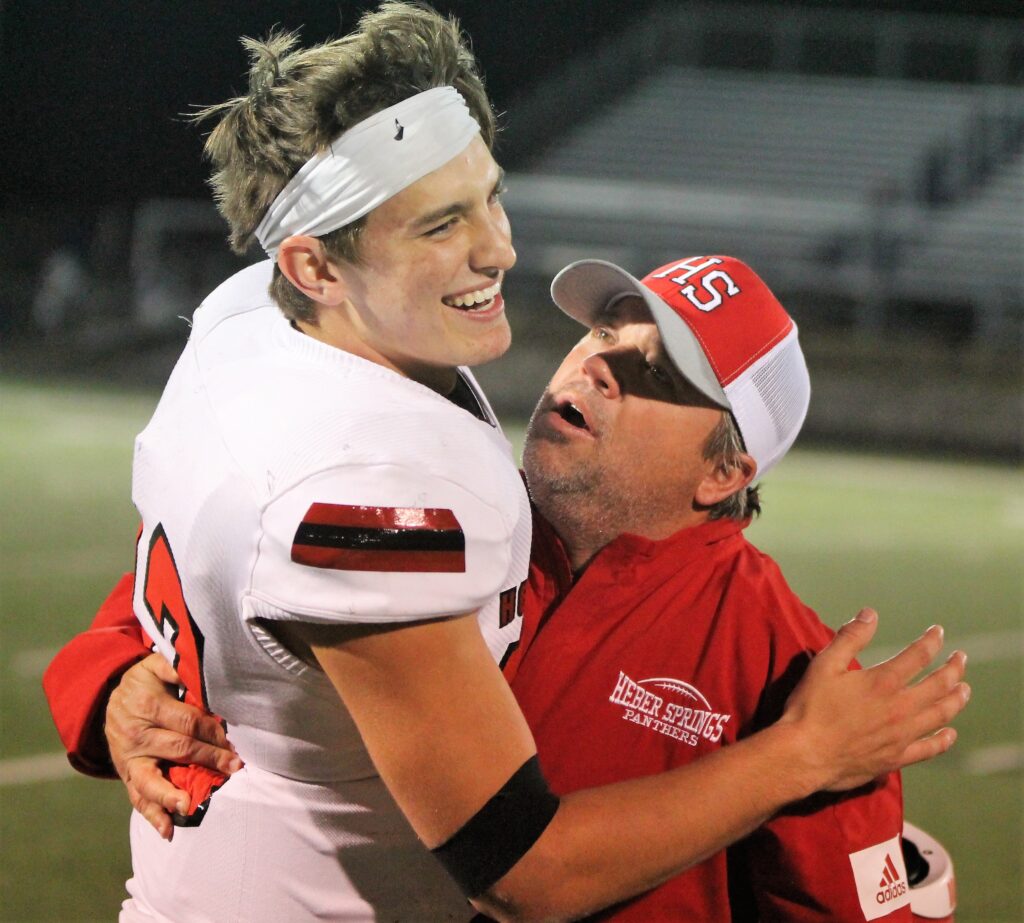 "We realized what was not done in the past and played four good quarters against Southside," he said. "We pulled close during the second half of previous games, but we never could get over the hump. We put ourselves in position to win the game against Southside during the fourth quarter."
Clinton head coach Chris Dufrene said preparation is no different than previous games with the Panthers, except the game is now a conference game.
"We would want to win whether it was the first game of the season or the ninth week," Dufrene said. "It means more this year because it is a conference game and will affect playoff seeding."
But Dufrene said winning the trophy again is important.
"The trophy adds more pressure," he said. "The game has been a good thing with all of the community involvement. It helps a lot of families in need who live in both communities."
Clinton continues with its Wing-T offense, led by sophomore quarterback Harley Tobin. Junior Nick Epley, senior Brody Emberton, and juniors Jacob Hutto and Cody Davis are the primary threats in the running game.
The Yellowjackets have put the ball in the air more this season. Seniors Blaine Emberton and Jasper Burgess have been his primary targets.
"We like to spread the ball around more with the passing game," Dufrene said. "Harley has played great at times and other times like a sophomore. He had a good game against Bald Knob with three touchdown passes."
Clinton's defense played well against Bald Knob and had three interceptions. Epley's interception with two minutes left stopped a potential scoring drive by the Bulldogs.
Wood said Clinton will carry momentum from its win at Bald Knob into Friday's game.
"The win gave them a big boost," he said. "Clinton did what it needed to do and won. They ran the ball well and then spread the field with the passing game. The quarterback is versatile, makes good decisions and can run and pass. They also have two good running backs with breakaway speed."
Heber Springs' offense went through growing pains earlier this season, but it picked up the pace against Southside.
Senior Matthew Cook, who made the transition from receiver to quarterback, has completed 92-of-162 passes for 1,112 yards and eight touchdowns. Senior Nathan McKee leads the Panthers in receiving with 34 catches for 455 yards and three touchdowns. Two sophomores have emerged as targets in the passing game. Isaac King has caught 17 passes for 168 yards and two touchdowns. Easton Cusick has 16 receptions for 210 yards.
Senior Diego Rubio is the leading rusher with 355 yards on 72 attempts and scored six touchdowns.
Wood said play improved drastically on the offensive and defensive lines and one of the determining factors in last week's win
"We have to take care of the line of scrimmage again and win that battle," Wood said. "Jayden Bremmon, Thad Bray, Lucas Langster, Trevor Weathers and Chris Smith played well. It helped by moving Preston Roberson back to linebacker, where he is better suited to play. I was pleased with the play of our (offensive and defensive) linemen."
2-4A STANDINGS
                            W L CP  W L PS  PA 
Stuttgart                   5 0 65  7 0 270  33 
Central Arkansas Christian  5 0 51  8 0 272 159
Lonoke                      4 1 44  6 2 296 199
Bald Knob                   2 3 19  4 4 194 172  
Southside Batesville        1 4 13  2 6 151 241   
Little Rock Mills           1 4 11  2 6 164 231  
Clinton                     1 4  6  1 7 165 330 
Heber Springs               1 4  5  2 6 150 272
 
Friday, October 23
Heber Springs 22, Southside Batesville 17
Central Arkansas Christian 49, Lonoke 34
Clinton 21, Bald Knob 15
Stuttgart 28, Little Rock Mills 0

Friday, October 30
Heber Springs at Clinton
Central Arkansas Christian at Bald Knob
Southside Batesville at Little Rock Mills
Lonoke at Stuttgart
Kickoff: 7 p.m. in Clinton
Admission: $5
Radio/Streaming: Billy Morgan with handle the play-by-play with Lance Hamilton providing color on KSUG 101.9 The Lake. Panther Pregame begins at 6:30 p.m. followed by the game. Listen live link here.
Honorary Captains: For Heber Springs, long-time journalist and Heber Springs graduate Larry "Scoop" McCarty. For Clinton, former player James Washington.
THE SERIES
HEBER SPRINGS VS. CLINTON
"Battle of the Little Red"
Clinton leads the series 40-38-5.
Games played in Heber Springs: Clinton leads, 20-19-1
Games played in Clinton: Clinton leads 20-18-4
Games played on a Neutral Field: Heber Springs leads, 1-0.
FIRST MEETING: Heber Springs' first season of football was 1913 and it would be 26 years before Clinton fielded its first team. It didn't take long for the two teams to meet after that with Heber Springs winning the first game played between the two schools on October 13, 1939, in Heber Springs. The Panthers won by a score of 31-0 on that day. The two teams met again less than a month later on Veteran's Day (November 11) 1939 in Clinton where the Panthers and Yellowjackets played to a 6-6 tie. The teams would go on to play continuously after that with a couple of exceptions. During World War II, neither school fielded a team during the 1943 season while Clinton did not field one during the 1944 season. After the war, Clinton and Heber Springs would meet twice per season in 1945 and 1946 with the Yellowjackets winning all four meetings. Financial constraints in the Heber Springs School District forced the school to not field a football team for the 1947 and 1948 seasons. The two teams meet again during the 1949 season with Clinton winning both games of the home-and-home series. The teams would go on continuously playing until 2007 when the opener scheduled with Clinton — which was played during the 2006 season at the Hooten's Kickoff Classic at Estes Stadium on the campus of the University of Central Arkansas in Conway — was changed to allow the Panthers to play Mayflower instead of Clinton in the same Kickoff Classic in 2007. The series resumed in 2008 and continues today.
LONGEST WINNING STREAKS: Clinton has won six straight in the series twice. Once from 1945-1949 and the second time from 2000-2005. Heber Springs won seven straight in the series from 1978-1984.
CONFERENCE FOES: Heber Springs and Clinton were first paired in the same conference in 1974. They would be paired in the same conference from 1974-1990. They would again be paired in the same conference from 1993-2001 and from 2008-2013. The two teams are back in the same conference after Clinton moved up from 3A and replaced Riverview in the conference.
OVERTIME GAMES: There have only been three overtime games in the series and those all occurred during a four-year span from 1986-1989. Clinton won a double overtime home contest in 1986 (20-14) while the Panthers won in overtime the following season in 1987, 19-12, in Heber Springs. In 1989, Clinton defeated Heber Springs, 13-12, at Panther Stadium.
CLOSE GAMES: Twenty-four of the games have been decided by a touchdown or less during the series, not including the five ties.
COACH'S WIFE: Clinton head coach Chris Dufrene's wife Heather (Bivins) is a 1987 graduate of Heber Springs High School.
TROPHY GAMES: Heber Springs won the trophy for the Hooten's Kickoff Classic between the two schools in 2006, but since the inception of the "Battle of the Little Red" trophy, Clinton has won all four meetings, 28-20 in 2016 in Clinton, 28-17 in 2017 in Heber Springs, 36-34 in 2018 in Clinton, and 28-27 last season in Heber Springs . Heber Springs will be looking to break a four-game losing streak to Clinton.