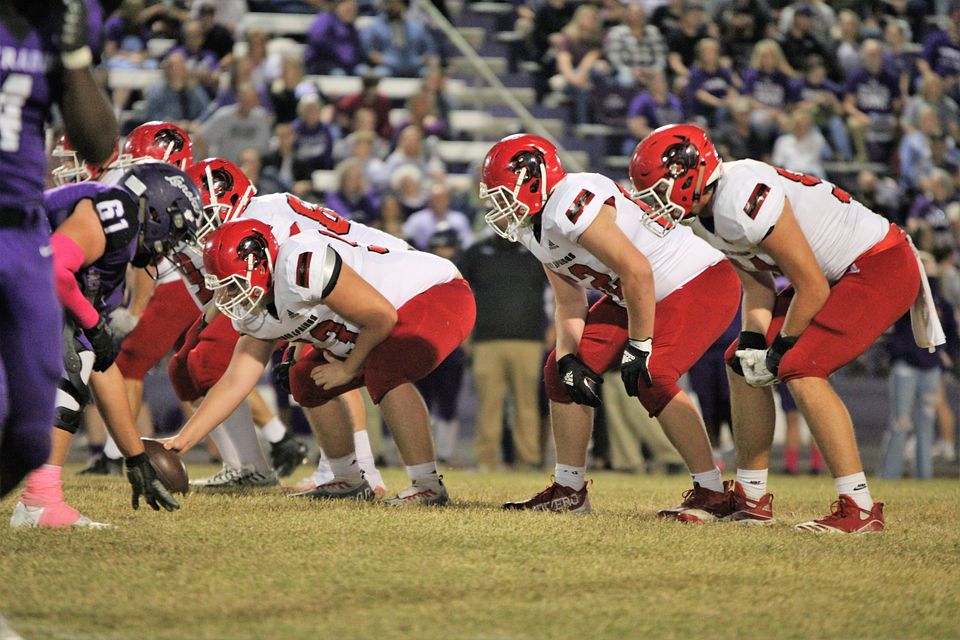 By LARRY "SCOOP" McCARTY
LONOKE –Two game-changing plays late in the first half changed momentum during Friday's 2-4A Conference football game between the Heber Springs Panthers and Lonoke Jackrabbits at James B. Abraham Stadium and helped Lonoke defeat Heber Springs, 28-7.
Heber Springs threatened to tie the game and possibly take the lead late in the first half. The Panthers drove to the Lonoke 6-yard line where the Jackrabbits held on fourth down.
"One of my first thoughts was kicking the field goal," Heber Springs coach Todd Wood said. "The receiver was open, but the pass was a little low. We need to execute better in that situation."
Momentum continued its swing toward the Jackrabbits. On the next series, Lonoke quarterback Bradon Allen avoided being sacked in the end zone for a safety on a third down, forcing a punt.
Heber Springs couldn't get a first down on three plays as the Jackrabbits regained possession on Parker Brown's punt that rolled into the end zone. Lonoke then drove 80 yards on play for a touchdown and 14-0 halftime lead.
Lonoke built a three-touchdown lead midway through the third quarter and remained in second place, a half-game lead ahead of Stuttgart in the conference standings.
The Panthers stayed in a fourth-place tie with Bald Knob, one-half game ahead of Cave City and Riverview, which are tied for sixth place.
"We gave a great effort (against Lonoke), never quit and kept fighting," Wood said. "I liked the effort in the first half when we had a chance to be only down 6-0. We did a good job of maintaining the ball during the first half and you have to do that against a team like Lonoke."
Lonoke compiled 358 yards in total offense — 248 rushing and 110 passing — and held the Panthers to 209 yards — 137 rushing and 72 passing. The Jackrabbits held a 16-11 in first downs.
"Sometimes, you go against a team more physical with more size and speed," Wood said. "Lonoke is a good team and one of the best in the conference. When you play a team like Lonoke, you must make sure you are hitting on all cylinders."
Brown led the Heber Springs running game with 21 carries for 78 yards. Quarterback Xander Lindley had 47 yards on 12 carries and scored one touchdown.
Lindley completed 8-of-14 passes for 72 yards. Easton Cusick caught four passes for 54 yards. Brown and Dalton Yancey each had two catches for 12 yards.
Brown, who averaged 42 yards on three punts, had 142 all-purpose yards, including three kickoff returns for 64 yards. Chris Edwards, who left the game during the second half with a knee injury, had two kickoff returns for 38 yards.
Allen rushed for 117 yards on 13 carries and scored a touchdown for Lonoke. He completed 6-of-9 passes for 110 yards and one touchdown.
Latrell Burnett rushed nine times for 67 yards and caught two passes for 85 yards and one touchdown. Burnett had 152 all-purpose yards.
Wood said depth played a role, especially on the offensive and defensive lines.
"Our bigger guys played most of the game and were worn out by the second half," he said. "But they kept working hard and never quit. I'm proud of the way Parker ran. You saw that he can run when the defense tried to box him on the inside. Parker showed what he is capable of doing, made things happen and got positive yardage."
After Brown's 44-yard punt, Lonoke drove 95 yards on six plays for a 6-0 lead. Burnett caught a short pass from Allen and broke free down the sidelines on a 67-yard scoring play with six minutes left in the first quarter. Tom Boatright's kick for the extra point was unsuccessful.
The Jackrabbits didn't reach the end zone again until late in the first half. Allen, who scrambled 35 yards earlier in the drive, scored on an 11-yard run with 1:31 left in the first half. Burnett ran for a 2-point conversion, giving Lonoke a 14-0 halftime lead.
Lonoke's depth became eventual when the Jackrabbits increased its lead by driving 57 yards on nine plays during the third quarter. Landon Jones scored on a 4-yard run and Boatwright's conversion kick increased the lead to 21-0 with 2:57 left.
Heber Springs responded by driving 52 yards on nine playoffs following the kickoff. Cusick's 35-yard catch of a Lindley pass advanced the Panthrs into the red zone. Lindley scored on a run from the 1-yard line with 10:18 left in the game. Gideon Tate kicked the extra point.
Lonoke added a final touchdown on Cody Amato's 32-yard touchdown run and Boatwright's conversion kick with 5:53 to play.
Heber Springs (1-2 in 2-4A Conference, 2-4 overall) will play back-to-back home games, starting with Stuttgart on Friday. Heber Springs will host conference leader Harding Academy on Oct. 28.
"Two of the conference's top two teams will be coming and playing us at home," Wood said. "We need to learn from the Lonoke game and start preparing for Stuttgart. We still have an opportunity for the playoffs."
Brought to you by Business Booster Tate Family Chiropractic