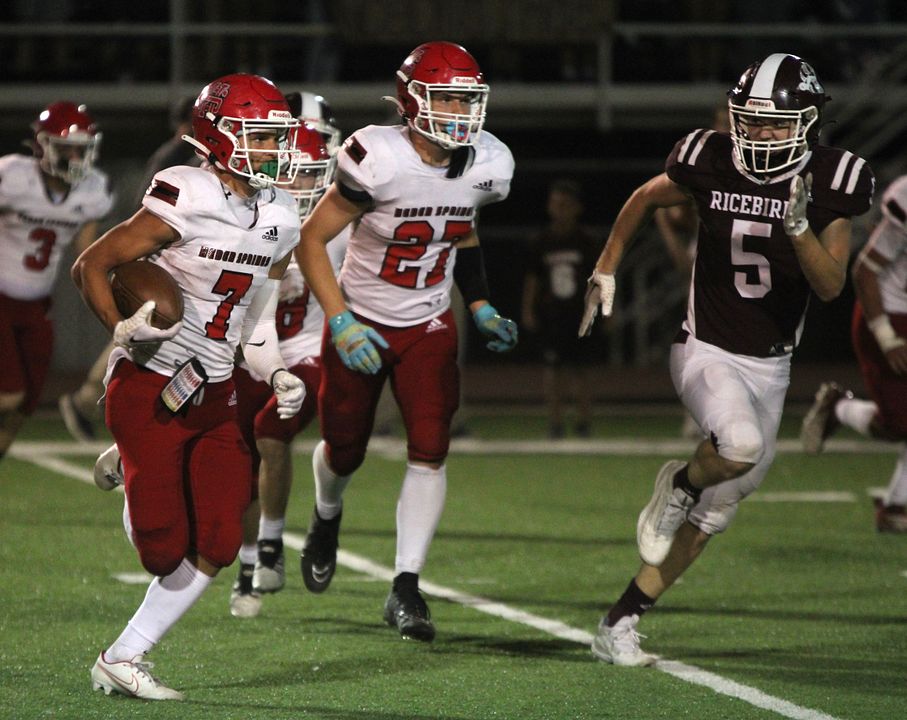 By PHILIP SEATON
MarkedTime.com Publisher
STUTTGART – The stakes were high for both teams Friday night at Ned Moseley Stadium in a 2-4A clash between Stuttgart and Heber Springs.
The winner would all but be guaranteed the No. 2 seed and more importantly a first-round home playoff game, and for the Panthers, a chance to meet Harding Academy this upcoming Friday for the conference championship.
The Ricebirds had taken a 28-21 lead with 3:21 left in the contest after marching 35 yards in six plays, all runs by Matthew Luster, taking 2:57 off the clock. The drive was capped by an 8-yard run by Luster. Freshman Cain Price connected with Jacob Hayes for the 2-point conversion.
Now it was Heber Springs' turn. After a 10-yard return on the kickoff by Logan Rutledge, the Panthers took over on their own 43. With only one timeout left, Heber Springs hurried, but remained methodical, as Bryce Seigrist took five straight fullback dives up the middle as the clock continued to run. The sophomore picked up two first downs and moved the ball 28 yards down the field.
It appeared that the Panthers were going to attempt to the same thing on a second-and-7, but instead senior slotback Parker Brown took the pitch and raced 29 yards to make it 28-27 in favor of Stuttgart with 1:14 to play.
"Coach had a great plan this drive," Brown said. "We put in the heavy personnel, and we were just hammering it.
"He (Heber Springs coach Van Paschal) was like they are going to adjust to that and then we are going to hit them on the outside. That's exactly what we did."
Kick the extra point and go into overtime, or go for the win?
"I didn't want to go into overtime," Paschal said. "It's their home, they are going to get the calls (from the officials) obviously, so we might as well do it now."
As Heber Springs lined up for the 2-point try, Stuttgart coach Josh Price used his final timeout to set up his defense.
Before the timeout, the Ricebirds had lined up in a normal formation, but after the stoppage, Paschal saw something and immediately used his final timeout.
"I think I had called 'belly' (a fullback dive off tackle)," he said. "I saw that had nobody back there and they that were going to bring it (defensive pressure). I thought let's roll the dice."
The ball was now in the hands of Heber Springs quarterback Xander Lindley. The senior, who had started the past two seasons behind center but gave way to junior Liam Buffalo in the offseason, was thrust back into the starting position after a season-ending injury to Buffalo last week at Lonoke.
"We got that timeout, and he (Paschal) pulled me over to the sideline," Lindley said. "He told me and Parker, 'We were going to run the belly play again'. Well, this time, he is like I want you to fake the handoff, turn around and throw it to Parker in the back of the end zone.
"They were all up front on the line of scrimmage. They were all blitzing. As soon as he said it knew it was going to work."
And he was right. Lindley faked to Seigrist and lofted the ball into the back into the endzone into the waiting arms of a wide-open Brown for the 2-point conversion and the 29-28 lead sending the Panther sidelines into a frenzy and the contingent of fans that had made the nearly two-hour drive from Cleburne County.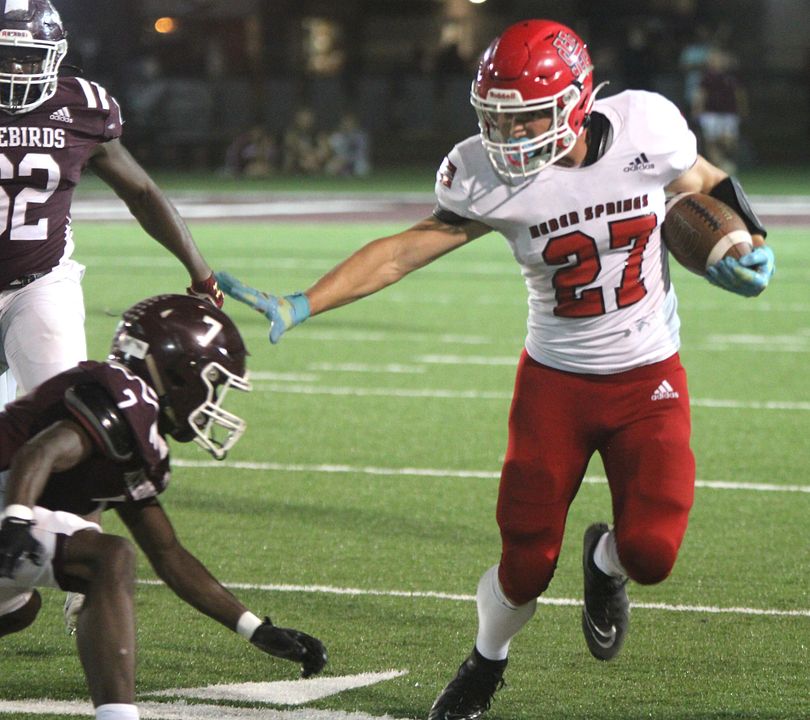 "It was awesome," Lindley said. "It felt like three seconds (the ball being in the air), I watched the whole thing and I was like, 'Please catch it, please' because I knew the game was on the line right there. I was shaking when I threw it, and it was awesome whenever he caught it."
Though the Panthers had just taken the lead, Stuttgart still had 74 seconds left to attempt to win the game.
Gideon Tate placed the ensuing kickoff at the Ricebird 15-yard-line along the Panther sideline. Stuttgart's Quarterion Johnson took the ball found a couple of blockers and nothing but open field and Tate in front of him.
"Coach Paschal called for a sky kick, and that's what I delivered," Tate said. "There was no way I was going to let my ball get run back and disappoint coach (Paschal). This is the first year that I am just the kicker/punter, but those old linebacker skills kicked in."
Paschal was not disappointed.
"He got up and got it done, didn't he?" he asked. "He thumped him. It was a great form tackle."
Tate doesn't take part in many tackle drills in practice, so he harkened back to his youth football days to make the play.
"As a second grader, I actually played up and played for coach Joe Cusick with the third grade (team)," the senior said. "He always said, 'Be the hammer not the nail' … but in that exact moment, everything went slow motion around me. When he got closer, I made sure I got the angle on him. Then he slowed.
"So, when he got close enough, I just leapt, wrapped him up and rolled him up like ole coach Joe taught us."
One of his teammates thought he was going to score.
"I thought that guy was gone," Lindley said. "Gideon came out of nowhere and made the perfect tackle. It was awesome."
Though it was perfect tackle, it was going to take a few more stops to wrap-up the win as the Ricebirds took over at the 50 after the 35-yard return.
A false-start penalty pushed Stuttgart back five yards with 67 seconds to play, before Heber Springs started getting those stops.
Junior Jordan Tidwell blew past the offensive lineman that attempted to block him and wrapped up Cain Price for a sack and a 14-yard loss.
A jubilant assistant coach, Easton Seidl, high-stepped his way 20 yards down the sideline before Tidwell could complete the tackle.
"Jordan 'freaking' Tidwell," Seidl said on social media after the game.
"I'm so proud of this young man," the first-year Heber Springs' defensive line coach added. "I was very hard on him tonight, and in the biggest moment of the game this is what he does. He squashed every bit of hope they had. With no timeouts and less than 50 seconds on the lock. Doesn't get better than seeing your players grow and get better every week."
Stuttgart still had time but Carter Julian, who paced the Panthers with a game-high 12 total tackles, brought down Deontae Clark after a six-yard pass play. Sophomore Eli Buffalo followed on third down by holding Ross Atkinson to an 11-yard gain. On fourth-and-12, Stuttgart unsuccessfully attempted the 'hook-and-ladder' play as Atkinson caught the ball near the line of scrimmage lateraled to Clark who was immediately brought down by Brown and Julian for a one-yard loss sealing the 29-28 win for Heber Springs.
"It is a special win," Brown said. "We hadn't beat Stuttgart in a while, and to beat them at their place, it's a great day."
It was the fifth-straight win for the Panthers, who improve to 5-2 on the season and remained undefeated in conference play with a 4-0 mark. Heber Springs wrapped the conference's second seed for the upcoming playoffs and guaranteed themselves a home playoff game for the first time since 2018.
Stuttgart fell to 4-3 on the season and 2-2 in the 2-4A.
The Panthers travel to Searcy on Friday to tangle with Harding Academy. With the winner claiming the conference's top seed and most likely conference title.
"They are really good," Paschal said of the Wildcats. "We are going to have to play well. They have so many weapons. At this stage of the game for us, we want to win the ballgame, but it's a measuring stick for the playoffs.
"If we win, bonus, but we aren't supposed too. We are going to prepare to win, but here's the deal, to get the two seed, to get that home game, that's big. Let's just see how that booger rolls out and then we build on that."
Heber Springs rolled out to a 14-0 lead Friday night at Stuttgart.
The Panthers struck first with 3:10 remaining in the first quarter as Weston Warden scored on a six-yard run. The junior had put Heber Springs in that position by making a 27-yard reception on a third-and-10 play from the Panther 44.
After Stuttgart picked up a couple of first downs, Luke Elliott sacked Price for a seven-yard loss on third down forcing a punt.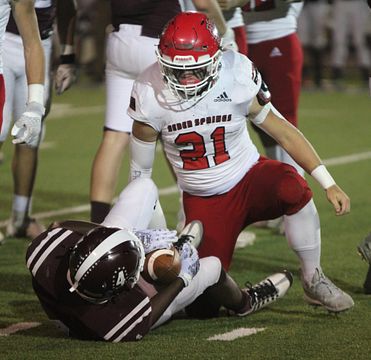 Taking over own their own 19, runs by Seigrist, Warden and Brown moved the ball into Ricebird territory. On second-and-10, Brown took the pitch and didn't stop until he crossed the goal line. Tate added the kick to make it 14-0 with 6:57 to play in the half.
But penalties and the Stuttgart defense would slow down the Panther offense almost the rest of night. Heber Springs was flagged 12 times for 120 yards and held to two yards of total offense on their next five possessions.
"I thought we would score 50 points to be honest with you," Paschal said. "They were teeing off on us. We were running our base stuff, and they just whipped our butt … nothing much was working."
In the meantime, Stuttgart was closing the gap. The Ricebirds put six points on the scoreboard on a two-yard run by senior Kemarion Pickett with 2:16 left in the first half. Warden blocked the extra point for Heber Springs leaving the score at 14-6 heading into the break.
Stuttgart would tie things up with 5:12 remaining in third quarter as Price connected with Johnson for a 20-yard touchdown pass. Price then found Pickett for the 2-point conversion.
While the offense continued to struggle, the Panther defense stepped up.
Sophomore Emmett Dwyer picked off a Price pass at the Heber Springs 5 and returned it 32 yards to keep the Ricebirds off the board with 11:50 to play.
On Stuttgart's next possession, the Ricebirds picked up a first down and appeared to have a second one in Panther territory, but Stuttgart's Jeremiah Thomas was stood up by a pair of Heber Springs defenders and Warden stripped the ball loose. The junior then raced 60 yards for the score.
"I felt the ball go into my arms and I just took off with it," Warden said. "I just saw grass and I ran as fast as I could."
It was the second week in a row that Warden has had a 60-yard defensive score, returning an interception for a touchdown last week against Lonoke.
A high snap almost derailed the extra-point attempt as Lindley got the ball down just low enough for Tate to barely push it over the cross-bar for the 21-14 lead with 8:45 to play.
"Those are the moments when having years of training as a striker in soccer pays off," Tate said. "That ball is always going to go in the direction your hips are pointed. Since we are not using a block, I had to put more hip into it than leg. It wasn't pretty, but I managed to get it over."
But Stuttgart wasn't going to disappoint the gathered homecoming crowd, as Price found Clark on the Ricebird's first play from scrimmage for a 77-yard scoring with 8:25 to play. The 2-point conversion attempt was stopped leaving the Panthers up 21-20.
"Craziest game I ever been part of," Warden said. "Just a team effort couldn't do without my teammates. We fought to the end and came out with the 'W'."
Warden's defensive coordinator Kevin Youngblood took to social media after the game to talk about the team effort.
"Our kids are amazing," he said. "All we hear at the state level is our kids are too slow, too little up front, too young and everything else.
"But what they are quickly find out is that our kids have grit, heart, desire and determination. This a true football team."