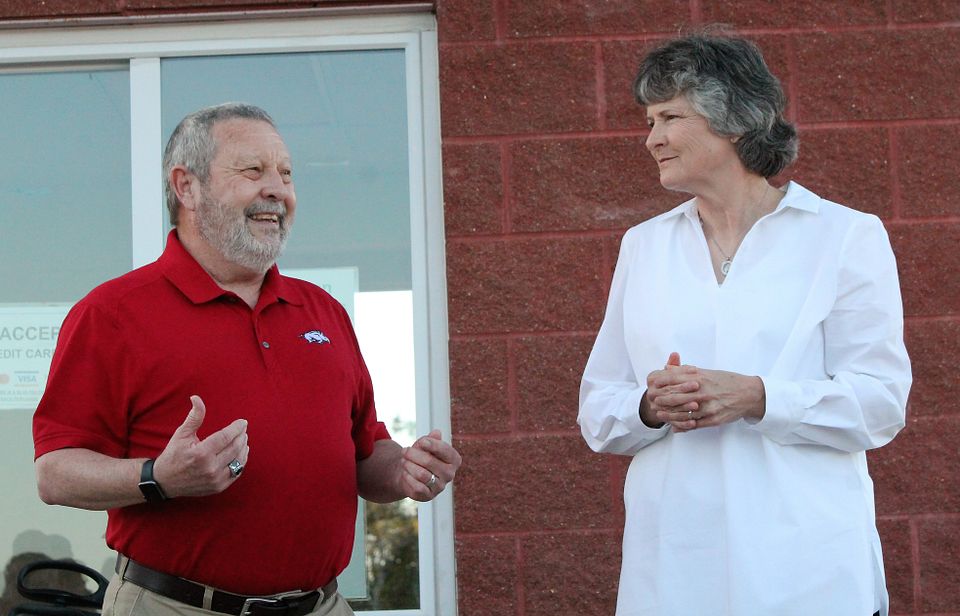 By LARRY "SCOOP" McCARTY
The track inside Panther Stadium officially became the Goldman-Wilson Track, but retired coaches Harold 'Sonny' Wilson and Johnette Goldman quickly credited contributions of others, helping to make the cross country and track and field programs one of the best in Arkansas.
The original track, which was the old red dog surface, was competed in time for the 1975 season, four years before Wilson and Goldman arrived at the school. After winning the 1991 Class 4A state track and field title, the track was upgraded to an all-weather surface in time for the 1992 season. The facility is one of the most used high school tracks in Arkansas, averaging at one time 11 meets a year (including seventh-grade and junior high school meets).
Wilson was the school's head boys' track coach for 23 years, leading the Panthers to 18 conference titles and five state championships, plus 14 junior high school titles. He also was a defensive coordinator and finished his 30-year career with the school district as high school principal.
"You made an old man feel good by doing something like this," Wilson said. "Coach Goldman and I appreciate this, but something is missing, the kids who performed for us. We're working to change that and find a way to recognize the accomplishments of those athletes."
Goldman, who worked 39 years for the school district, led the Lady Panthers to nine state championships in cross country and track and field. Heber Springs was state runner-up in cross country and track and field under Goldman. The Panthers also won 32 conference titles combined in both sports.
"We would be here all night if I told you every person who contributed to the program's success," Goldman said. "It was more than just two people. Dale Cresswell (current girls' and boys cross country coach and the boys' track coach) was a special part of the success."
Wilson said other coaches through the years deserve credit and recognition.
"I remember people like coach Marc Moody who coached state champions in the shot put and discus," he said. "Todd Thompson was a big part of this. Coaches Cresswell and Jeff Bise also had impacts. Our names are up there (sign entering Panther Stadium) for this recognition because of them. So many other people also are responsible for all of this."
Former Athletic Director Dennis DeBusk, who hired both coaches in 1979, said they were very deserving of the recognition.
"Heber Springs made a great decision in naming the track after Wilson and Goldman," he said. "There were individuals who cared about their students and brought the best out of everyone they worked with. It is my honor to be able to call them my friends. I'm so happy for both of them."
Wilson credited DeBusk for the program's success.
"Dennis let us to do what we wanted and supported us," Wilson said. "We always received support from the Heber Springs Booster Club, who always helped us to purchase whatever the program needed."
Cresswell, a 1985 HSHS graduate, was a pole vaulter for Wilson, served a stint as his assistant before becoming head coach.
"What a great way to honor two of the best mentors of track and field," Cresswell said. "Not only are they legends in our community, but they are also leaders in the state and even the nation. The Heber Springs track and Field program has become one of the best programs in Arkansas because of the hard work and dedication from these coaches."
Cresswell, who has led the Panthers to numerous cross country and track and field state championships, credited his coaching success to the influence of Wilson and Goldman, who had 14 of her teams finish as state runner-ups.
"I've learned so much from coach Wilson and coach Goldman," Cresswell said. "It has been a privilege to have them as mentors and co-workers. Most of all, I'm also blessed to have them as very good friends. I really don't know two more deserving people for this honor."
Please consider helping support local and independent journalism by donating today.