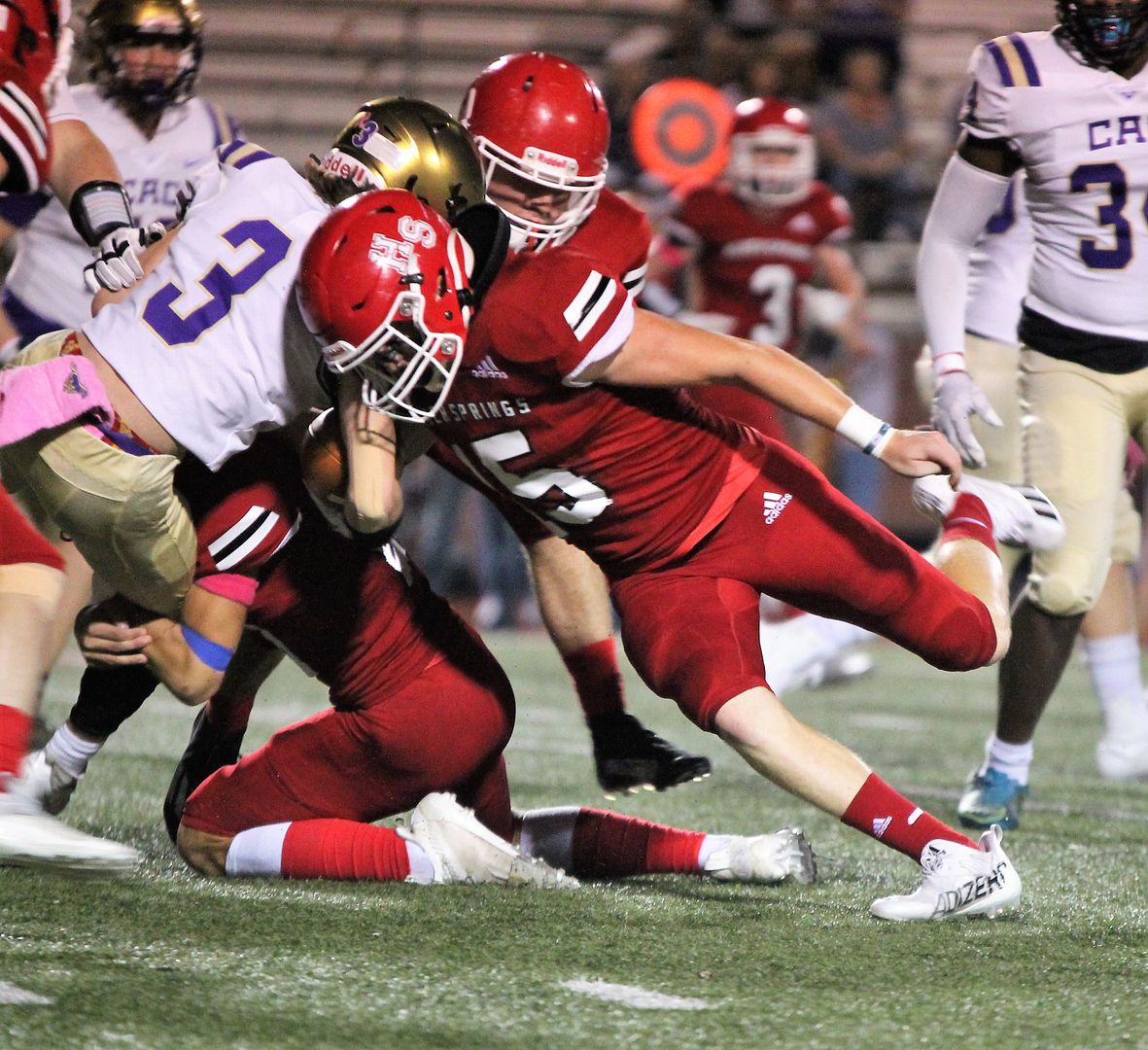 HEBER SPRINGS – Parker Brown's youth football coach, Jack Cook, had a nickname for Brown as he ran over opposing defenses for the "Pee Wee" Panthers — "Downtown Parker Brown."
Flash forward to Friday night at Panther Stadium and a 47-26 victory by the senior high Panthers over Central Arkansas Christian, that moniker could have easily been "Touchdown Parker Brown" as the sophomore rushed for 223 yards on 16 carries and four touchdowns, and also had three receptions for 44 yards and another score, to finish with five touchdowns on the night.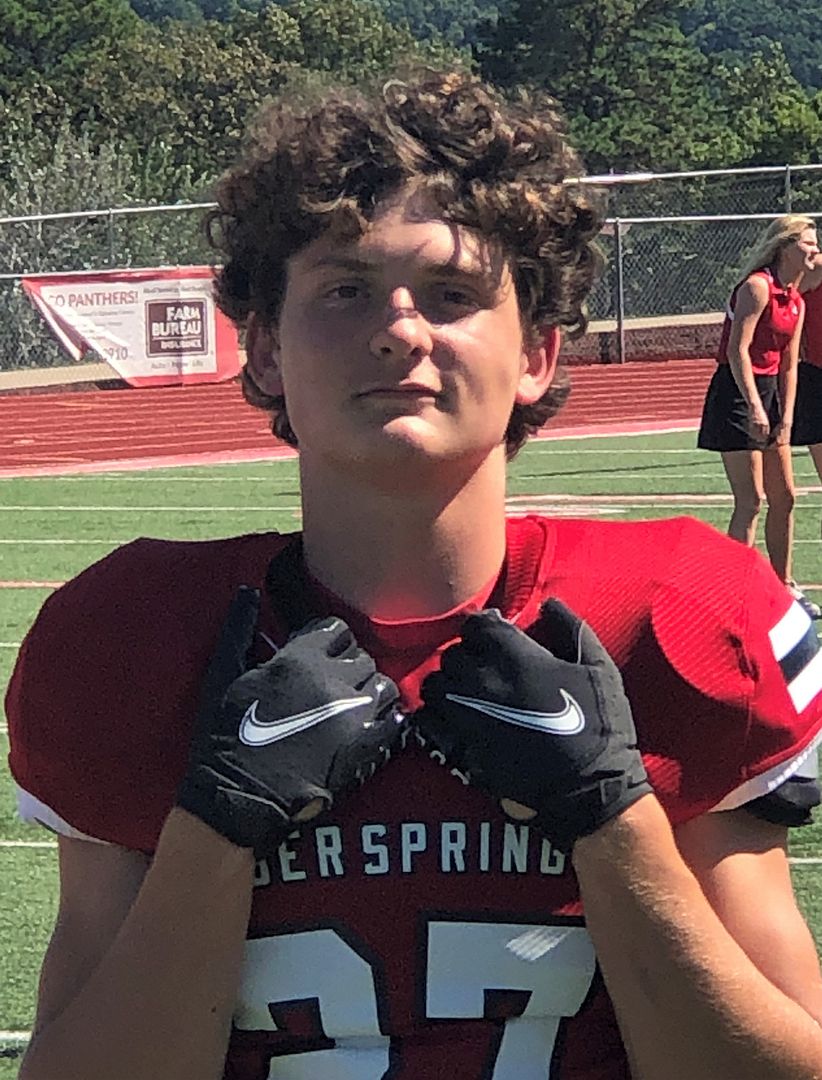 His five total touchdowns is the most by Panther since Nov. 4, 2010, when Markeyvus Mays rushed for seven touchdowns on 11 carries in a win over Cave City. Jerry Pilkington has the most in school history with eight rushing touchdowns against Ola on Oct. 14, 1949.
While Brown didn't set a school or stadium record Friday night, he did make history by becoming the first Heber Springs football player in 100 seasons to have a 200-yard rushing game and a 200-yard receiving game (at Dover on Sept. 17) in the same season.
Through five games, Brown has 11 touchdowns (seven on the ground and four receiving) and 910 all-purpose yards (182 per game). He has rushed 63 times for 537 yards (107.4 yards per game and 8.5 yards per attempt) and is tied with Easton Cusick with a team-high eight receptions for 264 yards.
PROFESSOR X: Sophomore quarterback Xander Lindley scored his first two touchdowns of his senior high career Friday night on runs of 1- and 35-yards. He rushed for 134 yards on 13 carries for an average of 10.3 yards per carry. Lindley also passed for 113 yards (on 11 of 13 passing) to finish with 247 yards of total offense on the night.
For the season, Lindley (who last played quarterback as eighth-grader until this season) has completed 35 passes on 61 attempts for a 57.4 completion percentage. He also passed for 515 yards and five touchdowns.
Lindley leads the team with 700 yards of total offense.
X-MEN: Though CAC finished with 347 yards of total offense, 320 of that coming from Mustang senior Tyler Williams, the Panthers limited CAC 4.3 yards per carry (take out Williams' rushing totals and the Panthers held the Mustangs to 1.7 yards per attempt for the rest of the CAC backs) and had a second-quarter, goal-line stand as they stopped Williams inches short of end zone on fourth down.
That goal-line stand led to a 99-yard touchdown drive by the offense and a commanding 28-6 lead with 1:17 left in the first half.
The Mustangs would pull to within 14 in the third quarter and reach the Panther 30 before another four-down stop on pass play. Heber Springs would go on to score on its next possession and take control of the game.
MUSTANG STOPPER: Kenan Sneed led the Panthers with 21 tackles and a fumble recovery. His 21 tackles are the first time that a Heber Springs player has hit the 20 tackle mark since Dillon Spivey had 20 at Gravette in a 4A playoff game on Nov. 10, 2017.
Sneed leads the team with 57 tackles, including 10 for a loss and two fumble recoveries. The junior had more than 100 tackles as a sophomore.
MORE MUSTANG STOPPERS: Sophomore Hayden Johnson finished with 13 tackles against the Mustangs and is second on the team with 38 stops, including eight for an loss. Senior Jackson West finished with 12 tackles and has 31 total tackles on the year while senior Tristan Thissen had 11 stops on the night and 26 on the season.
SENIOR VICTORY: Gus Hannah was injured during the conference opener with Lonoke and missed the Stuttgart game, but he did get a chance to get into the game late as coach Todd Wood put Hannah in on the victory formation. Prior to that injury, the senior was the team's leading receiver with seven receptions.
CONFERENCE SHAKE-UP: Both Lonoke and Little Rock Mills entered Friday night both unbeaten in the 2-4A and overall, but ended the night with losses. Clinton defeated Little Rock Mills, 38-28, while Southside Batesville dropped Lonoke in overtime, 38-36. Stuttgart (3-0 in the 2-4A) defeated Bald Knob, 42-19, and now has a one game lead over four teams (Clinton, Southside Batesville, Lonoke and Little Rock Mills). The Panthers set at 1-2 while CAC and Bald Knob are both 0-3. The top five teams make the playoffs.
UP NEXT: Heber Springs travels to Bald Knob Friday night.