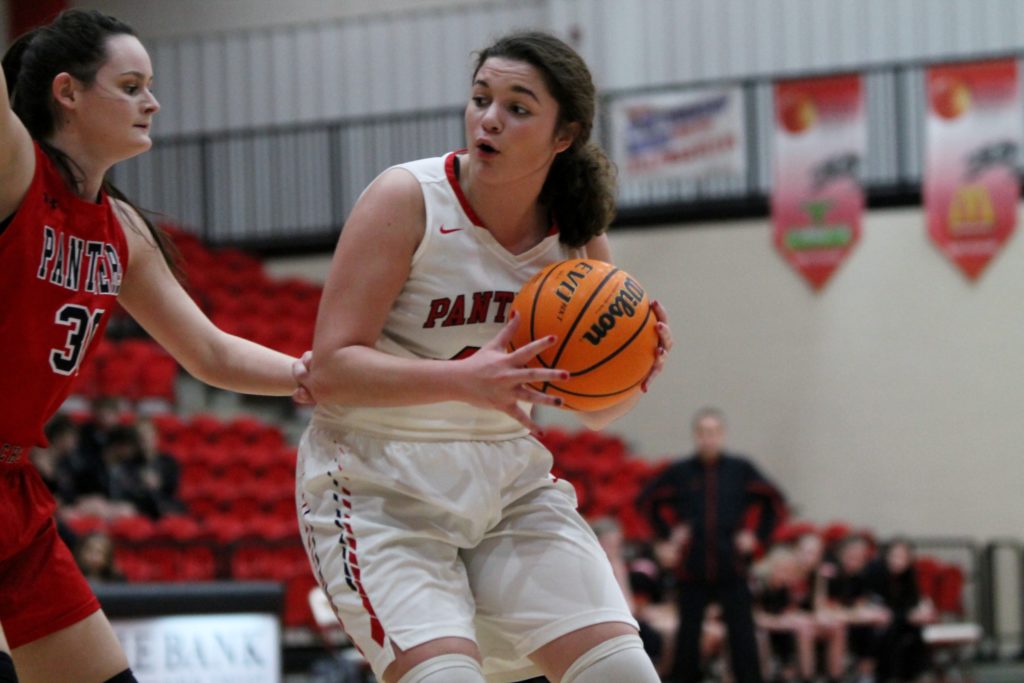 February 14, 2020
By LARRY "SCOOP" McCARTY
The Heber Springs Lady Panthers walked off the court feeling like they lost, despite a 36-30 win against Clarksville in the regular season basketball finale Friday.
Heber Springs (8-4 in 4-4A, 16-8 overall) and Clarksville (8-4 in conference, 12-14 overall) finished in a tie for second place.
Clarksville earned the No. 2 seed for the conference tournament on a tiebreaker.
Jillian Herring made a free throw, giving Heber Springs a 36-28 lead and the points to earn the No. 2 seed with six seconds left in the game, but Clarksville's Autumn Miller drove the length of the floor and scored with point sixths of a second left.
"We were trying to get back on defense to defend the final shot," Heber Springs coach Jamey Riddle said. "She (Miller) got loose and we didn't get in front of her."
Heber Springs will play the Ozark-Dardanelle winner at 7 p.m. Wednesday in the quarterfinals at Dardanelle. Wednesday's winner will a regional tournament berth.
"The girls felt that way, but they need to not do that," said Riddle about falling short of the No. 2 seed. "A win is a win anytime. I'm proud how they fought and beat a good team. We are looking forward to the tournament."
Herring led the Lady Panthers with 17 points. Claudia Newberry had 11 points. Miller scored 12 points for Clarksville.
"Our shots were not falling in the first half," Riddle said. "We started to make shots in the second half. Jillian got good shots by driving to the basket. We rebounded and held them to 30 points, which is playing good defense."
Each team led once by three points during the first quarter. Newberry scored eight points, but Clarksville stayed close and pulled to within 10-9 by the end of the opening quarter.
Ellie Riddle scored to start the second quarter, but Clarksville reclaimed the lead with five consecutive points.
Herring's 3-pointer gave Heber Springs a 15-14 lead. Clarksville converted a three-point play and led 17-15 at halftime.
Clarksville led 19-15 early in the third quarter. The Lady responded with an 11-1 scoring run and built a 26-20 lead going into the fourth quarter.
Heber Springs maintained a five-to-seven lead throughout the fourth quarter.
"It is not the end of the season and we are still playing basketball," Riddle said. "We beat both teams (Ozark and Dardanelle) during the regular season. It's difficult sometimes to be a team for the third time. Regardless which team we play, we will come out and play hard."
FEBRUARY 14 BOXSCORE 
Clarksville    9 8  5  8 - 30
Heber Springs 10 5 11 10 - 36
CLARKSVILLE SCORING (30): Autumn Miller 12, Emmaline Rieder 8, Morgan Douglas 5, Rebekah Guess 3, Parker Banning 2.
HEBER SPRINGS SCORING (36): Jillian Herring 17, Claudia Newberry 11, Ashley Spanel 3, Ellie Riddle 3, Mary Shearer 2. 

FEBRUARY 11 BOXSCORE
at Morrilton
Heber Springs  22  8   9   6 - 45
Morrilton      11 10  13  16 - 50
HEBER SPRINGS SCORING (45): Libby Stutts 18, Claudia Newberry 16, Jillian Herring 6, Ellie Riddle 5 
MORRILTON SCORING (50): Cheyanne Kemp 17, Kennedy Reel 14, Ali Jo Dunlap 10, Grace Brown 4, A'mya Everette 3