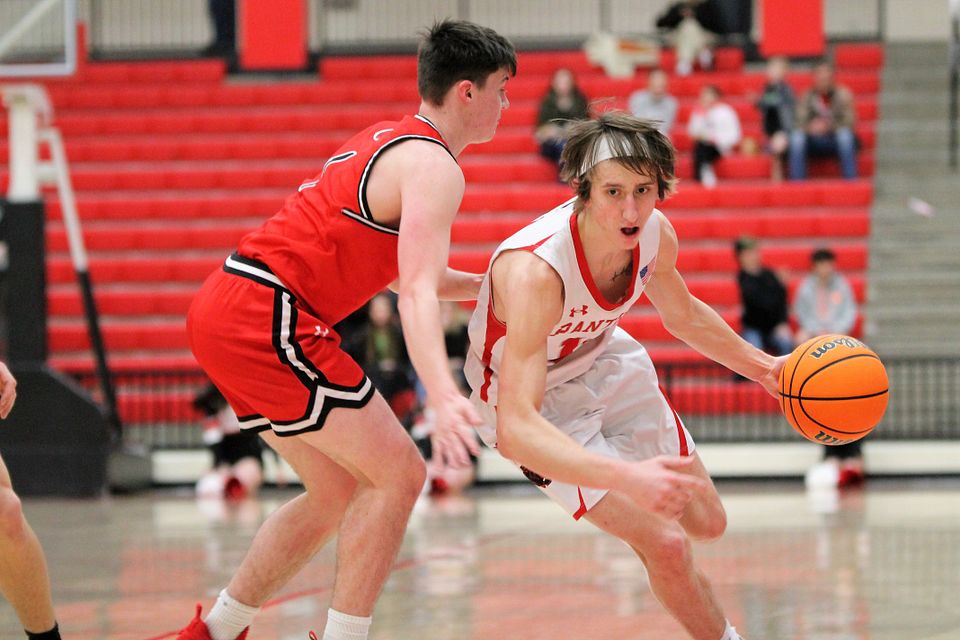 By LARRY "SCOOP" McCARTY
Junior J.T. Spears turned in two pivotal second-half plays, one on offense and other on defense, and switched the momentum to the Heber Springs Panthers against Clarksville at the Panther Den on Saturday.
Heber Springs went on a 20-9 scoring run starting with 6:42 left in the third quarter before taking lead with 4:06 left in the game, and defeated Clarksville 54-49 in a Conference 4-4A basketball game.
Clarksville led Heber Springs 35-25 with 6:42 left in the third quarter. The key defensive play came when Spears drew a charge from Owen Ashlock with 2:42 to go as Clarksville led, 36-34. Spears gave Heber Springs the lead with 4:06 left in the game when he made a 3-pointer, 45-44.
Braxton Payne led Clarksville with 17 points, followed by Bush, who had 15 points, all of 3-pointers. Ashlock contributed 11 points.
"From the middle of the third quarter, we started to do a better job defensively," Heber Springs coach Jordan Riley said. "No. 33 (Ashlock) and No. 3 (Bush) are good players and were hard to stop in the first half."
The win kept Heber Springs (4-7 in Conference 4-4A, 13-11 overall) in position to avoid a play-in game for the conference tournament. Heber Springs will play at Pottsville on Tuesday in the regular season finale. Pottsville (3-7 in Conference 4-4A, 9-13 overall) and Heber Springs are tied in the loss column for fifth place. A win on Tuesday assures the Panthers of avoiding the play-in game.
Pottsville will end the regular season against Ozark at home on Friday. Clarksville (5-6 in Conference 4-4A, 10-12) is currently one game ahead of the Panthers in fourth place. A Clarksville loss to Morrilton at home on Friday would give the No. 4 seed to Heber Springs.
Gavin Vaughn, who hit three 3-pointers, scored 17 points for Heber Springs. Parker Brown added 16 points, 12 coming during the first half, and Ryan Crocker, who made two 3-pointers, had 14 points.
"I'm proud of how the guys worked throughout the game," said Jordan when asked about his team's comeback. "I kept telling them we can't take any plays off or time to rest until the game was over. They made the right adjustments and answered the call. J.T. got us going when he took the charge and when hit made the 3-pointer."
Heber Springs had struggled offensively by scoring 46 points combined in the last two games. Riley said contributions of more than one or two players were the keys to Saturday's win.
"I was glad to see that," Riley said. "That is what it is going to take because we can't have just one or two guys doing it all. We had been struggling scoring and been too much one dimensional in recent games. Parker has been one of our most consistent players on offense throughout the year. We need Gavin, Ryan and J.T, as well as others to contribute on offense. Eli (Riggs) and Ladd (Choate) are capable of making big shots. We got to get all of the players involved to play winning basketball."
Clarksville led 17-14 after the first quarter and increased it to 31-25 by half. Heber Springs trailed 41-36 going into the fourth quarter.
Riggs made one of the game's biggest shots when he sank a layup  for a 51-46 lead with 11 seconds left. Payne drew a foul on a 3-point attempt and made the free throws with five seconds to go. On the inbound pass after a timeout, Crocker threw deep to Brown, who caught the pass and drew an intentional foul with 3.6 seconds remaining.
Vaughn hit a 3-pointer from the deep corner at the buzzer.
"It sets up a big game at Pottsville," Riley said. "We had two more big plays at the end of this game, especially the long pass. We showed already this season that we are capable of beating any team in the league. That makes the other teams feel a little nervous about playing Heber Springs."
Clarksville          17  14  10  8  – 49
Heber Springs   14  11  11  18 – 54
CLARKSVILLE SCORING (49):  Braxton Payne 17, Tobin Bush 15, Owen Ashlock 11, Landon Leeds 4, Cody Qualls 2.
HEBER SPRINGS SCORING (54): Gavin Vaughn 17, Parker Brown 16, Ryan Crocker 14, J.T, Spears 5, Eli Riggs 2.