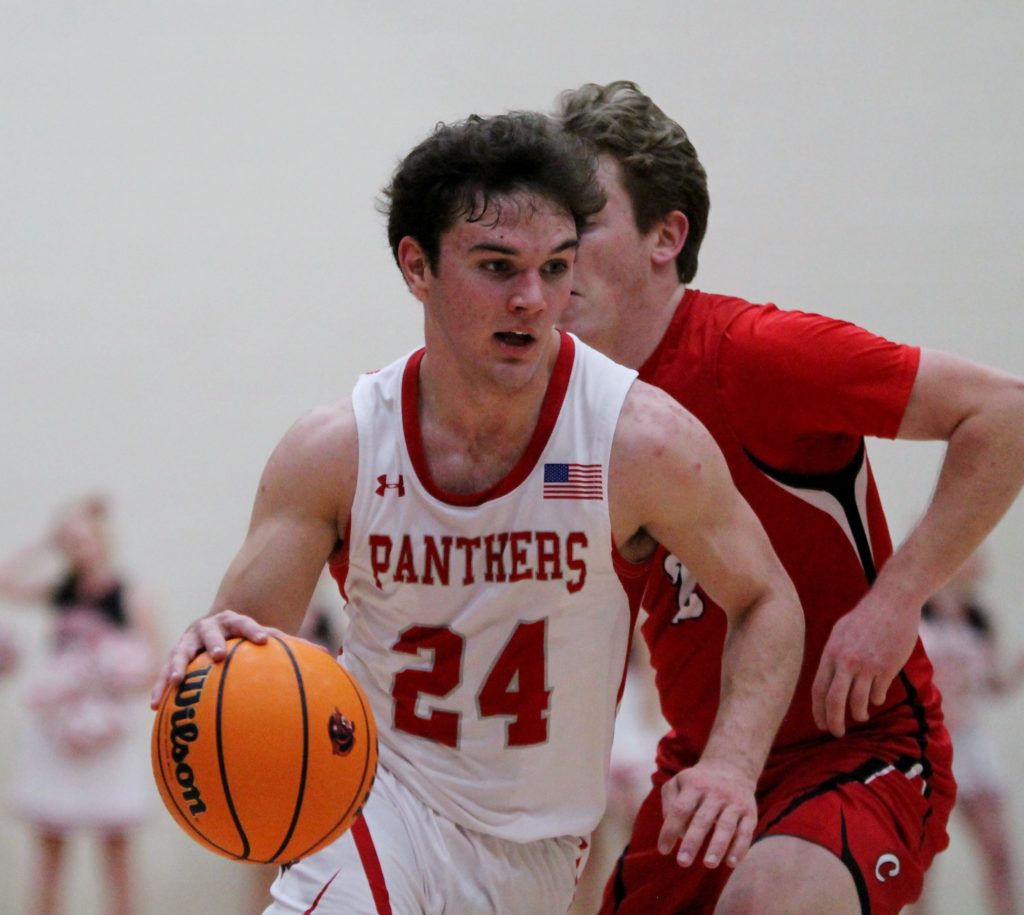 February 14, 2020
By LARRY "SCOOP" McCARTY
The Heber Springs Panthers finished the regular season with a 77-54 loss to Clarksville at the Panther Den on Friday.
Heber Springs (1-13 in 4-4A Conference, 1-23 overall) and Dover tied for eighth place. The Panthers were awarded the No. 7 seed for the conference tournament by winning a coin toss and now switch their focus to the 4-4A Conference basketball tournament.
The Panthers will play Subiaco Academy in the first round of the tournament at 7 p.m. Tuesday.
Wyatt Sanders, Dalton McCollum and Adam Martin were among the seniors recognized between the girls' and boys' games.
Heber Springs coach Chad Johnson said Sanders tore tendons in his ankle.
Sanders stepped on the court for the opening tip-off and received a pass before returning to the bench.
"We wanted to honor him (Sanders) at the beginning of the game," Johnson said. "It was very emotional to say goodbye to he and the other seniors."
Clarksville started the game by making three 3-pointers. The Panthers called timeout and changed from a zone defense to a man-to-man.
Heber Springs outscored Clarksville 9-8 for the remainder of the first quarter and trailed 17-9 going into the second quarter.
"We played the man defense well," Johnson said. "We ran out of gas during the second half. The players played with a lot heart. This team will never quit and they will play until the end of the game."
Clarksville defeated the Panthers by five points, but Cole Clark, who scored 17 points in Friday's game, didn't play in the game at Clarksville.
Martin scored 20 points for the Panthers. McCollum had 13 points and Garrett Hudspeth finished with 12 points. Garrett Waddill led Clarksville with 21 points. Braden Payne had 18 points.
"The first game was more of a defensive battle," Johnson said. "The offenses were clicking for both teams in this game. Clarksville likes to shoot 3-pointers and made 11 for the game.
Hudspeth connected on a jumper and reduced Clarksville's lead to 17-11 early in the second quarter.
Clarksville regained the momentum and increased the lead to 10 points.
Heber Springs pulled to within 23-18, but Clarksville held on and took a 26-20 halftime lead.
Clarksville dominated the third quarter, outscored Heber Springs 30-17, and led 56-27 going into the fourth quarter.
Johnson said the team will move forward and focus on the tournament.
"We will take the same approach like the regular season for Tuesday's game," he said. "The players will battle. We hope to surprise teams at the tournament."
FEBRUARY 14 BOXSCORE
Clarksville  17  9 30 21 - 77
Heber Springs 9 11 17 17 - 54
CLARKSVILLE SCORING (77): Garrett Waddill 21, Braden Payne 18, Cole Clark 17, Miles Castleman 8, Owen Ashlock 6, John Case 5, Gabe Gregory 2.
HEBER SPRINGS SCORING (54): Adam Martin 20, Dalton McCollum 13, Garrett Hudspeth 12, Zach Thomas 8.  

FEBRUARY 11 BOXSCORE
at Morrilton
Heber Springs  6   7   8   7 - 28
Morrilton     16  23  11  14 - 64
HEBER SPRINGS SCORING (28): Dalton McCollum 14, Adam Martin 6, Wyatt Sanders 6, Zach Thomas 2
MORRILTON SCORING (64): Devin Foster 13, Riley Wade 12, Nevin Williams 9, Darrius Allison 7, Nate Zachary 6, Keevon Moore 5, Julian Brockman 4, Bugg Rector 4, Markel Swinton 2, B.J. Black 2
HEBER SPRINGS SENIOR BOYS BASKETBALL
2019-2020 SCHEDULE RESULTS
FINAL RECORD: 1-24
FINAL 4A-4 RECORD: 1-13
November 21 - Riverview 68, Heber Springs 36
November 26 - Clinton 71, Heber Springs 35
December 3 - Conway St. Joseph 44, Heber Springs 21 #
December 5 - South Side Bee Branch 50, Heber Springs 49 #
December 10 - Heber Springs 37, Dover 32 ^
December 12 - South Side Bee Branch 64, Heber Springs 53
December 13 - Marshall 69, Heber Springs 43
December 16 - White County Central 65, Heber Springs 43
December 20 - Ozark 69, Heber Springs 34 ^
December 26 - Rose Bud 68, Heber Springs 65 (OT) *
December 27 - Batesville 72, Heber Springs 60 *
December 28 - Mayflower 66, Heber Springs 41 *
January 7 - Pottsville 59, Heber Springs 26 ^
January 10 - Subiaco Academy 47, Heber Springs 28 ^
January 14 - Dardanelle 70, Heber Springs 13 ^
January 17 - Clarksville 38, Heber Springs 32 ^
January 21 - Morrilton 58, Heber Springs 43 ^
January 24 - Dover 55, Heber Springs 50 ^
January 28 - Pottsville 68, Heber Springs 49 ^
January 31 - Ozark 60, Heber Springs 29 ^
February 4 - Dardanelle 67, Heber Springs 47 ^
February 7 - Subiaco Academy 54, Heber Springs 23 ^
February 11 - Morrilton 64, Heber Springs 28 ^
February 14 - Clarksville 77, Heber Springs 54 ^
February 17 - Subiaco Academy 69, Heber Springs 40 $

(# - Denotes Conway St. Joseph Tournament)
(^ - Denotes 4A-4 conference contest) 
(* - Steve Landers' Cowboy Chevrolet Holiday Classic at Heber Springs)
($ - Denotes 4A-4 district tournament contest at Dardanelle)