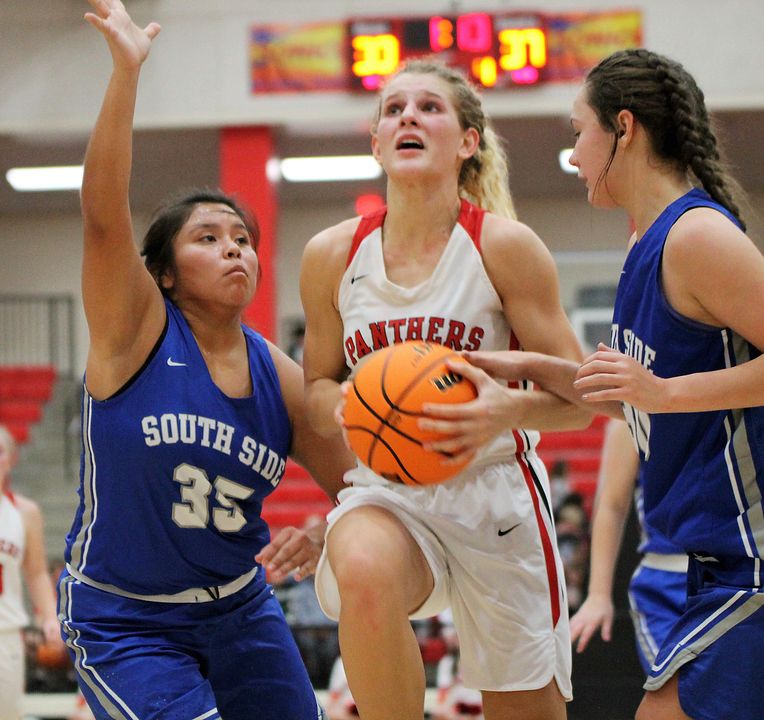 HEBER SPRINGS – South Side Bee Branch's final 12 points all came from the free-throw line as the Hornets held off Heber Springs, 44-36, in nonconference senior girls action at the Panther Den.
The win by South Side Bee Branch avenged a 47-41 victory by Heber Springs on Dec. 4 on a neutral court in Conway.
On Tuesday, a cold second quarter doomed the Panthers (8-2) as they were outscored 12-4 in the stanza to trail at the half 18-11.
Heber Springs, which trailed 26-18 at the end of the third, went on an 8-1 run midway through the fourth quarter to pull within three at 29-26 after a 3-pointer by Sophie Stone and a three-point play by Jaylea Hooten with 4:11 left.
After a pair of free throws by South Side's Jewel Walley, the Panthers would make it a 2-point game at 31-29 with three minutes left. Stone would hit the front end of a one-and-one while Hooten would stick the rebound back up for two.
Brinkley Smith would have an answer for the Hornets on their next possession when she drilled a 3-pointer from the corner to make 34-29.
From that point on, South Side Bee Branch (10-10) would hit 12-of-14 over the final 2:08 to hold on for the win.
On the night, the Hornets hit 21-of-25 (84 percent) while Heber Springs was 1o-of-17 (58.5 percent).
Hooten led all scorers with 19 points.
Heber Springs will open conference play Friday night at Ozark (7-3).
HEBER SPRINGS SCORING (36): Madison Clemons 1, Jaylea Hooten 19, Addison Hudspeth 4, Sophie Stone 7, Savannah Stout 3, Molly Smith 2
SOUTH SIDE BEE BRANCH SCORING (44): Erin Holland 2, Brinkley Smith 7, Marli Huddleston 4, Mollie Leonard 7, Jewel Walley 8, Emily Walley 13, Maggie Bradford 2, Emily Thomas 3
Please consider helping support local and independent journalism by donating today.
HEBER SPRINGS SENIOR GIRLS
2021-2022 SCHEDULE AND RESULTS
(Click on a game for previous details)
(Record: 8-2, 4-4A Conference: 0-0)
Nov. 09   Heber Springs 53, Mount St. Mary 42
Nov. 15   Heber Springs 59, Newport 44
Nov. 18   Heber Springs 46, Bald Knob 33
Nov. 22   Heber Springs 55, Guy-Perkins 43
Nov. 23   Heber Springs 60, Shirley 20
Nov. 29   Mayflower 61, Heber Springs 25 +
Dec. 02   Heber Springs 45, Conway St. Joseph 44 +
Dec. 04   Heber Springs 47, South Side Bee Branch 41 +
Dec. 07   Heber Springs 49, Benton Harmony Grove 43
Dec. 14   South Side Bee Branch 44, Heber Springs 36
Dec. 17   at Ozark (JG, JB, SG, SB), 4 p.m. *
Dec. 20   at Lonoke (JG, JB, SG, SB), 4 p.m. 
Dec. 21   at Des Arc (JG, JB, SG, SB), 4 p.m.
Dec. 28-30 at Mount Vernon-Enola Tournament (SG, SB)
Jan. 04   Morrilton (SGJV, SBJV, SG, SB), 6 p.m. *
Jan. 07   at Dardanelle (JG, JB. SG, SB), 4 p.m. *
Jan. 11   at Clarksville (SBJV, SG, SB), 5 p.m. *
Jan. 14   Pottsville (JG, JB, SG, SB), 4 p.m. *
Jan. 21   Ozark (JG, JB, SG, SB), 4 p.m. *
Jan. 25   at Morrilton (SGJB, SBJB, SG, SB), 6 p.m. *
Feb. 01   Dardanelle (JG, JB, SG, SB), 4 p.m.
Feb. 03   Clarksville (SBJV, SG, SB), 5 p.m. *
Feb. 08   at Pottsville (SGJV, SG, SB), 6 p.m. *
Feb. 14   District Tournament at Subiaco Academy

(+ - Conway St. Joseph Tournament)