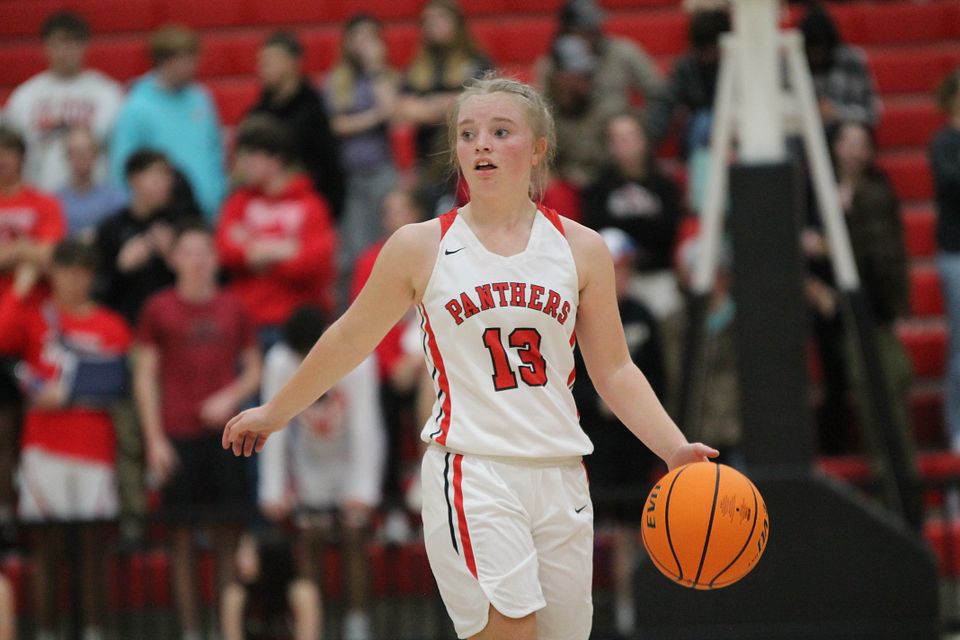 HEBER SPRINGS – Jaylea Hooten finished with a game-high 22 points as Heber Springs downed Guy-Perkins, 55-43, Monday night at the Panther Den.
While Hooten garnered the attention of Thunderbirds and the scoring honors, it was a sophomore for the Lady Panthers that probably saved the night as Savannah Stout knocked down five 3-pointers and finished with 17 points.
"She's probably the reason we won in all honesty," Heber Springs coach Spencer Gay said.  "It's nice we have different weapons. It was Addison (Hudspeth) that stepped up for us at Bald Knob and tonight it was Savannah.
"I was really proud of Savannah for that."
It was a slow start for the Lady Panthers after a Jo'Mia Ealy basket gave Guy-Perkins an 8-1 lead with 2:46 left in the opening quarter.
"I knew we were going to be in a little bit of trouble, because their style (of play) is not one we like," Gay said.  "I just had to find a way to get the girls settled in, and it was not even me. The girls just settled themselves pretty well."
A Hooten 3-pointer at the 2:32 mark of the first quarter provided the first field goal for Heber Springs.
"Once they scored their first bucket," Gay said, "we can breath and the rest kind of took care of itself."
The "rest" was a 9-0 run over the next 1:05 to take a 10-8 advantage, before the two teams ended the quarter at 13-all.
The game would remain a back-and-forth affair throughout most of the second quarter before a Hooten free throw would spark an 8-0 run to close out the first half with Heber Springs on top 28-20.
Hooten, who finished the night 9-of-12 from the free-throw line, had 16 points in the first half.
"Every time she touches the ball, you have to know where she is at," Gay said of Hooten. "I am just impressed with our kids ability to say, 'You know what, we've got your back Jaylea'."
The Lady Panthers would push their advantage to 10 points after a Stout 3-pointer with 5:46 left in the third quarter.
Field goals by Julissia Young and Mia James would pull the Thunderbirds to within six at 33-27 with 2:35 to go in the third, but the Lady Panthers would go on a 17-0 run over the next seven minutes of game play to take a commanding 50-27 advantage. Stout would fuel the run with three 3-pointers over that stretch.
James paced Guy-Perkins with 13 points as Heber Springs improved to 4-0 with the win.
"Guy scared the crap out of me because of their style," Gay said.  "I was proud of the girls. It was a good win."
Guy-Perkins                  13   7   7  16 - 43
Heber Springs (4-0)          13  15  10  17 - 55
Guy-Perkins (43): Paityn Morris 2, Julissia Young 8, McKenna Bradford 1, Alexis Passmore 4, Trinity Kussmaul 5, Anaya Strickland 2, Mia James 13, Jo'Mia Ealy 8.
Heber Springs (59): Hope Turney 4, Kylie Carr 2, Jaylea Hooten 22, Addison Hudspeth 6, Savannah Stout 17, Molly Smith 4
Please consider helping support local and independent journalism by donating today.
HEBER SPRINGS SENIOR GIRLS
2021-2022
(Click on a game for previous details)
(Record: 4-0, 4-4A Conference: 0-0)
Nov. 09   Heber Springs 53, Mount St. Mary 42
Nov. 15   Heber Springs 59, Newport 44
Nov. 18   Heber Springs 46, Bald Knob 33
Nov. 22   Heber Springs 55, Guy-Perkins 43
Nov. 23   at Shirley (JG, JB, SG, SB), 4 p.m.
Nov. 29-Dec. 4 at Conway St. Joseph Tournament (SG, SB)
Dec. 07   at Benton Harmony Grove (JG, SG, SB), 5 p.m.
Dec. 14   South Side Bee Branch (JG, SG, SB), 5 p.m.
Dec. 17   at Ozark (JG, JB, SG, SB), 4 p.m. *
Dec. 20   at Lonoke (JG, JB, SG, SB), 4 p.m. 
Dec. 21   at Des Arc (JG, JB, SG, SB), 4 p.m.
Dec. 28-30 at Mount Vernon-Enola Tournament (SG, SB)
Jan. 04   Morrilton (SGJV, SBJV, SG, SB), 6 p.m. *
Jan. 07   at Dardanelle (JG, JB. SG, SB), 4 p.m. *
Jan. 11   at Clarksville (SBJV, SG, SB), 5 p.m. *
Jan. 14   Pottsville (JG, JB, SG, SB), 4 p.m. *
Jan. 21   Ozark (JG, JB, SG, SB), 4 p.m. *
Jan. 25   at Morrilton (SGJB, SBJB, SG, SB), 6 p.m. *
Feb. 01   Dardanelle (JG, JB, SG, SB), 4 p.m.
Feb. 03   Clarksville (SBJV, SG, SB), 5 p.m. *
Feb. 08   at Pottsville (SGJV, SG, SB), 6 p.m. *
Feb. 14   District Tournament at Subiaco Academy