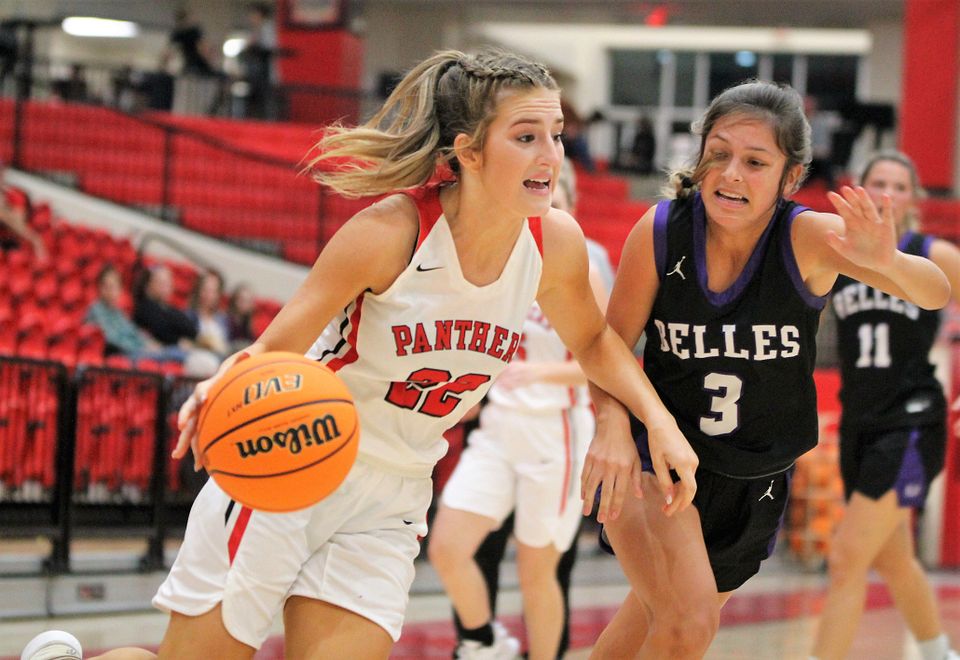 HEBER SPRINGS – Heber Springs outscored Mount St. Mary 14-3 in the second quarter and was never threatened in the second half in claiming a 53-42 season-opening win on Tuesday.
With the game tied at 8-all at the end of the first quarter, the Lady Panthers were sparked in the second by 3-pointers by Hope Turner and Liv Norton as Heber Springs would take a 22-11 advantage into the break.
Class 6A Mount St. Mary (0-1) would get within eight points with less than four minutes to play, but the Lady Panthers would put the game away at the free-throw line as Heber Springs was eight-of-nine as a team in the final stanza aided by Madison Clemons' five-for-five effort.
Jaylea Hooten led the Lady Panthers with 15 points while the Belles' Millie Allgood led all scorers with 20 points before fouling out late in the contest. She was six-of-seven from the line on the night as Mount St. Mary was 9-of-16 as team.
Heber Springs (1-0) returns to action on Monday when they host Newport at 5 p.m. beginning with the seventh-grade girls.
Mount St. Mary Academy (0-1)  8   3   7  24 - 42
Heber Springs (1-0)           8  14   9  22 - 53
MSM (42): Anna Kate Suffridge 3, Kate Raborn 7, Emery Horras 11, Elizabeth Kehner 1, Millie Allgood 20.
Heber Springs (53): Hope Turney 3, Kylie Carr 2, Madison Clemons 9, Jaylea Hooten 15, Sophie Stone 6, Savannah Stout 7, Molly Smith 2, Liv Norton 6, Emmie Fuller 3.
Help support local and independent journalism by donating today.
HEBER SPRINGS SENIOR GIRLS
2021-2022
(Record: 1-0, 4-4A Conference: 0-0)
Nov. 09   Heber Springs 53, Mount St. Mary 42
Nov. 15   vs. Newport (7G,JG,SG), 5 p.m.
Nov. 16   at Searcy (SGJV, SG, SB), 5 p.m.
Nov. 18   at Bald Knob (JG, JB, SG, SB), 4 p.m.
Nov. 22   Guy-Perkins (JG, JB, SG, SB), 4 p.m.
Nov. 23   at Shirley (JG, JB, SG, SB), 4 p.m.
Nov. 29-Dec. 4 at Conway St. Joseph Tournament (SG, SB)
Dec. 07   at Benton Harmony Grove (JG, SG, SB), 5 p.m.
Dec. 14   South Side Bee Branch (JG, SG, SB), 5 p.m.
Dec. 17   at Ozark (JG, JB, SG, SB), 4 p.m. *
Dec. 20   at Lonoke (JG, JB, SG, SB), 4 p.m. 
Dec. 21   at Des Arc (JG, JB, SG, SB), 4 p.m.
Dec. 28-30 at Mount Vernon-Enola Tournament (SG, SB)
Jan. 04   Morrilton (SGJV, SBJV, SG, SB), 6 p.m. *
Jan. 07   at Dardanelle (JG, JB. SG, SB), 4 p.m. *
Jan. 11   at Clarksville (SBJV, SG, SB), 5 p.m. *
Jan. 14   Pottsville (JG, JB, SG, SB), 4 p.m. *
Jan. 21   Ozark (JG, JB, SG, SB), 4 p.m. *
Jan. 25   at Morrilton (SGJB, SBJB, SG, SB), 6 p.m. *
Feb. 01   Dardanelle (JG, JB, SG, SB), 4 p.m.
Feb. 03   Clarksville (SBJV, SG, SB), 5 p.m. *
Feb. 08   at Pottsville (SGJV, SG, SB), 6 p.m. *
Feb. 14   District Tournament at Subiaco Academy