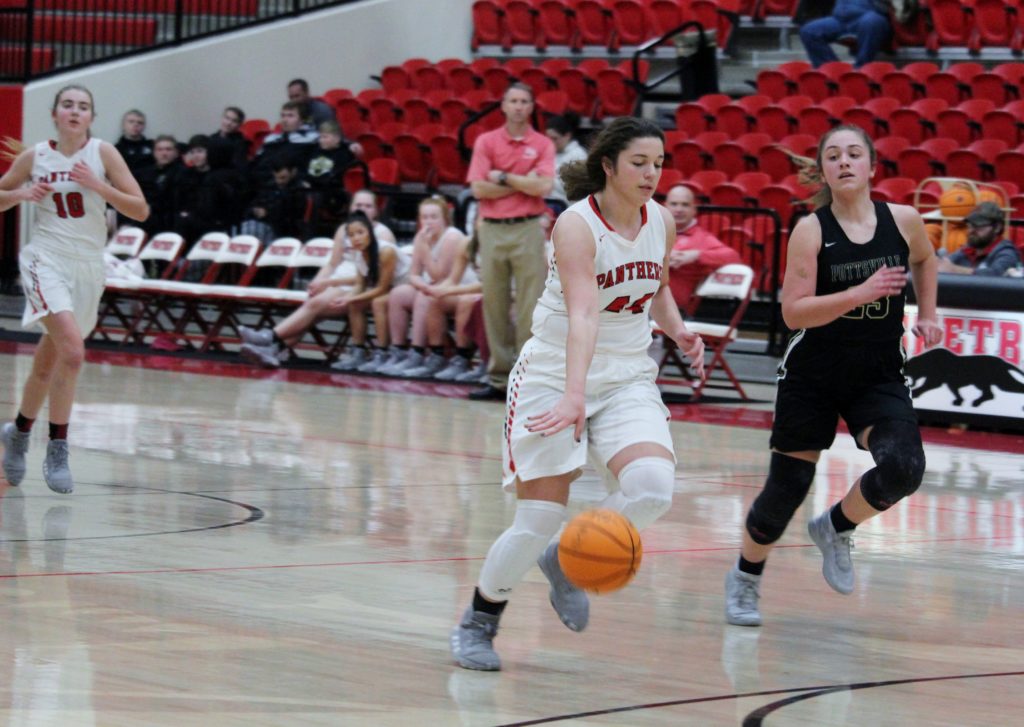 January 7, 2020
BY LARRY "SCOOP" McCARTY
Pottsville's attempt for a higher-tempo game changed the momentum in the third quarter of Tuesday's 4-4A Conference basketball game at the Panther Den.
The Heber Springs Lady Panthers built a 19-14 halftime lead, but Pottsville's 14-4 scoring run during the third quarter proved too much to overcome in the 49-45 loss to the Lady Apaches.
The Lady Panthers, who trailed by eight points midway through the fourth quarter, reduced Pottsville's lead to 44-42 on LibbyStutts' 3-pointer with 31 seconds remaining.
The Lady Apaches answered by making 3-of-4 free throws before Heber Springs scored at the buzzer.
"We had good defensive intensity in the first half," Heber Springs coach Jamey Riddle said. "Pottsville turned up the defensive pressure in the second half. They would score and then we would go to the other end of the floor and missed. Pottsville wanted to speed up the game and not let us get into our offense."
Claudia Newberry led the Lady Panthers with 18 points. Jillian Herring scored 12 points and Ashley Spanel had 10 points. Lindsey Aday scored 12 points for Pottsville, while Abbie Cain contributed 10 points.
"We went cold in the fourth quarter," Riddle said. "We got good shots. I was not worried trailing by three points going into the fourth quarter. \Ashley got in foul trouble and Ellie (Riddle) struggled shooting, but we kept working for good shots."
Spanel's 3-pointer broke a 4-4 tie  midway through the first quarter. Herring's field goal increased it, but Pottsville didn't go away and trailed 11-10 going into the second quarter.
Heber Springs built a three-point lead and maintained it throughout the second quarter. Newberry scored in the final seconds and gave the Lady Panthers a 19-14 halftime lead.
pulled even at 21-21 with a 7-2 scoring run to start the third quarter. The Lady Apaches increased their lead to five points before Newberry scored as Heber Springs trailed 32-29 going into the fourth quarter.
"We needed a turnover after reducing Pottsville's lead to two points with 31 seconds left," Riddle said. "We need to put this game behind us, be a little mad about losing and play like we did in the first half against Pottsville in our next game."
Heber Springs (2-1 in confernce, 10-5 overall) will host Dardanelle in a conference game Tuesday.
POTTSVILLE 49, HEBER SPRINGS 45  
Pottsville    10 4 18 17 - 49  
Heber Springs 11 8 10 16 - 45  
POTTSVILLE SCORING (49): Lindsey Aday 12, Abbie Cain 10, Rilee Underwood 7, Tori Daniel 6, Julie Reynolds 5, Shannon Lasey 5, Kimbra Rhodes 4.    
HEBER SPRINGS SCORING (45): Claudia Newberry 18, Jillian Herring 12, Ashley Spanel 10, Libby Stutts 3, Ellie Riddle 2.   
4A-4 STANDINGS
                 Conference Season
Clarksville          3-0      7-9
Morrilton            3-0     10-4
Heber Springs        2-1     10-5
Pottsvile            1-1      7-5
Dardanelle           0-2      2-14
Ozark                0-2     12-3
Dover                0-3      9-7 
HEBER SPRINGS SENIOR GIRLS 
2019-2020 SCHEDULE/RESULTS
RECORD: 10-5
4A-4 RECORD: 2-1
November 12 - Heber Springs 55, Nemo Vista 31
November 19 - Heber Springs 70, South Side Bee Branch 45
November 21 - Heber Springs 67, Riverview 27
November 26 - Heber Springs 56, Clinton 54 (OT)
December 3 - Conway St. Joseph 47, Heber Springs 44 #
December 5 - Heber Springs 53, South Side Bee Branch 34 #
December 7 - Heber Springs 44, Wonderview 43 #
December 10 - Heber Springs 59, Dover 56 ^
December 13 - Marshall 70, Heber Springs 52
December 16 - Heber Springs 51, White County Central 31
December 20 - Heber Springs 55, Ozark 42 ^
December 26 - Heber Springs 70, DeWitt 34 *
December 27 - Pea Ridge 49, Heber Springs 44 *
December 28 - Mayflower 58, Heber Springs 37 *
January 7 - Pottsville 49, Heber Springs 45 ^
January 14 - Dardanelle ^
January 17 - at Clarksville ^
January 21 - Morrilton ^
January 24 - Dover ^
January 28 - at Pottsville ^
January 31 - at Ozark ^
February 4 - at Dardanelle ^
February 11 - at Morrilton ^
February 14 - Clarksville (Senior Night) ^
February 17 - 4A-4 District at Dardanelle

(# - Denotes Conway St. Joseph Tournament)
(^ - Denotes 4A-4 conference contest)
(* - Denotes Steve Landers' Cowboy Chevrolet Holiday Tournament at Heber Springs)