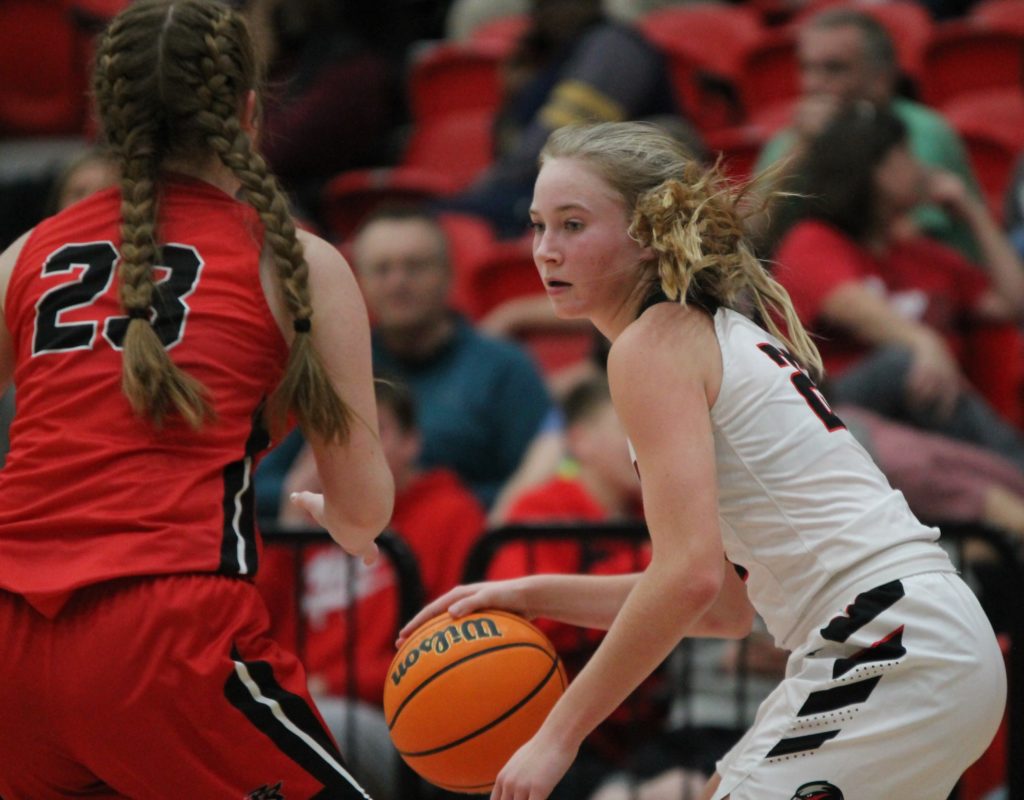 December 26, 2019
GAME 8 – SENIOR BOYS
Rose Bud 68, Heber Springs 65 (OT)
GAME 7 – SENIOR GIRLS
Heber Springs 70, DeWitt 34
GAME 6 – SENIOR BOYS
Sheridan JV 48, DeWitt 27
A scheduling-conflict with the Arkansas Activities Association "dead-day" period during the Christmas break forced Batesville to miss the first day of the Cowboy Chevrolet Holiday Classic at Heber Springs.
In the Pioneers place, the Sheridan junior varsity team filled in for the first-round match-up with DeWitt and behind 12-point performance from Peyton Hill defeated DeWitt, 48-27.
The two teams played two, 20-minute periods, as Johnta Wright paced the Dragons with 9 points.
Despite the loss, DeWitt will move into the semifinals and play the winner of the Rose Bud/Heber Springs contest at 7:45 p.m. on Friday.
Batesville will play its first game of the tournament at 2:45 p.m. in the consolation bracket against the loser of Rose Bud and Heber Springs.
DeWitt (3-4)  11 16 - 27
Sheridan JV   21 27 - 48
DEWITT SCORING (27): Johnta Wright 9, Seth Courtney 7, Caleb Brown 5, Dax Courtney 3, Jamarian Kennedy 3
SHERIDAN JV SCORING (48): Peyton Hill 12, Caleb Patrick 10, Chris Crew 9, Chris Rowe 6, Wyatt Register 4, Ashton Branson 4, Ethan Odom 3
GAME 5 – SENIOR GIRLS
Pea Ridge 56, Rose Bud 45
Pea Ridge used a second-quarter run and 26 points from Blakelee Winn to advance to the semifinals of the Steve Landers Cowboy Chevrolet Holiday Classic at Heber Springs.
Pea Ridge (11-2) will face the winner of Heber Springs and DeWitt at 6:30 p.m. on Friday. Rose Bud will face the loser of Heber Springs/DeWitt at 1:30 p.m.
Against the Blackhawks, Rose Bud trailed 13-8 after the first quarter but rallied to take an 18-17 lead midway through the second quarter before Pea Ridge closed the quarter with a 17-1 run as Winn scored 11 points in the quarter.
The Ramblers closed the gap in the third quarter as Kyndal Rooks scored 10 in the quarter, but Pea Ridge stopped any chance at a Rose Bud comeback by hitting 11 of 18 free throws, lead by Winn going 9-of-12 at the line. Winn was 15 of 19 on the night from the line.
Josey Goldberg and Lauren Wright also finished in double figures with 11 and 10 points each. Rooks paced Rose Bud with 24 points.
Rose Bud (8-5)    8 11 14  12 - 45
Pea Ridge (11-2) 13 21  9  13 - 56
ROSE BUD SCORING (45): Kyndal Rooks 24, Kyanna Poole 10, Hope Hartle 6, Skylar Wise 3, Caitlyn Waggoner 2
PEA RIDGE SCORING (56): Blakelee Winn 26, Josey Goldberg 11, Lauren Wright 10, Allisa Short 8, Aidan Dayberry 1
GAME 4 – SENIOR BOYS
Sheridan 46, Mayflower 44
Sheridan's Tyler Cacciatori finished with 31 points as the Yellowjackets downed Mayflower, 46-44, to advance to the semifinals of the Cowboy Chevrolet Holiday Classic on Thursday.
Sheridan will face Greene County Tech at 5:15 p.m. Friday. Mayflower falls into the consolation bracket and play Southside Batesville at 12:15 p.m.
Cacciatori hit a pair of free throws with just over a minute to play to give Sheridan a 4-point lead at 46-42, but a basket by Zak Fugatt cut the deficit to 2.
Cacciatori missed a pair of free throws with under 10 seconds to play giving Mayflower a final shot attempt of the buzzer to tie the game, but that shot hit the side of the rim spoiling the Eagles' attempts to send the game into overtime.
Sheridan led 25-21 at the half but needed a Cacciatori putback with under a minute to play in the third quarter to take a 38-36 lead. Mayflower's Braxtyn McCuin responded with a 3-pointer at the third quarter buzzer to give the Eagles a 39-38 advantage.
The score would remain that way until Seth Alexander's bucket with 4:52 to play gave Sheridan a 40-39 lead.
The Yellowjackets increased their advantage to five at 44-39 before McCuin scored, drew a foul and converted the free throw to make a one-possession game with 3:02 left.
Mayflower had a chance to tie the game after a pair of missed free throws by Sheridan, but the Eagles were called for a charge and the Yellowjackets milked the clock setting up Cacciatori's free throws.
Sheridan (6-3)  14 11 13 8 - 46
Mayflower (8-3) 10 11 18 5 - 44
SHERIDAN SCORING (46): Tyler Cacciatori 31, Blake Morris 6, Jacob Hollinger 4, Jairus Adams 3, Seth Alexander 2
MAYFLOWER SCORING (44): Westin Pickell 14, Braxtyn McCuien 13, Trent Long 8, Jaheim Cummings 7, Zak Fugatt 2
GAME 3 – SENIOR GIRLS
Mayflower 53, Sheridan 37
Jenna McMillen hit six 3-pointers and finished with 26 points as Mayflower downed Sheridan, 53-37, to advance at the Cowboy Chevrolet Holiday Classic in Heber Springs.
Mayflower led 20-13 at the half and 32-23 after three.
The Eagles (8-2) will face Southside Batesville at 4 p.m. on Friday in a semifinal contest.
Sheridan (3-5) was lead by Cassidy Henry 26 points. The Yellowjackets will face Greene County Tech at 11 a.m. on Friday in a consolation contest.
Sheridan (3-5)  6  7  10 14 - 37
Mayflower (8-2) 8 12  12 17 - 53
SHERIDAN SCORING (37): Cassidy Henry 26, Claire Denney 7, Kaitlyn Howard 3, Carley Strawn 1
MAYFLOWER SCORING (53): Jenna McMillen 26, Kamiah Turner 9, Karley Brown 7, Bailey Francis 6, Kierra Fulton 3, Kennedi Dawn 2
GAME 2 – SENIOR BOYS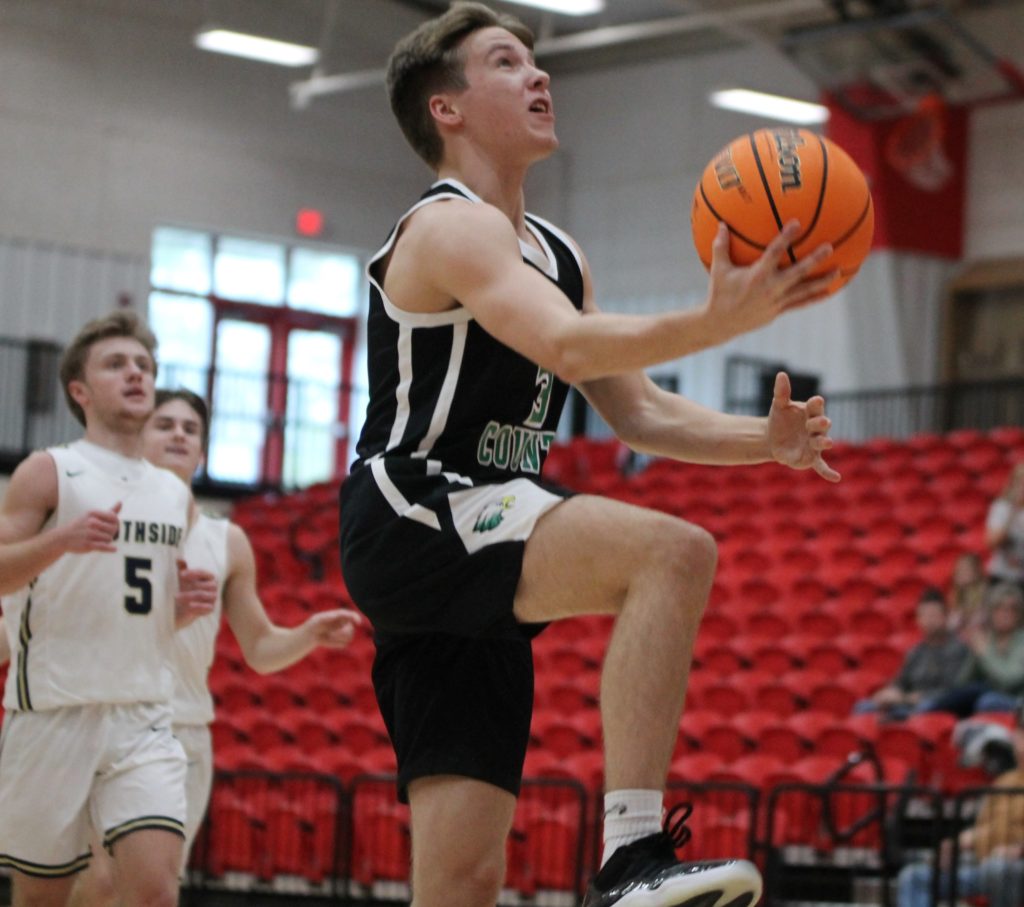 Greene County Tech 53, Southside Batesville 46
Zane Butler finished with 21 points as the Eagles overcame a fourth-quarter deficit to down Southside Batesville, 53-46.
Greene County Tech (9-1) had defeated Southside Batesville, 68-42, on Nov. 12, but this contest would be close throughout.
The Eagles led 12-11 at the end of the first quarter and 26-22 at the half, but they couldn't shake the Southerners.
Greene County Tech led 34-33 at the end of three quarters before a jumper by Southside Batesville's Jonathan Shane gave the Southerners a 35-34 lead with 7:01 to play. A pair of free throws by Shane pushed the lead to 37-34 with 6:16, but from there the Eagles took control.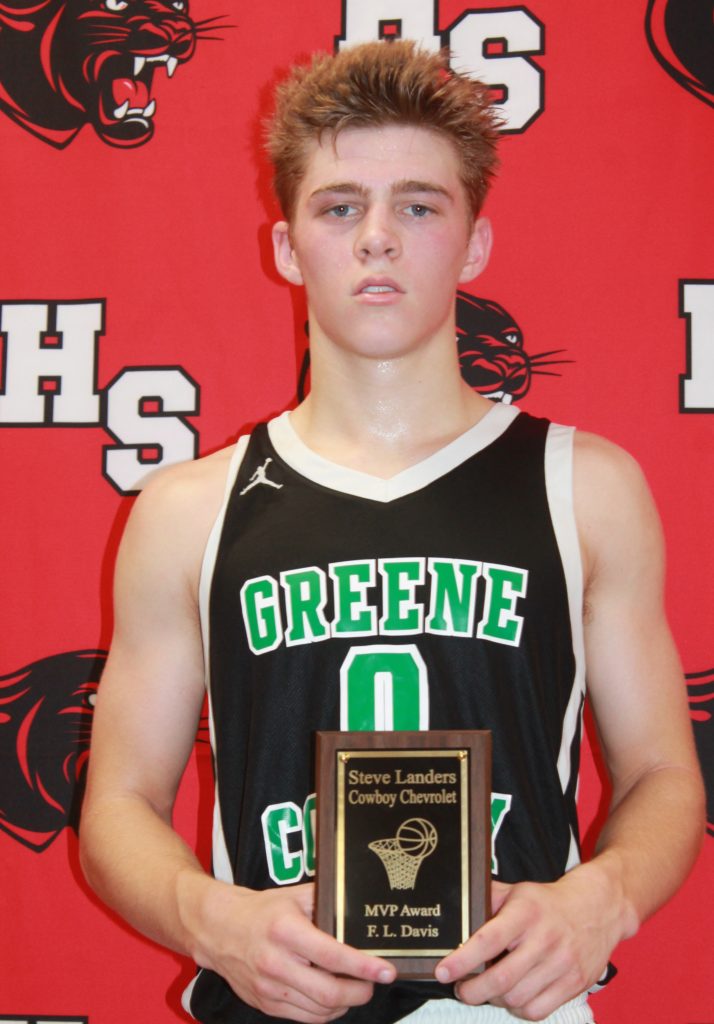 A basket by Cade Cancilla, who finished with 17 points, pulled the Eagles to within a point a 37-36 with 6:01 left. A steal by Greene County Tech on the ensuing Southerners possession led to a three-point play by Cancilla and lead the Eagles wouldn't relinquish.
Devan Halford paced the Southerners with 18 points. Southside Batesville will play the loser of Mayflower/Sheridan at 12:15 on Friday in a consolation contest. Greene County Tech gets the winner of Mayflower/Sheridan 5:15 p.m.
Greene County Tech (9-1)   12 14  8 19 - 53
Southside Batesville (3-9) 11 11 11 13 - 46
GREENE COUNTY TECH (53): Zane Butler 21, Cade Cancilla 17, Payton Laubach 5, Dawson Greer 3, Kyler Morris 3, Brendan Chambers 2, Jayke Bolen 2
SOUTHSIDE BATESVILLE (46): Devan Halford 18, Jake Painter 9, Trevor Longo 8, Jonathan Shane 7, Rance Wagoner 2, Blayne Bufford 2, 
GAME 1 – SENIOR GIRLS
Southside Batesville 54, Greene County Tech 38
Reese Gardner and London Cuzzort each finished in double figures in helping lead Southside Batesville to a 54-38 victory over Greene County Tech in the opening game of the Steve Landers Cowboy Chevrolet Holiday Classic at the Panther Den in Heber Springs.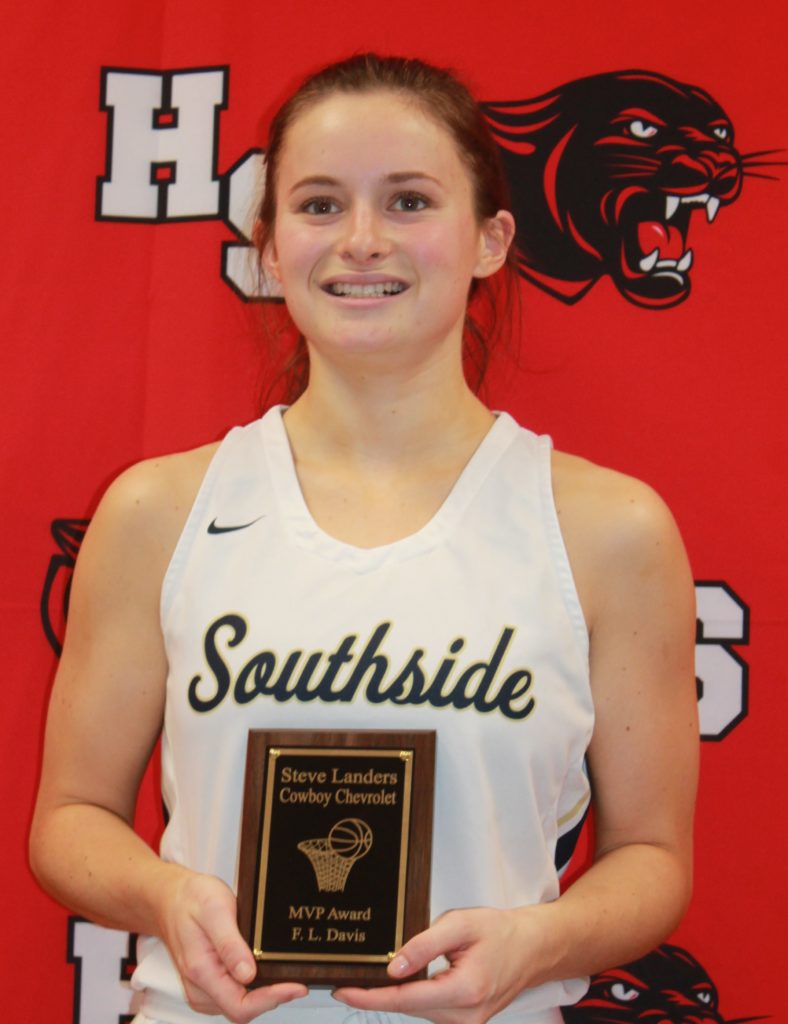 Reese Gardner led the way with 14 points as the Southerners led 20-12 at the end of the first quarter and 32-22 at the break.
Cuzzort finished with 13 points as Southside Batesville improved to 10-2 on the season and will advance in the winner's bracket to face the winner of Sheridan-Mayflower Friday at 4 p.m.
Greene County Tech (2-7) had three players with 7 points each. (Emma Bates, Brooke Barnes and Carleigh Hollis). The Eagles will face the loser of Sheridan-Mayflower at 11 a.m. Friday in a consolation contest.
Greene County Tech (2-7)    12 10 6 10 - 38
Southside Batesville (10-2) 20 12 9 13 - 54
GREENE COUNTY TECH (38): Emma Bates 7, Brooke Barnes 7, Carleigh Hollis 7, Kylie Stokes 6, Hannah Foster 5, Carly DeHart 4, Destiny Wegner 2
SOUTHSIDE BATESVILLE (54): Reese Gardner 14, London Cuzzort 13, Brett Gardner 9, Shelby Warden 9, Olivia Allen 7, Kamie Jenkins 2