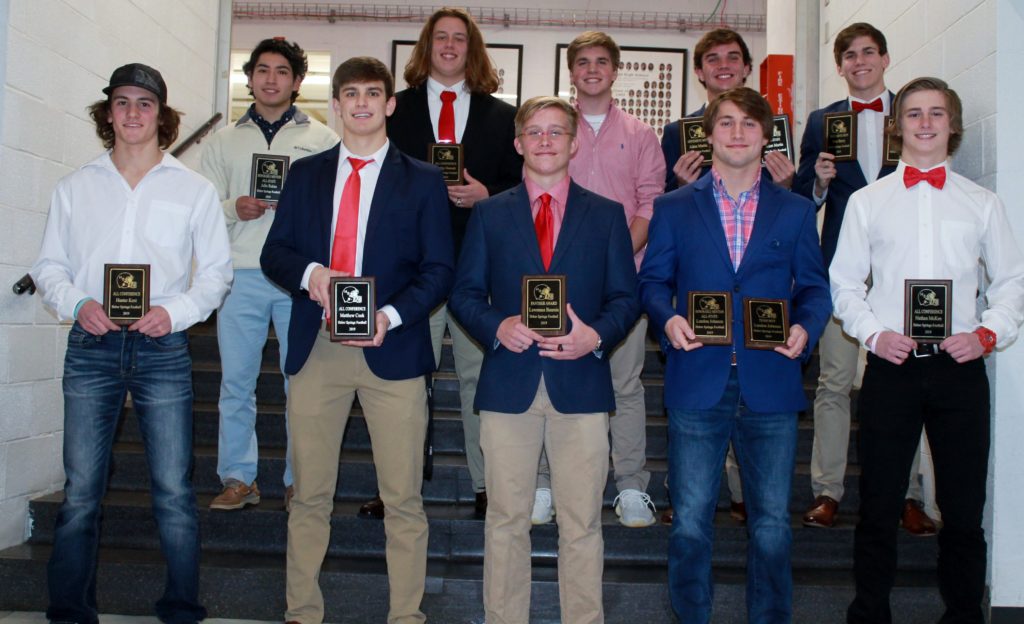 December 17, 2019
The Heber Springs High School football awards banquet was held at the Heber Springs High School cafeteria.
Head coach Will Cox and the coaching staff presented the following awards for the 2019 season:
All-State: Adam Martin
Honorable Mention All-State: Julio Rubio, Fate Berry and Landon Johnson
All-Conference: Nathan McKee, Hunter Kent, Matthew Cook and Harley Hannah.
Team MVP: Landon Johnson
Offensive MVP: Adam Martin
Defensive MVP: Fate Berry
Panther Award: Lawrence Baureis
Seth Decker Award (Outstanding Sophomore): Preston Jones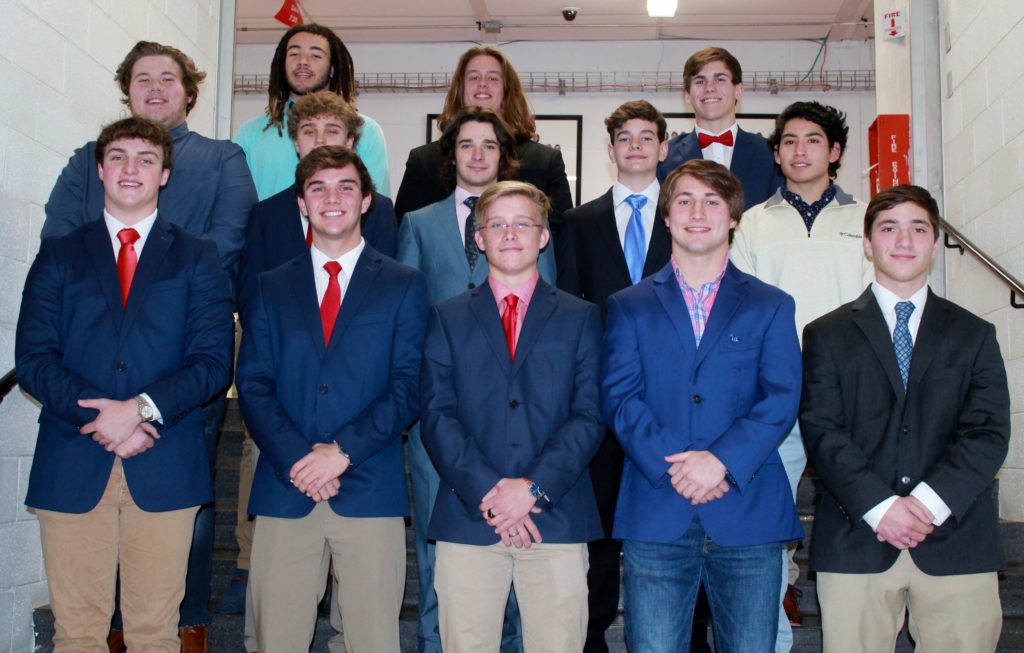 VIDEO
Note: The video starts with Hunter Kent receiving his all-conference award.
2019 HEBER SPRINGS FINAL FOOTBALL STATS
Heber Springs 61 103  54 83 - 301 (27.4)  
Opponent      60 125 104 73 - 362 (32.9)  

TEAM  
First Downs by Rush: Heber Springs 113, Opponent 120  
First Downs by Pass: Heber Springs 69, Opponent 73  
First Downs by Penalty: Heber Springs 9, Opponent 12  
Total First Downs: Heber Springs 191, Opponent 205  
Third-Down Conversions: Heber Springs 64/135 (47.4), Opponent 44/117 (37.6)  
Fourth-Down Conversions: Heber Springs 13/35 (37.1), Opponent 18/34 (52.9)  
Red-Zone Conversions: Heber Springs 27/36 (75) (27 tds), Opponent 33/44 (75) (31 tds, 2 FG)  
Fumbles/Lost: Heber Springs 19/10, Opponent 17/9  
Turnovers: Heber Springs 20, Opponent 14  
Points Off Turnovers: Heber Springs 48, Opponent 56 
Penalties/Yards: Heber Springs 90/673, Opponent 78/764 
Plays/Total Offense/YPP/PER GAME: Heber Springs 676/3883/5.7/353, Opponent 655/3909/6.0/355.4  
Rushing: Heber Springs 432/2244/5.2, Opponent 458/2239/4.9 
Rushing Per Game: Heber Springs 204, Opponent 203.6  
Passing: Heber Springs 139/238-1648-13/10, Opponent 136/223-1708-24/5 
Completion Percentage: Heber Springs 51.9, Opponent 61.0
Passing Per Game: Heber Springs 148.9, Opponent 155.3 
Sacks/Yards Lost: Heber Springs 20/107, Opponent 13/75  
Punts: Heber Springs 30/1176/39.2, Opponent 29/975/33.6
Blocked Punts: Heber Springs 1 
 
INDIVIDUAL  
OFFENSE  
RUSHING (ATT/YARDS/PER ATTEMPT/PER GAME/TDS): Julio Rubio 185/1154/6.2/100.4/16, Adam Martin 176/845/4.8/76.8/11, Landon Johnson 55/259/4.7/23.6/5, Levy Phillips 6/28, Nathan McKee 3/14, Diego Rubio 1/2, Tri Johnson 1/(-2), Team 7/(-52)  
RUNS OF 50+: Julio Rubio 2, Adam, Martin 2 
RUNS OF 40+: Julio Rubio 4  Adam Martin 2
RUNS OF 30+: Julio Rubio 6, Adam Martin 3  
RUNS OF 20+: Julio Rubio 12, Adam Martin 8, Landon Johnson 1 
RUNS OF 10+:  Julio Rubio 29, Adam Martin 23, Landon Johnson 4, Levy Phillips 1 
100-YARD RUSHING GAMES: Julio Rubio 6, Adam Martin 4   
PASSING (ATT/COMP-YARDS-TDS/INT): Adam Martin  139/238-1648-13/10       
250-YARD PASSING GAMES: Adam Martin 1  
RECEIVING (REC/YARDS/PER CATCH/TDS): Nathan McKee 30/350/11.7/4, Landon Johnson 25/269/10.8/2, Matthew Cook 23/198/8.6/1, Hunter Kent 18/221/12.3/3, Fate Berry 15/202/13.5/1, Julio Rubio 13/155/11.2, Tri Johnson 12/208/17.3/2, Jackson West 1/18, Dalton McCollum 1/9, Diego Rubio 1/8  
100-YARD RECEIVING GAMES: Hunter Kent 1, Tri Johnson 1, Julio Rubio 1  
TOTAL OFFENSE (OFFENSE/PER GAME): Adam Martin 2497/227, Julio Rubio 1154/104.9, Landon Johnson 259/23.6, Levy Phillips 28, Nathan McKee 14, Diego Rubio 2, Tri Johnson (-2), Team (-51)  
KICKOFF RETURNS: Tri Johnson 8/170/21.3, Nathan McKee 7/87/12.4,  Hunter Kent 7/52/7.4, Matthew Cook 6/62/10.3,  Jackson West 6/47/7.8, Levy Phillips 4/37/9.3, Diego Rubio 4/85/21.3,  Julio Rubio 3/44/14.7,  Lawrence Baureis 1/10, Harley Bresnahan 1/ 6, Adam Martin 1/6, Tristan  Thissen 1/0.  
PUNT RETURNS: Nathan McKee 3/12, Tri Johnson 1/(-3) 
INTERCEPTION RETURNS: Nathan McKee 3/54, Dalton McCollum 1/4, Fate Berry 1/2  
FUMBLE RETURNS: Matthew Cook 1/4 
ALL-PURPOSE YARDS (YARDS/PER GAME): Julio Rubio 1236/112.4, Adam Martin 851/77.4, Landon Johnson 527/47.9, Nathan McKee 483/43.9, Tri Johnson 373/57.3, Matthew Cook 264/26.4, Hunter Kent 302/27.5, Fate Berry 204/18.6, Diego Rubio 99/9, Jackson West 65/5.9, Levy Phillips 65/5.9,  Dalton McCollum 13, Lawrence Baureis 10 Harley Bresnahan 6  
DEFENSE  
TACKLES (ASST/SOLO/TOTAL): Fate Berry 75/30/105, Landon Johnson 75/28/103, Diego Rubio 47/14/61, Kaden Hughes 37/16/53, Nathan McKee 36/16/52,  Hunter Kent 32/13/45, Lawrence Baureis 32/13/45, Matthew Cook 31/9/40, Nicholas Hitchcock 29/8/37,  Levy Phillips 27/14/41, Jackson West 24/4/28, Julio Rubio 13/7/20, Dalton McCollum 11/7/18, Tri Johnson 9/5/14, Harley Bresnhan 7/4/11, Trevor Weathers 8/1/9, Preston Jones 3/2/5, Harley Hannah 3/2/5, Jackson Harrod 4/1/5,  Hunter Griffin 3/1/4, Devon Doxey 3/1/4, Tristan Thissen 1/2/3, Trent Barnes 2/1/3, Adam Martin 3/0/3, Nate Dearmond 1/1/2, Spencer Evans 2/0/2, Gus Hannah 1/0/1.  
TACKLES FOR LOSS: Fate Berry 15, Landon Johnson 15.5, Kaden Hughes 11.5, Diego Rubio 7, Nicholas Hitchcock 6.5, Julio Rubio 9, Lawrence Baureis 7, Levy Phillips 2, Jackson West 2, Tri Johnson 1.5,  Hunter Griffin 1, Harley Bresnahan 1, Devon Doxey 1, Nathan McKee 1  
SACKS/YARDS LOST: Fate Berry 4/28, Kaden Hughes 4/24,  Tri Johnson 2.5/22, Diego Rubio 1.5/5, Levy Phillips 1/ 5, Harley Bresnahan 1/ 4, Julio Rubio .5/9, Landon Johnson 1/3, Matthew Cook .5/3, Nicholas Hitchcock .5/4. 
INTERCEPTIONS:  Nathan McKee 3, Dalton McCollum 1, Fate Berry 1  
DEFENSIVE FUMBLE RECOVERIES: Hunter Kent 2, Diego Rubio 3, Nicholas Hitchcock 2, Nathan McKee 1, Landon Johnson 1,    
BLOCKED PUNTS: Kaden Hughes 1
PUNTING (No./Yards/Avg./Inside20): Adam Martin 29/1143/39.4/8, Matthew Cook 1/33/33
SCORING: Julio Rubio 96 (16 tds), Adam Martin 66 (11 td), Jackson Harrod 37 (37-41 PAT, 0-1 FG), Landon Johnson 36 (6 tds), Nathan McKee 24 (4 td), Hunter Kent 18 (3 td), Tri Johnson 12 (2 td), Fate Berry 6 (1 td), Matthew Cook 6 (1 td)