By LARRY "SCOOP" McCARTY
Monterio May never envisioned becoming a head baseball coach this year and prepared for another season as director of player development at the University of Central Arkansas.
But that quickly changed with the resignation of Scott Bramlett as head baseball coach at Heber Springs High School in September.
May learned from a former teammate about the job opening at Heber Springs, submitted an application and the rest is now history. He took the reins of the Panther baseball program Monday and began preparation for the new season.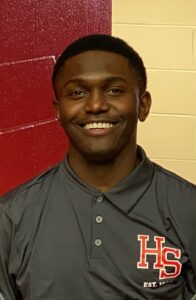 "I applied for the job and received an email within 24 hours asking me to come and interview," May said. "I jumped out of my seat and was excited to get an interview. I met with the school administrators and school district staff, and they treated me like a member of the family. I'm grateful to the community, school district and (Superintendent) Dr. (Andy) Ashley for the opportunity."
May began learning the game at an early age and took advantage of opportunities to play at different levels.
"I played baseball since the age of five," he said. "I try to use the competitive edge to my advantage. One of my biggest accomplishments was being an alternate on the USA Baseball 16-and-under team."
May started his collegiate baseball career at Shelton County Community College (Alabama). He transferred to Lurleen B. Wallace Community College (Alabama) because of an injury and the school was closer to his home. May finished his playing career at Central Baptist College in Conway.
"After earning an associate's degree, I made the best decision in my life in coming to Arkansas," May said. "I played two years (at CBC) for coach Aaron Brister and was part of the team when it won a conference championship."
After playing one year in an independent league, May accepted an opportunity to work for UCA and head coach Allen Gum.
"I worked at UCA for the last three years," May said. "I was prepared to stay at UCA and wait to see what might open in a year. This job turned into the right fit for me."
May is completing the final requirements for a master's degree in educational and athletic administration. He then plans to start work on a doctorate's degree.
May comes from a family of educators. A sister is a teacher and a brother-in-law is a strength and conditioning coach. May said that taught him the importance of education.
"Education can never be taken away from you," May said. "My ultimate goal is to make an impact on people around me. Coaching and teaching allow me to do that. I want to make a positive impact."
May met with players last week and held a parents' meeting Thursday night at the Panther Den. He said everything has been positive and ready to start preseason workouts.
"I noticed that we have players with a lot of athleticism," he said. "We had around 27 players at the first meeting, and I know of four basketball players who will join us when that season is completed."
May said everything is in place for success.
"My philosophy is to finish strong," he said. "We will learn how to compete at a high level. We have amazing facilities and a community that supports the program 100 percent. We will find ways to get the job done and build a foundation for the future of the program."