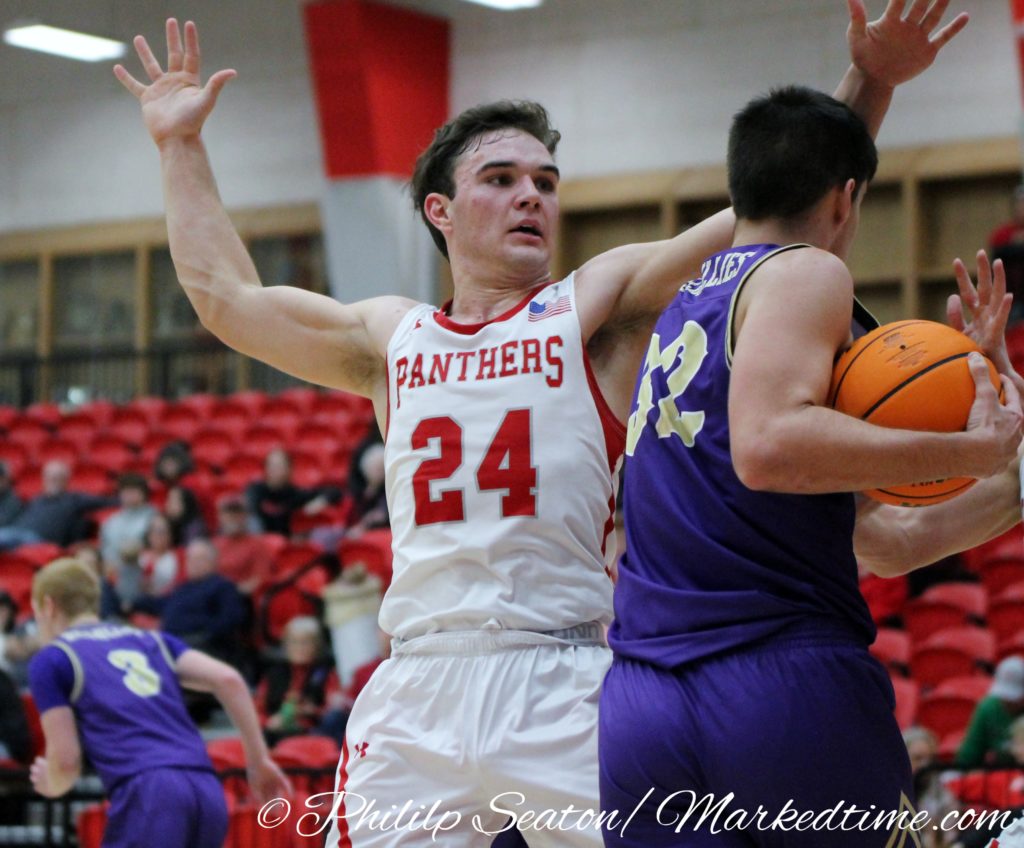 December 20, 2019
By LARRY "SCOOP" McCARTY
Ozark's depth proved too much for the Heber Springs Panthers to overcome in Friday's 69-34 loss at the Panther Den in a 4-4A Conference basketball game.
The Panthers stayed close throughout the first half. Heber Springs trailed 17-14 after the first quarter and 32-24 at halftime.
Ozark blew the game open with a 20-4 scoring run and took a 52-28 lead into the fourth quarter.
"We played well during the first half," Heber Springs assistant coach Dusty West said. "Our defensive effort was outstanding. Ozark pressed the entire game and played physical. It wore us down in the second half when we get a little winded and couldn't make many shots."
West stepped in for head coach Chad Johnson, who missed the game because of illness.
Adam Martin scored a game-high 19 points for Heber Springs. Garrett Schaffer led Ozark with 14 points, followed by Ethan Dorrough with 13 points. Corbin Pelts and Wyatt Clauson each scored 10 points.
Heber Springs (1-1 in conference, 1-8 overall) will seek to bounce back at the Steve Landers Chevrolet Heber Springs Holiday Tournament which begins Thursday. The Panthers will play Rose Bud at 7:45 p.m. in the opening round.
"We are excited about the tournament," West said. "I believe if we play up to our capabilities, we can get to the championship game. The players have a good attitude and keep playing hard. We are looking forward to playing Rose Bud."
On Dec. 16, Heber Springs traveled to White County Central and was handed a 65-43 setback. Martin led all scorers with 23 points for Heber Springs while Garrett Schaffer had 14 points for the Bears.
HEBER SPRINGS SENIOR BOYS BOXSCORE
December 20 vs. Ozark
Ozark         17 15 20 17 - 69
Heber Springs 14 10  4  6 - 34
OZARK SCORERS (69): Garrett Schaffer 14, Ethan Dorrough 13, Corbin Pelts 10, Wyatt Clauson 10, Sebastian Ross 7, Javson Harris 5, Brock Burns 4, Kayden McAnally 2, Kirkland Quinton 2, Clayton Elmore 2.
HEBER SPRINGS SCORING (34): Adam Martin 19, Wyatt Sanders 7, Garrett Hudspeth 4, Dalton McCollum 2, Zach Thomas 2.

December 16 at White County Central
White County Central 18 18 22  7 - 65
Heber Springs         6 10 10 17 - 43
WHITE COUNTY CENTRAL SCORING (65): Dillon Hopkins 12, Ethan Jones 9, Weslee Whitaker 9, Carson Brown 8, Weston Sherwood 7, Blake Dickerson 6, Drew House 4, Landon Swindle 3, Deklan Stevens 3, Grant Walker 2, John Shivers 2
HEBER SPRINGS SCORING (43): Adam Martin 23, Wyatt Sanders 9, Garrett Hudspeth 6, Zach Thomas 3, Dalton McCollum 2 
HEBER SPRINGS SENIOR BOYS BASKETBALL
2019-2020 SCHEDULE RESULTS
RECORD: 1-8
4A-4 RECORD: 1-1
November 21 - Riverview 68, Heber Springs 36
November 26 - Clinton 71, Heber Springs 35
December 3 - Conway St. Joseph 44, Heber Springs 21 #
December 5 - South Side Bee Branch 50, Heber Springs 49 #
December 10 - Heber Springs 37, Dover 32 ^
December 12 - South Side Bee Branch 64, Heber Springs 53
December 13 - Marshall 69, Heber Springs 43
December 16 - White County Central 65, Heber Springs 43
December 20 - Ozark 69, Heber Springs 34 ^
December 26 - Heber Springs vs. Rose Bud *
December 27 - Cowboy Chevrolet Holiday Classic
December 28 - Cowboy Chevrolet Holiday Classic
January 7 - Pottsville ^
January 10 - at Subiaco Academy ^
January 14 - Dardanelle ^
January 17 - at Clarksville ^
January 21 - Morrilton ^
January 24 - Dover ^
January 28 - at Pottsville ^
January 31 - at Ozark ^
February 4 - at Dardanelle ^
February 7 - Subiaco Academy ^
February 11 - at Morrilton ^
February 14 - Clarksville (Senior Night) ^
February 17 - 4A-4 District at Dardanelle

(# - Denotes Conway St. Joseph Tournament)
(^ - Denotes 4A-4 conference contest) 
(* - Steve Landers' Cowboy Chevrolet Holiday Classic at Heber Springs)