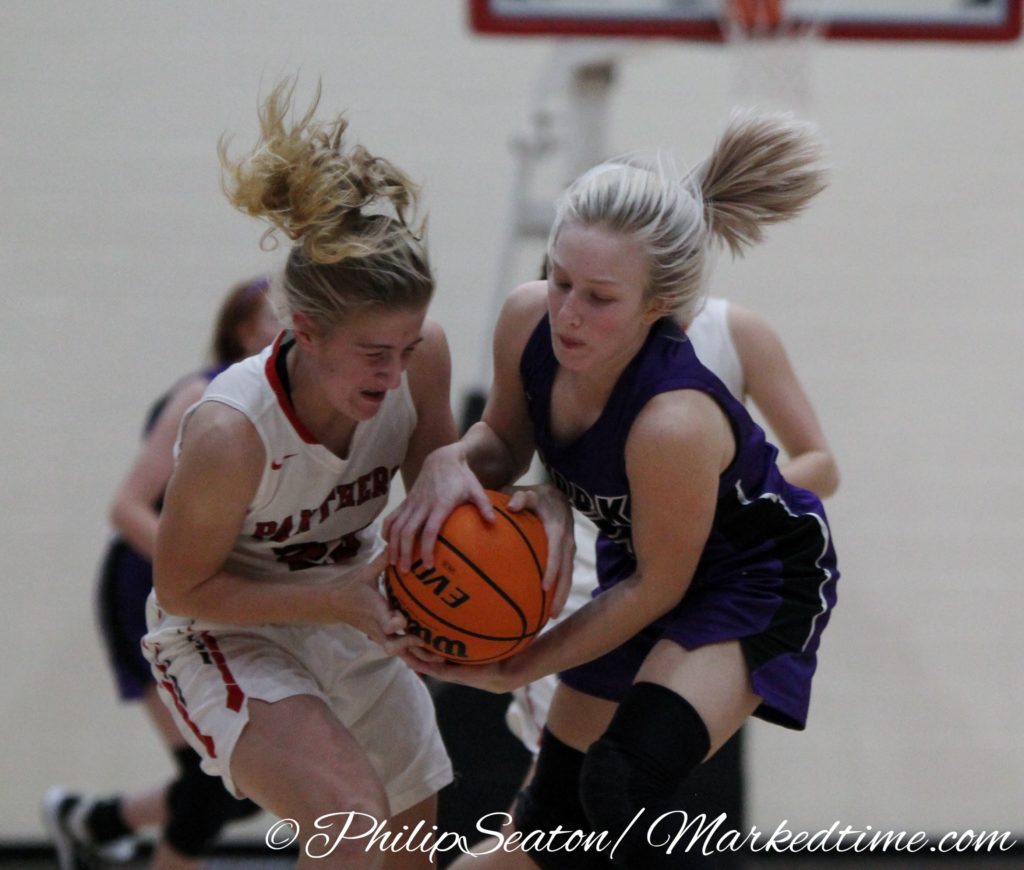 December 20, 2019
By LARRY "SCOOP" McCARTY
Improved accuracy at the free-throw line paid dividends for the Heber Springs Lady Panthers at the Panther Den Friday.
The Lady Panthers made 14-of-18 free throws during the fourth quarter and defeated Ozark, 55-42, in a 4-4A Conference basketball game.
Libby Stutts hit 6-of-8 at the free-throw line during the fourth quarter. Ashley Spanel made 4-of-4 and Hailey Bresnahan converted 3-of-4 attempts. Ellie Riddle was 1-of-2 at the line.
The Lady Panthers made 25-of-33 free throws for the game.
Jillian Herring led Heber Springs with 16 points. Ellie Riddle added 11 points and Stutts had 10 points. Carter Crane scored 17 points for Ozark and Mary-Grace Ree had 10 points.
"Our free-throw shooting was very big in winning the game," coach Jamey Riddle said. "We had not been shooting free throws well. We also did what was needed during the final three games to win. We outplayed them in the last three quarters."
Heber Springs switched its full-court press at the start of the second quarter and it led to success.
The Panther trailed 13-8 after the first quarter and reduced it to 22-19 by halftime.
"The full-court press we started was not working and I decided to make a change," Riddle said. "We contained them better and kept the ball from Ozark's big girl. We wanted to speed up the game."
Heber Springs tied the game at 24-24 two minutes into the third quarter on a 3-pointer by Herring.
The Lady Panthers, who outscored Ozark 20-7 during the third quarter, gained a double digit lead and took a 39-29 lead into the fourth quarter.
Ellie Riddle and Claudia Newberry committed their fourth personal fouls late in the third quarter, but strong play off the bench helped to increase the lead. Riddle and Newberry returned with two minutes to play in the game.
"Mary Shearer has a lot of playing time and a senior that you can count on playing well," Jamey Riddle said. "She goes hard for rebounds and does what we need to help the team succeed. Hailey gave us good minutes, made free throws and got defensive rebounds."
Riddle also credited Herring and Stutts, especially for their play during the fourth quarter.
"Libby and Jillian waited for their time and got good shots in the fourth quarter," Riddle said. "We were able to create one-on-one opportunities for them to drive."
Heber Springs (2-0 in conference, 9-2 overall) is one of three teams (Morrilton and Clarksville) undefeated in conference play.
"We had to win at home because it will be tough at Ozark," Riddle said. "We must win the home games. We got a big road win at Dover."
Heber Springs will return to action at 6:30 p.m. Thursday against DeWitt at the Steve Landers Chevorlet-Heber Springs Holiday Tournament.
"We didn't play well at the St. Joseph Tournament and hope to play well at our tournament," Riddle said. "We will take the approach of a end-of-the-season tournament. We would like to win the tournament."
On Dec. 16, Heber Springs traveled to White County Central and came away with a 51-31 nonconference victory.
Heber Springs led 30-14 at the half and 41-23 at the end of three quarters.
Ellie Riddle (13) and Claudia Newberry (11) each finished double figures in scoring for the Panthers.
HEBER SPRINGS SENIOR GIRLS BOXSCORES
December 20 vs. Ozark
Ozark         13  9  7 13 - 42
Heber Springs  8 11 20 16 - 55
OZARK SCORING (42): Carter Crane 17, Mary-Grace Ree 10, Kelsee Barnett 5, Briley Burns 4, Summer Joy 3, Tanner Richard 3.  
HEBER SPRINGS SCORING (55): Jillian Herring 16, Ellie Riddle 11, Libby Stutts 10, Ashley Spanel 5, Hailey Bresnahan 5, Claudia Newberry 4, Mary Shearer 4.  

December 16 at White County Central
White County Central  8 6  9  8 - 31
Heber Springs        21 9 11 10 - 51
WHITE COUNTY CENTRAL SCORING (31): Jaidyn Koerdt 6, Abigail Mullins 6, Makayla Baker 5, Hailey Jackson 4, Ashlyn Mullins 4, Destiny Clark 4, Kalista Altom 2
HEBER SPRINGS SCORING (51): Ellie Riddle 13, Claudia Newberry 11, Jillian Herring 9, Ashley Spanel 7, Libby Stutts 6, Hailey Bresnahan 2, Kylie Carr 2, LiLi Chaney 1.
HEBER SPRINGS SENIOR GIRLS 
2019-2020 SCHEDULE/RESULTS
RECORD: 9-2
4A-4 RECORD: 2-0
November 12 - Heber Springs 55, Nemo Vista 31
November 19 - Heber Springs 70, South Side Bee Branch 45
November 21 - Heber Springs 67, Riverview 27
November 26 - Heber Springs 56, Clinton 54 (OT)
December 3 - Conway St. Joseph 47, Heber Springs 44 #
December 5 - Heber Springs 53, South Side Bee Branch 34 #
December 7 - Heber Springs 44, Wonderview 43 #
December 10 - Heber Springs 59, Dover 56 ^
December 13 - Marshall 70, Heber Springs 52
December 16 - Heber Springs 51, White County Central 31
December 20 - Heber Springs 55, Ozark 42 ^
December 26 - Heber Springs vs. DeWitt *
December 27 - Cowboy Chevrolet Holiday Classic
December 28 - Cowboy Chevrolet Holiday Classic
January 7 - Pottsville ^
January 9 - at Newport
January 14 - Dardanelle ^
January 17 - at Clarksville ^
January 21 - Morrilton ^
January 24 - Dover ^
January 28 - at Pottsville ^
January 31 - at Ozark ^
February 4 - at Dardanelle ^
February 11 - at Morrilton ^
February 14 - Clarksville (Senior Night) ^
February 17 - 4A-4 District at Dardanelle

(# - Denotes Conway St. Joseph Tournament)
(^ - Denotes 4A-4 conference contest)
(* - Denotes Steve Landers' Cowboy Chevrolet Holiday Tournament at Heber Springs)