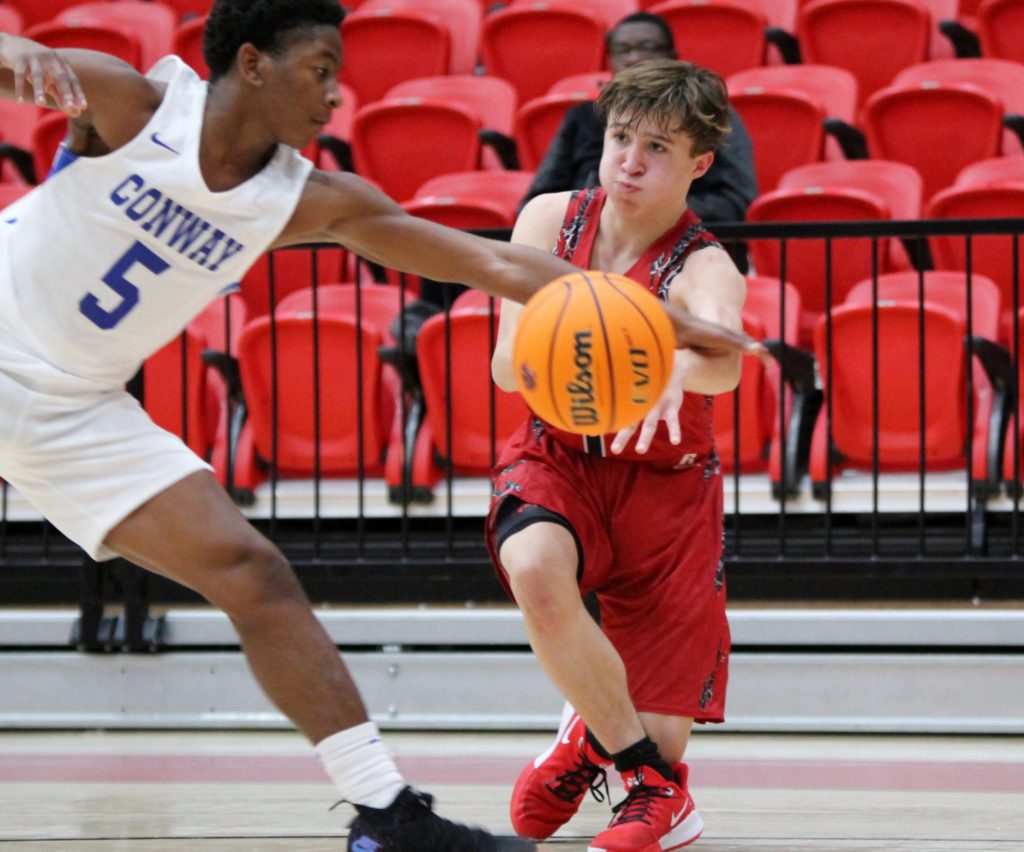 December 20, 2019
The Heber Springs junior boys will host Ozark tonight at the Panther Den as the Panthers look to improve to 2-0 in the conference.
During the Panthers last outing on Monday, Conner Riddle finished 18 points including 11 points in the fourth quarter as Heber Springs improved 4-8 on the season with a 36-35 on Monday at White County Central. Riddle was 9-of-10 from the free-throw line in the final quarter.
Riddle (15) and Bauer Pruitt (10) were also in double figures in a loss at Marshall on Dec. 12.
On Dec. 10, the Panthers avenged an earlier loss to Dover at the Marshall tournament with a 45-33 victory at Dover to open 4A-4 play. Riddle had 19 points in the victory.
That victory ended a four-game losing streak in which the Panthers dropped both contests on Nov. 23 at their own tournament at the Panther Den to Cabot South and Conway Blue.
Heber Springs claimed its second win of the season on Nov. 19 at home against South Side Bee Branch, 44-38. Riddle finished with 26 points while Eli Riggs was also in double figures with 11. Riddle had 15 points in the first half and was 9-of-10 from the line.
HEBER SPRINGS BOXSCORES
December 16 at White County Central
White County Central  2 7 9 17 - 35
Heber Springs         7 4 9 16 - 36
WHITE COUNTY CENTRAL SCORING (35): Rodriguez 19, Gilliam 7, Loyd 5, Broderick 2, Knight 2 
HEBER SPRINGS SCORING (36): Conner Riddle 18, Bauer Pruitt 6, Xander Lindley 4, Eli Riggs 4, Wyatt Winchester 2, Maddox Reed 2

December 12 at Marshall
Marshall       6 12 12 16 - 46
Heber Springs 10  9 14  5 - 38
MARSHALL SCORING (46): DePriest 21, Ragland 15, Griffin 7, Loggins 3
HEBER SPRINGS SCORING (38): Conner Riddle 15, Bauer Pruitt 10, Eli Riggs 6, Xander Lindley 4, Hud Haggard 3

December 10 at Dover
Dover          3 11 12 7 - 33
Heber Springs 15 13  8 9 - 45
DOVER SCORING (33): Criag 9, Dale 8, Krentz 4, Canfield 4, Reichert 3, Shuffield 3, Jacobs 2
HEBER SPRINGS SCORING (45): Conner Riddle 19, Luke Greenwald 9, Eli Riggs 8, Ladd Choate 3, Xander Lindley 2, Bent McClain 2, Bauer Pruitt 2

December 5 at Cedar Ridge
Junior Boys "B"
Victory at Cedar Ridge
HEBER SPRINGS SCORING (33): Xander Lindley 13, Ladd Choate 8, Easton Cusick 4, Luke Greenwald 3, Hud Haggard 3, Maddox Reed 2

November 26 at Clinton
Clinton       10 10 10 14 - 44
Heber Springs  7  3 11  6 - 27
CLINTON SCORING (44): Widener 20, Hensley 10, Emberton 9, Briggs 3, Burgess 2
HEBER SPRINGS SCORING (27): Conner Riddle 9, Ladd Choate 5, Bauer Pruitt 4, Xander Lindley 3, Eli Riggs 2, Wyatt Winchester 2, Hud Haggard 1, Bent McClain 1

November 23 at Heber Springs Tournament
Conway Blue    13 20 24 14 - 71
Heber Springs  10 18  5  6 - 39
CONWAY BLUE SCORING (71): R. Fields 24, D. Paglianite 13, D. Moton 8, C. Adams 8, T. Garlington 6, D. Tate 5, K. Jeffers 4, M. Pleasant 3
HEBER SPRINGS SCORING (39): Conner Riddle 20, Bauer Pruitt 6, Luke Greenwald 6, Bent McClain 4, Eli Riggs 3

November 23 at Heber Springs Tournament
Cabot South 8th-Grade 13  4 13 7 - 37
Heber Springs         11 10  4 8 - 33
CABOT SOUTH SCORING (37): T. Dyer 16, P. Hines 8, J. Christopher 4, R. Baxter 2, B. Beaver 2, B. Seagars 2, L. Flores 2, J. Fulton 1
HEBER SPRINGS SCORING (33): Conner Riddle 11, Xander Lindley 8, Bauer Pruitt 6, Bent McClain 4, Hud Haggard 2, Eli Riggs 2

Other Heber Springs Tournament Junior Boys Results on November 23: Batesville 46, Conway Blue 43; Batesville 40, Cabot South 8th-Grade 30 

November 21 at Heber Springs
Riverview     6 28 15 2 - 51
Heber Springs 6  2  5 8 - 21
RIVERVIEW SCORING (51): K. Jiles 21, Z. Williams 8, H. Sawtelle 5, A. Munoz 5, A. Donnell 4, T. Cunningham 2, S. Watson 2, M. Watson 2, T. Rogers 2
HEBER SPRINGS SCORING (21): Xander Lindley 6, Ladd Choate 4, Eli Riggs 3, Luke Greenwald 2, Hud Haggard 2, Bauer Pruitt 2, Conner Riddle 2 

November 19 at Heber Springs
South Side Bee Branch 10  4 13 11 - 38
Heber Springs          9 16 11  8 - 44
SOUTH SIDE BEE BRANCH SCORING (38): Holland 11, Emmert 9, Sullivan 6, Bradford 4, Swafford 3, Jenson 2, Black 2, Hall 1
HEBER SPRINGS SCORING (44): Conner Riddle 26, Eli Riggs 11, Luke Greenwald 4, Bent McClain 3 

November 19 at Heber Springs
Junior Boys "B"
South Side Bee Branch  3  2 -  5
Heber Springs         12 14 - 26
SOUTH SIDE BEE BRANCH SCORING (5): Murphee 2, C. Guynes 2, Grissom 1.
HEBER SPRINGS SCORING (26): Bauer Pruitt 9, Hud Haggard 7, Ladd Choate 6, Easton Cusick 2, Maddox Reed 2

November 18 at Heber Springs
Junior Boys "B" 
Greenbrier    12 5 10 9 - 36
Heber Springs  7 7 11 2 - 27
GREENBRIER SCORING (36): K. Brooks 12, C. Hartman 11, J. Smith 5, M. Miller 4, C. Zachary 4
HEBER SPRINGS SCORING (27): Bauer Pruitt 12, Easton Cusick 7, Maddox Reed 4, Wyatt Winchester 2, Hud Haggard 2

November 14 at Marshall Tournament
Dover         7 9 13 14 - 43
Heber Springs 7 7 12 10 - 36
DOVER SCORING (43): Dale 13, Reichart 8, Vickers 8, Krenty 6, Criag 5, Shuffield 2, Meador 1
HEBER SPRINGS SCORING (36): Eli Riggs 12, Conner Riddle 7, Luke Greenwald 6, Bent McClain 4, Bauer Pruitt 4, Xander Lindley 3
HEBER SPRINGS JUNIOR BOYS BASKETBALL
2019-2020 SCHEDULE/RESULTS
COACH: Chad Johnson
OVERALL RECORD: 4-8
4A-4 RECORD: 1-0
November 9 - Greenbrier 37, Heber Springs 17 ^
November 12 - Nemo Vista 45, Heber Springs 37
November 13 - Heber Springs 54, Yellville-Summit 50 ^
November 14 - Dover 43, Heber Springs 36 ^
November 19 - Heber Springs 44, South Side Bee Branch 38
November 21 - Riverview 51, Heber Springs 21
November 23 - Cabot South 8th 37, Heber Springs 33 *
November 23 - Conway Blue 71, Heber Springs 39 *
November 26 - Clinton 44, Heber Springs 27
December 10 - Heber Springs 45, Dover 33 #
December 13 - Marshall 46, Heber Springs 38
December 16 - Heber Springs 36, White County Central 35
December 20 - Ozark #
January 7 - Pottsville #
January 10 - at Subiaco Academy #
January 14 - Dardanelle #
January 16 - Mount Vernon-Enola
January 23 - Marshall
January 24 - Dover #
January 27 - at Mayflower
January 28 - at Pottsville #
January 31 - at Ozark #
February 3 - Quitman
February 4 - at Dardanelle #
Februaryr 7 - Subiaco Academy #
February 10 - District Tournament at Ozark

(^ - Denotes Marshall Tournament)
(* - Denotes Heber Springs Tournament)
(# - Denotes 4A-4 Conference Game)