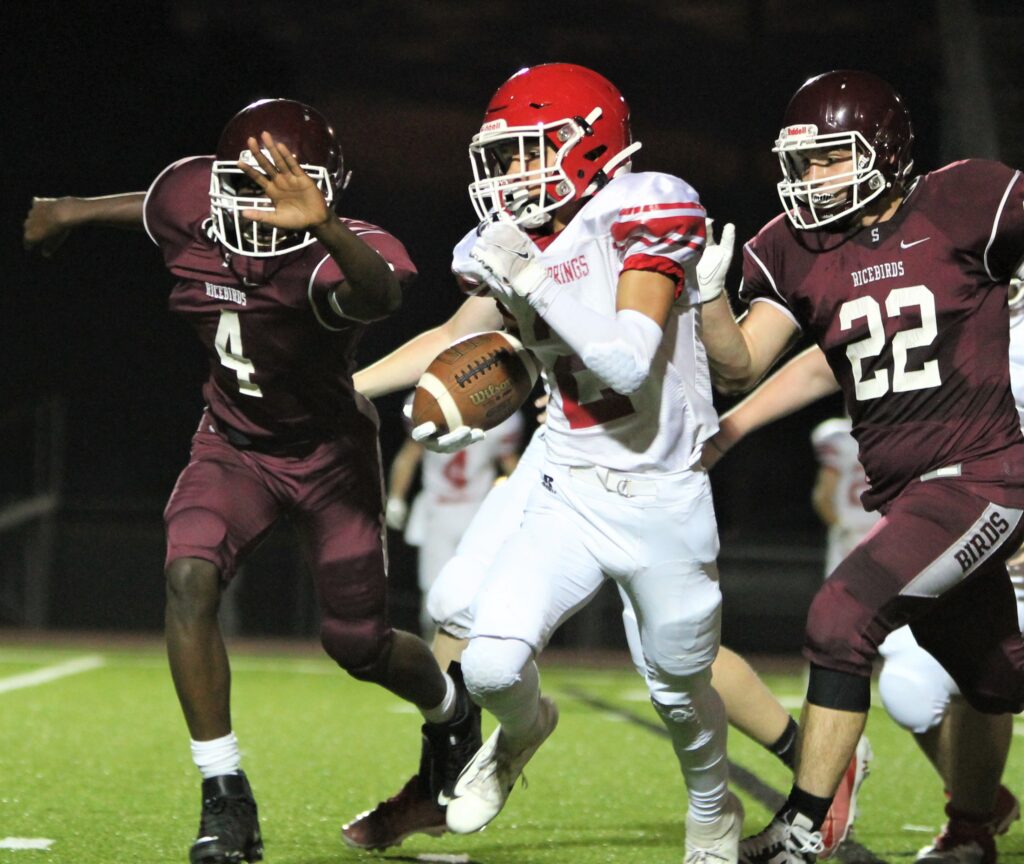 By PHILIP SEATON
STUTTGART -Stuttgart took advantage of three Heber Springs turnovers and used a persistent ground game to hand the junior Panthers a 28-14 setback Thursday night.
It was the first lost on the season for Heber Springs (3-1, 1-1).
Stuttgart rushed 40 times for 241 yards with the bulk of that coming from DeVontae Clark (22 carries for 85 yards) and quarterback Landon Melynchuck (11 carries for 108 yards).
The game was scoreless early on as Stuttgart threatened early after the Ricebirds' Trez Hammond picked off Heber Springs' Liam Buffalo at the Panther 41 and returned it 27 yards. But the Heber Springs defense stiffened stopping the scoring threat as Parker Brown sacked Melynchuck for an 11-yard loss on fourth down.
Four straight incompletions by Heber Springs gave the Ricebirds the ball back at the Panther 27, and three plays later Melynchuck rushed 11 yards for the score to make it 6-0 Stuttgart with 23 seconds left in the opening quarter. The 2-point conversion failed.
Heber Springs responded to go up 7-6 on its next drive. A five-play, 42-yard drive was capped off when Buffalo connected with Weston Warden for a 19-yard touchdown pass. Gideon Tate added the PAT kick with 7:05 left in the half.
An 11-yard touchdown run by Melynchuck with 3:22 left in the second quarter put Stuttgart up 12-7. After another interception by the Stuttgart defense, Clark would score on a 10-yard run to put the Ricebirds up 20-7 at the half.
Heber Springs threatened in the third quarter but Buffalo was picked off by Matthew Luster at the Ricebird 3 with 2:43 left in the quarter. Five plays later, Clark would push his way into the end zone to make it 28-7 (after the Ricebirds completed the 2-point conversion on a run by Hammond) with 1:12 left in the third.
The Panthers would add a late score as Buffalo connected with Dalton Yancey on an 18-yard pass with 2:24 left in the contest. Tate added the PAT kick.
Buffalo finished the night 12 of 29 passing for 122 yards with two touchdowns and three interceptions.
The Panthers will look to bounce back on Thursday when they host Central Arkansas Christian at Panther Stadium.