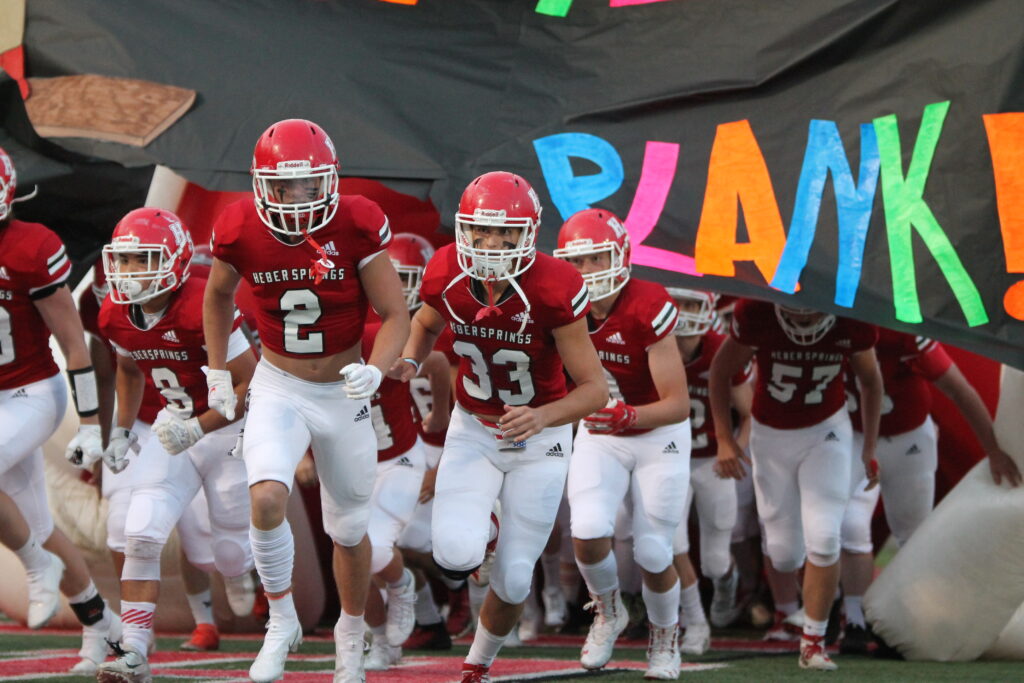 By LARRY "SCOOP" McCARTY
Moving forward became the theme throughout the week at football practice for the Heber Springs Panther football team.
Heber Springs (0-1 2-4A Conference, 1-3 overall) will host undefeated Stuttgart (1-0 conference, 3-0) at 7 p.m. Friday.
Central Arkansas Christian and Bald Knob joined Stuttgart and Lonoke at the top of the conference standings after the first weekend of play.
Heber Springs held leads of 6-0, 12-7 and 19-14 against Lonoke. The Jackrabbits broke up a competitive game by scoring three touchdowns late in the second quarter in the 47-31 win against the Panthers.
Stuttgart shut out Southside Batesville 42-0 in its conference opener.
"I told the players that we need to build on the positives," Heber Springs head coach Todd Wood said. "We are keeping that attitude going into Friday's game."
Quarterback Pate Kleinbeck and running back Cedric Hawkins lead Stuttgart's offense. Kleinbeck has completed 24-of-46 passes for 500 yards and six touchdowns in three games. Hawkins is the team's leading rusher with 149 yards on 15 carries and scored two touchdowns, plus a 96-yard kickoff return for a score.
Seven receivers have caught passes, led by Arlie Lee, who has 10 catches for 207 yards and three touchdowns.
"Stuttgart has speed, size and will take advantage of your mistakes," Wood said. "We need to do a better job of protecting the ball (14 turnovers in four games) and play with more focus on defense. Our effort was encouraging against Lonoke. We are beginning to understand that we never quit, regardless of the score or situation in a game."
Increased production by the Heber Springs offense started two games ago when Matthew Cook became the starting quarterback. Cook has completed 39-of-61 passes for 603 yards and seven touchdowns.
The return of Nathan McKee, who had been sidelined by an injury, also gave the offense a boost. McKee has caught 13 passes for 242 yards and three touchdowns in the last two games.
"McKee had a great game at Lonoke, and I hope that will continue," Wood said. "It was only the second start for Matthew at quarterback. He made some mistakes, but he also did a lot of good things."
Wood said one of the keys to Friday's game will be more production from the running game. The Panthers rushed for 18 yards against Lonoke.
"We need to control the line of scrimmage," he said. "We must be able to run the ball successful."
Wood said preventing big plays and winning the turnover battle are areas that also need improvement.
"We stressed the importance during the week of containing the other team's offense," he said. "We need to do a better job of tackling and win the turnover battle."
Kickoff: 7 p.m. at Panther Stadium
Admission: $5
Radio/Streaming: Billy Morgan with handle the play-by-play with Lance Hamilton providing color on KSUG 101.9 The Lake. Panther Pregame begins at 6:30 p.m. followed by the game.
THE SERIES: Stuttgart leads the all-times series, 10-3. The two teams first meet in 2006 when the Ricebirds dropped from class 5A down to 4A and were placed in the same conference with Heber Springs. Stuttgart won the first four meetings before the Panthers claimed a 20-14 win in 2010.
2-4A STANDINGS
                            W L CP  W L PS  PA 
Stuttgart                   1 0 13  3 0 120  12 
Lonoke                      1 0 13  3 1 168 105
Central Arkansas Christian  1 0 12  4 0 147  83  
Bald Knob                   1 0  6  3 1 130  78  
Little Rock Mills           0 1  0  1 3  86 119  
Heber Springs               0 1  0  1 3  85 143
Southside Batesville        0 1  0  1 3  61 125   
Clinton                     0 1  0  0 4  70 201 
 

Friday, September 25 
Central Arkansas Christian 47, Clinton 35
Stuttgart 42, Southside Batesville 0
Lonoke 47, Heber Springs 31
Bald Knob 14, Little Rock Mills 8 
Friday, October 2 
Little Rock Mills at Central Arkansas Christian
Stuttgart at Heber Springs 
Clinton at Southside Batesville
Lonoke at Bald Knob