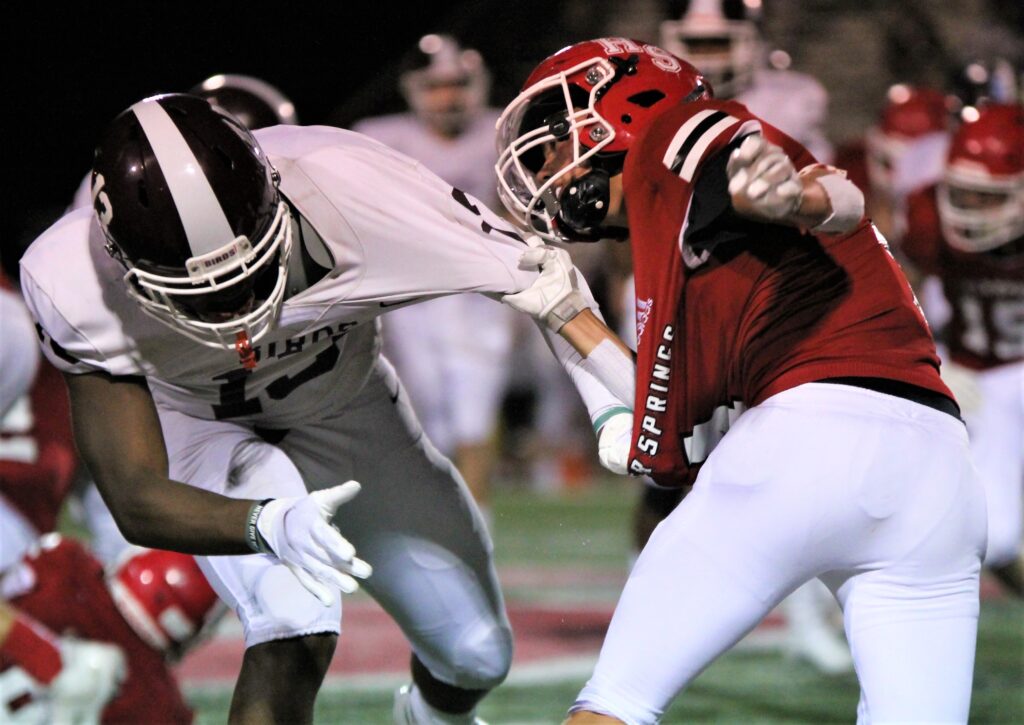 By LARRY "SCOOP" McCARTY
Heber Springs quickly learned at Panther Stadium Friday night that Stuttgart deserved all of the preseason hype and the favorite' roles to win the 2-4A Conference football championship.
The Ricebirds (2-0 conference, 4-0 overall) scored touchdowns on all six first-half possessions and defeated the Panthers (0-2 in conference, 1-4 overall), 42-6.
Stuttgart remained in a tie for the conference lead with Lonoke and Central Arkansas Christian. Heber Springs played Lonoke early this season and will play at CAC on Friday.
"Stuttgart is the best team in the conference, and I expect them to make it to War Memorial Stadium (state championship game)," Heber Springs head coach Todd Wood said. "They are one of the top teams in the state. Stuttgart did the same thing to other teams this year that it did to us."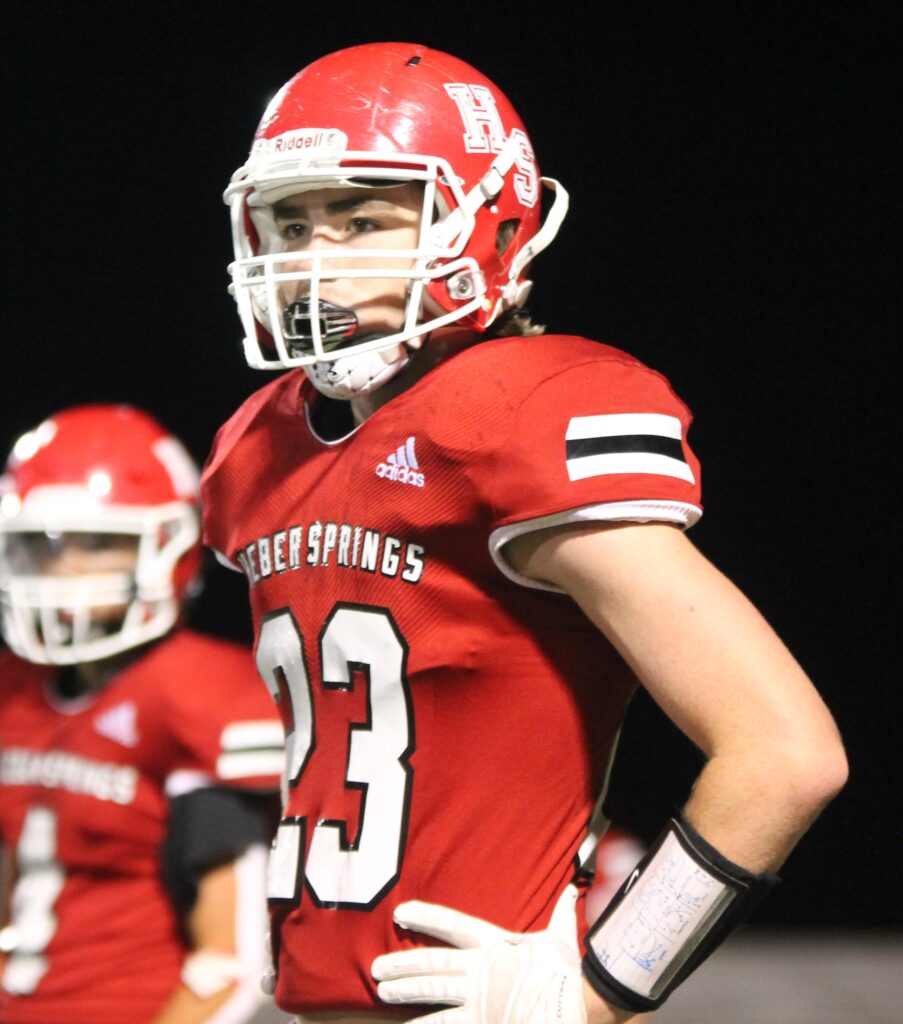 The Ricebirds had 394 yards of offense and held the Panthers to 180 yards. Stuttgart did most of its damage through the air and in the first half. Quarterbacks Pate Kleinbeck and Jaden Strange combined to complete 11-of-16 passes for 322 yards and six touchdowns.
Arlie Lee continues to be a thorn in the side of the Heber Springs defense. Lee caught six passes for 175 yards and four touchdowns. He caught 12 passes for 125 yards and one touchdown last season when Stuttgart lost 28-27 to the Panthers.
"I told our players after the game if you want to be one of the big and bad like Stuttgart, you need to get in the weightroom now and in the offseason," Wood said.
Running back Diego Rubio provided most of the Panthers' offense. Rubio rushed 11 times for 31 yards and had 84 yards in kickoff returns for 115 all-purpose yards. Matthew Cook completed 11-of-23 passes for 100 yards with one interception. Cook also ran for 39 yards on eight attempts. Jackson West caught three passes for 45 yards.
Two Heber Springs senior two-way starters — Nathan McKee and Hunter Kent — left the game in the first half because of injuries. Wood said Jackson West, who started on defense, stepped in at receiver and played well.
"Jackson is one of the guys we challenged to become more involved on the offense," Wood said. "He is learning the receiver position. I expect him to show improvement every game."
Wood said it was encouraging that the players keep a "no quit attitude."
"They keep fighting," he said. "I didn't see any quit and that is good. When you are being physically dominated, it's easy to give up. We kept fighting and that is what I like to see."
Stuttgart scored two touchdowns during the first quarter. Lee caught a 58-yard scoring pass from Strange on the third play of the game. Kleinbeck connected on a 4-yard toss to Lee at the end of a 10-play, 88-yard drive.
The Ricebirds reached the end zone four times in the second quarter.
Kleinbeck passed 45 yards to Strange and Lee caught a 37-yard touchdown pass from Strange. Kleinbeck connected on a 22-yard scoring pass to Strange and Strange concluded the scoring on a 33-yard touchdown run.
Jack Hosman kicked the extra points as Stuttgart led 42-0 at halftime.
Heber Springs avoided a shutout by driving 94 yards on 11 plays. Rubio and Cook had runs of 15 and 28 yards, respectively, early in the drive. West's 21-yard pass reception from Cook put the Panthers in position. Rubio finished the drive by scoring on a 3-yard run with 8:13 left in the game.
"We wanted to score and had two big plays on the drive," Wood said. "It was good to get the ball into the end zone."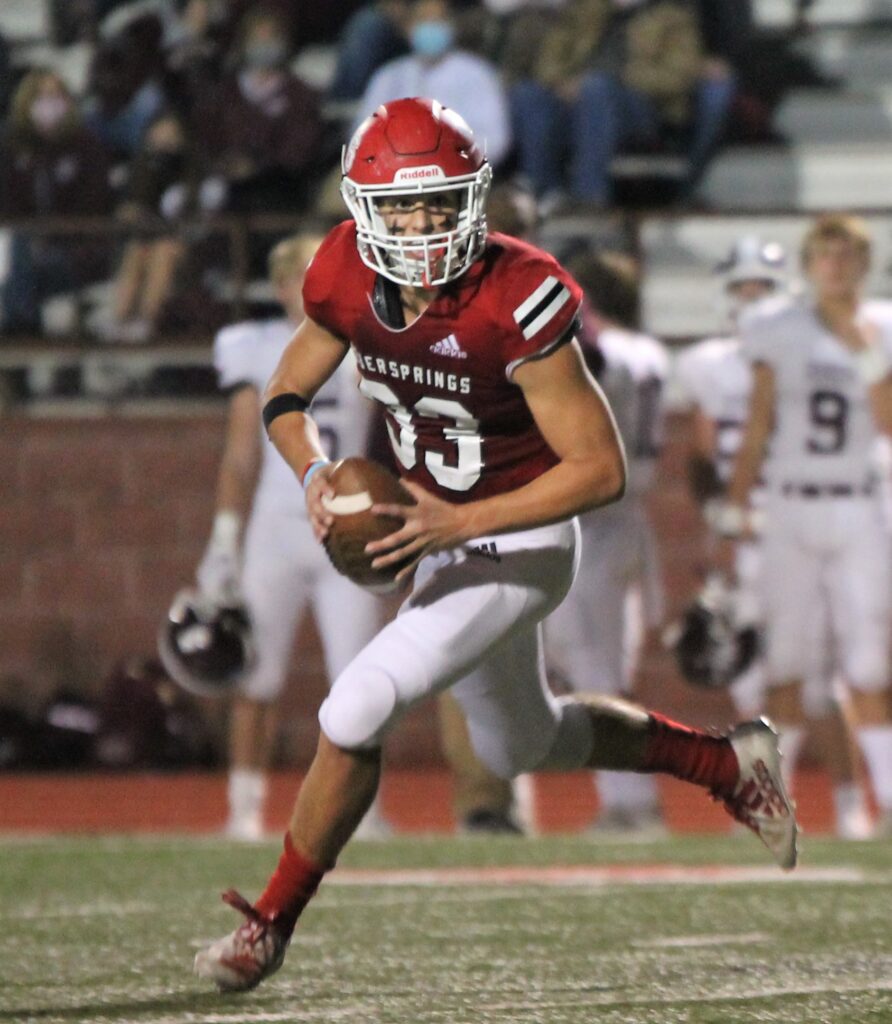 GAME STATS
SCORING   
Stuttgart (4-0, 2-0)         14  28  0  0 - 42 
Heber Springs (1-4, 0-2)      0   0  0  6 -  6 
FIRST QUARTER   
Stuttgart, Jaden Strange to Arlie Lee 58-yard pass (Jack Hosman kick), 10:26
Stuttgart, Pate Kleinbeck to Lee 4-yard pass (Hosman kick), 1:52
SECOND QUARTER   
Stuttgart, Kleinbeck to Strange 45-yard pass (Pass failed), 10:02
Stuttgart, Strange to Lee 37-yard pass (Strange run), 4:49
Stuttgart, Kleinbeck to Strange 22-yard pass (Hosman kick), 3:04
Stuttgart, Kleinbeck to Strange 33-yard pass (Hosman kick), 1:17
FOURTH QUARTER 
Heber Springs, Diego Rubio 3-yard run (Kick failed), 8:21

TEAM STATS   
First Downs by Rush: Heber Springs 5, Stuttgart 3
First Downs by Pass: Heber Springs 4, Stuttgart 8 
First Downs by Penalty: Heber Springs 3, Stuttgart 0
Total First Downs: Heber Springs 12, Stuttgart 11 
Third-Down Conversions: Heber Springs 1/7, Stuttgart 6/8
Fourth-Down Conversions: Heber Springs 1/3, Stuttgart 0/0
Red-Zone Conversions: Heber Springs 1/2, Stuttgart 2/2
Time of Possession: Heber Springs 26:52, Stuttgart 21:08
Fumbles/Lost: Heber Springs 0/0, Stuttgart 2/0
Turnovers: Heber Springs 1, Stuttgart 0       
Points Off Turnovers: Heber Springs 0, Stuttgart 7  
Penalties: Heber Springs 4/22, Stuttgart 13/120 
Plays/Total Offense/YPP: Heber Springs 47/180/3.8, Stuttgart 36/394/10.9
Rushing: Heber Springs 24/80/3.3, Stuttgart 20/72/3.6
Passing: Heber Springs 11/23-100-0/1, Stuttgart 11/16-322-6/0
Sacks/Yards Lost: Heber Springs 0/0, Stuttgart 2/18
Punts: Heber Springs 3/69/23, Stuttgart 2/88/44
Inside 20: Heber Springs 0, Stuttgart 2

INDIVIDUAL STATS   
OFFENSE     
RUSHING: Heber Springs, Matthew Cook 8/39, Diego Rubio 11/31, Kenan Sneed 3/16, Isaac King 2/(-6). Stuttgart, Daniel Poole 6/38, AJ Higgins 4/21, Jaxson Robinson 3/10, Tymir Coppins 1/5, Xavier Hobbs 2/5, Jack Hosman 1/2
PASSING: Heber Springs, Matthew Cook 11/23-100-0/1. Stuttgart, Pate Kleinbeck 7/11-186-4/0, Jaden Strange 4/5-136-2/0.
RECEIVING: Heber Springs, Jackson West 3/45, Kenan Sneed 3/25, Isaac King 2/14, Nathan McKee 2/8, Easton Cusick 1/8. Stuttgart, Arlie Lee 6/175/3, Jaden Strange 3/100/3, Jaxson Robinson 1/27, Tymir Coppins 1/20.  
TOTAL OFFENSE: Heber Springs, Matthew Cook 139, Diego Rubio 31, Kenan Sneed 16, Isaac King (-6). Stuttgart, Pate Kleinbeck 186, Jaden Strange 136, Daniel Poole 38, AJ Higgins 21, Jaxson Robinson 10, Tymir Coppins 5, Xavier Hobbs 5, Jack Hosman 2.
PUNT RETURNS: Suttgart, Tymir Coppins 1/(-1) 
KICK RETURNS: Heber Springs, Diego Rubio 5/84. Stuttgart, Kendrick Hawkins 1/7, Deontre Starks 1/0.
FUMBLE RETURNS: None   
INTERCEPTION RETURNS: Stuttgart, Bryer West 1/21
ALL-PURPOSE YARDS: Heber Springs, Diego Rubio 115, Jackson West 45, Kenan Sneed 41, Matthew Cook 39, Isaac King 8, Nathan McKee 8, Easton Cusick 8. Stuttgart, Arlie Lee 175, Jaden Strange 100, Daniel Poole 38, Jaxson Robinson 37, Tymir Coppins 24, AJ Higgins 21, Bryer West 21, Kendrick Hawkins 7, Xavier Hobbs 5, Jack Hosman 2. 
SCORING: Heber Springs, Diego Rubio 6, Chandler Webber (0/1 XPA). Lonoke, Jaden Strange 20, Arlie Lee 18, Jack Hosman 4 (4/4 XPA).
DEFENSE    
PUNTS/YARDS/AVERAGE/INSIDE THE 20: Heber Springs, Matthew Cook 3/69/23/0. Stuttgart, Jaden Strange 2/88/44/2.
SACKS/YARDS LOST: Stuttgart, Kameron Harper 2/8
Fumble Recoveries: None
Interceptions: Stuttgart, Bryer West