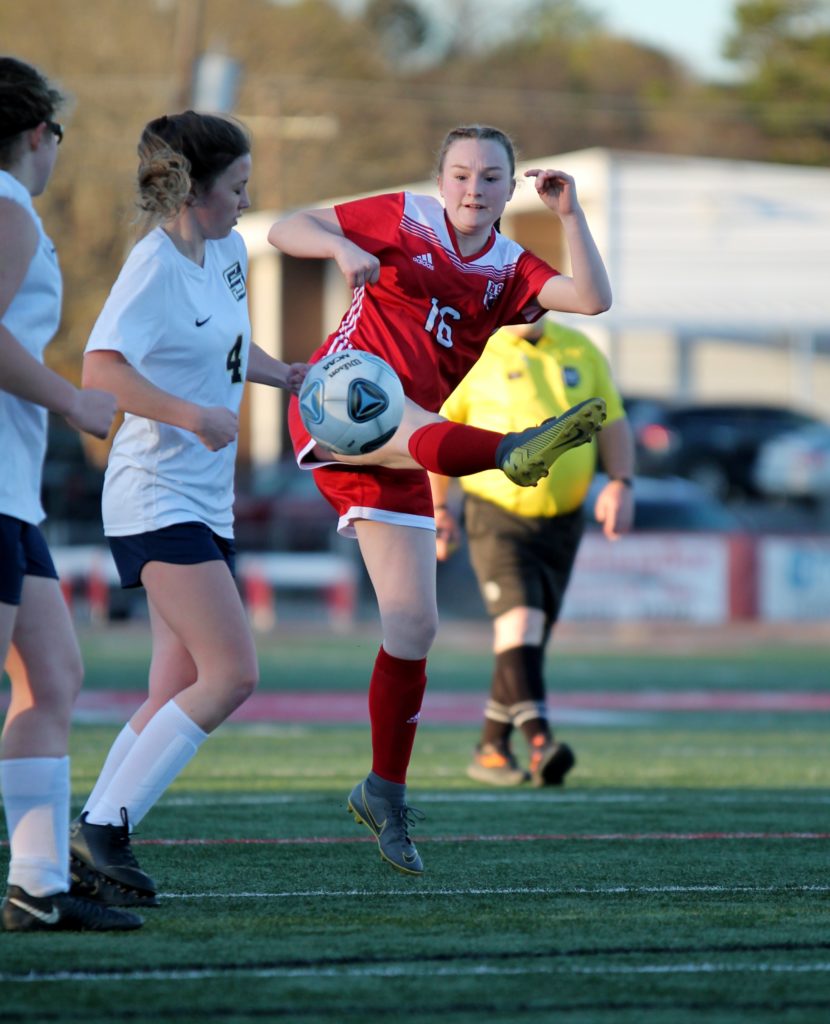 March 9, 2020
The Heber Springs girls and boys soccer teams traveled to Morrilton on Monday, came away with victories in wet conditions and improved to 3-0 on the season.
The girls jumped out to a 5-nil lead and held on to win 5-2 despite two late penalty-kick goals by the Devil Dogs (3-3).
Abbi Dew, Taylor Hammons, McKenzie Becerra, Cristina Garcia and Ashley Spanel all scored goals for Heber Springs. Dew and Hammons assisted on two of those goals.
In senior boys play, the Panthers' Jackson Harrod assisted on both goals as Heber Springs defeated Morrilton 2-nil. Luke Greenwald and Julio Rubio scored the goals for the Panthers. Morrilton fell to 1-2 on the season.
Both soccer teams host Conway St. Joseph beginning at 5 p.m. at Panther Stadium.
HEBER SPRINGS GIRLS SOCCER
COACH DREW LAWRENCE
OVERALL RECORD: 3-0
4A-NORTH CONFERENCE RECORD: 0-0
February 24  Heber Springs 5, Harding Academy 3 $
March 3      Heber Springs 4, Vilonia 1
March 5      Heber Springs 6, Southside Batesville 0
March 9      Heber Springs 5, Morrilton 2
March 10     Conway St. Joseph          7 p.m.
March 13     Greenbrier                 7 p.m.
March 19     at Cave City               7 p.m.
March 31     at Mountain View           7 p.m.
April 2      at Wynne *                 7 p.m.
April 6      Jonesboro Westside *       7 p.m.
April 9      at Brookland *             7 p.m.
April 13     Valley View *              7 p.m.
April 18     Southside Batesville Tournament
April 20     at Southside Batesville *  7 p.m.
April 23     at Lonoke *                7 p.m.
April 28     Batesville *               7 p.m.

(* - Denotes 4A-North conference contest.)
($ - Denotes Arkansas Activities Association Benefit Match. The match does not count on the official record.)
HEBER SPRINGS BOYS SOCCER
COACH JAY BISHOP
OVERALL RECORD: 3-0
4A-NORTH CONFERENCE RECORD: 0-0
February 24  Harding Academy 5, Heber Springs 1 $
March 3      Heber Springs 6, Vilonia 1
March 5      Heber Springs 2, Southside Batesville 0
March 9      Heber Springs 2, Morrilton 0
March 10     Conway St. Joseph          7 p.m.
March 13     Greenbrier                 7 p.m.
March 17     at Conway Christian        7 p.m.
March 19     at Cave City               7 p.m.
March 31     at Mountain View           7 p.m.
April 2      at Wynne *                 7 p.m.
April 4      Southside Batesville Tournament
April 6      Jonesboro Westside *       7 p.m.
April 9      at Brookland *             7 p.m.
April 13     Valley View *              7 p.m.
April 20     at Southside Batesville *  7 p.m.
April 23     at Lonoke *                7 p.m.
April 28     Batesville *               7 p.m.

(* - Denotes 4A-North conference contest.)
($ - Denotes Arkansas Activities Association benefit match. Does not count on official record.)