Cat Fight: Heber Springs hosts Harding Academy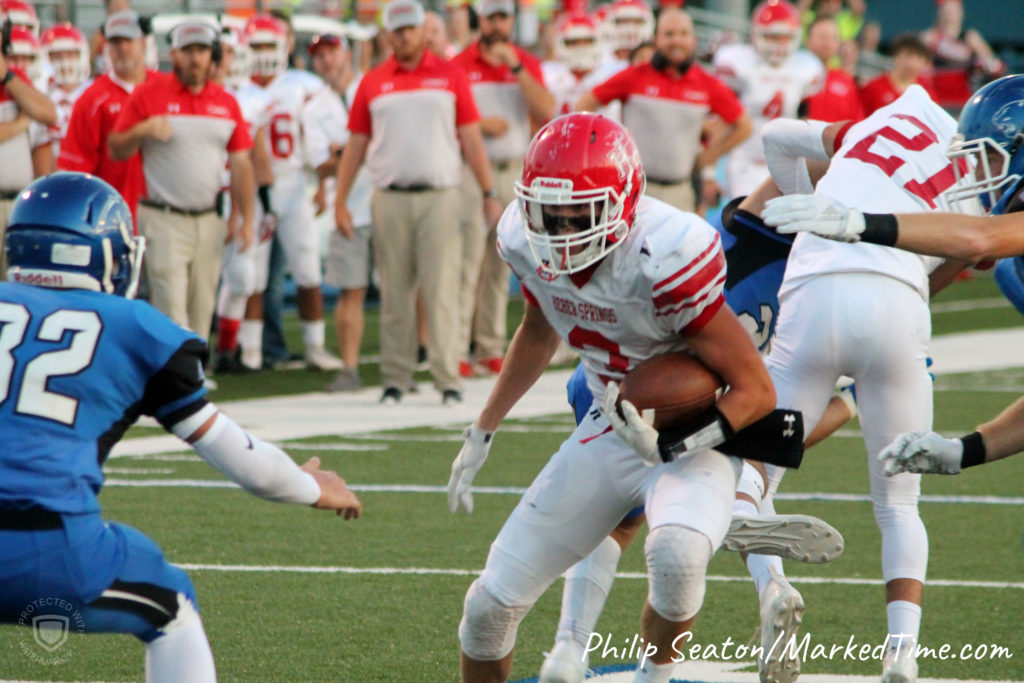 Kickoff: 7 p.m. at Panther Stadium
Admission: $5
Radio: Billy Morgan with handle the play-by-play with Lance Hamilton providing color on KSUG 101.9 The Lake. Panther Pregame begins at 6:30 p.m. followed by the game. You can listen live here.
LAST SEASON
Panthers fall in heartbreaker in Searcy.
LAST WEEK
Panthers tumble at Greenbrier, 35-21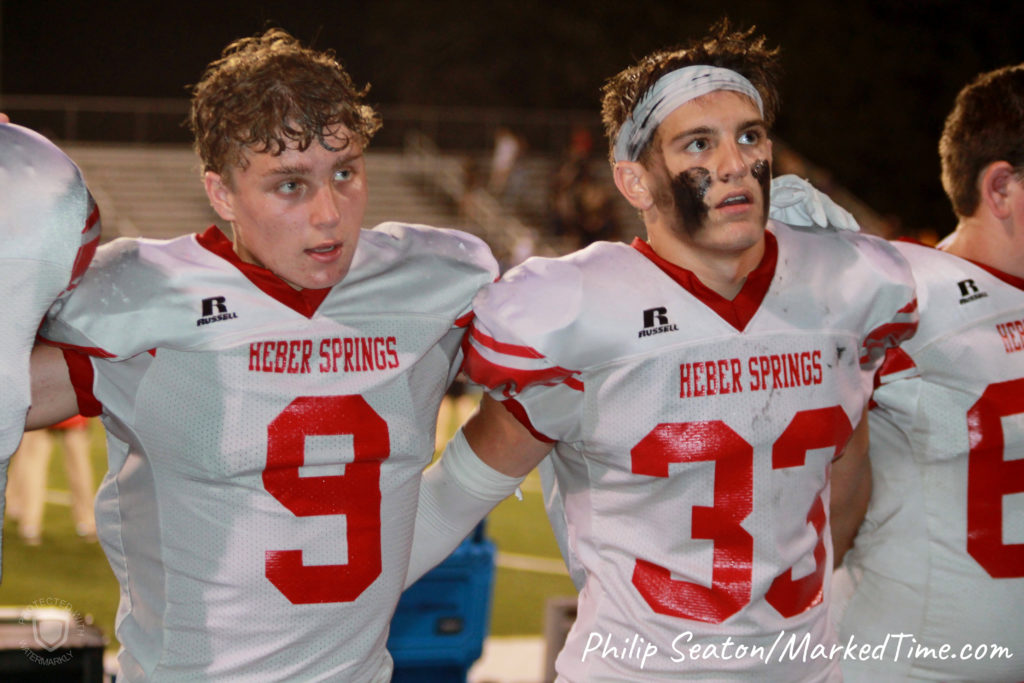 CONFERENCE SCOREBOARD WEEK 2
Little Rock Hall 22, Little Rock Mills 16
Greenbrier 35, Heber Springs 21
Beebe 45, Lonoke 44 (OT)
Southside Batesville 43, Trumann 30
Riverview 21, Highland 20
Warren 62, Stuttgart 27
Central Arkansas Christian 40, Baptist Prep 38
CONFERENCE SCHEDULE WEEK 3
Harding Academy (2-0) at Heber Springs (0-2)
Haskell Harmony Grove (1-1) at Bald Knob (0-2)
Newport (2-0) at Lonoke (0-2)
Central Arkansas Christian (2-0) at Clinton (2-0)
Little Rock Mills (1-1) at Maumelle (2-0)
Idle: Southside Batesville (2-1), Stuttgart (0-3), Riverview (2-1)
HEBER SPRINGS COACH WILL COX ON LAST WEEK, TONIGHT
GAME NOTES
TURNOVERS: Heber Springs is minus five in turnover ratio. The Panthers have yet to pick-up a turnover and have fumbled three times and given up two interceptions.
NONCONFERENCE WOES: Heber Springs has lost five consecutive regular-season nonconference games. The Panthers last regular season nonconference win came on Sept. 15, 2017, at Panther Stadium against Harding Academy, 35-14. Since 2015, Heber Springs is 2-12 in regular-season nonconference games. However, over the stretch the Panthers have went 22-6 in conference play, including 18-3 over the past three seasons.
BIG CAT PLAY: The Panthers recorded their first "Big Cat" play (over 50 yards) last week against Greenbrier when Julio Rubio ran for a 72-yard touchdown in the fourth quarter.
BACK TO ACTION: Senior receiver Tri Johnson missed last weeks game for concussion protocol. Johnson was injured in a non-football event.
MASCOT DEBUT: The new male and female Panther mascots will make their debut tonight. Pablo and Piper made their debut at Tuesday's volleyball match at the Panther Den. Try-outs were held this week to determine who gets to wear the costumes on game nights.
SEE YA' IN WEEK TWO: This will be the sixth year in a row that Heber Springs and Harding Academy have meet in week three, but that will change next year. The Panthers and Wildcats will meet in week 2 beginning in 2020. Dover will be Heber Springs opponent in week 3 in 2020.
COACHES WIVES OF HEBER SPRINGS: TAYLOR COX
THE WILDCATS
Harding Academy sets at 2-0 on the season. The Wildcats opened the season with a convincing 55-20 win over 4A-2 member Bald Knob in week 0. Harding Academy followed that with another convincing win, this time a 47-20 victory Heber Springs coach Will Cox' alma mater, Highland. Against Bald Knob, the Wildcats exploded with 35 second-quarter points and led 41-20 at the half. Junior quarterback Caden Sipe was 24-of-29 passing for 292 yards and five touchdowns with an interception. On the ground, senior Stone Sheffield rushed 22 times for 174 yards and two touchdowns. Sipe's favorite receiving target was junior Ty Dugger, who caught 13 passes for 149 yards and three touchdowns. Junior Jeffrey Mercer finished with 10 total tackles for the Wildcats. In week 1, Harding Academy led Highland, 37-6, at the half. Sipe followed up his week 0 performance with another impressive outing, finishing 18-of-23 passing for 261 yards and five touchdowns. Seniors Connor McGaha and Sheffield each finished with more than 100 yards receiving as four different Wildcat receivers finished with at least three receptions. The Wildcats rushed 17 times for 95 yards as team agains the Rebels with Sheffield finishing with 73 yards and a touchdown.
SENIOR SPOTLIGHT: HUNTER GRIFFIN
Heber Springs vs. Harding Academy
The Series
Harding Academy leads 31-14
LAST MEETING: 2018 in Searcy, Harding Academy won 29-27
LAST WEEK: Heber Springs lost to Greenbrier, 35-21; Harding Academy was idle
TONIGHT: Friday night's match-up at Panther Stadium in Heber Springs will be the 46th in the series between Heber Springs and Harding Academy. The two teams first met in 1951. Heber Springs won that contest 33-6. The Panthers won the first two meetings before the Wildcats won three straight.
OLD CONFERENCE FOES: The Panthers and Wildcats played continuously from 1951 until 1969. The two teams were part of the 2B conference from 1951-1968 and part of the 2A-South in 1969.
STATE CHAMPIONS: Harding Academy has won six state titles 1976, 1977, 1983, 2002, 2012 and 2015. The two teams did not meet when the Wildcats won the title in 1976, 1977 and 2002. In 1983, Harding Academy defeated Heber Springs, 19-14. In 2012, Heber Springs led 6-0, but the game was canceled due to weather in the first quarter. In 2015, the Widlcats won 40-12.
HIATUS: From 1995 through 2006, the two teams only meet twice, both games won by Harding Academy in 1998 and 1999. Since the series resumed in 2010, the two teams have played eight completed games with each team winning four times.
SEPTEMBER 20: The two teams have faced each other on this date only once in the series. In 1956, Harding Academy won 33-6 in game played at Searcy.
SHUTOUTS: The Panthers have won three games by shutouts, while the Wildcats have shutout Heber Springs, 13 times. The last shutout in the series came in 1993, a 28-0 win by the Wildcats.
TOUCHDOWN OR LESS: 11 games in the series have been decided by a touchdown or less, including last year. There have been no overtime games in the series.
MOST POINTS: The most points scored by the Panthers in series was 49 in 2011 while Harding Academy has scored 46 twice, 1999 and 2016.
SENIOR SPOTLIGHT: ADAM MARTIN
PANTHER STATS
Heber Springs 14 7 0 27 – 48
Opponent 14 14 21 14 – 63

TEAM
First Downs by Rush: Heber Springs 34, Opponent 23
First Downs by Pass: Heber Springs 6, Opponent 11
First Downs by Penalty: Heber Springs 0, Opponent 2
Total First Downs: 40, Opponent 37
Third-Down Conversions: Heber Springs 12/23 (52), Opponent 6/15 (40)
Fourth-Down Conversions: Heber Springs 7/10 (70), Opponent 1 /2 (50)
Red-Zone Conversions: Heber Springs 5/5 (5 tds), Opponent 9/9 (9 tds)
Fumbles/Lost: Heber Springs 4/3, Opponent 3/0
Turnovers: Heber Springs 5, Opponent 0
Points Off Turnovers: Heber Springs 0, Opponent 14
Penalties/Yards: Heber Springs 13/101, Opponent 12/86
Plays/Total Offense/YPP: 130/737/5.7, Opponent 90/549/6.1
Rushing: Heber Springs 106/621/5.9, Opponent 72/321/4.5
Passing: Heber Springs 12/24-115-0/2, Opponent 21/30-228-2/0
Sacks/Yards Lost: Heber Springs 5/30, Opponent 5/21
Punts: Heber Springs 2/80/40, Opponent 6/213/35.5

INDIVIDUAL
OFFENSE
RUSHING (ATT/YARDS/PER ATTEMPT/PER GAME/TDS): Adam Martin 53/281/5.3/140.5/1, Julio Rubio 40/214/5.4/107/4, Landon Johnson 17/68/4/34/2, Nathan McKee 1/6/6/3/0.
BIG CAT RUNS (50+): Julio Rubio 1
RUNS OF 40+: Julio Rubio 1
RUNS OF 30+: Julio Rubio 2
RUNS OF 20+: Adam Martin 3, Julio Rubio 2
RUNS OF 10+: Adam Martin 10, Julio Rubio 6, Landon Johnson 1.
PASSING (ATT/COMP-YARDS-TDS/INT): Adam Martin 12/24-115-0/2.
RECEIVING (REC/YARDS/PER CATCH): Hunter Kent 3/27/9, Matthew Cook 3/21/7, Nathan McKee 2/24/12, Julio Rubio 2/20/10, Fate Berry 1/7/7, Tri Johnson 1/6/6.
TOTAL OFFENSE (OFFENSE/PER GAME): Adam Martin 396/198, Julio Rubio 214/107, Landon Johnson 68/34, Nathan McKee 6/3
KICKOFF RETURNS: Hunter Kent 3/46/15.3, Matthew Cook 1/13/13, Julio Rubio 1/12/12, Nathan McKee 1/11/11, Tri Johnson 1/7/7.
PUNT RETURNS: None
INTERCEPTION RETURNS: None
FUMBLE RETURNS: None
ALL-PURPOSE YARDS (YARDS/PER GAME): Adam Martin 281/140.5, Julio Rubio 246/123, Hunter Kent 73/36.5, Landon Johnson 68/34, Nathan McKee 41/20.5, Matthew Cook 34/17, Tri Johnson 13/13, Fate Berry 7/3.5.
DEFENSE
TACKLES (SHARED/SOLO/TOTAL): Fate Berry 16/6/22, Levy Phillips 8/4/12, Landon Johnson 5/6/11, Kaden Hughes 4/5/9, Hunter Kent 4/4/8, Lawrence Baureis 2/6/8, Matthew Cook 5/2/7, Harley Bresnhan 3/2/5, Dalton McCollum 2/2/4, Jackson West 2/1/3, Trent Barnes 1/1/2, Preston Jones 1/1/2, Devon Doxey 1/0/1, Jackson Harrod 1/0/1.
TACKLES FOR LOSS: Kaden Hughes 2, Landon Johnson 2, Fate Berry 2, Levy Phillips 2, Tri Johnson 1, Harley Bresnahan 1.
SACKS/YARDS LOST: Levy Phillips 1/ 5, Kaden Hughes 1/ 4, Harley Bresnahan 1/ 4, Tri Johnson 1/ 3, Fate Berry 1/ 3
INTERCEPTIONS: None
FUMBLE RECOVERIES: None
SCORING: Julio Rubio 24 (4 tds), Landon Johnson 12 (2 tds), Adam Martin 6 (1 td), Jackson Harrod 6 (6-6 PAT)
MARKEDTIME.COM PANTHERS OF THE WEEK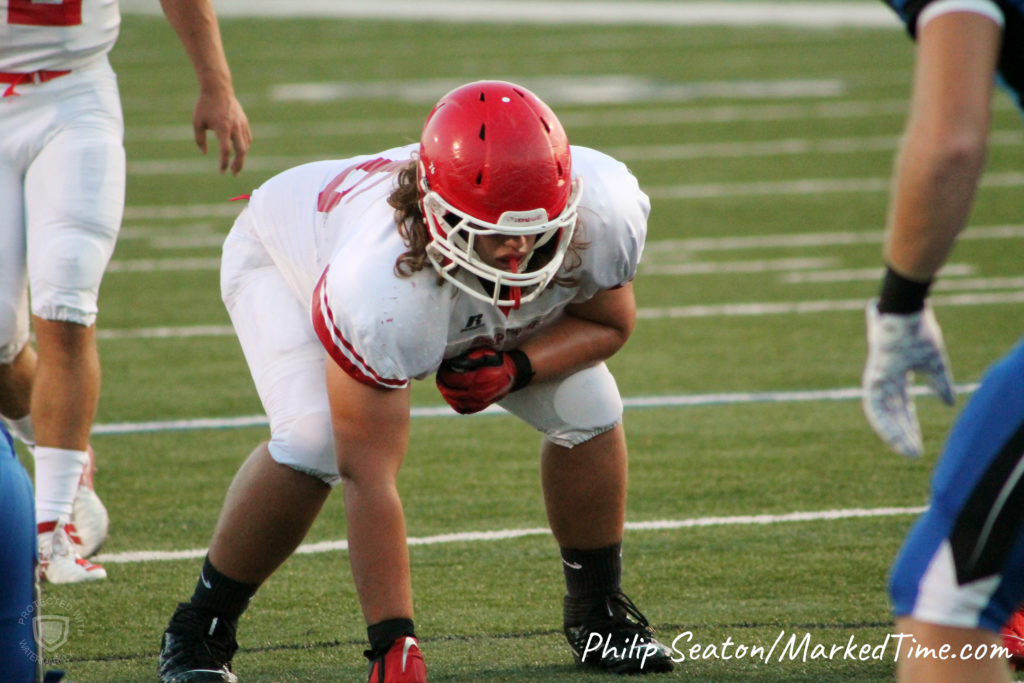 WEEK 1 vs. CLINTON
OFFENSE – Adam Martin and Julio Rubio. DEFENSE – Fate Berry
WEEK 2 vs. GREENBRIER
OFFENSE – Harley Hannah. DEFENSE – Levy Phillips
YOUTH FOOTBALL
SIXTH GRADE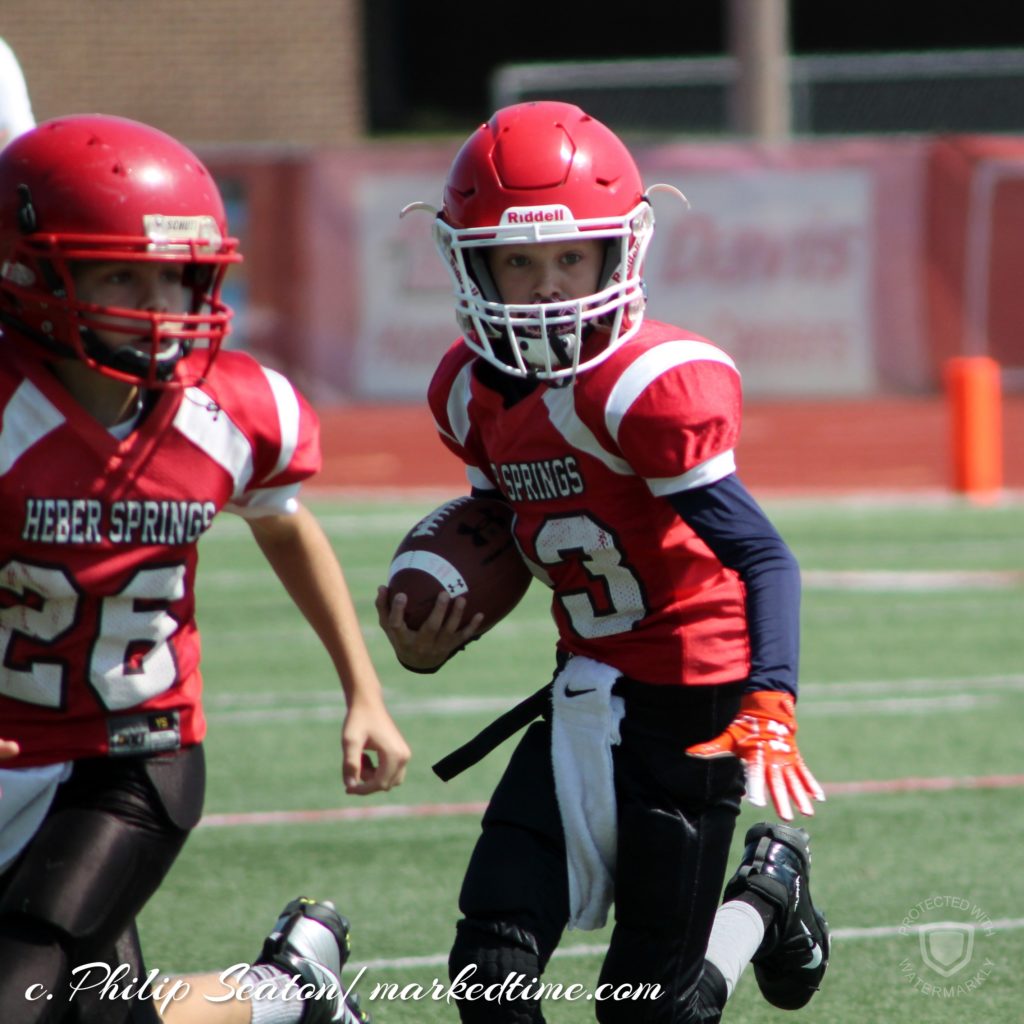 FIFTH GRADE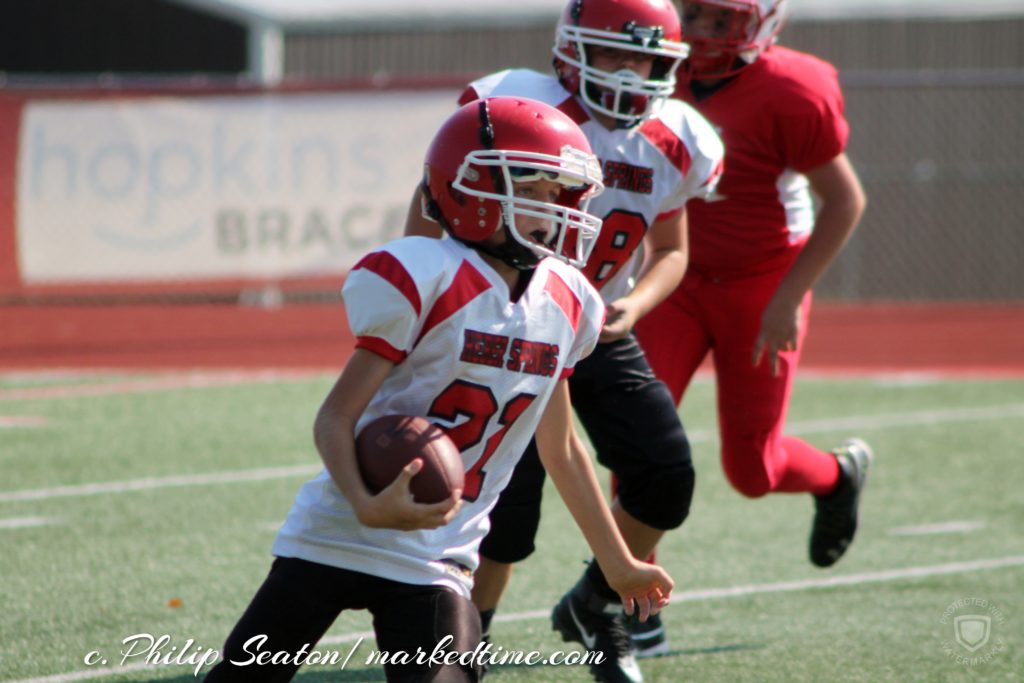 FOURTH GRADE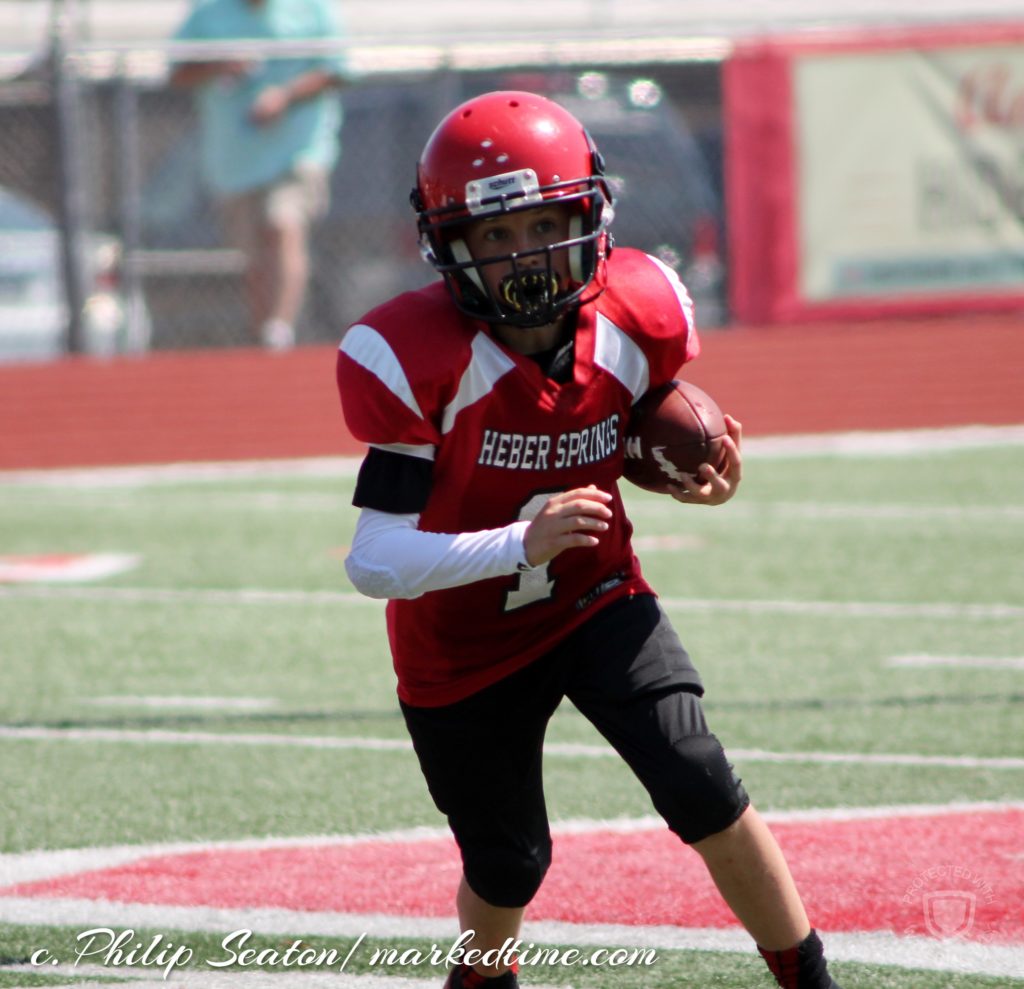 THIRD GRADE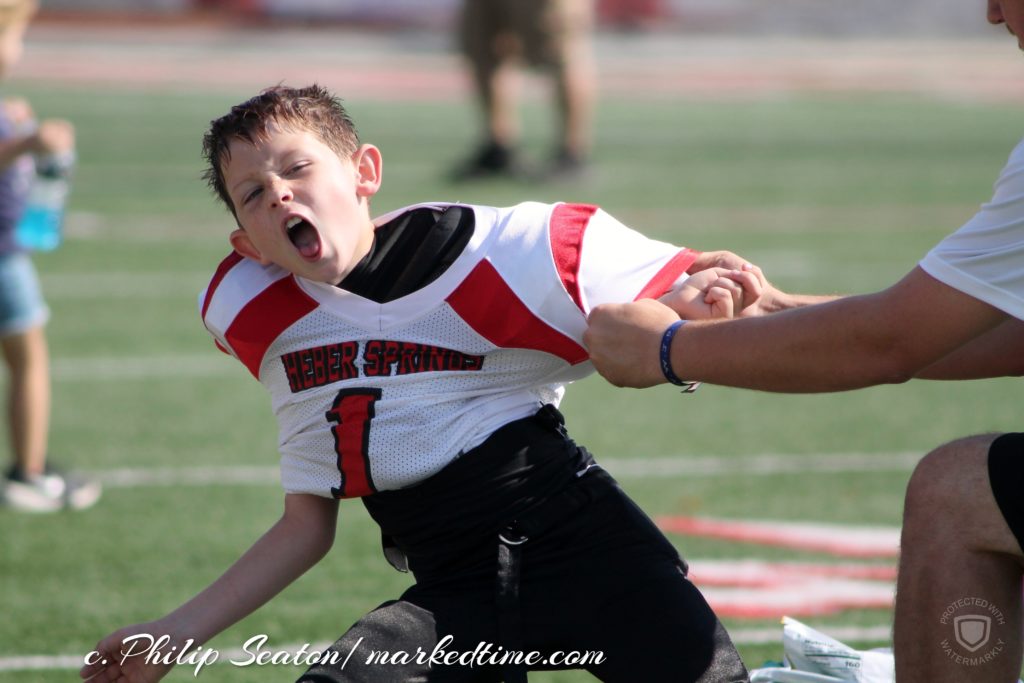 VOLLEYBALL
Panthers split 4A-Central matches this week.
PANTHER SPORTS THIS WEEK
Saturday, September 21 – Cross Country at North Little Rock
Monday, September 23 – Volleyball vs. Rose Bud, 4:30 p.m.
Monday, September 23 – Golf at Red Apple Inn
Tuesday, September 24 – Volleyball at Lonoke, 4:30 p.m.
Tuesday, September 24 – Cross Country at Sloan-Hendrix
Tuesday, September 24 – Golf at Red Apple Inn
Tuesday, September 24 – Tennis vs. Dardanelle, 3:30 p.m.
Thursday, September 26 – Volleyball vs. Morrilton, 4:30 p.m.
Thursday, September 26 – 7th-Grade Football at Lonoke, 5:30 p.m.
Thursday, September 26 – Junior High Football at Lonoke, 7 p.m.
Follow MarkedTime.com on Twitter @ARSportsArchive
Follow MarkedTime.com on Facebook fb.me/ARSportsArchive
Always taking submissions of old photos, and other collections of old sports notes and scorebooks of any sport on any level, including recreational, as long as it is Arkansas based.
VHS tapes: Can convert them for free. Please e-mail me at: pseaton1970@yahoo.com or message me on Facebook.
Contact me at pseaton1970@yahoo.com or on Facebook.
Please share.