Heber Springs falls to Greenbrier, 35-21
September 13, 2019
By PHILIP SEATON
GREENBRIER – Heber Springs held Greenbrier to 254 yards of total offense, but three turnovers cost the Cleburne County Panthers a chance a victory Friday night at Don Jones Stadium as the Faulkner County Panthers claimed a 35-21 victory in the last game in the foreseeable future between these two former conference foes.
Greenbrier (2-0) turned two Heber Springs fumbles and an interception into 14 points as Ryan Barnard, who finished the night with 16 tackles, picked off an Adam Martin pass and stripped the Heber Springs senior quarterback on a potential game-tying drive late in the contest.
The Cleburne County Panthers struck first with an impressive 16-play, 80-yard drive to open the game as Martin scored on a 1-yard run on fourth-and-goal, to make it 7-0 with 5:03 to play in the opening quarter after senior Jackson Harrod connected on the extra-point kick.
Martin was six-of-eight passing for 55 yards on the drive, connecting with five different receivers. Besides the fourth-down conversion that Heber Springs scored on, the Panthers also converted on a fourth-and-4 from the Greenbrier 32 when Martin found Nathan McKee for a 13-yard completion.
"That's excellence from top to bottom," Heber Springs coach Will Cox said, "from what the guys were doing executing to play-calling wise. Coach Bishop did a great job there, and that's what he does. He's a great play-caller. He's a great offensive coordinator.
"(But more importantly) to understand the game we were playing. We knew were going to have to shorten the game down a bit. The longer this game went the more it worked against just because of numbers wise. Really, really great first drive. Great momentum for us."
That momentum for Heber Springs carried forward on the ensuing Greenbrier possession as Levy Phillips pressured quarterback Jackson Riddle on a backwards lateral. The ball was batted around before Greenbrier finally recovered it on their own 2 for a 35-yard loss.
"Would have really liked to gotten a hold of the ball at the 2," Cox said while still praising the play of his defense and Phillips. "(Phillips) started at corner in week 1. Diego gets hurt a bit and we have to move him to outside backer, and he made some great plays for us tonight coming off that weak side. Can't say how proud I am of the way our defense competed tonight."
Heber Springs forced a punt and ended up with great field possession on its own 49 with 3:22 left in the first quarter, but Barnard stepped in front of the Martin pass-attempt to give the ball back to Greenbrier.
From there, the Faulkner County Panthers marched 58 yards in eight plays to tie things up at 7-all with 1:05 left in the first.
The two teams traded possessions until late in the first half when Greenbrier took advantage of short field as Riddle connected with Jaron Kuykendall for a 10-yard touchdown pass to make it 14-7 with 3:34 left in the half.
Heber Springs managed to push into Greenbrier territory late in the half, but a holding penalty stalled the momentum and the Panthers turned the ball over on downs with 19 seconds left at the Greenbrier 40.
Greenbrier used a six-play drive at the start of the third quarter to go up 21-7 after Peyton Long scored his second of four touchdowns on the night with a three-yard run.
Heber Springs turned the ball over on its next possession at the 50-yard line, but the Panther defense stiffened forcing a Greenbrier punt. The Panthers moved the ball from its own 25 to the Greenbrier 40, but penalty put Heber Springs in a third-and-long situation and Heber Springs was unable to convert on fourth down.
Greenbrier once again took advantage of the excellent field position moving from their own 47 on a four-play drive to go up 28-7 with 1:08 left in the third quarter.
"Probably lot of people probably expected that (28-7), but us coaches we didn't," Cox said. "(We didn't) just because we know these kids, and they didn't. That's a testament to this senior class. They are fighters. They never think they are out of a game."
And they weren't.
Heber Springs got a quick strike on the ground as Julio Rubio broke free for a 72-yard touchdown run with 11:47 to play.
The Panther defense stiffened again and got the ball back with 10:06 left.
Heber Springs then used a 15-play, 53-yard drive to cut the deficit to a touchdown with 4:05 after Landon Johnson plowed into the end zone on second effort from the 3.
A three-and-out gave Heber Springs a chance to tie things with 2:26 to play on their own 38, but a fumble ended the comeback attempt as Greenbrier tacked on a touchdown with 48 seconds left to set the margin.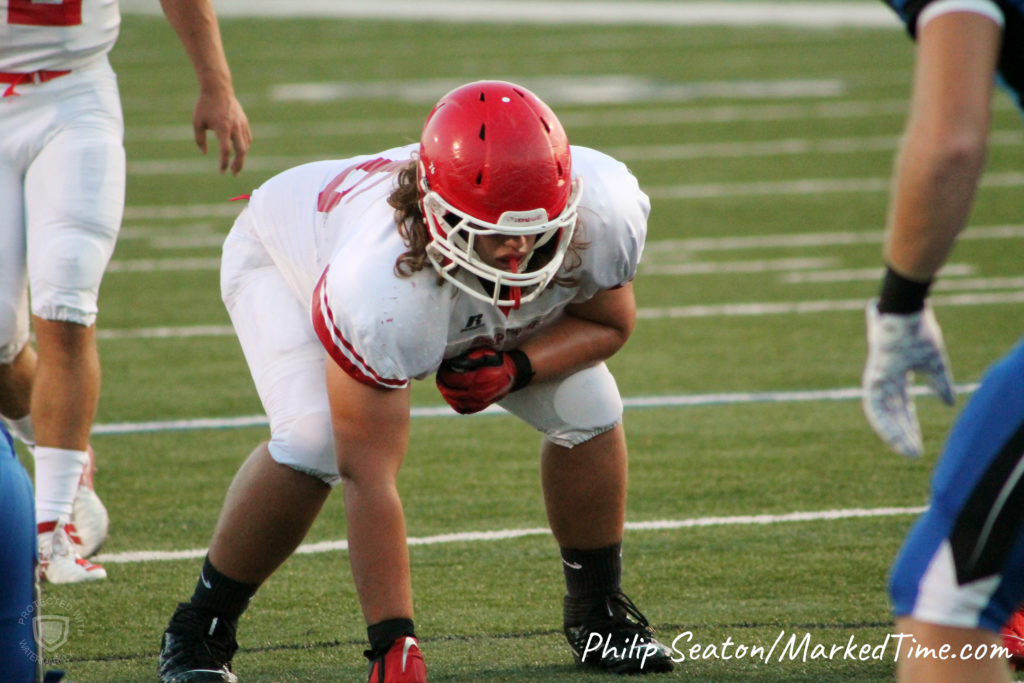 GAME NOTES
SERIES: With the growing enrollment at Greenbrier, the meeting will mark the last in the series between the former conference foes. The Panthers nonconference schedule next season will consist of Newport, Harding Academy and Dover.
CLOSE GAMES: 24 games in the series have been decided by a touchdown or less, including Friday night's contest.
BIG CAT PLAY: Heber Springs had its first "Big Cat" play (a play of 50 yards or more) when Julio Rubio broke free for a 79-yard touchdown run early in the fourth quarter.
STATE RECORD AND COUNTING: As a team, Heber Springs has connected on 108 extra-point kicks which is a team state record. Julian Cameron connected on 100 straight before graduating last season. Graduated senior Seth Dickson also connected on two extra point kicks in 2018. Friday night, Jackson Harrod is a perfect five-for-five on the season.
FOX 16's FEARLESS FRIDAY: For the second week in a row, Wess Moore's Fox 16 Fearless Friday show had a crew to film Heber Springs. In week one against Clinton, Stephanie Sharp reported live after that game.
PANTHER PLAYERS OF THE GAME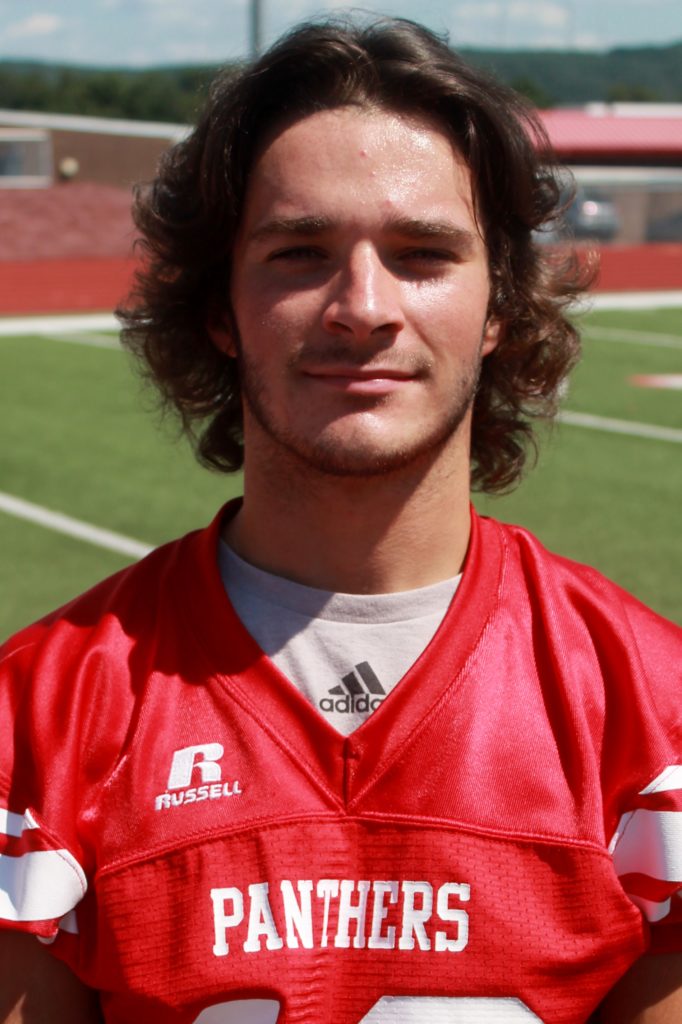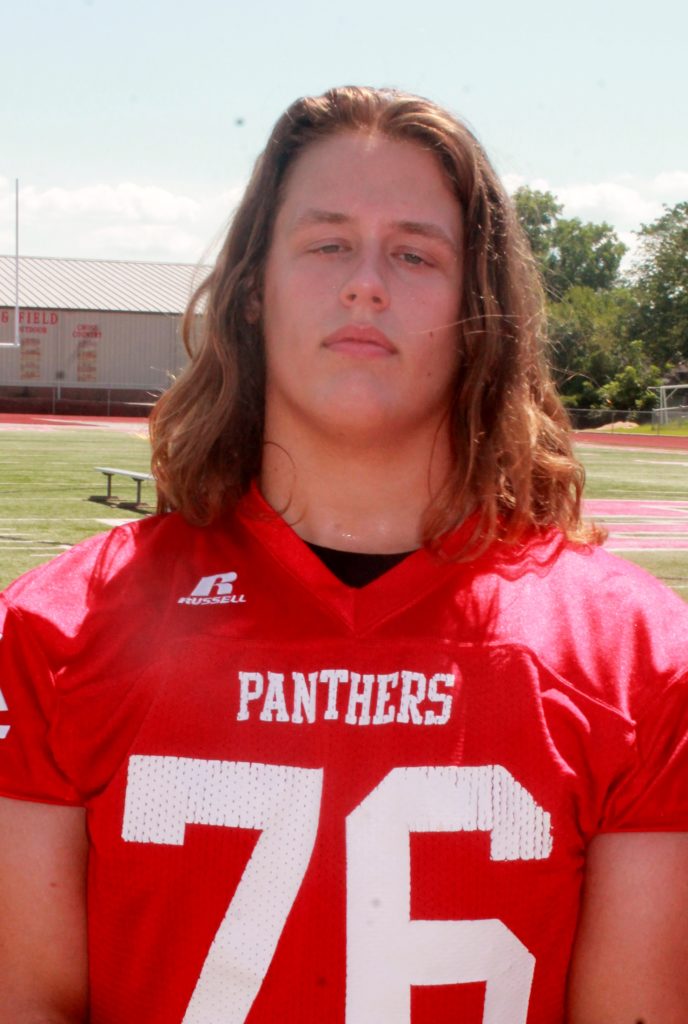 SCORING
Heber Springs (0-2)       7  0  0  14 - 21
Greenbrier (2-0)          7  7  14  7 - 35

FIRST QUARTER
Heber Springs - Adam Martin 1-yard run (Jackson Harrod kick), 5:03
Greenbrier - Peyton Long 6-yard run (Cody Powell kick), 1:05
SECOND QUARTER
Greenbrier - Jackson Riddle to Jaron Kuykendall 10-yard pass (Powell kick), 3:34
THIRD QUARTER
Greenbrier - Long 3-yard run (Powell kick), 9:53
Greenbrier - Long 5-yard run (Powell kick), 1:08
FOURTH QUARTER
Heber Springs - Julio Rubio 72-yard run (Harrod kick), 11:47
Heber Springs - Landon Johnson 3-yard run (Harrod kick), 4:05
Greenbrier - Long 4-yard run (Powell kick), :48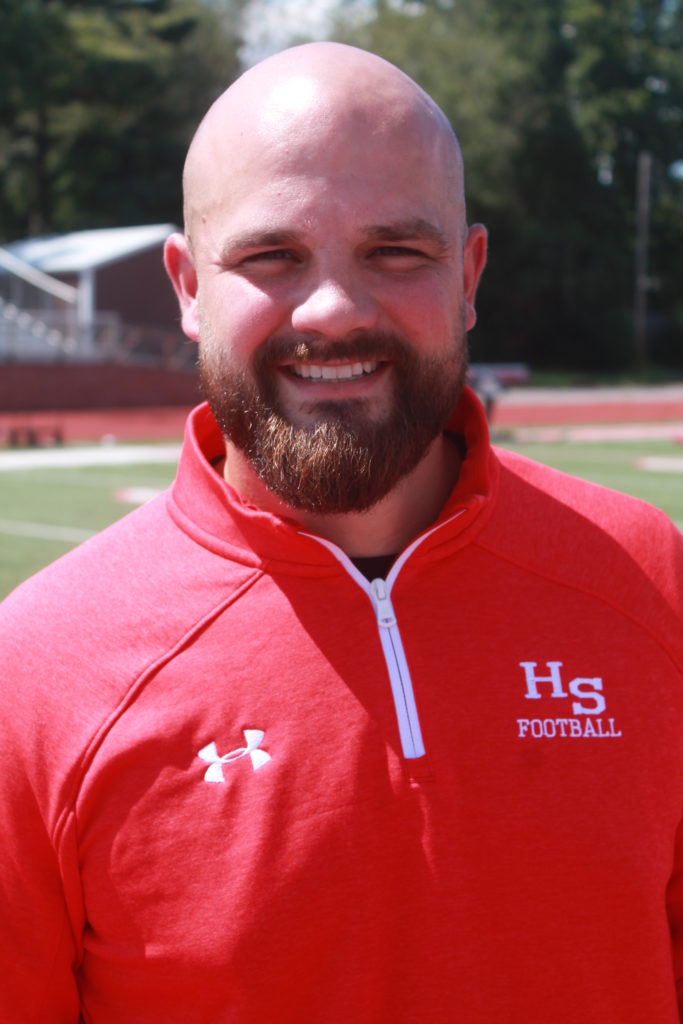 Heber Springs coach Will Cox

We said going into this game that turnovers were going to be the key, and we were minus three on it, (yet) two-and-half minutes left and we are down a touchdown. We have to do a better job of holding on to the football. But more importantly, defensively do a better job of creating turnovers. Our guys scrapped on both sides of the football, and that was exciting to see. A team like Greenbrier, a team as well-coached as they are and has the numbers they have, you can't spot them three series and that's what we did.
TEAM STATS
First Downs by Rush: Heber Springs 17, Greenbrier 6
First Downs by Pass: Heber Springs 4, Greenbrier 9
First Downs by Penalty: Heber Springs 0, Greenbrier 0
Total First Downs: Heber Springs 21, Greenbrier 15
Third-Down Conversions: Heber Springs 6/14, Greenbrier 2/7
Fourth-Down Conversions: Heber Springs 4/7, Greenbrier 0/0
Red-Zone Possessions: Heber Springs 2/2 (2 TDs), Greenbrier 5/5 (5 TDs)
Time of Possession: Heber Springs 29:34, Greenbrier 18:26
Fumbles/Lost: Heber Springs 3/2, Greenbrier 2/0
Turnovers: Heber Springs 3, Greenbrier 0
Points Off Turnovers: Heber Springs 0, Greenbrier 14  
Penalties/Yards: Heber Springs 4/25, Greenbrier 5/40
Plays/Total Offense/YPP: Heber Springs 76/390/5.2, Greenbrier 46/254/5.4
Rushing: Heber Springs 56/305/5.5, Greenbrier 28/77/2.7
Passing: Heber Springs 10/20-85-0/1, Greenbrier 16/18-177-1/0
Sacks/Yards Lost: Heber Springs 4/16, Greenbrier 3/11
Punts: Heber Springs 1/38/38, Greenbrier 4/143/35.8
INDIVIDUAL STATS
OFFENSE
RUSHING: Heber Springs, Adam Martin 28/120/4.3, Julio Rubio 23/170/7.4, Landon Johnson 4/9/2.3, Nathan McKee 1/6/6. Greenbrier, Peyton Long 20/110/5.5, Jackson Riddle 6/(-26)/(-3.7), Trey Havens 2/(-7)/(-3.5).
RUSHING RUNS OF 50+: Heber Springs, Julio Rubio (1)
RUSHING RUNS OF 40+: Heber Springs, Julio Rubio (1) 
RUSHING RUNS OF 30+: Heber Springs, Julio Rubio (1).
RUSHING RUNS OF 20+: Heber Springs, Adam Martin (1), Julio Rubio (1). Greenbrier, Peyton Long (1).
RUSHING RUNS OF 10+: Heber Springs, Adam Martin (4), Julio Rubio (3). Greenbrier, Peyton Long (5), Jackson Riddle (2).
PASSING: Heber Springs, Adam Martin 10/20-85-0/1. Greenbrier, Jackson Riddle 16/18-177-1/0.
RECEIVING: Heber Springs, Hunter Kent 3/27, Matthew Cook 3/21, Julio Rubio 2/20, Nathan McKee 1/10, Fate Berry 1/7. Greenbrier, Talon Moore 5/31, Bryce Morehart 4/55, Logan King 2/35, Brody Johnson 2/22, Jaron Kuykendall 2/15, Ryan Barnard 1/19.
RECEPTIONS OF 20+: Greenbrier, Bryce Morehart (2), Logan King (1).
TOTAL OFFENSE: Heber Springs, Adam Martin 205, Julio Rubio 170, Landon Johnson 9, Nathan McKee 6.
PUNT RETURNS: None
KICK RETURNS: Heber Springs, Hunter Kent 3/46, Julio Rubio 1/12, Nathan McKee 1/11. Greenbrier, Talon Moore 1/25, Logan King 1/18, Brody Johnson 1/18. 
FUMBLE RETURNS: None
INTERCEPTION RETURNS: None
ALL-PURPOSE YARDS: Heber Springs, Julio Rubio 202, Adam Martin 120, Hunter Kent 73, Nathan McKee 27, Matthew Cook 21, Landon Johnson 9, Fate Berry 7. Greenbrier, Peyton Long 110, Talon Moore 56, Bryce Morehart 55, Logan King 53, Brody Johnson 40, Ryan Bernard 19, Jaron Kuykendall 15, Trey Havens (-7), Jackson Riddle (-26).
DEFENSE
TACKLES (Shared/Solo/Total): Heber Springs, Fate Berry 8/3/11, Levy Phillips 4/3/7, Kaden Hughes 2/3/5, Landon Johnson 4/1/5, Harley Bresnahan 3/2/5, Dalton McCollum 2/2/4, Hunter Kent 3/1/4, Matthew Cook 3/1/4, Lawrence Baureis 2/1/3, Jackson Harrod 1/0/1, Jackson West 1/0/1, Trent Barnes 1/0/1, Devon Doxey 1/0/1, Preston Jones 1/0/1. Greenbrier, Ryan Barnard 8/8/16, Jacob Keller 12/4/16, Ty Embry 5/5/10, Talon Moore 6/3/9, Chance Embry 3/4/7, Jeremy Hardcastle 3/3/6, Payton Riddle 2/4/6, Dawson Spencer 3/2/5, Bryce Morehart 2/3/5, Nick Huett 2/2/4, Brandon Beck 1/3/4, Avery Thomas 2/1/3, Logan King 2/1/3, Tanner Collins 2/1/3, Keaton Whitley 1/0/1, Trey Havens 1/0/1, Jeremy Parker 1/0/1, Josh Robinson 1/0/1.
TACKLES FOR LOSS: Heber Springs, Levy Phillips 2, Fate Berry 1, Landon 1, Harley Bresnahan 1. Greenbrier, Ryan Barnard 2, Jacob Keller 1, Payton Riddle 1.
SACKS/YARDS LOST: Heber Springs, Levy Phillips 1/5, Kaden Hughes 1/4, Harley Bresnahan 1/4, Fate Berry 1/3. Greenbrier, Jeremy Hardcastle 1/7, Payton Riddle 1/2, Avery Thomas 1/2.
INTERCEPTIONS: Greenbrier, Ryan Barnard 1.
FUMBLE RECOVERIES: Greenbrier, Ryan Barnard 1, Jacob Keller 1.
GAME SCENES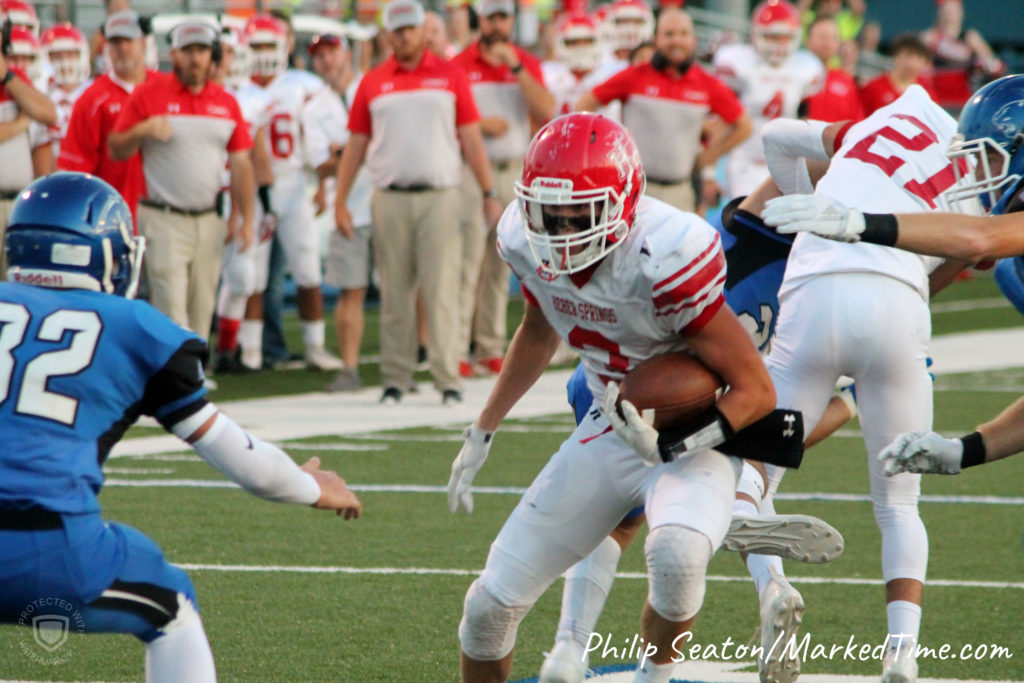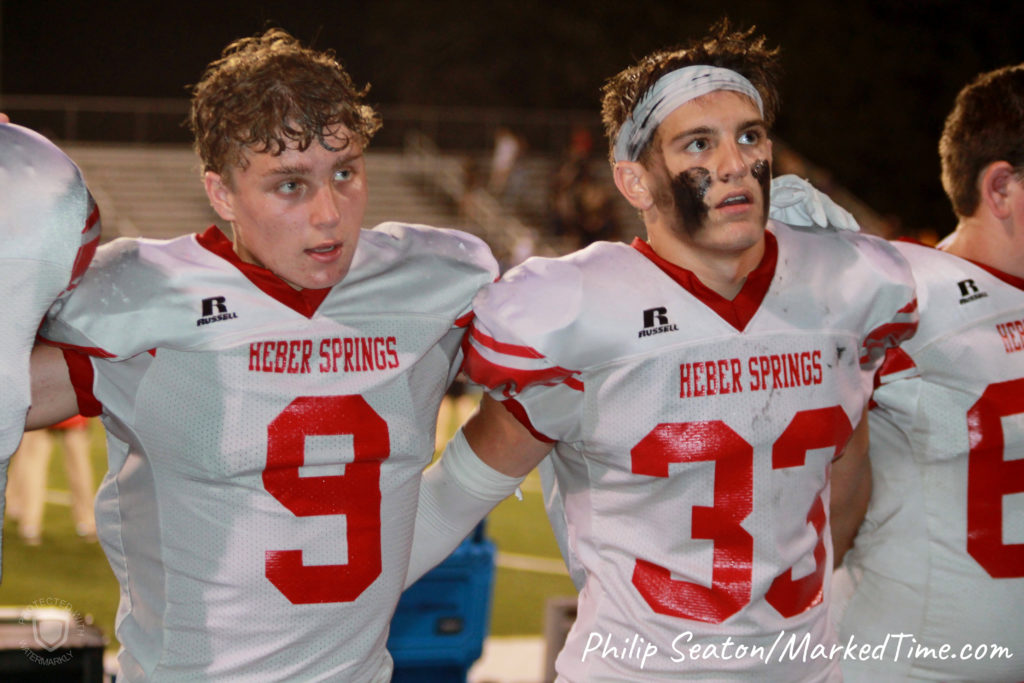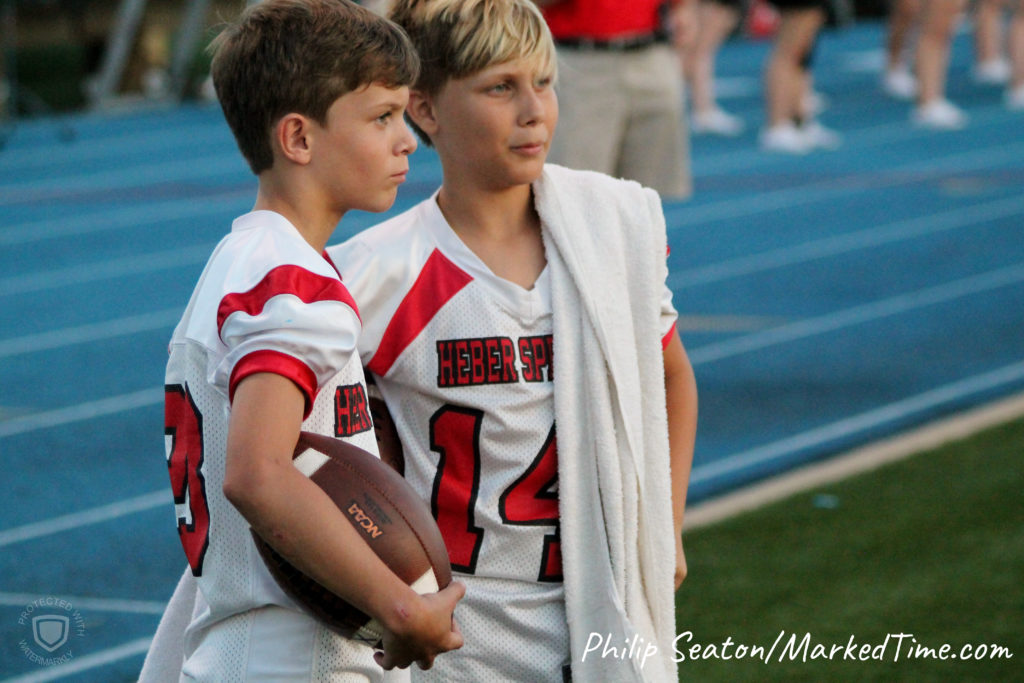 Follow MarkedTime.com on Twitter @ARSportsArchive
Follow MarkedTime.com on Facebook fb.me/ARSportsArchive
Always taking submissions of old photos, and other collections of old sports notes and scorebooks of any sport on any level, including recreational, as long as it is Arkansas based.
VHS tapes: Can convert them for free. Please e-mail me at: pseaton1970@yahoo.com or message me on Facebook.
Contact me at pseaton1970@yahoo.com or on Facebook.
Please share.