Heber Springs tops Mills, heads to playoffs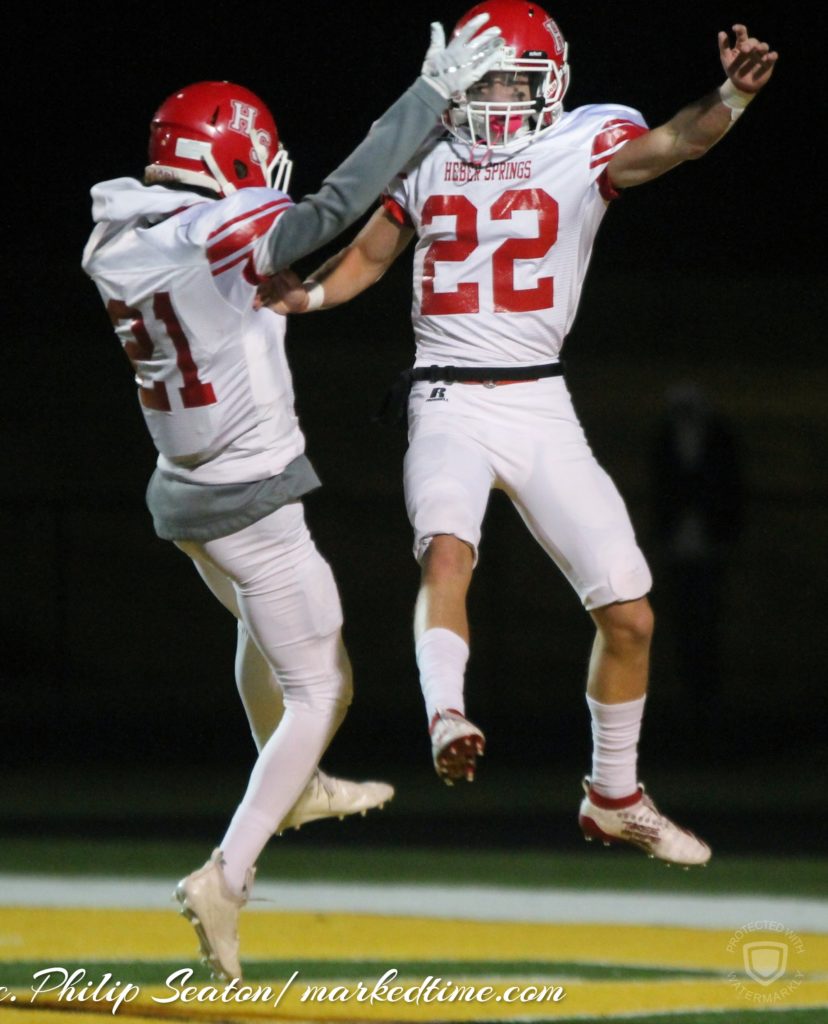 November 8, 2019
By PHILIP SEATON
LITTLE ROCK – With a playoff berth and seeding secured for Heber Springs, the Panthers took care of business Friday night with a 28-14 victory over Little Rock Mills.
Earlier in the week the drama had been taken out of Friday's night game when the Arkansas Activities Association ruled that the Comets had used an ineligible player forcing the Mills to forfeit all four of their wins, including all three conference contests. That ruling assured that the Panthers would be in the playoffs regardless of the outcome of Friday's game.
Friday night Adam Martin passed for two touchdowns and ran for another while Nathan McKee caught one of those touchdown passes and also had an interception in the win.
The two teams traded possessions to open the contest before the Panthers took over on their own 47 driving to the Mills 13 before the drive stalled on fourth down.
The Comets took over and drove to the Heber Springs 47 after converting on a fourth-and-3 play. On the next play, Lavell Carnell connected with Zack Smith for a 47-yard scoring strike to make it 6-0 after the PAT kick failed with 11:01 to play in the half.
The Panthers responded with an 11-play, 60-yard drive that Martin capped with a 5-yard touchdown run with 6:51 to play in the first half. Jackson Harrod kicked the PAT and Heber Springs led, 7-6
The Panther defense got a stop on the Comets next possession stopping Mills on a fourth-and-3 own their own 40 for a two-yard loss. On the next play, Martin found Hunter Kent in stride for a 38-yard touchdown pass with 3:31 to play in the second quarter.
Mills had a response with a 55-yard drive that Carnell finished off with a 1-yard quarterback sneak with 9 seconds left in the half. Carnell added the two-point conversion to make it 14-all at the break.
Nicholas Hitchcock recovered the onside-kick attempt for Heber Springs to start the second half, and the Panthers appeared to be marching in for a score after Martin connected with Landon Johnson for a 29-yard gain on third-and-10 to move the ball to the Mills 15. But Martin was sacked for a 6-yard loss by Shon Moore forcing a third-and-14, Heber Springs was unable to convert turning the ball over on downs at the Comet 10.
The Panther defense came up big keeping Mills pinned inside the 10, including almost recording a safety on back-to-back to plays. Punting from his own end zone, Carnell shanked the punt giving Heber Springs a short field at the Comet 13.
Four plays later Julio Rubio punched the ball in from the 2 to make it 21-14 with 6:10 left in the third quarter.
Mills' next drive stalled the Panther 38 when McKee stepped in front of the Carnell pass attempt at the 20 returning to the 36. But Heber Springs went backwards on the ensuing drive thanks in part to holding and false start penalties.
The Panthers got another turnover as junior Diego Rubio pounced on a loose football at the Heber Springs 46, the third straight week Rubio has recovered a fumble. Back-t0-back unsportsmanlike penalties against the Comets after the fumble, which led to the ejection of Carnell, gave the Panthers the ball on the 24.
On the ensuing play, Martin connected with McKee to put Heber Springs up 28-14 with 53 seconds left in the third.
Mills threatened again with 9:06 left after Julius Graves intercepted a Martin pass attempt at the Panther 21, but the Panther defense stiffened in the red zone forcing the Comets to turn the ball over on downs at the 9.
After a three-and-out, Mills got the ball back with 4:37 left at the Panther 40 and reached the Panther 7 with 1:02 to play but an incomplete pass on fourth down sealed the win for Heber Springs.
COACH WILL COX POSTGAME COMMENTS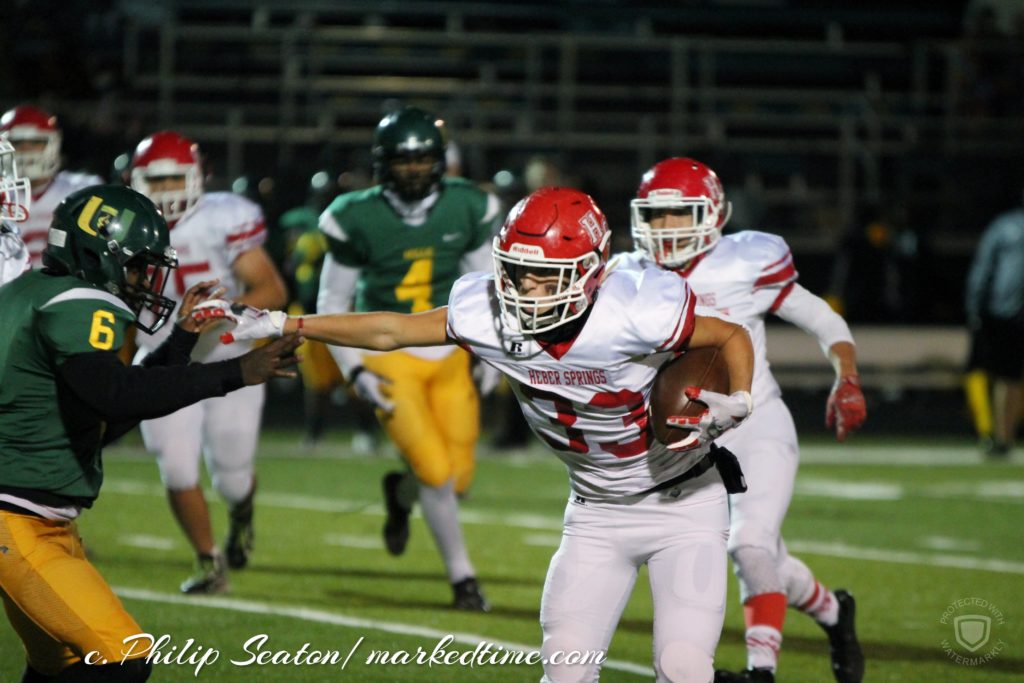 SCORING
Heber Springs (4-3, 4-6)                 0  14   0   0  - 14    
Little Rock Mills (0-7, 0-10             0  14  14   0  - 28    

SECOND QUARTER    
Mills - Lavell Carnell to Zack Smith 47-yard pass (kick failed), 11:01 
Heber Springs - Adam Martin 5-yard run (Jackson Harrod kick), 6:51
Heber Springs - Adam Martin to Hunter Kent 38-yard pass (Harrod kick), 3:31
Mills - Carnell 1-yard run (Carnell run), :09
THIRD QUARTER    
Heber Springs - Julio Rubio 2-yard run (Harrod Kick), 6:10
Heber Springs - Martin to Nathan McKee 24-yard pass (Harrod kick), :53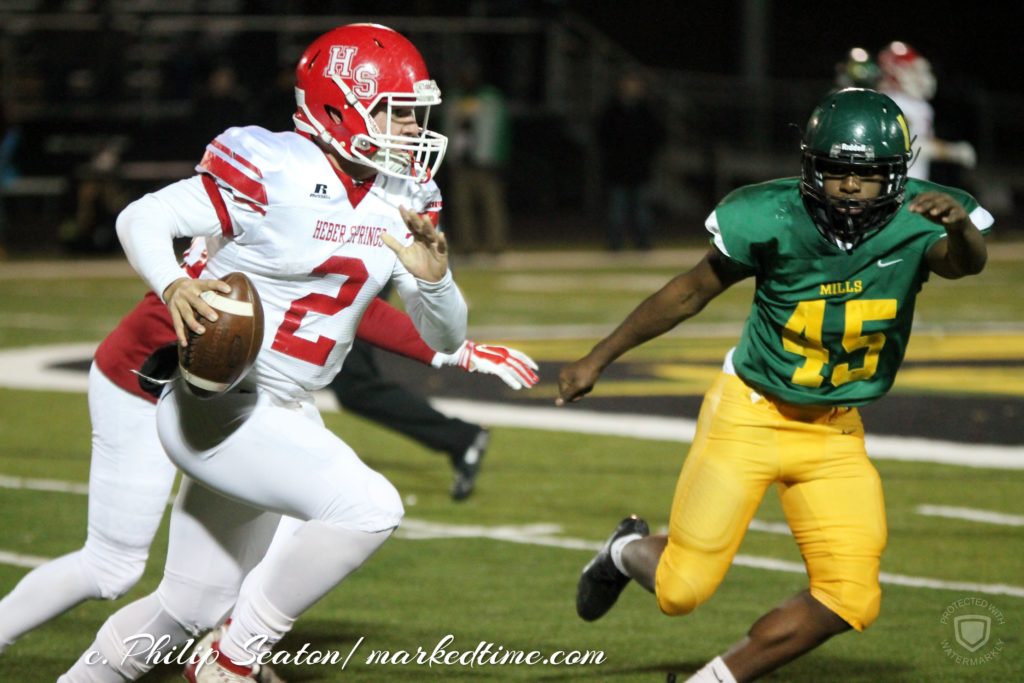 TEAM STATS
First Downs by Rush: Heber Springs 6, Mills 8
First Downs by Pass: Heber Springs 9, Mills 3
First Downs by Penalty: Heber Springs 0, Mills 1
Total First Downs: Heber Springs 15, Mills 12
Third-Down Conversions: Heber Springs 4/11, Mills 4/16
Fourth-Down Conversions: Heber Springs 0/2, Mills 5/8
Red-Zone Conversions: Heber Springs 2/4, Mills 1/3
Time of Possession: Heber Springs 23:23, Mill 24:37
Fumbles/Lost: Heber Springs 0/0, Mills 2/2
Turnovers: Heber Springs 1, Mills 3   
Points Off Turnovers: Heber Springs 7, Mills 0
Penalties: Heber Springs 8/53, Mills 11/90
Plays/Total Offense/YPP: Heber Springs 57/246/4.3, Mills 64/224/3.5
Rushing: Heber Springs 28/70/2.5, Mills 41/121/2.9
Passing: Heber Springs 19/29-176-2/1, Mills 9/23-103-1/1 
Sacks/Yards Lost: Heber Springs 1/0, Mills 2/15
Punts: Heber Springs 3/94/31.3, Mills 3/82/27.3
Punts Inside 20: Heber Springs 1, Mills 0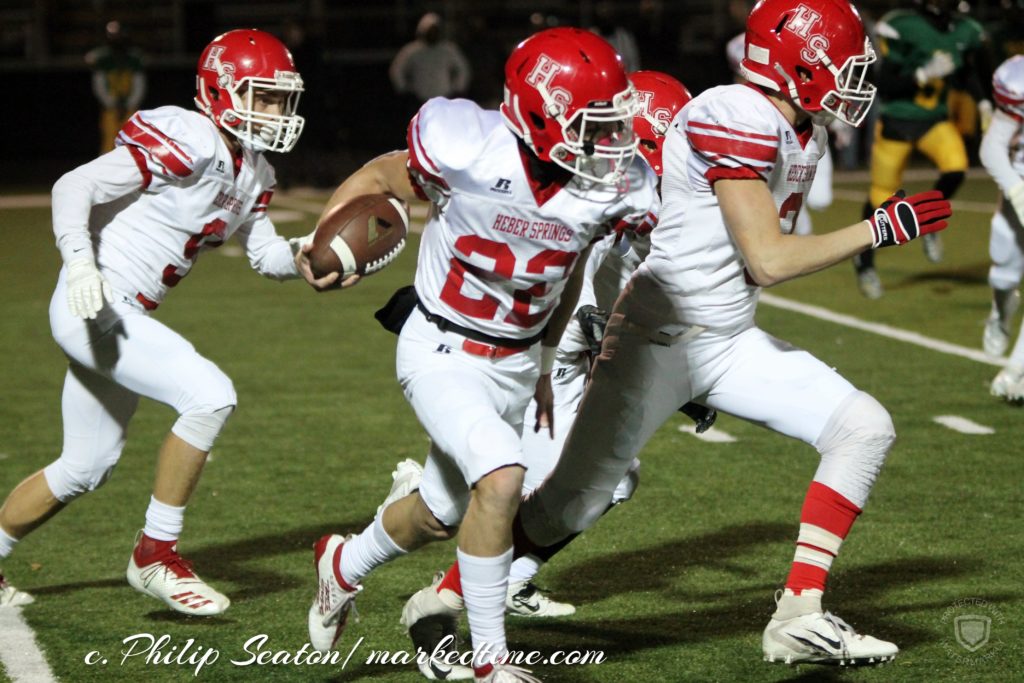 INDIVIDUAL STATS
OFFENSE 
RUSHING: Heber Springs, Julio Rubio 12/39/3.3/1, Adam Martin 10/29/2.9/1, Team 4/(-10)/(-2.5), Landon Johnson 2/12/6. Mills, Lavell Carnell 16/45/2.8, Reggie Swinton II 13/41/3.2, Keilon Davis 7/34/8.0, G'Kyson Wright 5/1.
RUSHING RUNS OF 20+: Heber Springs, Julio Rubio (1) 
RUSHING RUNS OF 10+: Heber Springs, Julio Rubio (2), Adam Martin (1). Mills, Lavell Carnell (2), Reggie Swinton II (1)
PASSING: Heber Springs, Adam Martin 19/29-176-2/1. Mills, Lavell Carnell 7/14-77-1/1, G'Kyson Wright 2/9-26-0/0
RECEIVING: Heber Springs, Nathan McKee 6/62/1, Landon Johnson 5/49, Hunter Kent 3/41/1, Matthew Cook 3/10, Fate Berry 1/12, Julio Rubio 1/2. Mills, Zack Smith 5/90/1, Keilon Davis 2/5, Kammarion Slade 1/6, Eugene Hinton 1/2.
TOTAL OFFENSE: Heber Springs, Adam Martin 205, Julio Rubio 39, Landon Johnson 12, Team (-10). Mills, Lavell Carnell 122, Reggie Swinton II 41, Keilon Davis 34, G'Kyson Wright 27.
PUNT RETURNS: Mills, Keilon Davis 1/11.
KICK RETURNS: Heber Springs, Nathan McKee 1/14, Hunter Kent 1/6. Mills, Keilon Davis 2/25, Tamarion Hunter 2/12.
FUMBLE RETURNS: None 
INTERCEPTION RETURNS: Heber Springs, Nathan McKee 1/16. Mills, Julius Graves 1/14
ALL-PURPOSE YARDS: Heber Springs, Nathan McKee 92, Landon Johnson 61, Hunter Kent 47, Julio Rubio 41, Adam Martin 29, Fate Berry 12, Matthew Cook 10. Mills, Zack Smith 90, Keilon Davis 75, Lavell Carnall 45, Reggie Swinton II 41, Tamarion Hunter 12, Kammarion Slade 6, Eugene Hinton 2, G'Kyson Wright 1.  
DEFENSE 
TACKLES (Shared/Solo/Total): Heber Springs, Landon Johnson 14/1/15, Lawrence Baureis 9/1/10, Fate Berry 7/2/9, Nathan McKee 7/2/9, Nicholas Hitchcock 6/2/8, Julio Rubio 4/3/7, Diego Rubio 7/0/7, Kaden Hughes 4/1/5, Matthew Cook 2/2/4, Dalton McCollum 3/0/3, Levy Phillips 2/0/2, Hunter Kent 2/0/2, Trevor Weathers 1/0/1, Jackson Harrod 1/0/1 
TACKLES FOR LOSS: Heber Springs, Julio Rubio 6, Lawrence Baureis 4, Kaden Hughes 2, Nicholas Hitchcock 2, Landon Johnson 1, Nathan McKee 1
SACKS: Heber Springs, Diego Rubio .5, Landon Johnson .5. Mills, Eddie Brown 1/9, Shon Moore 1/6.
INTERCEPTIONS: Heber Springs, Nathan McKee. Mills, Julius Graves
FUMBLE RECOVERIES: Heber Springs, Nicholas Hitchcock, Diego Rubio
PUNTING: Heber Springs, Adam Martin 3/94/31.3. Mills, Lavell Carnall 2/33/22, G'Kyson Wright 1/38
PUNTS INSIDE 20: Heber Springs, Adam Martin (1).
ALMA MATER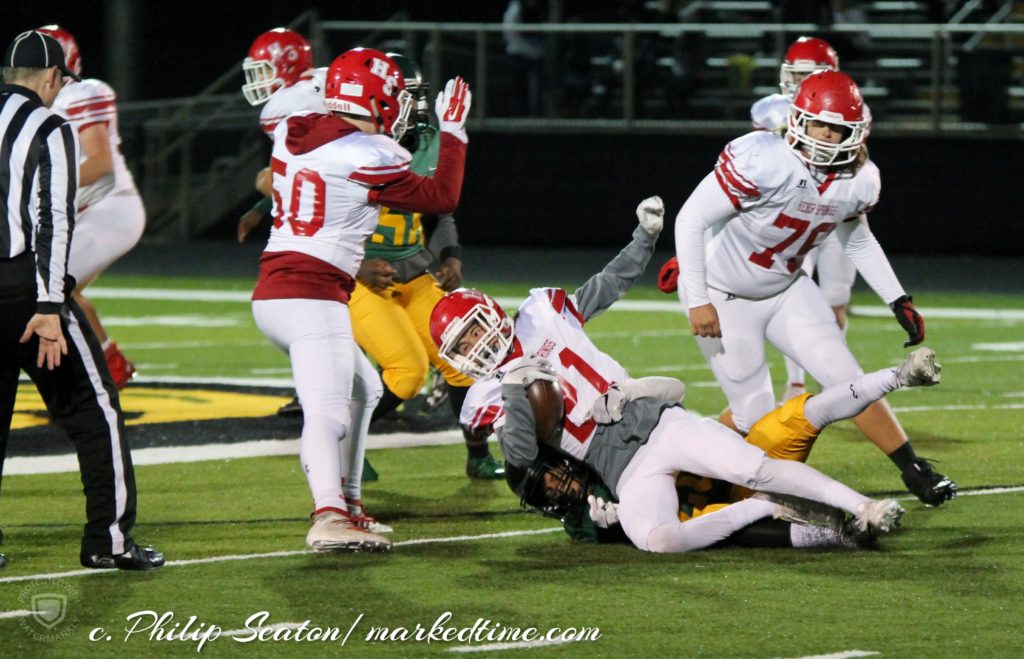 FINAL 4A-2 STANDINGS
                            W L CP  W L  PS  PA   
Riverview                   5 2 52  7 3  337 278 
Southside Batesville        5 2 54  7 3  340 246
Central Arkansas Christian  5 2 59  7 3  296 220       
Lonoke                      5 2 47  6 4  293 297
Heber Springs               4 3 41  4 6  274 300        
Bald Knob                   3 4 13  3 7  160 310                 
Stuttgart                   1 7 13  1 9  238 341
Little Rock Mills           0 8  0  0 10 202 264    

Friday, November 1
Central Arkansas Christian 34, Bald Knob 6
Heber Springs 49, Riverview 35
Lonoke 35, Stuttgart 28
Southside Batesville 50, Little Rock Mills 23

Thursday, November 7
Lonoke 26, Riverview 14
Central Arkansas Christian 28, Stuttgart 6

Friday, November 8
Bald Knob 27, Southside Batesville 22
Heber Springs 28, Little Rock Mills 14
CORRECTION FROM LAST WEEK: In preparing the playoff scenarios for the 4A-2 in Friday's game preview, the conference point was incorrect for Riverview. With the forfeits by Mills, every team that played them in conference received 13 conference points. Riverview had defeated Mills by 10, 37-27, October 11 but those adjusted points were inadvertently left out of the conference totals in Friday's preview.
CONFERENCE CHAMPS: With Bald Knob's win over Southside Batesville Friday night, it created a four-way tie at the top of the conference standings. As a result, Lonoke, Riverview, Southside Batesville and CAC all claim a share of the conference crown. It is the first conference title for Riverview. The fifth for CAC. The second for Southside Batesville and the 13th for Lonoke.
PLAYOFFS: No. 1 Riverview hosts Bauxite, No. 2 Southside Batesville hosts Star City, No. 3 CAC hosts Gentry, No. 4 Lonoke travels to Pea Ridge and No. 5 Heber Springs travels to Shiloh Christian.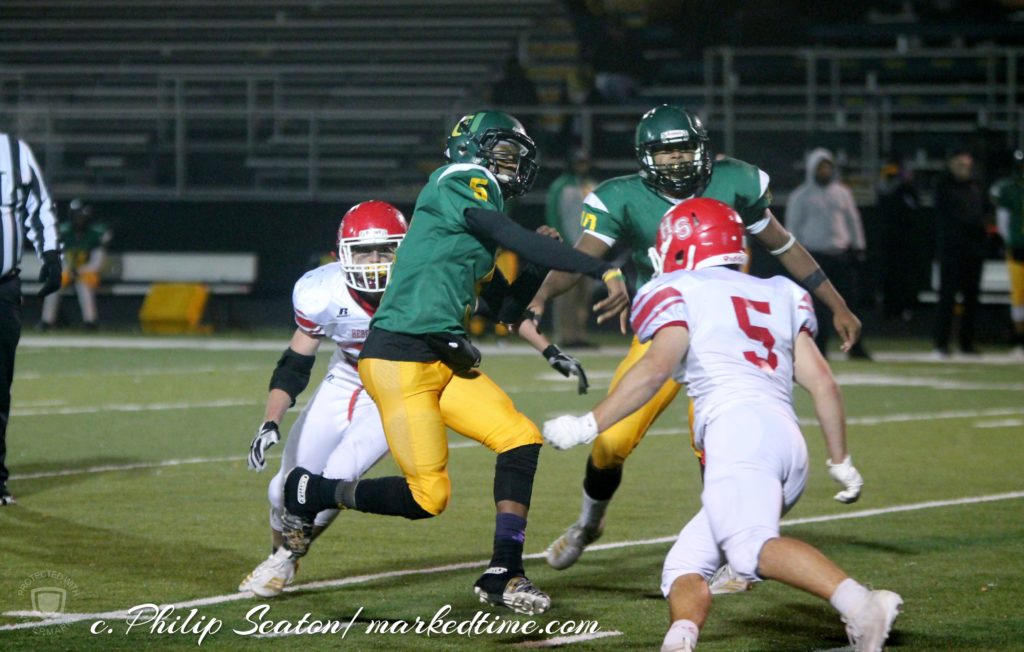 VIDEO CLIPS
By BILLY SMALLWOOD