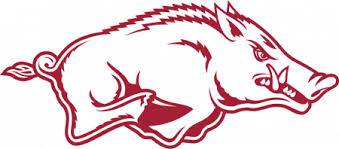 November 10, 2019
Who do you want to see become the next University of Arkansas coach?
Mike Norvell, Memphis (33%, 44 Votes)
Lane Kiffin, Florida Atlantic (23%, 31 Votes)
Hugh Freeze, Liberty (8%, 10 Votes)
Other (8%, 10 Votes)
P.J. Fleck, Minnesota (6%, 8 Votes)
Matt Campbell, Iowa State (6%, 8 Votes)
Mike Leach, Washington State (5%, 7 Votes)
Matt Rhule, Baylor (4%, 5 Votes)
Eliah Drinkwitz, Appalachian State (3%, 4 Votes)
Dave Clawson, Wake Forest (2%, 3 Votes)
Luke Feckell, Cincinnati (2%, 2 Votes)
Chris Klieman, Kansas State (1%, 1 Votes)
Total Voters: 133

Loading ...
Chad Morris was fired as head coach of the University of Arkansas football program one day after a disastrous 45-19 home loss to Western Kentucky.
The loss dropped the Razorbacks to 2-8 on the season and 4-18 under Morris in just under two seasons. Long-time Arkansas assistant and former player Barry Lunney Jr. has been named interim coach for the two remaining games on the schedule, a Nov. 23 date at No. 1 LSU and a game in Little Rock against Missouri on Nov. 29.
The news began circulating last night after the loss but was made official by the university this morning in an official release. No details of the buyout were included in the release.
For Razorback fans, this will be the second coaching search in as many years and the third since 2012. Arkansas is 1-21 against Southeastern Conference opponents since 2017 and with the program floundering, going 4-4 against non-Power 5 schools under Morris' watch, the next hire will come at a pivotal time in Razorback football history.
With all of that said, many local and national pundits have already released lists of who they think Arkansas should hire, many are the same names that were bantered about two years ago when Morris was hired. The difference between that hire and this one is the man now in charge of the athletics department at the University of Arkansas — Hunter Yurachek.
So to be perfectly honest, many of these people don't know what they are talking about, just like me. They can only make guesses and assumptions, like me.
It should noted, that one should not expect a hire until after the completion of the regular season and that many names are going to appear and disappear. Agents will use the Arkansas job to get their clients raises (and will intentionally float their client's names), boosters will float and leak names in an effort to get momentum for someone of interest to them or to gauge the interest of the fans and out of work coaches will express interest publicly because they have nothing to lose.
With that said, the only tangible evidence that we have to go by into what Yurachek might be thinking is the two hires he has made since taking over the department – Eric Musselman for men's basketball and Jordyn Wieber for gymnastics.
Musselman came to Arkansas from Nevada where he lead a mid-major program to success. He had previously been an assistant at LSU after years in the professional ranks where he followed his father's footsteps into coaching at the professional level. Musselman is a high-energy guy that is detail oriented and consistently studies the game.
Wieber is young and without head coaching experience, but was hired after helping guide UCLA to a 2018 national title as a volunteer assistant. She has competed and excelled at the highest levels of her sport, winning a Gold Medal at the 2012 Olympics as well as being the U.S. all-around champion in 2011 and 2012. Her name is well-known and well-respected in the gymnastics community instantly creating a buzz for the Razorback program when she was hired.
So what can we take from these hires? Obviously the basketball hire was well-followed by the fans and the media. Musselman was not near the top, nor was he on many of the lists, when the news broke that Mike Anderson had been fired last spring.
Though football is the "cash cow" for the athletic department so the parameters may vary to some degree, but with a mindset along Yurachek's previous hires, here are a list of candidates, keeping in mind with my analysis that is nothing more than an educated (insert jokes here) guess going on the assumptions that fit that bill of previous Yurachek hires at Arkansas (high energy, competed or coached at highest levels, well-respected in profession, attention to detail).
SILLY NAMES, CROSS THEM OFF NOW
ANAYSIS: I am not going to their backgrounds, Razorback fans should already know them, so I am going to give you a list of names to scratch off now because they are not going to happen, Houston Nutt and Bobby Petrino. Sure many long for the good times with those coaches, but not going to happen with either one. And just like last time, I am sure Jon Gruden will be seen in Fayetteville, but not going to happen.
SAME NAMES, PART DEUX
Seemingly the leader out of the gate this time around, Norvell has Arkansas connections having played under Clint Conque at the University of Central Arkansas and starting his coaching career at UCA. His wife is also from the state. After serving as an assistant at Tulsa, Pittsburgh and Arizona State, Norvell has led Memphis to a 34-15 and two American Athletic Conference Championships. BACKGROUND: Offensive: PROS: Young and energetic. Has Arkansas connections. Continued the success of his predecessor, Virginia Tech coach Justin Fuente. Reportedly has a low buyout. CONS: Hasn't built a program from the bottom nor does he have any professional experience. There were rumors floating when his name was bantered about when Morris was hired. Could they still be out there? ANALYSIS: He could wind up in Fayetteville.
Leach was a hot name the last time around with many pundits linking him to the Arkansas job. The same this time around. Leach has a career record of 137-88, with a current record of 53-45 in Pullman. He was successful at Texas Tech becoming the school's all-time wins leader there before controversy ended his tenure in Lubbock. BACKGROUND: Offensive. PROS: Leach has only had two losing seasons as a head coach. His first and third seasons at Washington State. Led the Cougars to 11 wins in 2018. CONS: A sub-par 2019 campaign has the Cougars in danger of not reaching a bowl game (only one win in conference). Controversy has also followed him at both stops. ANALYSIS: Too much controversy, to make him the right fit for Arkansas.
An Arkansas high school coaching legend, was linked to the job the last time around. BACKGROUND: Offensive. PROS: SEC experience. Very well-known in Arkansas. CONS: Used the Arkansas job the last time to get a raise from Auburn. ANALYSIS: Not going to happen. His name is thrown out there because pundits need names to fill copy.
Currently the head coach at Florida Atlantic where his teams have won 11 games in 2017, 5 games in 2018 and set at 7-3 this season. BACKGROUND: Offensive. PROS: SEC experience at a head coach at Tennessee. Head-coaching experience in the NFL. Has some experience in the state having lived in Fayetteville before the age of 5 while has dad, Monte Kiffin, was serving as defensive coordinator under Lou Holtz. CONS: Kiffin is another controversial figure. Hasn't coach anywhere longer than four seasons. ANALYSIS: Kiffin definitely fits the criteria with NFL experience. He could end up as coach at Arkansas, but much like Leach, will the controversy will cost him a chance in the end?
It seems that Gundy's names has been mentioned in every coach in the past decade, probably because it has. ANALYSIS: If hasn't happened yet, don't see that changing now.
HIRE HIM IF YOU CAN GET HIM CANDIDATE
The former Oklahoma coach, and current XFL Dallas Renegades coach. BACKGROUND: Defensive. PROS: Won a National Title at Oklahoma. Experience. CONS: Retired from Oklahoma stating he was tired of recruiting. Was linked to Florida State job earlier this week and turned it down. ANALYSIS: Stoops is mentioned because you at least make a call to see if he is interested. If he wants the job, throw the bank at him. Not going to happen though.
LOOKING FOR SECOND-CHANCE CANDIDATES
Former Arkansas State and Ole Miss head coach, currently at FBS Liberty University, 5-3 record up to this point. BACKGROUND: Offensive. PROS: Did well at Ole Miss including beating Alabama. Coached in the state. CONS: Controversy surrounded his tenure at Ole Miss. ANALYSIS: Freeze would jump at the opportunity to take the job. As with Leach and Kiffin, will the controversial past be what the program needs? He could end up on the Hill, but I don't see it though Yuracheck was part of the committee that brought Kelvin Sampson to Houston.
RICH RODRIGUEZ, OLE MISS ASSISTANT
Former Arizona and Michigan coach is only mentioned because he was in a national pundit's top 5 candidates. BACKGROUND: Offensive. ANALYSIS: Going to save the space, he is only being mentioned because he would jump at the opportunity. Name floated and bait taken by pundit. Not going to happen.
The former Rutgers and Tampa Bay Buccaneers head coach appears primed to return to Rutgers. ANALYSIS: Not going to happen.
The former Louisiana Tech and California coach took over for Chad Morris at SMU. BACKGROUND: Offensive. ANALYSIS: SMU gave Dykes a second chance and he has rewarded the program nicely, I just can't see Arkansas going back to SMU for this coaching hire.
THE PROVEN UP-AND-COMERS (SUCCEEDED A MORE THAN PROGRAM)
The current University of Minnesota and former Western Michigan coach is a hot name everywhere. BACKGROUND: Offensive. PROS: Led Western Michigan to the Cotton Bowl and 12-win season before taking over Minnesota where he has led the Gophers to an undefeated mark this season. High energy guy. Former NFL assistant coach. Checks all of the Yurachek boxes. Built programs up. Young. CONS: Just signed a contract extension with a $10 million dollar buyout. ANALYSIS: Just signed a contract extension, so if he name gets mentioned, then you would know he was a serious candidate. He should top every AD's wish list and with that he could end up in Fayetteville if wants to end up in Fayetteville.
The current Baylor coach has remarkable turnarounds at both Baylor and Temple. BACKGROUND: Multiple. PROS: Turned a once dormant Temple program into a conference champion before taking over a Baylor program that was rocked by scandal. NFL experience. CONS: Could be waiting to take over at Penn State, which could be happening soon if rumors connecting current Penn State coach James Franklin are true. ANALYSIS: Proven to rebuild programs quickly, just what Arkansas needs. Another candidate that if he wants the job, you give it to him. I don't think it happens because I think the dominoes will fall and ends up in Happy Valley.
Razorback fans may remember Campbell when his Toledo team came into Little Rock and downed the Razorbacks in 2015. He used that season to get the Iowa State job. BACKGROUND: Offensive. PROS: Turned around Toledo and has made Iowa State respectable. Definitely a high energy guy, runs the student section before home games. CONS: Hasn't pushed Iowa State past the eight-win mark, but not many have. ANALYSIS: Campbell played at Division III powerhouse Mount Union, so there isn't the lure of coaching at his alma mater. Turned down a chance to interview for the New York Jets in 2018 so seems content in the college game. If he wants the Arkansas job, would be his.
Clawson has worked his way through the college ranks and currently has Wake Forest at 7-2 and ranked this season. BACKGROUND: Offensive. PROS: Has won conference titles at Fordham, Richmond and Bowling Green. Coached one season as OC at Tennessee. Has taken Wake Forest to three consecutive bowl games. CONS: Never coached west of the Mississippi so his recruiting ties would be on the east coast. ANALYSIS: Not the splashiest as some of the other proven up-and-comers, but would be a solid hire if Arkansas were to gauge his interest.
Harsin's name appears because he coached one season at Arkansas State before landing at Boise State, and by default gets mentioned. ANALYSIS: Harsin is from Boise, played quarterback at Boise State and seems to be at home. Yuracheck would surely listen if Harsin was interested, but just can't see him leaving home.
Going 69-6, including four FCS National Titles, at North Dakota State got Klieman the job at Kansas State, where he has the Wildcats at 6-3. ANALYSIS: Paid his dues in the lower levels of college coaching before finally getting the opportunity at Kansas State. It would be hard to see Klieman leave after one season at the helm.
Fickell is an intriguing candidate having served as head coach at his alma mater, Ohio State, on interim basis (replacing Jim Tressell). After his one season in which the Buckeyes went 6-7, Fickell stayed on the staff at Ohio State before landing the Cincinnati job in 2017. His Bearcats went 4-8 his first season before going 11-2 in 2018 and 8-1 this season. ANALYSIS: Would be a very intriguing hire to say the least, could he be waiting for Ohio State again if Ryan Day decided to turn his attention back to the professional ranks or would he like an opportunity to prove that Buckeyes wrong? Cincinnati is a future nonconference opponent for Arkansas.
THE UNPROVEN UP-AND-COMERS
Spent one season as assistant head coach at Arkansas State before heading to Ole Miss. ANALYSIS: Has Indiana at 7-2 on the year and that is enough to garner attention, but that is coming back-to-back 5-7 campaigns. He would be reach at this point.
ELIAH DRINKWITZ, APPALACHIAN STATE
Drinkwitz' name will get a lot of attention just because of his ties to the state. The former Alma Airedale played at Arkansas Tech and was a coach at Alma and Springdale before assistant coaching stops at Auburn, Arkansas State, Boise State and North Carolina State. ANALYSIS: Took over a program that was on very solid ground when Scott Satterfield left for Louisville. In his first season as head coach, he has Mountaineers at 8-1 overall, including a win over South Carolina on Saturday. With only one season for a body of work, this probably not the right time for Drinkwitz.
BILL CLARK, ALABAMA-BIRMINGHAM
Clark rebuilt the UAB program from scratch and has went 31-17 at the school, including 6-3 season. The long time high school coach has been in college coaching since 2008. ANALYSIS: Though Clark has done wonders at UAB, his extensive high school background might be a tough sell with Razorback fans after the Morris saga.
The Furman graduate has his Rajin' Cajuns at 7-2 in his second season as head coach, after a 7-7 campaign last year. ANALYSIS: Spent time as an assistant at both Clemson and Alabama, but his limited experience will turn off many fans.
OVERALL ANALYSIS
This list above is just that, a list. It is like many that you see and read over the coming weeks. Names will be dropped, airplanes will be tracked and the craziness is about to ensue. Could the next coach at Arkansas not be on the list? Absolutely. A fired NFL coach could garner attention. Though I don't think Arkansas can afford to go with an unproven assistant coach, it could be a hot shot college or pro assistant. One thing is certain, Yurachek will keep things close to his chest and odds are he is been putting together a list already. Other coaching changes will also effect things. One thing is certain, the next coach is going to have to hire a more complete staff, win the press conference with plain talk and not just Twitter hastags, and he is going to have to show a complete commitment to the program and the state. So just hang on the for the ride.