Battle of the Little Red: Heber Springs vs. Clinton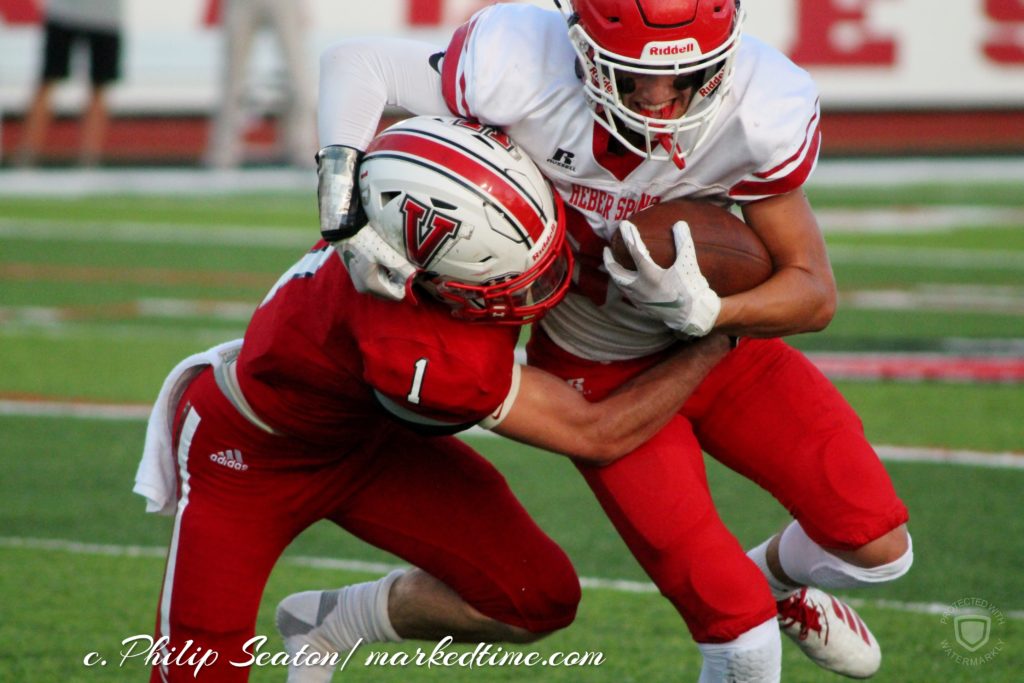 Kickoff: 7 p.m. at Panther Stadium
Admission: $5
Radio: Billy Morgan with handle the play-by-play with Lance Hamilton providing color on KSUG 101.9 The Lake. Panther Pregame begins at 6:30 p.m. followed by the game. Listen live link here.
Honorary Captains: For Heber Springs, members of the "chain gang" from the 1970s, 80s and 90s. For Clinton, former Clinton Yellowjacket and Harding University quarterback Park Parish.
PREGAME FESTIVITIES
Pregame tailgating starts at 4:30 p.m. with a free concert by Clinton's Heath Sanders beginning at 5:30 p.m. Sanders, a former oilfield worker turned full-time musician, whose popularity skyrocketed after a performance on Arkansas native Bobby Bones' radio show in early 2018.
LAST SEASON
A back-and-forth game went to Clinton, 36-34, as Julian Cameron's game-winning field-goal attempt was no good. Lyon College signee Blaze Nelson rushed 33 times for 288 yards and four touchdowns for Heber Springs, while junior Weston Amos passed for 209 yards and four touchdowns including five of those to junior Austin Drake, who finished with 190 yards receiving and three touchdowns.
Heber Springs Coach Will Cox …
GETTING TO KNOW COACH
When Darren Gowen resigned in May to pursue other coaching opportunities in northwest Arkansas (he has since been hired as offensive coordinator at Gravette), the search was put on hold and co-defensive coordinator Will Cox was named the interim coach for the upcoming season.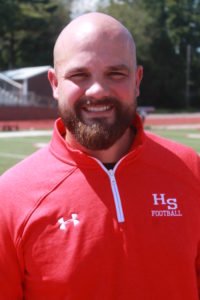 Cox grew up and graduated from Highland in 2007. After high school, he played football at Concordia College in Nebraska. He then entered the coaching field where he coached for two years at his alma mater before spending two years on the staff at Greenville College in Illinois. Cox joined the staff last season and was a co-defensive coordinator.
He is married to Taylor, and the have a son that will be two years old in December, Grayson.
Offensive- or defensive-minded?

I am more of defensive mind of guy. I played defense in high school and college. I'm just a defensive guy, so I enjoy that.

What will Panther fans see defensively?

You are going to see a big change. We have switched to more of a 3-3-stack defense. We are going to be more aggressive in what we are doing. We are smaller than we have been, but what we have done with our defense is identify our 11 to 15 best tacklers and how can we get them on the field. You have a guy like Landon Johnson that has been the starting linebacker. He's playing nose right now and he's wrecking havoc, making our offensive line better. He's a good football player and the closer we can get him to the ball the better. Defensively, we are going to be pretty aggressive and faster. Since we are smaller than we have been in the past, I believe that puts us in a better situation. As a team that also means that we don't have to use offensive linemen on defense which puts us in a situation where we can go faster on offense and stay fresher.
What about the offense?

We are going to be similar to last year and what coach Gowen did. We have Coach (Jay) Bishop who coached with him I think six years and really knows the offense inside and out, but just what you do each year, you change with the personnel you have. We have coach (Chase) Roberts in here this year, and him coach Bishop have really gelled well together. We are putting a little bit more of the quarterbacks' plate this year, when you have a three-year starter (Adam Martin), you can do that so allowing in him to take a little bit more role of ownership of our offense in running more through him and putting the ball in his hands a little bit more. Losing Blaze Nelson, that does change things, when you have him that allows you to do certain things. We don't have Blaze, but we have a group of running backs that give us a lot of different things. The offense will be pretty similar from what you seen on Friday nights last year, but how we get there will be a little bit different.


On the interim coach tag …

It's an awesome opportunity. I think this school and administration has really helped for this team to be successful. We lost one coach and brought in two (Roberts and Hunter Davis). They understand the senior class we have is a talented group of kids, a good group of kids, that have been through a lot so trying to keep that continuity. I told our kids that this is a testament to them,and who they are, and how this administration sees these kids. To be the head coach in Heber Springs is a pretty awesome opportunity. We have a really great situation going.  I would love for that tag to removed at the end of the season and continue on here. I think it's a great place.
THE SERIES
HEBER SPRINGS VS. CLINTON
"Battle of the Little Red"
Clinton leads the series 39-38-5.
Games played in Heber Springs: Tied, 19-19-1
Games played in Clinton: Clinton leads 20-18-4
Games played on a Neutral Field: Heber Springs leads, 1-0.
FIRST MEETING: Heber Springs' first season of football was 1913 and it would be 26 years before Clinton fielded its first team. It didn't take long for the two teams to meet after that with Heber Springs winning the first game played between the two schools on October 13, 1939, in Heber Springs. The Panthers won by a score of 31-0 on that day. The two teams met again less than a month later on Veteran's Day (November 11) 1939 in Clinton where the Panthers and Yellowjackets played to a 6-6 tie. The teams would go on to play continuously after that with a couple of exceptions. During World War II, neither school fielded a team during the 1943 season while Clinton did not field one during the 1944 season. After the war, Clinton and Heber Springs would meet twice per season in 1945 and 1946 with the Yellowjackets winning all four meetings. Financial constraints in the Heber Springs School District forced the school to not field a football team for the 1947 and 1948 seasons. The two teams meet again during the 1949 season with Clinton winning both games of the home-and-home series. The teams would go on continuously playing until 2007 when the opener scheduled with Clinton — which was played during the 2006 season at the Hooten's Kickoff Classic at Estes Stadium on the campus of the University of Central Arkansas in Conway — was changed to allow the Panthers to play Mayflower instead of Clinton in the same Kickoff Classic in 2007. The series resumed in 2008 and continues today.
LONGEST WINNING STREAKS: Clinton has won six straight in the series twice. Once from 1945-1949 and the second time from 2000-2005. Heber Springs won seven straight in the series from 1978-1984.
CONFERENCE FOES: Heber Springs and Clinton were first paired in the same conference in 1974. They would be paired in the same conference from 1974-1990. They would again be paired in the same conference from 1993-2001 and from 2008-2013. The two teams will be in the same conference next season when Clinton moves back up to class 4A. The Yellowjackets will replace Riverview in week 9.
OVERTIME GAMES: There have only been three overtime games in the series and those all occurred during a four-year span from 1986-1989. Clinton won a double overtime home contest in 1986 (20-14) while the Panthers won in overtime the following season in 1987, 19-12, in Heber Springs. In 1989, Clinton defeated Heber Springs, 13-12, at Panther Stadium.
CLOSE GAMES: Twenty-three of the games have been decided by a touchdown or less during the series, not including the five ties.
NOVEMBER THE 4TH: Strangely enough the largest margin of both schools in the series occurred the same day 50 years apart with Clinton (56) winning 56-0 on Nov. 4, 1949; while Heber Springs (39), won 57-18 on Nov. 4, 1999. The 75 combined points both teams in that 1999 contest remain the most combined points in any contest during the series.
DEFENSE: Of the 81 games played between the schools, the two teams have only combined to score more than 50 points or more 12 times, with seven those 50-plus combined scoring games coming since 2008.
COACH'S WIFE: Clinton head coach Chris Dufrene's wife Heather (Bivins) is a 1987 graduate of Heber Springs High School.
TROPHY GAMES: Heber Springs won the trophy for the Hooten's Kickoff Classic between the two schools in 2006, but since the inception of the "Battle of the Little Red" trophy, Clinton has won all three meetings, 28-20 in 2016, and 28-17 in 2017 in Heber Springs, and 36-34 last season in Clinton. Heber Springs will be looking to break a three-game losing streak to Clinton.
GETTING YOU READY FOR GAMEDAY LINKS
JUNIOR HIGH FOOTBALL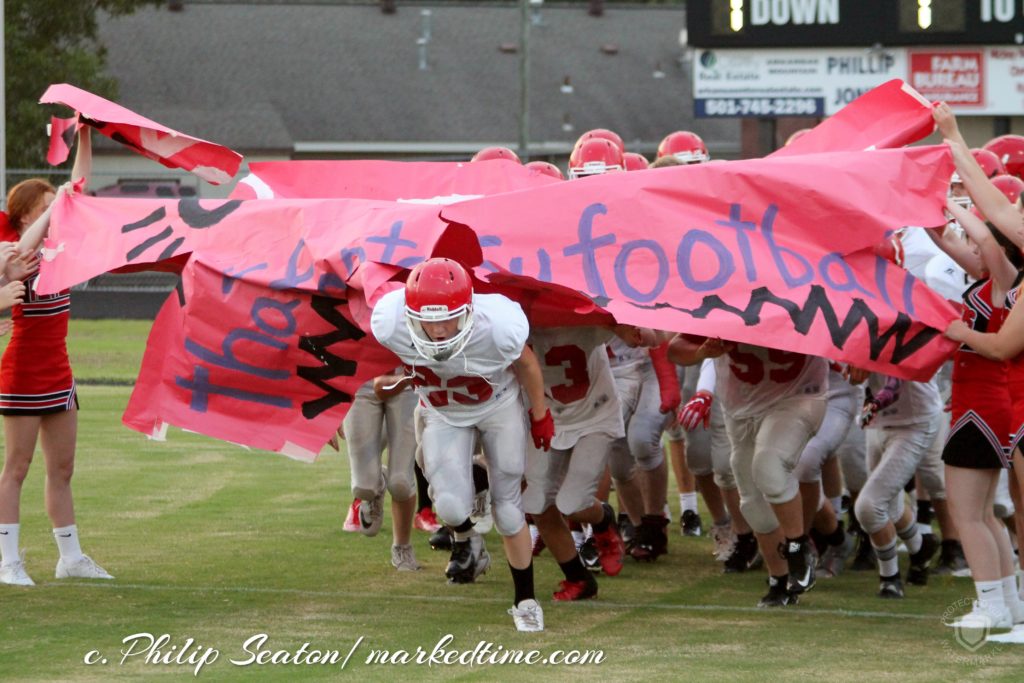 SEVENTH-GRADE FOOTBALL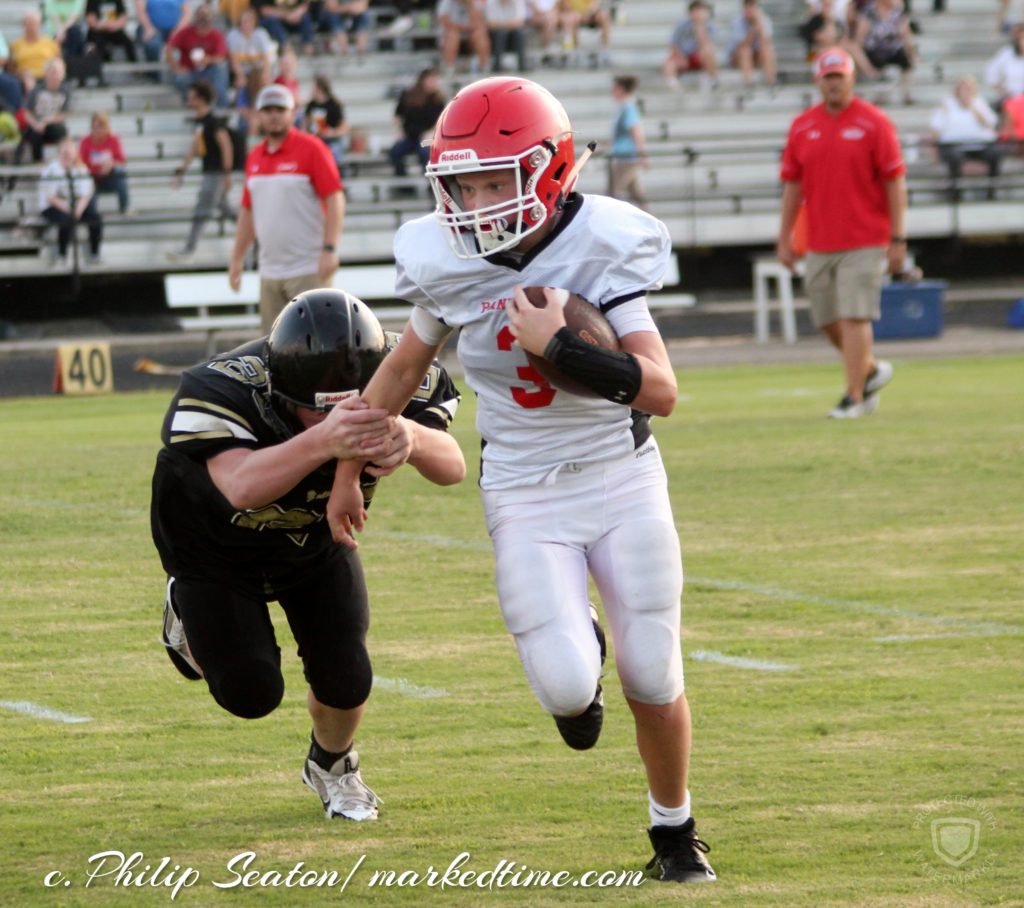 PANTHER SPORTS THIS WEEK
Saturday, September 7 – Volleyball at Cave City tournament
Monday, September 9 – Volleyball at Conway Christian, 4:30 p.m.
Monday, September 9 – Golf at Cypress Creek, 1 p.m.
Tuesday, September 10 – Cross Country hosts Josh Park Memorial
Tuesday, September 10 – Tennis hosts Pottsville, 3:30 p.m.
Thursday, September 12 – Golf at Red Apple Inn, 1 p.m.
Thursday, September 12 – Tennis at Clarksville, 3:30 p.m.
Thursday, September 12 – Volleyball at Clarksville, 4:30 p.m.
Thursday, September 12 – 7th-Grade Football at Harding Academy, 5:30
Thursday, September 12 – Junior Football at Harding Academy, 7 p.m.
Friday, September 13 – Senior Football at Greenbrier, 7 p.m.
Follow MarkedTime.com on Twitter @ARSportsArchive
Follow MarkedTime.com on Facebook fb.me/ARSportsArchive
Always taking submissions of old photos, and other collections of old sports notes and scorebooks of any sport on any level, including recreational, as long as it is Arkansas based.
VHS tapes: Can convert them for free. Please e-mail me at: pseaton1970@yahoo.com or message me on Facebook.
Contact me at pseaton1970@yahoo.com or on Facebook.
Please share and Go Panthers!